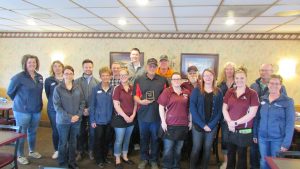 Jamestown  (Chamber)  Members of the chamber Young Professionals of Jamestown and the chamber Ambassadors recently presented the Business of the Month Award to S&R Truck Plaza of Jamestown for their outstanding customer service and continued commitment to the community.  The business is located at 1609 Business Loop E in Jamestown and they can be reached at 701-252-3523.
The nomination stated, "Just call me an old truck driver that has been on the road for a long time. I have seen many changes over the years with full-service truck stops changing over to convenience stores with diesel pumps. Recently I pulled into the truck stop on the east side of Jamestown and realized it had an attached restaurant just like the "good old days." I went in and had a one of the best nights of my life having supper there. Real food, homemade pie and especially waitresses that were some of the best. They had manners, courtesy and a sense of humor. Both waitresses served food, cleaned up and kept the coffee cups full. The food was great, plentiful and very reasonably priced. I got up early and went in for breakfast, same story again! Food like that makes drivers like me fat! This establishment is a true asset to your community. I have recently been assigned this this area as my area of deliveries and I will be back!"
The Young Professionals of Jamestown honor businesses that provide superior customer service, exhibit community spirit and provide a positive economic impact to the community.  This award provides recognition throughout the month with a plaque and a recognition banner for the month. S&R Truck Plaza, along with all of the other monthly winners, will be considered for the Business of the Year to be awarded at the Chamber's annual banquet in January of 2020.  Business of the Month award nomination forms are available at the Chamber office and online at www.jamestownchamber.com .  Call 701-252-4830 for more information.