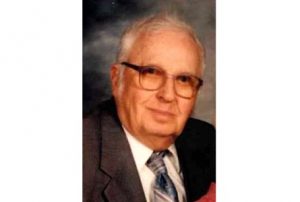 Robert Dewald, 92, Jamestown, died Sun May 12 in Eventide,.
Visitation will be from 9 a.m. to 7 p.m., and with family present from 5-7 p.m., Tuesday, May 14, at Haut Funeral Home in Jamestown. The funeral will be 10:30 a.m. Wednesday, May 15, at Trinity Lutheran Church in Jamestown. Burial will be in Saarie Cemetery near Gackle, N.D.
In lieu of flowers, memorials are preferred to Trinity Lutheran Church, JRMC Hospice or James River Humane Society.
Arrangements by Haut Funeral Home