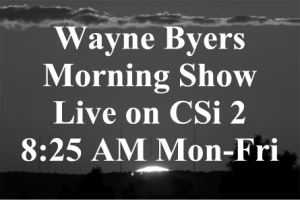 CSi Weather…
.REST OF TODAY…Mostly sunny. Highs in the upper 70s. South winds 20 to 25 mph.
.TONIGHT…Partly cloudy. A 40 percent chance of rain showers and thunderstorms in the evening in the Jamestown area, 50 percent in the Valley City area. Lows in the lower 50s. Southwest winds 10 to 15 mph with gusts to around 30 mph shifting to the northwest after midnight.
.THURSDAY…Partly sunny. Cooler. Highs in the lower 60s. North
winds around 15 mph.
.THURSDAY NIGHT…Partly cloudy. Lows in the upper 30s. Northeast
winds 10 to 15 mph.
.FRIDAY…Mostly cloudy with a 20 percent chance of rain showers.
Highs around 60. East winds 10 to 15 mph.
.FRIDAY NIGHT…Cloudy with a 50 percent chance of rain showers.
Lows in the lower 40s.
.SATURDAY…Cloudy. Rain showers likely in the morning, then
chance of rain showers in the afternoon. Highs in the lower 50s.
Chance of showers 60 percent.
.SATURDAY NIGHT…Cloudy with a 30 percent chance of rain
showers. Lows around 40.
.SUNDAY…Cloudy with a 50 percent chance of rain showers. Highs
in the lower 50s.
.SUNDAY NIGHT…Cloudy with a 50 percent chance of rain showers.
Lows around 40.
.MONDAY…Mostly cloudy. A 20 percent chance of rain showers in
the morning. Highs in the upper 50s.
.MONDAY NIGHT…Mostly cloudy. Lows in the lower 40s.
.TUESDAY…Mostly cloudy with a 30 percent chance of rain
showers. Highs in the upper 50s
Thunderstorms will develop late this afternoon and evening, generally along and east of Highway 83.
A few severe storms will be possible this afternoon after 4 PM
for the Devils Lake Basin into James River Valley. Main threats
include large hail larger than golf balls and damaging wind gusts.
This threat ends after 10 PM.
The forecast still shows a trend for the wetter and cooler
starting this weekend into early next week.
Jamestown  (CSi)  The Jamestown Rural Fire Department was called out Tuesday to a grass just after 6:30-p.m.
The burned area is  west of the Gavilon Fertilizer LLC facility at 3447 80th Avenue Southeast.
Less than an acre burned and no damage to structures.
The Rural Fire Department was on the scene about 45 minutes.
Oakes  (NDHP) –   The North Dakota Highway Patrol reports, a Texas man died Monday when his  vehicle rolled about 11:45-a.m.,  two and a half miles south of Oakes.
63 year old Walter Tatum Jr., from Crystal City, Texas  was  northbound on 111th Avenue Southeast, located south of Highway 11.  He lost control of his 2001 GMC Yukon on the gravel road, leaving the east side of the roadway and when he over-corrected.
The vehicle then rolled into the west ditch.
He was taken to CHI Oakes Hospital for medical treatment where he expired.
The crash remains under investigation by the North Dakota Highway Patrol.
Assisting at the scene were the Dickey County Sheriff's Office, Oakes Police Department, and Oakes Fire and Rescue.
Valley City (CSi)  The Valley City Commission met in Special Session Tuesday morning at 7-O'Clock at City Hall.  All members were present.
RESOLUTION
Commissioners, considered a Resolution accepting Bid and Awarding Contract for Storm Sewer Improvement District No. 50. City Administrator David Schelkoph said during a heavy rain event, excessive drainage occurs and runs downhill affecting other areas, and causes erosion.
He said four bids were received, with the low bid coming in over the estimated by $168,000, due to boring costs. Square foot costs were broken down, and compared to a similar project six years ago.
Further, it was determined to charge affected property owners 32 cents per square foot a 35 percent assessment, installing an adequate size pipe, south of the I-94 right of way conveyed to 8th Avenue and then on to the Sheyenne River.
He noted that starting in 2020 the city will pick up dollars from the "Prairie Dog Bill," passed by the state legislature, for infrastructure, that will offset some of the costs.  He asked the City Commission to meet to discuss further uses for those dollars.
Commissioner Bishop pointed out that dollars from the Prairie Dog Bill are not guaranteed.
With that in mind, Commissioner Magnuson said this project has been looked at over the past five, years, and holding off the project for awhile longer should not be a problem, until the state infrastructure dollars in hand.
Schelkoph said money for the project could come from "shuffling" other funds, adding this is a good time to start the project, pointing out water drainage degrading the area and costing the city more expenses.
On Tuesday the City Commissioners voted 4-1 to approve the Resolution to accept the low bid and award the contract, with Commissioner Bishop voting against.
New Business
Considered was the request from the South Central Adult Services for $20,000 to support the Transit Program.  Administrator Schelkoph said the city funding would have to come from the Public Works Department budget.  Mayor Carlsrud said he would like to see the Transit program adjust its rates before earmarking city funds.  Barnes County has earmarked funding to support the service.
The City Commissioners unanimously voted not to approve the request.
Commissioners considered options for Valley Recycling Contract.  No action was taken pending additional information.  It was noted that the business remains open, and may be expanded in the future pending additional funding. The City is asking resident to be sure to separate garbage from recycling items when set the materials out for collection.
The City Commission, approved the Emergency Repair of Standpipe Water Tower that was ice damaged last winter, in the amount of $52,500. City Administrator Schelkoph said the cost to the city is $8,000 after insurance coverage.  He added that the tower is 105 feet high, and takes special equipment for repairing.  He says the city need to address a permanent solution to the on-going problem.
The meeting was shown live on CSi Cable 68, followed by replays.
Jamestown  (CSi)  The Jamestown Stutsman Development Corporation  (JSDC)  Board of Directors, met in regular monthly session, Monday.
On Tuesday's Wayne Byers Show on CSi Cable 2, JSDC, Business Development Director Corry Shevlin said the board has renewed a partnership with Train ND at a cost of $45,000 per year, with access to Stutsman County and the surrounding area.
Train ND provides workforce training programs to businesses in cooperation with the Jamestown Area Chamber of Commerce and has provided training for over 400 individuals in the past year.
On another topic, the JSDC has approved restarting The Business Development Center, on a limited bases., as an  employee will work one or two days per week at each location on a set schedule.
The Center will be operated by the North Dakota State University Research and Technology Park, which . is in the process of hiring staff for its Business Development Center, separate from the existing Fargo Small Business Development Center, as the two agencies will coordinate services.
Jamestown  (CSi)  The Jamestown Rural Fire Department was called out Tuesday grass about just after 6:30-p.m.
The burned area is  west of the Gavilon Fertilizer LLC facility at 3447 80th Avenue Southeast.
Less than an acre burned and no damage to structures.
The Rural Fire Department was on the scene about 45 minutes.
Bismarck (Gov. Burgum's Office) – Gov. Doug Burgum has directed government agencies to fly the United States and North Dakota flags at half-staff on Wednesday, May 15, 2019, and encourages North Dakotans to do the same at their homes and businesses, in observance of Peace Officers Memorial Day.
The governor's directive is in accordance with a proclamation issued by President Donald Trump, who called upon all Americans to observe Peace Officers Memorial Day on May 15 and Police Week, May 12-18, with appropriate ceremonies and activities.
BISMARCK, N.D. (AP) — The escalating trade war between the U.S. and China is causing anxiety among rural farmers and bankers.
Upper Midwest soybean farmer Jamie Beyer says these are days of "a little bit of panic." Minnesota agriculture lender Kent Thiesse (TEE'-see) says most farmers were able to get financing for spring planting, but more federal aid might be needed to head off "serious losses" this fall.
The Commerce Department says farmers' personal income declined by $11.8 billion through the first three months of 2019. The Federal Reserve Bank of Kansas City says a similar pace of decline is expected in coming months.
RSM chief economist Joseph Brusuelas says the farm sector might see its greatest downturn in three decades.
President Donald Trump promises more aid. But the American Soybean Association says farmers are tired of being "collateral damage in an endless tariff war."
ALBUQUERQUE, N.M. (AP) — Federal lawmakers are re-introducing legislation that calls for the Justice Department to review how law enforcement agencies respond to cases of missing and murdered Native Americans.
The legislation is named Savanna's Act for 22-year-old Savanna LaFontaine-Greywind, whose body was found in a North Dakota river in 2017.
It was re-introduced Tuesday in the U.S. House. It also seeks to expand tribes' access to missing persons databases.
The bill was unanimously approved in the U.S. Senate last year but died in the House.
Reps. Norma Torres, of California, Deb Haaland, of New Mexico, and Dan Newhouse, of Washington state re-introduced the legislation Tuesday as lead sponsors in the House. Torres and Haaland are Democrats, and Newhouse is a Republican.
U.S. Lisa Murkowski, a Republican from Alaska, introduced the legislation in the Senate earlier this year.
MEDORA, N.D. (AP) — Erosion has indefinitely closed about six miles of scenic roadway in Theodore Roosevelt National Park.
Water under the road has caused it to slump around the Cottonwood Campground to the Badlands Overlook in the park's south unit.
The Bismarck Tribune reports park officials say there's no timetable to repair the road and no funding is available. Park spokeswoman Eileen Andes says maintaining park roads amid erosion of the Badlands' soft rock is a constant issue.
In sports…
COLUMBIA, MO.   (VCSU) – The Valley City State softball team was down to its final out Tuesday morning before rallying for an extra-inning win at the NAIA Softball Championship Opening Round.
The Vikings scored one run in the seventh inning to force extras, and then scored twice in the eighth inning as they defeated Columbia College (Mo.) 5-3 in a winner's bracket game.
The top-seeded Vikings trailed 3-2 before tying the game with a two-out rally in the top of the seventh inning. In the eighth inning it was another two-out rally – highlighted by Kadie Anderson's go-ahead RBI triple – that propelled VCSU to the extra-inning victory. All five of VCSU's runs were scored with two outs.
"We had some kids really come up clutch with big two-out hits for us," said VCSU head coach Mike Mook. "I think it comes down to desire; they've worked so hard for this and when it comes down to it they want to get all they can out of the experience."
Valley City State (53-3) extends its winning streak to 20 games and advances to the championship of the opening round bracket at 11 a.m. Wednesday. The Vikings are in control of the double-elimination tournament and will need to be beaten twice in the championship. The winner of Wednesday's championship advances to the NAIA Softball World Series, May 23-29 in Springfield, Mo.
No. 2 seed Columbia College (36-11) drops into a loser-out game Tuesday afternoon at 3:30 p.m.
The Vikings play in Wednesday's championship game, versus, Columbia College at 11-a.m., CDT.
Valley City State struck quickly in the top of the first inning Tuesday, putting together a two-run rally for an early lead. Singles by Voni Culp and Riley Perryman put runners on first and second. Marissa Hawkins followed with a two-out RBI single, scoring Culp for a 1-0 lead. Hawkins and Perryman then successfully executed a first-and-third double steal as Perryman crossed the plate for a 2-0 lead. The RBI by Hawkins was her 59th of the season, setting a new single-season record at VCSU and breaking the old mark of 58 set by Cejay Hilhorst in 2016.
Columbia responded just as quickly in the bottom of the inning against VCSU starting pitcher Emily Smith. A one-out walk and single put two runners on for Mackenzie Kasarda, who drilled a two-run triple off the right-field fence to tie the game at 2-2. VCSU pitcher Emilee Wilson came on in relief and was able to limit the damage, working out of the jam with a groundout and strikeout to keep the game tied 2-2.
Neither team would score until the Cougars took their first lead of the game in the bottom of the fifth inning. With runners on first and second, Jacey Meyer singled up the middle. VCSU shortstop Joelle Aiello made a diving stop behind second base, but Molly Carter was hustling on the hit and  beat the throw home for a 3-2 lead. The Cougars proceeded to load the bases but Wilson induced a weak ground ball to third base and then recorded a strikeout the end the threat.
Valley City State was down to its final out in the top of the seventh before tying the game with a quick two-out rally. Joelle Aiello drilled a two-out triple to the left-center gap and then came in to score when Columbia's shortstop was unable to handle Voni Culp's ground ball. Culp moved to second on a stolen base but Columbia worked out of the inning to keep the game tied 3-3.
Wilson walked Columbia's leadoff hitter in the bottom of the seventh, but after a sacrifice bunt put the runner in scoring position Wilson was able to record a strikeout and ground out to end the inning.
The Vikings started the top of the eighth with a pair of strikeouts before mounting the game-winning rally. Autumn Perry singled to left and then scored when Anderson lined a 1-2 pitch down the right-field line for the go-ahead RBI triple. Tatum Lundin followed with an RBI single to left, scoring Anderson for a 5-3 lead. Wilson and the Viking defense then set the Cougars down in order to end the game.
Wilson picked up the win after pitching the final 7 2/3 innings. The freshman right-hander allowed just six hits and one run. She walked five but struck out nine.
"We've talked about it all year how she's just such a different pitcher than the rest of our staff," said Mook. "It was great to see her come in and do the job against a really good softball team."
Culp and Anderson both went 2-for-4 at the plate with a run and RBI each. Perry was 2-for-4 and scored the go-ahead run. Five other Vikings had a hit as VCSU outhit Columbia 11-8.
Columbia's Molly Carter collected two hits and scored two runs to lead the Cougar offense. Lexi Dickerson took the loss, working 7 2/3 innings and allowing 10 hits and five runs.
Up next: Valley City State will play for the NAIA Opening Round championship at 11 a.m. Wednesday
SANTA BARBARA, Calif.  (uj.edu)– No. 22 Westmont (Calif.) scored four times in the ninth inning to break a 3-3 tie and hand the University of Jamestown baseball team a 7-3 loss Tuesday in the Santa Barbara Bracket of the NAIA Opening Round.
The loss ends the Jimmies' season at 35-18, while Westmont (35-15) advances to play Arizona Christian in another elimination game Tuesday at 6 p.m. CDT.
Westmont's rally against Jimmie reliever Joe Harris (SO/Recluse, WY) began with the first three hitters reaching via walk, error, and bunt single.to load the bases. Another single scored the go-ahead run and kept a runner at each base. Kaleb Binstock (SR/Grand Forks, ND) relieved Harris and recorded a strikeout for the first out of the inning. The next batter singled to right to make it 5-3, and one out later, a walk with the bases loaded forced in another run. Westmont scored its fourth and final run of the frame on a passed ball.
Jamestown got a two-out single from Grant Okawa (JR/Mississauga, ON) in the bottom of the ninth, but Westmont starter Grant Gardner retired the next hitter to finish the victory.
UJ took a 2-0 lead in the bottom of the second, scoring its first run on an errant throw by Gardner after fielding a bunt by Okawa. The second run of the inning came on a groundout by Zach Zurbrugg (SR/Bremerton, WA).
A solo home run by Nick Sablock on the first pitch of the fourth inning cut the lead to 2-1, then the Warriors tied the game in the next inning on a bases-loaded walk to Isaiah Leach, one of 11 free passes issued by Jimmie pitchers Tuesday.
Zurbrugg gave the Jimmies its second lead of the game with an RBI single in the bottom of the fifth, scoring Okawa, who led off the frame with a double. The score remained 3-2 until the top of the eighth, when Travis Vander Molen tripled to left center to bring in Andrew Bayard.
Harris (5-2) was saddled with the loss, allowing four runs (two earned) on two hits in two-thirds of an inning. Tanner Roundy (SR/Henderson, NV) went the first 5 2/3 innings, giving up two runs on only three hits while striking out seven, but seven walks upped his pitch count, and he departed after 119 pitches. Gardner went the distance for Westmont, surrendering one earned run on eight hits, striking out five.
Matt Meraz (JR/Aurora, CO) was 3-for-4 and Okawa finished 2-for-2. Roundy and Binstock also had hits for Jamestown. Vander Molen had a pair of hits for the Warriors, who also got a single hit from six other players.
Class A  Softball…
Tuesday At Trapper Field
Game 1
Jamestown 3 Dickinson 1
Game 2
Dickinson 10 Jamestown 7
Game 1
Valley City 11 West Fargo Sheyenne 0 (5)
Game 2
Valley City 12 Sheyenne 5
Class A Baseball
At Charlie Brown Field
Game 1
Valley City 8 Wahpeton 3
Game 2
Wahpeton 9 Valley City 4
GIRLS SOCCER
Jamestown 4 Mandan 2
GIRLS TENNIS
Bismarck St. Mary's 5, Jamestown 4.
G.F. Central 9 Valley City 0
Jamestown  (CSi)  The Dakota Anglers will be holding their long-running Walleye/Northern Tournament for the 43rd year on June 1st and 2nd this year to be held at  Jamestown Reservoir, due to fish kill numbers at Pipestem Reservoir .
The cost to register is $200, and goes to conservation efforts and other Dakota Anglers events.
Payback is based on the number of teams entered in the tournament.
The walleye pot is $1000 for 1st Place  along with 2nd and 3rd place prizes .
Jamestown (CSi) Jamestown Parks and Rec will hold youth tennis lessons for ages 5-18 on June 3-27 and July 8-August. 1. The cost is $35 for one session or $65 for both.
For more information and to register, contact the Jamestown Parks and Rec at 252-3982.
NBA PLAYOFFS-WARRIORS/TRAIL BLAZERSCurry's treys lift WarriorsOAKLAND, Calif. (AP) _ The Golden State Warriors have opened the NBA's Western Conference finals with a blowout win over the Portland Trail Blazers.Stephen Curry nailed nine 3-pointers while scoring 36 points as the two-time defending champs blasted the Blazers, 116-94. The two-time NBA MVP outplayed the Portland duo of Damian Lillard and CJ McCollum, who combined to go 11 for 31.Klay Thompson had 26 points for the Warriors, who were without injured star Kevin Durant due to a leg injury. Draymond Green established the energy on both ends early for the well-rested Warriors and finished with 12 points, 10 rebounds, five assists, three blocks and two steals.Lillard scored 19 points and McCollum had 17 for the Trail Blazers, who will try to even the series Thursday in Oakland.NBA-TRAIL BLAZERS-KANTERSenator makes plea for KanterSALEM, Ore. (AP) _ U.S. Sen. Ron Wyden wants to ensure Trail Blazers center Enes Kanter will be able to safely travel to Canada for a possible NBA championship series against the Toronto Raptors.Kanter is a Turkish star whose native country wants arrested for his criticism of President Recep Tayyip Erdogan.The Oregon senator wrote Tuesday to Canadian Prime Minister Justin Trudeau asking that his government facilitate Kanter's safe passage to and from Canada if the Blazers advance to the title series.NBA LOTTERYPelicans get first pickCHICAGO (AP) _ Zion Williamson says he's never been to New Orleans, but that could change very soon.

The Pelicans have won the NBA draft lottery and will most likely select the Duke forward with the No. 1 pick next month. The Pelicans won the lottery for the first time since 2012, when they selected Anthony Davis. The potential arrival of Williamson could cause Davis to rescind his trade demand.

The Grizzlies will choose second, followed by the Knicks, Lakers and Cavaliers. The Suns sill choose sixth, ahead of the Bulls, Hawks, Wizards and Hawks.

NHL PLAYOFFS-BRUINS/HURRICANES

B's take 3-0 lead

RALEIGH, N.C. (AP) _ The Boston Bruins are on the verge of their third trip to the Stanley Cup final this decade.

The Bruins have a three-games-to-none lead in the Eastern Conference final following a 2-1 victory over the Hurricanes at Carolina. Chris Wagner and Brad Marchand scored 5:07 apart in the second period of Boston's sixth straight playoff win, their longest streak since 1978.

Tuukka (TOO'-kah) Rask stopped 35 shots and allowed only a goal by Calvin de Haan (deh HAHN').

Curtis McElhinney made 29 saves for the Hurricanes while starting in place of Petr Mrazek (muh-RA'-zehk), who allowed 10 goals in the first two games of the series.

The Canes will try to avoid elimination when they host Game 4 on Thursday.

NHL-SABRES-COACH

Sabres find a coach

A person familiar with the decision told The Associated Press that the Sabres have hired Ralph Krueger as head coach.

The 59-year-old Krueger previously coached the Oilers during the NHL's lockout-shortened season in 2012-13. Krueger has vast coaching experience, including with Switzerland's national team.

Krueger replaces Phil Housley, who was fired after just two seasons.

MLB..

UNDATED (AP) _  Mitch Garver hit a two-run homer and tagged out Shohei Ohtani (SHOH-hay oh-TAH'-nee) trying to score the tying run in the Twins' 4-3 downing of the Angels. Garver homered in the third inning to give Minnesota a three-run lead, but he had to be helped off the field without putting weight on his left leg following his plate collision with Ohtani in the eighth inning. Ohtani had three hits but was thrown out at third and home.

Boston Red Sox left-hander Chris Sale recorded 21 outs against the Colorado Rockies on Tuesday. Just four balls were put in play, but the bullpen wasted his outstanding performance.

Sale struck out a career-high 17 in just seven innings of the Red Sox's 5-4, 11-inning loss to the Rockies. The seven-time All-Star struck out the first six batters and fanned eight through three innings. He didn't allow a runner until Mark Reynolds doubled to begin the fifth.

Manager Alex Cora pulled Sale after 108 pitches and three strikeouts shy of the major league record shared by Roger Clemens, Kerry Wood, Randy Johnson and Max Scherzer.

Sale gave up three hits, including a two-run homer to Nolan Arenado (ar-eh-NAH'-doh). He didn't walk anyone and left with a 3-2 lead.

The lead evaporated when Brandon Workman gave up a two-run homer to Charlie Blackmon in the eighth, but Mitch Moreland singled home the tying run in the bottom half to force extra innings.

Colorado finally took the lead for good on Mark Reynolds' RBI single in the 11th, ending the Red Sox's five-game winning streak.

In other major league action:

_ Carlos Correa crushed a three-run homer in the first inning of the Astros' seventh consecutive victory, 11-4 over the Tigers. George Springer hit an inside-the-park homer in the fifth, and Aledmys (ah-LEHD'-mees) Diaz went deep in the third while Houston scored in his first six frames. Wade Miley moved to 4-2 by allowing four runs in six innings.

_ Charlie Morton combined with three relievers on a six-hitter as the Rays blanked the Marlins, 4-0. Morton allowed three hits and no walks while fanning five over six innings. Avisail (av-ih-sah-EEL') hit a 471-foot solo homer and had three RBIs for Tampa Bay, which increased its lead in the AL East to one game over the Yankees.

_ Jordan Luplow launched two of the Indians' five home runs in the Indians' 9-0 laugher against the White Sox in Chicago. Roberto Pérez, Jake Bauers and José Ramirez also went deep for the three-time defending AL Central champs, who owned a .219 average before the rout. Carlos Carrasco scattered six singles and struck out six over seven innings.

_ Vladimir Guerrero Jr. belted his first two major league homers and drove in four to lead the Blue Jays' 7-3 win over the Giants. The touted 20-year-old Guerrero homered in the first inning against Giants opener Nick Vincent (0-2), his first in 14 big league games. Trent Thornton pitched three-hit ball into the sixth inning for his first major league win.

_ Homers by Daniel Vogelbach, Tim Beckham and Mitch Haniger accounted for the Mariners' scoring in a 4-3 win against the Athletics. Roenis Elias (roh-EH'-nehs EE'-lee-uhs) worked out of a bases-loaded jam by fanning pinch-hitter Chad Pinder as the Mariners sent the A's to their third straight loss. Winning pitcher Mike Leake gave up a pair of unearned runs over 6 2/3s.

_ Hunter Dozier drove in three runs and top prospect Nicky Lopez had an RBI single in his big league debut as the Royals whipped the Rangers, 11-5. Alex Gordon and Jorge Soler (HOHR'-hay soh-LEHR') collected two RBIs apiece for the Royals, who scored nine times in the first two innings. Joey Gallo had a pair of RBIs in the Rangers' fifth straight loss.

_ Joc Pederson and Cody Bellinger hit two-run homers in the third inning as the Dodgers doubled up the Padres, 6-3. Clayton Kershaw allowed three runs and five hits over seven innings to move to 3-0. Padres infielder Manny Machado had three hits in his return to Dodger Stadium, including a 441-foot, two-run shot in the fourth.

_ Josh Bell homered twice and Joe Musgrove allowed one hit through seven innings as the Pirates beat the Diamondbacks, 6-2. Phoenix native Cole Tucker hit a two-run homer in the top of the eighth inning to cap off the victory. Pittsburgh snapped a nine-game losing streak to Arizona that dated to last season.

_ The Cubs were 3-1 winners over the Reds behind Kyle Hendricks, had as many hits as he allowed. Hendricks was 3-for-4 with a two-run double to help Chicago win for the 22nd time in its last 28 games. He also held Cincinnati to a run and three hits while striking out seven over eight-plus innings.

_ Brandon Woodruff threw one-hit ball for six innings in pitching the Brewers past the Phillies, 6-1. Woodruff allowed only an infield single to Jean Segure in the first inning and improved to 6-1. Yasmani Grandal (yahs-MAH'-nee grahn-DAHL') and Ryan Braun homered for Milwaukee.

_ Marcell Ozuna (oh-ZOO'-nah), Yadier (YAH'-dee-ehr) Molina and Kolten Wong blasted three-run homers in the Cardinals' 14-3 thumping of the Braves. Dexter Fowler also went deep to back Jack Flaherty, who was reached for three runs in six innings. St. Louis battered 2018 All-Star Mike Foltynewicz (fohl-tih-NAY'-vihch), whose ERA is 8.02 after yielding eight runs over 4 2/3 innings.

_ Wilson Ramos hit a first-inning grand slam and Noah Syndergaard (SIHN'-dur-gahrd) took a no-hitter into the sixth inning of the Mets' third straight win, 6-2 over the Nationals. Syndergaard lowered his ERA to 4.74 by allowing two runs and four hits in eight innings. Wilmer Difo (DEE'-foh) broke up the no-hitter with a single and scored on a homer by Victor Robles.

_ The Orioles and Yankees were rained out in the Bronx for the second straight day. The postponement will be made up as the first game of a day-night, separate-admission twinbill on Aug. 12.

MLB-NEWS

Urias placed on leave following arrest for alleged domestic battery

UNDATED (AP) _ Major League Baseball has placed Dodgers left-hander Julio Urias (yoo-RE'-uhs) on administrative leave while it looks into his arrest in a domestic battery case.

In previous MLB investigations, the length of the administrative leave has frequently been extended past the seven-day deadline while the probe continues.

Los Angeles police arrested Urias on Monday for investigation of misdemeanor domestic battery in the parking lot of a shopping mall.

In other MLB news:

_ The Yankees have acquired veteran slugger Kendrys (KEHN'-drees) Morales and cash from the Athletics for a player to be named or cash. The switch-hitter batted .204 with one homer and seven RBIs in 34 games for the A's before being designated for assignment Monday.

_ Mariners starter Felix Hernandez is expected to miss four to six weeks after being diagnosed with a grade 1 lat strain in his right side. Hernandez was placed on the 10-day injured list on Sunday and was originally diagnosed as having a shoulder strain. He pitched 2 1/3 innings in Boston on Saturday, surrendering seven earned runs and six hits in his second-shortest start of the season.

_ Infielder Jed Lowrie's debut with the Mets is being delayed after he strained his hamstring while playing with the AAA Syracuse Mets, to work his way back from an injured left knee. Mets manager Mickey Callaway said Lowrie will head back to Florida and be reassessed in a couple of weeks.

NFL-NEWS

_ The Vikings have signed center Garrett Bradbury, who was drafted with the 18th overall pick in the first round. The Vikings also confirmed they restructured the contract of linebacker Eric Kendricks for salary cap compliance.

UNDATED (AP) _ Odell Beckham Jr. is finally practicing with the Browns. The star wide receiver reported to the team's headquarters Monday and was on the field Tuesday with his teammates for the first organized team activity practice.

Beckham skipped Cleveland's voluntary workout program last month, and his absence drew criticism and highlighted the perception he's selfish.

The three-time Pro Bowler was acquired in a blockbuster trade from the Giants in March.

In other NFL news:

_ The Giants have signed free agent right guard Mike Remmers. The 30-year-old Remmers has has started all 71 regular-season and postseason games in which he's played the previous five seasons. Remmers spent the previous two years with the Vikings, starting all 16 games in 2018 at right guard.

_ A prosecutor in Loudon (LOW'-duhn) County, Virginia, has confirmed to The Associated Press that the case against Redskins safety Montae Nicholson has been dismissed. Nicholson was arrested Dec. 18 and charged with assault and battery and being drunk in public after a fight at a restaurant and retail complex.

COLLEGE ADMISSIONS-BRIBERY

Former USC coach pleads guilty in admissions scheme

BOSTON (AP) _ A former University of Southern California assistant soccer coach has switched her plea to guilty in the college admissions scam.

Laura Janke has admitted to creating fake athletic profiles for the children of wealthy parents, including actress Lori Loughlin and fashion designer Mossimo Giannulli. Janke has agreed to cooperate with prosecutors and could be called to testify against others. That includes Loughlin and Giannulli, who have pleaded not guilty.

TIGER WOODS LAWSUIT

Lawsuit blames Tiger Woods for drunken driver's death

WEST PALM BEACH, Fla. (AP) _ The parents of a drunken driver who died in a car crash last year are suing Tiger Woods. They blame the golfer and his girlfriend for allowing their son to drive home from their Florida restaurant while intoxicated.

The wrongful death lawsuit filed Monday says Nicholas Immesberger was served excessive amounts of alcohol before the Dec. 10 car crash.

Immesberger worked at The Woods restaurant in Jupiter that Woods owns and where Tiger's girlfriend, Erica Herman, is general manager.

UCI-DOPING RING

Petacchi among 4 riders linked to blood doping ring

AIGLE, Switzerland (AP) — The International Cycling Union says retired sprinter Alessandro Petacchi is among four riders linked to a blood doping ring.

Petacchi, who won the points classification at all three Grand Tours, is suspected of using a "prohibited method" in 2012 and 2013.

The UCI says the riders are linked to the doping ring based on evidence from Austrian authorities, who are investigating illicit blood transfusions in multiple Olympic sports.

Besides Petacchi, Slovenian rider Kristijan Koren and Croatian rider Kristijan Durasek have been provisionally suspended, along with former cyclist Borut Bozic, now a sports director for the Bahrain-Merida team.

In March, Austrian riders Stefan Denifl and Georg Preidler were suspended in the same case.
In world and national news…
MONTGOMERY, Ala. (AP) — Alabama Gov. Kay Ivey will now decide whether to sign legislation that would outlaw almost all abortions in the state as some conservatives seek to ignite legal fights in the hopes of getting the U.S. Supreme Court to revisit the landmark 1973 decision Roe v. Wade that made the procedure legal. Ivey has not said whether she'll sign the bill. Sponsor Rep. Terri Collins says she expects the governor to support the ban.DUBAI, United Arab Emirates (AP) — The German government says the country's military has suspended training of Iraqi soldiers due to tensions in the region between the U.S. and Iran but has no indication of any specific threat to its own troops. The announcement came shortly after the U.S. State Department on Wednesday ordered all non-essential government staff to leave Iraq right away amid escalating tensions with Iran.BEIJING (AP) — Global stock markets mostly followed Wall Street higher after President Donald Trump downplayed his tariff war with Beijing and said a resolution is possible. Benchmarks in London, Shanghai and Tokyo advanced as investors study the potential cost of tariff hikes and deepening rancor over trade between the two largest economies. U.S. markets rallied after Trump said on Twitter the conflict was a 'little squabble' between friends.UNDATED (AP) — A government report says that the nation's birth rates in 2018 reached record lows for women in their teens and 20s. The report, based on more than 99% of U.S. birth records, says there were 3-million, 788-thousand births last year. It was the fourth year the number of births fell, and was the lowest since 1986. It isn't clear whether many women are postponing motherhood, but the report says the current generation isn't making enough babies to replace itself.UNDATED (AP) — What resources can teachers use to teach students about climate change? The federally-funded Climate Literacy and Energy Awareness Network says that of the more than 30,000 free online resources it has reviewed, only 700 are acceptable for use in schools. Frank Niepold, a climate education coordinator at the National Oceanic and Atmospheric Administration says, "There's a lot of information that's out there that is broken, old, misleading, not scientifically sound, not sound technically."