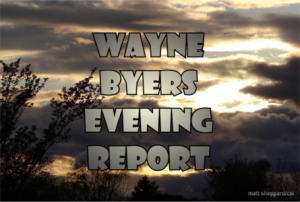 CSi Weather…
THE NATIONAL WEATHER SERVICE HAS ISSUED SEVERE THUNDERSTORM WATCH  UNTIL 10 PM CDT /9 PM MDT/ WEDNESDAY EVENING FOR:
MCHENRY PIERCE
IN SOUTH CENTRAL NORTH DAKOTA
BURLEIGH EMMONS GRANT
KIDDER MCLEAN MORTON
OLIVER SHERIDAN SIOUX
WELLS
IN SOUTHEAST NORTH DAKOTA
DICKEY FOSTER LAMOURE
LOGAN MCINTOSH STUTSMAN
THIS INCLUDES THE CITIES OF ASHLEY, BISMARCK, CARRINGTON, CARSON,
CENTER, DRAKE, EDGELEY, ELGIN, ELLENDALE, FESSENDEN, FORT YATES,
GACKLE, GARRISON, GOODRICH, HARVEY, JAMESTOWN, KULM, LAMOURE,
LINTON, MANDAN, MCCLUSKY, NAPOLEON, NEW LEIPZIG, OAKES, RUGBY,
SELFRIDGE, SOLEN, STEELE, STRASBURG, TAPPEN, TOWNER, TURTLE LAKE,
UNDERWOOD, VELVA, WASHBURN, WILTON, AND WISHEK.
Thunderstorms will develop late Wednesday afternoon and evening, generally along and east of Highway 83.
A few severe storms will be possible Wednesday afternoon after 4 PM
for the Devils Lake Basin into James River Valley. Main threats
include large hail larger than golf balls and damaging wind gusts.
This threat ends after 10 PM.
Forecast…
.TONIGHT…Partly cloudy. A 40 percent chance of rain showers and thunderstorms in the evening in the Jamestown area, 50 percent in the Valley City area. Lows in the lower 50s. Southwest winds 10 to 15 mph with gusts to around 30 mph shifting to the northwest after midnight.
.THURSDAY…Partly sunny. Cooler. Highs in the lower 60s. North
winds around 15 mph.
.THURSDAY NIGHT…Partly cloudy. Lows in the upper 30s. Northeast
winds 10 to 15 mph.
.FRIDAY…Mostly cloudy with a 20 percent chance of rain showers.
Highs around 60. East winds 10 to 15 mph.
.FRIDAY NIGHT…Cloudy with a 50 percent chance of rain showers.
Lows in the lower 40s.
.SATURDAY…Cloudy. Rain showers likely in the morning, then
chance of rain showers in the afternoon. Highs in the lower 50s.
Chance of showers 60 percent.
.SATURDAY NIGHT…Cloudy with a 30 percent chance of rain
showers. Lows around 40.
.SUNDAY…Cloudy with a 30 percent chance of rain showers. Highs
in the lower 50s.
.SUNDAY NIGHT…Cloudy with a 30 percent chance of rain showers.
Lows around 40.
.MONDAY…Mostly cloudy. Highs in the upper 50s.
.MONDAY NIGHT…Mostly cloudy. A 20 percent chance of rain
showers after midnight. Lows in the lower 40s.
.TUESDAY…Mostly cloudy with a 30 percent chance of rain
showers. Highs in the upper 50s
The forecast still shows a trend for the wetter and cooler
starting this weekend into early next week.
Jamestown  (CSi)  A SCORE Workshop is set in Jamestown for Thursday May 16 from 6:30-p.m., to 9-p.m., at the University of Jamestown's Sheldon Unruh Building, with free admission.
On Wednesday's Wayne Byers Show on CSi Cable 2, Dave Smette said, new or existing business looking to start up or expand their business are invited to the presentation with three of Jamestown's leading business advocates.
He said that scheduled to be on hand at the workshop are:
Jennifer Bollingberg from Schauer & Associates will speak on Basic Record Keeping, Sales Tax Compliance, Data Management For Tax Filing, Payroll Setup For Record Keeping and Quickbooks.
Unison Bank President, Kelly Rachel will speak on, Steps to Securing A Business Loan, and Financing Your Business.
Timothy Ottmar for Ottmar & Ottmar Law Firm, Attorneys at Law, will speak on, The Pros and Cons Of The Different Types Of Business Legal Entities, LLC's, Partnerships, Sole Proprietorship and other topics.
There will be a Q&A Session during the workshop.
Dave reminded viewers that SCORE is a group of mostly retired business owners and executives who are volunteering their time to help new of existing businesses get started or expand their operations.  They provide confidential mentoring and counseling on developing a business plan, marketing a business and other topics.
Contact the Jamestown SCORE office at the South Central Dakota Regional Council, at 429 2nd Street Southwest.  Call 701-952-8050.  Contact Dave Smette at 701-320-6268.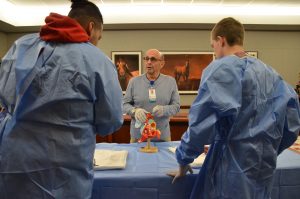 Jamestown  (JRMC)  — Risk rooms, elbow splits and suture stitches.
Jamestown Regional Medical Center recently held its annual Scrubs Academy for area high school students on May 9-10. Nearly 60 students were able to experience hands-on activities, which exposed them to careers in healthcare. Some of the activities included hands-on surgery featuring laparoscopic equipment, a suture station and calf hearts, as well as how to wrap and splint athletic injuries and how to reduce hazards in a patient room.
Scrubs Academy encourages high school students from across North Dakota to pursue a career in healthcare. Students participate in hands-on activities and receive information related to a variety of healthcare professions. The academy is an engaging and fun way for high school students to learn about healthcare within a healthcare environment.
JRMC Chief Nursing Officer, Trisha Jungels, says, "Scrubs Academy is a good opportunity for someone interested in learning about what careers are available to them. Students often think of doctors and nurses, however, they don't always consider radiology, laboratory, athletic training or any of the other options a career in healthcare offers."
Students attended Jamestown High School, Pingree-Buchanan, Gackle, Edgeley and Medina.
This year, students participated in a variety of activities, including:
a hands-on surgery center featuring laparoscopic equipment, a suture station and calf hearts
how to wrap and splint athletic injuries
how to reduce hazards in a patient room
Registered Nurse, Deb Fischer the Health Science Careers instructor at James Valley Career & Tech Center., says, North Dakota, like most rural states, has a growing need for more healthcare professionals. The Scrubs Academy is one of the ways medical centers and the state work together to excite young people about healthcare careers, adding, "Scrubs Academy is a great opportunity for students to learn about careers in an industry we all need and rely upon."
To learn more about Scrubs Academy, call (701) 952-1050.
About Jamestown Regional Medical Center
Jamestown Regional Medical Center is located at 2422 20th St. SW, Jamestown, N.D. and serves approximately 55,000 people in nine counties. In 2019, it was named a "Top 100 Critical Access Hospital" for the sixth consecutive year. Modern Healthcare named JRMC a "Best Places to Work in Healthcare" each year since 2017.  For more information, visit www.jrmcnd.com or call (701) 952-1050.
BISMARCK, N.D. (AP) — North Dakota regulators say the state's oil production remained at a near-record level in March.The Department of Mineral Resources says the state produced an average of 1.39 million barrels of oil daily in March. That was down from a record 1.4 million barrels a day from the record set in January.

North Dakota also produced a record 2.8 billion cubic feet of natural gas per day in March, up from 2.6 billion cubic feet in February. There were 15,353 wells producing in March. That's down 56 wells from the record set in January.

The March tallies are the latest figures available.

There were 65 drill rigs operating in North Dakota on Wednesday, down one from the March average.
BISMARCK, N.D. (AP) — A state judge has ruled that North Dakota regulators properly refrained from becoming involved in a dispute over the location of an $800 million oil refinery being developed near Theodore Roosevelt National Park.The Public Service Commission last year declined to review whether the Davis Refinery could be built just 3 miles (5 kilometers) from the park, concluding its production capacity will be too small to warrant review under state law.Environmental groups don't believe developer Meridian Energy is being forthright about the refinery's capacity. But Judge Bruce Romanick (ruh-MAH'-nihk) sided with the PSC, ruling the agency properly followed the law.The national park is North Dakota's top tourist attraction. Environmental groups worry the refinery will pollute it. Meridian says the facility will be the "cleanest refinery on the planet."
BISMARCK, N.D. (AP) — North Dakota Attorney General Wayne Stenehjem says he'll appeal the dismissal of the state's lawsuit against a pharmaceutical company over opioid abuse.
South Central District Judge James Hill threw out the state's claim on Friday, ruling essentially that Connecticut-based Purdue Pharma doesn't control its product after it enters the market.
North Dakota and five other states filed lawsuits a year ago accusing a pharmaceutical company of using deceptive marketing to boost drugs sales that fueled opioid overdose deaths.
The North Dakota ruling is the first in which a court has tossed a claim brought by a state in its entirety. A judge in Connecticut earlier this year dismissed the whole lawsuits from several municipalities there, asserting that the local governments did not have standing to sue.
FARGO, N.D. (AP) — Slightly more than one-third of North Dakota's staple spring wheat crop is in the ground, but the pace of planting still lags well behind average.
The Agriculture Department in its weekly crop report says nearly two-thirds of the crop should be seeded by now.
Planting of almost all crops in the state is behind the average pace after a cold, wet end to winter. Soybeans are at 5%, corn at 11%, potatoes at 32% and sugar beets at 64%.
Soil moisture continues to be in good supply. Topsoil moisture supplies statewide are rated 85% adequate to surplus, and subsoil moisture is 81% in those categories.
The winter wheat crop and pasture and range conditions both remain rated mostly fair to good. Stock water supplies are mostly adequate.
In sports…
Update…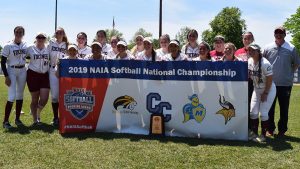 COLUMBIA, MO.  (VCSU)  – Valley City State scored two runs in the game's first three batters and freshman pitcher Emilee Wilson made the lead stand up Wednesday as the Vikings punched their ticket to the NAIA Softball World Series.
Wilson pitched a complete game three-hitter as top-seeded Valley City State University defeated No. 2 seed Columbia College 7-2 in the NAIA Softball Opening Round Championship Game.
Valley City State advances to the NAIA Softball World Series, which will be played May 23-29 in Springfield, Mo. The World Series is a 10-team double-elimination tournament to decide the national champion. The Vikings enter the tournament with a 54-3 overall record and a 21-game winning streak dating back to April 14.
NAIA World Series Blank Bracket – Link
NAIA World Series – Visitor Guide
This will be VCSU's first appearance at the NAIA World Series in its current format, which started in 2013. The Vikings qualified for a 20-team national tournament in 2006, losing out in pool play, and in 1982 to the Vikings placed 7th at the national tournament.
Just like Tuesday's winner's bracket game against Columbia, the Vikings struck quickly in Wednesday's championship. Joelle Aiello led off the game with a double to left-center. Voni Culp followed with a single and moved to second on the throw in, putting two runners in scoring position. Emily Smith then blooped a single into right field, scoring both Aiello and Culp for a 2-0 lead just three batters into the game.
In a scary moment later in the inning, Smith was thrown out at the plate trying to score and left the game with an apparent leg injury. Smith was slated to start at pitcher, but the injury meant freshman Emilee Wilson took over in the circle. For the second straight day Wilson shut down Columbia's offense, holding the Cougars scoreless through the first six innings.
Columbia threatened in the bottom of the second inning, putting runners on first and second with no outs. Wilson induced a groundout to third base for the first out, and then third baseman Marissa Hawkins turned a 5-3 double play to end the inning.
Wilson set down nine batters in a row in the fourth, fifth and sixth innings which allowed the Vikings to extend their lead to 7-0.
After the big first inning, VCSU's offense was quiet until the top of the sixth inning. Riley Perryman led off the inning with a double to the left-field corner and Autumn Perry reached on a one-out walk, putting runners on first and third. Perry stole second base to put two runners in scoring position, and Kadie Anderson delivered a 2-run single through the left side, scoring both runners for a 4-0 lead.
The Vikings added three more runs in the top of the seventh, getting a two-run triple by Perryman and an RBI groundout from Perry to make it 7-0.
Columbia loaded the bases in the seventh inning and plated its two runs on an RBI groundout and a throwing error before VCSU shortstop Joelle Aiello made a strong throw from the hole and Anderson made a great stretch at first base for the final out.
Columbia ends its season with a 37-12 overall record.
VCSU collected 10 hits in the game, including two each by Cup and Perryman. Culp scored twice, while Perryman doubled and tripled as she scored twice and drove in two runs. Anderson was 1-for-4 with two RBIs, and Smith went 1-for-1 with two RBIs.
Wilson went the distance in the circle, giving up just three hits and the two seventh-inning runs. She walked two and struck out four.
Columbia's Lexi Dickerson took the loss after pitching the first inning, giving up three hits and two runs. Molly Carter and Natalie Dummitt each had a hit and scored a run for Columbia.
Up next: Valley City State will play in the NAIA Softball World Series, May 23-29 in Springfield, Mo. The final bracket for the tournament will be announced later this week.
MINNEAPOLIS (AP) — Minnesota reliever Mike Morin hit former teammate Mike Trout with a bases-loaded pitch that forced in a run in the ninth inning before retiring Shohei Ohtani to end the game on a groundout and preserve an 8-7 victory by the Twins over the Los Angeles Angels on Wednesday.
Jonathan Lucroy had an RBI double and David Fletcher drove in a run with a single against Trevor Hildenberger in the three-run ninth, before the Twins turned to Morin for the final two outs and his first save this season. Morin gave up two of the season-high 18 hits by the Angels and plunked Trout on the shoulder.
Byron Buxton and Jason Castro each hit two-run homers and Ehire Adrianza added a two-run double for the Twins, who took the three-game set from the Angels and improved their series record this season to 8-4-2. They've won 10 of their last 15 games, and they're 24-6 when scoring four or more runs. The Twins have 76 home runs in 42 games, the third-most in the major leagues.
Twins starter Jake Odorizzi (6-2) had his scoreless streak stopped at 22 innings when Tommy La Stella took him deep in the third for his team-leading 11th homer. Lucroy tacked on a two-run shot in the sixth, which Odorizzi did not finish for the first time in four starts. He gave up nine hits and three runs in 5 1/3 innings, but this Twins lineup that's suddenly stacked with sluggers produced more than enough support.
Angels starter Trevor Cahill (2-4) bore the brunt of that, allowing six hits and six runs in 4 1/3 innings. He failed to finish the fifth for the fifth time in his last six turns, and the major league leader in home runs allowed has now been taken deep 14 times after the drive to left-center by Buxton in the fifth.
In world and national news…
COLUMBUS, Ohio (AP) — Planned Parenthood and abortion clinics sued Wednesday to thwart Ohio's latest and most restrictive abortion law, an anticipated move that's part of a national anti-abortion strategy to challenge the landmark Roe v. Wade decision.
The lawsuit is similar to legal fights in several southern states that recently passed similar, or more aggressive, legislation to push the now-conservative-leaning Supreme Court to take up abortion and overturn the 1973 ruling that legalized abortion.
Wednesday's lawsuit filed in federal court in Columbus by groups represented by the American Civil Liberties Union and other civil rights attorneys says banning abortions after the first detectable fetal heartbeat is unconstitutional and would prohibit nearly all abortions in Ohio, or as many as nine of every ten.
A detectable heartbeat can come as early as five or six weeks into pregnancy, before many women know they're pregnant. The Ohio law makes no exceptions for pregnancies resulting from rape or incest, and was signed into law by Republican Gov. Mike DeWine last month.
The lawsuit asks for a temporary and then permanent ban on the law taking effect, and to have it declared unconstitutional.
Legal abortion is one of the safest medical procedures in the United States and is substantially safer than continuing a pregnancy to childbirth, the lawsuit said.
CASTLE ROCK, Colo. (AP) — Two students suspected of shooting nine classmates, one fatally, in their Colorado charter school appeared in court Wednesday to face dozens of criminal charges that included murder and attempted murder.
The parents of the teen who was killed in the attack looked on before attending to their son's memorial service. Senior Kendrick Castillo was just days from graduating when he was slain while trying to stop one of the gunmen during the May 7 attack at the STEM School Highlands Ranch, not far from the scene of the 1999 Columbine massacre.
Investigators say the accused assailants, 18-year-old Devon Erickson and 16-year-old Alec McKinney, opened fire with handguns. They were arrested at the school.
While court documents are sealed, the charges against the teenagers listed in electronic court records also included theft and arson. Prosecutors said both will be tried as adults. McKinney's attorney, Ara Ohanian, said she would seek to move McKinney's case back to juvenile court.
Judge Theresa Slade denied the prosecution's request to make some of the documents public but said she would address the issue at the next hearing on June 7.
DUBAI, United Arab Emirates (AP) — A top UAE diplomat says the coalition will "retaliate hard" over attacks on civilian targets after the Yemen rebels' drone attack on a Saudi pipeline.
Anwar Gargash, the UAE's minister of state for foreign affairs, made the comment Wednesday while speaking to journalists in Dubai.
Gargash said: "We will also retaliate and retaliate hard when we see the Houthis hit civilian targets within Saudi Arabia."
However, Gargash also said that the UAE believed a United Nations-brokered agreement on the port city of Hodeida represented the best option for finding a political solution to the yearslong war.
Gargash said: "It's a window, it may not be wide enough, but it is a window we have to work with."
WASHINGTON (AP) — U.S. claims that Iran poses a growing threat to American interests and its allies are meeting international skepticism as well as worries of a slide toward war.
A British general who is a senior officer in the U.S.-backed coalition fighting the Islamic State group says he's seen no increased threat from Iranian-backed forces in Iraq and Syria. That's drawn a rebuttal from the U.S. military but no evidence to back up claims of an increased Iranian threat.
President Donald Trump stirred the controversy when he denied a report that his administration has updated plans to send more than 100,000 troops to counter Iran if necessary, then added: "Would I do that? Absolutely."
British Foreign Secretary Jeremy Hunt says his nation worries about the risk of conflict unintended on either side.
WASHINGTON (AP) — Former Delta Air Lines pilot and executive Stephen Dickson asserts that he will make sure the Federal Aviation Administration does not become captive to the industry if he is confirmed as its chief.
He tells the Senate Commerce Committee considering his confirmation that he will make an iron-clad commitment that his service would be to the American public.
Dickson pointed to his time as Air Force fighter jet pilot as an example of his public service. He says he has a track record of working in a collaborative fashion but he understands safety decisions must be made by the FAA. He also says he wouldn't hesitate to take enforcement action against a company if he's confirmed.
The FAA has been criticized for being too cozy with aircraft maker Boeing Co. in approving the 737 Max jet. The Max has crashed twice in the past year, killing 346 people in Ethiopia and Indonesia.
CASTLE ROCK, Colo. (AP) — Attorneys for one of the students charged with opening fire at his suburban Denver school plan to try to move his case back to juvenile court.
Prosecutors filed adult charges against 16-year-old Alec McKinney Wednesday. That's the youngest age at which prosecutors can file adult charges for a serious felony without a judge's review under Colorado law.
However, his attorneys indicated they would seek a hearing seeking to have the case moved to juvenile court. It's not clear how soon that could happen. District Attorney George Brauchler declined to explain his decision to file adult charges against McKinney.
The shootings at the STEM School Highlands Ranch on May 7 killed 1 student and injured 8 others.
A memorial service for the student killed, 18-year-old Kendrick Castillo, is scheduled for Wednesday afternoon.