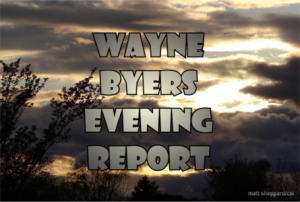 CSi Weather…
.FRIDAY NIGHT…Rain showers in the evening, then rain after midnight.
Lows in the lower 40s. Northeast winds 20 to 25 mph.
.SATURDAY…Rain.Highs in the upper 40s. Northeast winds around 25 mph.
.SATURDAY NIGHT…Cloudy with a 40 percent chance of rain showers in the Jamestown area, 50 percent in the Valley City area. Lows in the upper 30s. Northeast winds 15 to 20 mph. .Highs around 50. Northeast winds 10 to 15 mph.
.SUNDAY…Mostly cloudy.  With a with a 20 percent chance of rain showers. Highs in the lower 50s. Northeast winds around 15 mph.
.SUNDAY NIGHT…Mostly cloudy. Areas of frost after midnight.
Lows in the mid 30s.
.MONDAY…Mostly sunny. Highs around 60.
.MONDAY NIGHT…Mostly cloudy. Lows in the lower 40s.
.TUESDAY…Mostly cloudy with a 40 percent chance of rain
showers. Highs in the upper 50s.
.TUESDAY NIGHT…Mostly cloudy with a 40 percent chance of rain
showers. Lows in the lower 40s.
.WEDNESDAY…Mostly cloudy with a 40 percent chance of rain
showers. Highs in the upper 50s.
.WEDNESDAY NIGHT…Mostly cloudy. A 20 percent chance of rain
showers in the evening. Lows in the lower 40s.
.THURSDAY…Partly sunny. Highs in the lower 60s.
Precipitation will taper off during the day Sunday, with another possible 0.50 to 0.75 inches of  precipitation Saturday through Sunday for much of southwest and south-central North Dakota. Sunday will be a bit warmer, with
highs in the mid 40s to mid 50s, before a cool night and threat
of frost mainly in the southwest and south-central.
A similar pattern emerges on Monday keeping us cool and cloudy.
More precipitation is possible with this system, although there
is still uncertainty on timing, location, and amount. Temperatures
will gradually warm up throughout the work week.
Valley City  (CSi)  The Valley City Area Chamber of Commerce is running the "StreetScape Cash Drawings," in cooperation with businesses in downtown blocks affected by the on-going project.
On Friday's Wayne Byers Show on CSi Cable 2, Valley City Area Chamber of Commerce, Executive Director, Kay Vinje said, those going into those businesses, can sign up at for the weekly, "Construction Cash," drawing with the winner, each week, receiving $100 in Chamber Bucks.  The first week's drawing winner was Judy Stahl.
Kay added as the project moves on to more blocks, those affected businesses may join in having the drawing boxes available to customers to enter into more weekly drawings on Friday each week, for another $100 in Chamber Bucks.
Those names will remain in the final drawing, at the end of the project, with the final prize $1,000 in Chamber Bucks.
Jamestown  (CSi)  The Jamestown Arts Center is taking sign ups for the Kids Summer Camps, that start on June 3.
On Friday's Wayne Byers Show on CSi Cable 2 Arts Center, Director, Mindi Schmitz said June 3-6 the topic is Watercolor Sketching with Linda Roesch,  June 10-13 it's Wonderful World of Warli Western India art, with Sally Jeppson.  June 17- 20 the camp involves ND Pride with Jennifer Wentz with landscapes sunrises and sunsets.  More information and sign ups by contacting the Jamestown Arts Center.
On our show, Mindi also pointed out that the Arts Center is partnering with the Great Plains Food bank to offer students a summer meal program at the Hansen Arts Park, starting June 3rd. The Arts Center is providing space to store the meals and a location for distribution.
North Dakota Farmers Union, Unison Bank, The Jamestown Sun and First Community Credit Union have volunteered to help distribute the meals Monday – Thursday at 12:00 pm.
No qualification and no registration required.
Mindi added that the current exhibit is The Arts of Warli By Vaishali Mohite, on display through Jun 15. Each painting is a snapshot of village life at a region in India.
In conjunction with the exhibit, there will be an Exhibit Luncheon on Wednesday May 19, at noon at the Arts Center,  hosted by Gallery Manager, Sally Jeppson, to hear more about the exhibit and Sally's Warlie Adventures.
A homemade lunch will be available for $5.   RSVP by calling the Arts Center at 701-25-2496.
The next Open Mic Nite is Thursday May 30, from 7-a.m., to 9-a.m. at the Arts Center, facilitated by local musician Steve Kuykendall.
Mindi reminded everybody that the Hansen Art Park in Downtown Jamestown hosts this summer's Art Market, each Thursday from June through August this summer. (Not on the 4th of July.)
More vendors are welcome by contacting the Arts Center.
The event schedule is available on line at www.jamestownarts.com
Fergus Falls, MN  (OTPCO)  Otter Tail Power Company is aware of recent scam activity throughout its service area. "Scammers are targeting both our residential customers and business customers," said Customer Care Supervisor Collin Kremeier. "And they're increasingly convincing, requiring urgent payments to avoid disconnection. We'll never pressure you to make immediate payments, especially through services like MoneyPak, MoneyGram, or pre-paid credit cards."
Kremeier outlines these red flags if you receive suspicious contact from a possible scammer:
The caller says he or she works for Otter Tail Power Company or a collection agency and your electricity is about to be shut off—even though you know you've paid your bill.
The caller references a phony bill date, account number, or balance. Otter Tail Power Company doesn't offer this information over the phone and will only validate what customers provide.
If the scam surfaces via email, the message does not mention Otter Tail Power Company yet contains a clickable link that supposedly would allow you to view your bill.
Use these tips to help protect yourself:
Don't call back the number the scammer provided, as scammers can spoof the company's phone number, making it appear as though the call is coming from Otter Tail Power Company. Contact the company directly at 800-257-4044 or check your account using the company's website, otpco.com.
Only share information by phone if you've initiated the call.
Don't click on links in or reply to a suspicious email.
Never share business or personal information by email.
Contact your financial institution if you shared banking or credit card information.
Report illegal activity to local law enforcement and to the Federal Trade Commission at 877-FTC-HELP.
"It's important to know that an Otter Tail Power Company Customer Service Representative may call to remind you to make a payment—but they never will ask to process your payment on the call," said Kremeier. "Please call us with questions about your account or to make a payment."
Update…
RYDER, N.D. (AP) — Authorities say two men are dead in an apparent murder-suicide in northern North Dakota.
Ward County sheriff's officials say the incident started about 10 p.m. Thursday inside the Ryder Star Bar in Ryder. Authorities say 32-year-old Thomas Huston, of Makoti, entered the bar and confronted 49-year-old Danial Peterson, also of Makoti. After a short physical confrontation, Huston started to walk toward the bar door before circling around and shooting Peterson with a handgun.
Sheriff's officials say Huston left the bar and shot himself outside of his vehicle. Both men were found dead at the scene.
Authorities are continuing to investigate the shootings and say there are no additional suspects.
BISMARCK, N.D. (AP) — Two major news outlets in North Dakota have hired a state lawmaker to report for them, with all three parties saying they'll be careful to avoid any conflicts of interest.Democrat Rep. Matt Eidson of Grand Forks will do freelance work for the Grand Forks Herald and also has an unpaid summer internship with Prairie Public Radio. Eidson just finished his first session in the Legislature.Eidson has an English degree from the University of North Dakota and freelanced for the Herald before becoming a lawmaker. He says he won't report on anything that could present ethical problems.Herald Publisher Korrie Wenzel and Prairie Public News Director Dave Thompson say the same.

All three acknowledge the situation is unorthodox but say they don't believe it will present any problems.
MINOT, N.D. (AP) — Officials have begun relocating an historical museum that was evicted from the North Dakota State Fairgrounds in Minot.
The Ward County Historical Society lost a court battle to keep its Pioneer Village Museum on the fairgrounds but found a new site in nearby Burlington.
Society board member Dan Caswell tells the Minot Daily News that the work is underway. Buildings that need to be moved 8 miles west include old houses, a schoolhouse, an automotive building, a depot and a church.
Caswell says society officials are working up to 60 hours a week on the move and spending their own money. He says more volunteer help and donations are needed. The Legislature approved $150,000 for the move, and the State Fair Association will provide $100,000 if the deadline is met.
FARGO, N.D. (AP) — North Dakota is once again tops in the nation in the production of honey.
The Agriculture Department says producers with five or more colonies totaled 38.2 million pounds of honey in 2018, up 13% from the previous year. That led the nation for the 15th consecutive year.
The number of honey-producing colonies in North Dakota was up 16% to 530,000. Average yield was down 2 pounds, to 72 pounds per colony.
The total value of honey produced in the state was up 12%, to $71.7 million.
Nationally, honey production was up 2%, to 152 million pounds. Montana produced the second-most honey, followed by California, South Dakota and Florida.
In world and national news…
WASHINGTON (AP) — The United States has agreed to remove steel and aluminum tariffs on Canada in what was a key roadblock to a new trade deal and a sore point in relations.
Canada, in turn, has agreed to scrap the tariffs it imposed in retaliation.
In a joint statement on Friday, the two countries said they have agreed to eliminate the tariffs within 48 hours.
Sources in the U.S. and Canada said the Trump administration also has reached a deal to remove steel and aluminum tariffs from Mexico.
President Donald Trump last year slapped tariffs on imported steel and aluminum from China and a number of other nations, including Canada, invoking a rarely used provision of a 1962 law to claim that the foreign metals posed a threat to U.S. national security.
The administration retained the tariffs on Canada and Mexico even after the two countries agreed to Trump's demands to overhaul the North American Free Trade Agreement, which went into effect in 1994. Removal of those tariffs on Canada has become a key demand for the administration to win support of the reworked trade agreement.
COLUMBUS, Ohio (AP) — A former Ohio State University president says he has no memory of a former athletic team doctor or any complaints about him sexually abusing male students.
A report released Friday says the now-dead doctor accused of sexually abusing more than 150 male students pleaded with university administrators in the late 1990s to keep his job near the end.
The report says Dr. Richard Strauss sent letters to administrators, including then-university President Gordon Gee (GEE') as abuse allegations mounted.
Gee is now the president at West Virginia University. He says he told investigators at Ohio State that he had no recollection of Strauss. Gee says he has always taken allegations brought to his attention seriously.
A yearlong investigation says Strauss sexually abused at least 177 male students and that university personnel at the time knew about complaints.
The Latest: Missouri abortion ban draws Capitol protests
JEFFERSON CITY, Mo. (AP) — Protesters against a Missouri bill banning abortions at eight weeks of pregnancy disrupted debate and marched through the halls of the state Capitol.
Dozens of abortion-rights supporters were told to leave the House visitors' galleries Friday after interrupting debate with chants of "when you lie, people die" and "women's rights are human rights."
They then marched through the halls, stopping to chant outside Gov. Mike Parson's office before circling around the House chamber.
They chanted "Vote no, now" as the Republican-led House was passing the legislation, then switched to chants of "shame, shame, shame."
The legislation now goes to Parson, a Republican, who is expected to sign it into law.
WASHINGTON (AP) — President Donald Trump says he hopes the U.S. is not on a path to war with Iran amid fears that his two most hawkish advisers could be angling for such a conflict with the Islamic Republic.
Asked Thursday if the U.S. was going to war with Iran, the president replied, "I hope not" — a day after he repeated a desire for dialogue, tweeting, "I'm sure that Iran will want to talk soon."
The tone contrasted with a series of moves by the U.S. and Iran that have sharply escalated tensions in the Middle East in recent days. For the past year, national security adviser John Bolton and Secretary of State Mike Pompeo have been the public face of the administration's "maximum pressure" campaign against Tehran.
CHICAGO (AP) — A prosecutor says a pregnant Chicago teen who was killed and whose baby was cut from her womb was strangled while being shown a photo album of the late son and brother of her attackers.
The prosecutor told Cook County Judge Susana Ortiz on Friday that 19-year-old Marlen Ochoa-Lopez managed to get her fingers under the cord around her neck and that the woman strangling her, 46-year-old Clarisa Figueroa, then yelled at her daughter, "You're not doing your f—ing job!"
The prosecutor says the daughter, 24-year-old Desiree Figueroa, then pried Ochoa-Lopez's fingers from the cord while her mother continued to strangle the teen.
Ortiz denied bond to the Figueroas, who are charged with murder, and to Clarisa Figueroa's boyfriend, 40-year-old Piotr Bobak, who is charged with concealment of a homicide.