Jamestown  (CSi)  Jamestown Regional Medical Center  will open its Cancer Center on June 17.
To celebrate, JRMC held the grand opening Thursday June 13.
As part of the celebration it was  announcement that  any debt remaining from the construction and furnishing of the Cancer Center has been cleared, as Elizabeth Ruen, Rural Healthcare Program of the Helmsley Charitable Trust, announced the trust had awarded a $500,000 grant to the Cancer Center.
JRMC  President & CEO Mike Delfs said, "It is part of the total cost of getting this up and running.  It gave us the ability to open the doors with this paid for on day one."
CSiNewsNow.com photos.
Previously reported:
On Monday's Wayne Byers Show on CSi Cable 2, JRMC Marketing Director, Katie Ryan-Anderson said the event includes: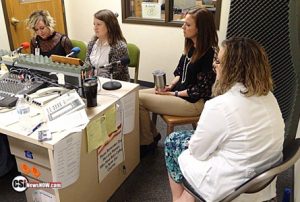 Light appetizers, Speeches from dignitaries, the Hope rock painting, and Tours of the cancer center.
She said following the hour long program, will be the Open House from 1:30-p.m., till around 2:30-p.m.
JRMC Foundation Director, Lisa Jackson said, speeches will be from JRMC President, & CEO Mike Delfs, along with JRMC, Chief Nursing Officer, Trisha Jungles, who will introduce the Care Team, and recognize the Cancer Center's partners, including the Roger Maris Center Center in Fargo.
She added that the JRMC Cancer Center has added personnel trained by the Roger Maris Cancer Center, along with a pharmacist, and two nurses.
She says, miles matter when a person is sick.
The burden of travel can add expense, stress and anxiety to the life of a person who should focus on healing. That is why Jamestown Regional Medical Center will open its JRMC Cancer Center on June 17.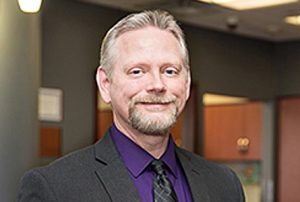 JRMC President and CEO, Mike Delfs says,"This is a historic day for Jamestown and the surrounding communities.  The employees, board and community have dreamed of this day since we opened our new location in 2011."
JRMC expects more than 100 individuals to receive cancer care in its cancer center each month. The JRMC Cancer Center includes six sun-lit infusion rooms, two exam rooms, a nutrition area and nurses station. Patients' individual treatment areas include state-of-the-art, sit-to-stand infusion chairs and companion chairs for visitors, smart TVs, WiFi and refreshments for patients and their companions.
About Jamestown Regional Medical Center
Jamestown Regional Medical Center is located at 2422 20th St. SW, Jamestown, N.D. and serves approximately 55,000 people in nine counties. In 2019, it was named a "Top 100 Critical Access Hospital" for the sixth consecutive year. Modern Healthcare named JRMC a "Best Places to Work in Healthcare" each year since 2017.  For more information, visit www.jrmcnd.com or call (701) 952-1050.