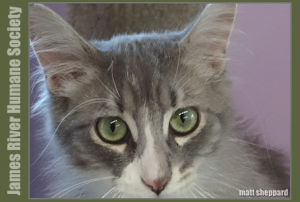 Jamestown  (CSi) The James River Humane Society in Jamestown is participating in  "June is Adopt a Shelter Cat Month."
On Friday's Wayne Byers Show on CSi Cable 2, Board Member, Jay Nitchke said a reduction in the cat adopt fee of $25 is available reducing the fee this month to $125 for an adult cat, or kitten.
The Shelter has more information, by calling 701-252-0747.
Jay added that the humane rescuing  of feral cats in Jamestown continues, pointing out that recently nine cats were captured in the humane traps, in the University of Jamestown area, four of which were kittens.  The cats will be spayed or neutered, and given shots, and checked for fleas, before being available to farmers as barn cats.
The Humane Society will have a fundraiser at Aaron's on Business Loop West on Saturday June 15, from noon to 3-p.m. with a couple of shelter dogs and possibly a cat on hand.
On July 13 The James River Humane Society will hold a Rummage Sale and Grill Out at the Shelter located off the I-94 Bloom Exit from 9-a.m., to 1-p.m.
The Shelter will also have a float in the Buffalo Days Parade.
Upcoming Shelter improvements include…a floor seal for th Birthing/Puppy Room, replacing the railroad ties in the southwest kennels, plus tarps to be provided to shade the outdoor kennels.
Jay added that the shelter welcomes additional volunteers to care for cats and dogs from 5-p.m., to 7-p.m., weekdays and weekends.
Shelter supplies in need include cleaning supplies, litter, treats, paper towels, liquid bleach, rawhide chews, dog and cat toys, 39 gallon garbage bags, and postage stamps for mailings.
She said cash for  aluminum cans brought to Gerdau Ameristeel in Jamestown can be designated to be donated to the James River Humane Society.
Monetary donation can be sent to P.O. Box 636, Jamestown, ND 58402.
The Shelter, located off the I-94 Bloom Exit is open everyday from 9-a.m., to11:30-a.m., and 5:30-p.m., to 6:30-p.m., or by appointment.
Call 701-252-0747.. on line visit www.jamesriverhumanesocity.org