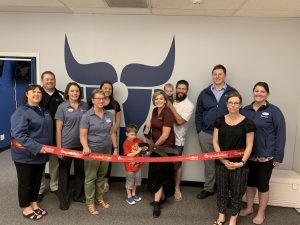 Jamestown  (Chamber)   The Chamber held a ribbon cutting ceremony, Friday for Buffalo City Escape to celebrate the opening of their new business in Jamestown.
This business is located at 311 1st Ave S, in Meidinger Square,  in Jamestown.  The business is owned by Shannon and Courtney Wiest who got the idea of starting an escape room from the show Race to Escape.  Up to eight contestants are trapped in a room and must find different clues on how to get out of the room, with hints being provided if asked for.
They are open
Thursday 6pm to 11pm
Friday 6pm to 11pm
Saturday  11am to 11pm
Sunday 1pm to 5pm
or anyday of the week by appointment.
Businesses qualify for a ribbon-cutting ceremony if they open, move, remodel, are under new ownership or change their name.  For more information, contact Emily Bivens by emailing: director@jamestownchamber.com or call the chamber at 701-252-4830.