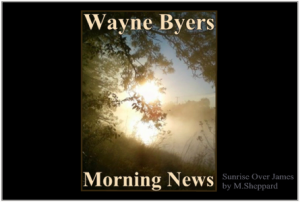 CSi Weather…
.REST OF TODAY.. Increasing clouds. Showers and thunderstorms likely in the afternoon. Highs in the lower 70s. Northwest winds 5 to 15 mph.
Highs in the lower 70s. Temperature falling through the afternoon. Wind northwest 10 to 15 mph with gusts to around 30 mph in the afternoon. Chance of precipitation 60 percent in the Jamestown area, 80 percent in the Valley city area.
.TONIGHT…Mostly clear. A 60 percent chance of rain showers and thunderstorms in the evening in the Jamestown area, 50 percent in the Valley City area. Lows in the lower 40s. North winds 5 to 10 mph. Gusts up to 30 mph in the evening.
.WEDNESDAY…Sunny. Highs in the upper 60s. North winds 5 to
10 mph.
.WEDNESDAY NIGHT…Mostly clear. Lows in the mid 40s. Northwest
winds 5 to 10 mph shifting to the southwest after midnight.
.THURSDAY…Mostly sunny. Highs in the mid 70s. Southwest winds
5 to 10 mph.
.THURSDAY NIGHT…Partly cloudy. Lows in the mid 50s.
.FRIDAY…Partly sunny. A 20 percent chance of rain showers and
thunderstorms in the afternoon. Highs around 80.
.FRIDAY NIGHT…Decreasing clouds. A 40 percent chance of rain
showers and thunderstorms. Lows in the mid 50s.
.SATURDAY…Mostly sunny with a 40 percent chance of rain showers
and thunderstorms. Highs in the mid 70s.
.SATURDAY NIGHT…Partly cloudy with chance of rain showers and
thunderstorms in the evening, then mostly cloudy with slight
chance of rain showers after midnight. Lows in the lower 50s.
Chance of precipitation 30 percent.
.SUNDAY…Partly sunny with a 30 percent chance of rain showers
and thunderstorms. Highs in the lower 70s.
.SUNDAY NIGHT…Partly cloudy. Lows in the lower 50s.
.MONDAY…Mostly sunny. A 20 percent chance of rain showers and
thunderstorms in the afternoon. Highs in the mid 70s.
Scattered to widespread thunderstorms are expected this
afternoon and early evening. A few of these storms may become
strong to severe, with hail up to quarter size and wind gusts to
60 mph.
Chances for thunderstorms Friday through Monday. The
probability of severe weather is low at this time.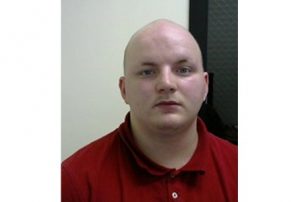 Jamestown (CSi) 6-10-19  The Jamestown Police Department is warning residents about a sex offender who has changed Jamestown addresses.  Kyle Greenough has been assigned a high risk assessment by the North Dakota Attorney General's risk level committee.
He presently resides at 1530 6th Avenue, SW, Buffalo Motel, No. 26, Jamestownm ND 58401.
He does not have a vehicle.
Greenough is a white male, 5 foot 6 inches tall, weighing 260 pounds. He has blue eyes and blond hair.
Offense: Gross Sexual Imposition, when he was 19 years old engaging in a sexual act with a 14 year old female.
Conviction: July 2015 in Dunn County, District Court.
Disposition: 7 years suspended, 42 days credit, 3 years supervised probation.
Offense: Gross Sexual Imposition. When he was a juvenile he had sexual intercourse with several juvenile females.
Conviction date: November 2012 in Dunn County Juvenile Court.
Disposition: 1.5 years.
Greenough is currently on probation with North Dakots Parole and Probation.
Greenough is not wanted by police at this time and has served the sentence imposed by the court.
This notification is meant for public safety and not to increase fear in the community, nor should this information be used to threaten, assault, or intimidate the offender.
Any attempts to harass, intimidate or threaten these offenders, their families, landlords, or employers will be turned over for prosecution.
Printed handouts of the demographics of Kyle Greenough, are available at the Jamestown Police Department.
More information on registered sex offenders is available at the North Dakota Attorney General's web site: www.sexoffender.nd.gov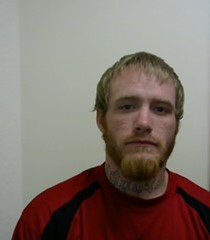 Jamestown (CSi)  Jamestown Police warns the public of a convicted sex offender living in Jamestown.
Michael Allan Nelson resides at 1620 8th Avenue SW, Jamestown, ND 58401.
He presently has no vehicle.
Nelson is  a 29 year old white male five feet nine inches tall, weighing 185 pounds, with blue eyes and blond hair.
He has been assigned a high risk assessment by the North Dakota Risk Level Committee, of the North Dakota Attorney General's Office.
Offense: Corrupt/Solicitation of a Minor, while drinking with a 14 year old female had engaged in intercourse with her.  The two had not been dating before the incident.
Conviction Date: December 2009 in Barnes County District Court.
Disposition: 365 days, 121 days credit.
Nelson is currently on probation with North Dakota Parole and Probation.
Nelson is not wanted by police at this time and has served the sentence imposed by the court.
This notification is meant for public safety and not to increase fear in the community, nor should this information be used to threaten, assault, or intimidate the offender.
Any attempts to harass, intimidate or threaten these offenders, their families, landlords, or employers will be turned over for prosecution.
Printed handouts of the demographics of Michael Allan Nelson are available at the Jamestown Police Department.
More information on registered sex offenders is available at the North Dakota Attorney General's web site: www.sexoffender.nd.gov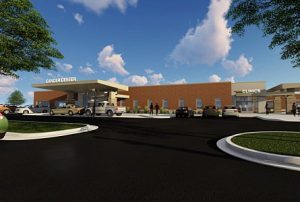 Update…
Jamestown  (CSi)  The grand opening of the JRMC, Cancer Center is on Thursday, June 13.  The event is from 12 noon, to 1-p.m.
The event is free and open to the public.
On Monday's Wayne Byers Show on CSi Cable 2, JRMC Marketing Director, Katie Ryan-Anderson said the event includes: Light appetizers, Speeches from dignitaries, the Hope rock painting, and Tours of the cancer center.
She said following the hour long program, will be the Open House from 1:30-p.m., till around 2:30-p.m.
JRMC Foundation Director, Lisa Jackson said, speeches will be from JRMC President, & CEO Mike Delfs, along with JRMC, Chief Nursing Officer, Trisha Jungles, who will introduce the Care Team, and recognize the Cancer Center's partners, including the Roger Maris Center Center in Fargo.
She added that the JRMC Cancer Center has added personnel trained by the Roger Maris Cancer Center, along with a pharmacist, and two nurses.
She says, miles matter when a person is sick.
The burden of travel can add expense, stress and anxiety to the life of a person who should focus on healing. That is why Jamestown Regional Medical Center will open its JRMC Cancer Center on June 17.
JRMC President and CEO, Mike Delfs says,"This is a historic day for Jamestown and the surrounding communities.  The employees, board and community have dreamed of this day since we opened our new location in 2011."
JRMC expects more than 100 individuals to receive cancer care in its cancer center each month. The JRMC Cancer Center includes six sun-lit infusion rooms, two exam rooms, a nutrition area and nurses station. Patients' individual treatment areas include state-of-the-art, sit-to-stand infusion chairs and companion chairs for visitors, smart TVs, WiFi and refreshments for patients and their companions.
About Jamestown Regional Medical Center
Jamestown Regional Medical Center is located at 2422 20th St. SW, Jamestown, N.D. and serves approximately 55,000 people in nine counties. In 2019, it was named a "Top 100 Critical Access Hospital" for the sixth consecutive year. Modern Healthcare named JRMC a "Best Places to Work in Healthcare" each year since 2017.  For more information, visit www.jrmcnd.com or call (701) 952-1050.
Valley City  (VCPS)  The Valley City Public School District will hold its annual school board election on Tuesday, June 11, 2019 at the polling place,  the school administration building conference room. The  polls will be open from 11:00 a.m. until 7:00 p.m. There are two positions up for election.
Business manager Thomas Vanorny says three candidates will be on the ballot, Darin Anderson, Josh Lagein and Jamie Sylling. He said the top two will take their seats on the school board in July of 2019.
LISBON, N.D. (AP) — The body of a man has been recovered from a submerged pickup truck in a Ransom County creek.
Sheriff Darren Benneweis (BEN'-ah-ways) says someone called authorities after seeing the truck entering Dead Colt Creek about 11 a.m. Monday southeast of Lisbon.
KFGO reports the man's body was later located and recovered. He has not been identified.
FARGO, N.D. (AP) — Two men are charged with murder and conspiracy to commit murder in the shooting death of the owner of a barbeque food truck in downtown Fargo.
Nineteen-year-old Kareem Lee Byrd and 30-year-old Charles Edward Harris III were charged Monday in the death of Jason Halvorson last Friday. Authorities say Halvorson was shot with a .22-caliber revolver and a 9 mm semi-automatic handgun.
According to the complaints, Harris told investigators that he was not directly involved in the shooting. Byrd said both of them fired multiple rounds at the victim.
KFGO-AM reports the shooting followed a dispute with Halvorson and took place outside his food trailer. He died about an hour after the shooting.
Bail for Byrd and Harris was set at $2 million each. Both remained in Cass County Jail.
MANDAN, N.D. (AP) — Police are turning to Facebook and bank records to try to identify a motive for why four people were killed at a North Dakota business two months ago.
Mandan Police Deputy Chief Lori Flaten tells the Bismarck Tribune that police are "trying to cover all the bases" in their investigation of the April 1 deaths of RJR Maintenance and Management co-owner Robert Fakler and three workers. Authorities say they were shot and stabbed at the business in Mandan.
Washburn chiropractor Chad Isaak is facing murder charges in the case.
Court documents show police have sought search warrants for Isaak's personal and business bank records, as well as victims' Facebook accounts.
Flaten says it's possible police will never uncover a motive, but wouldn't comment on how that could affect Isaak's prosecution.
BISMARCK, N.D. (AP) — Candidates competing for a voter-approved ethics commission in North Dakota are being asked about their political past and examples of leadership, problem solving and unpopular decisions they've made.
Nearly 70 people applied to serve on the five-member panel to oversee the conduct of legislators, statewide officials, candidates and lobbyists. It's considered key to implementing a constitutional amendment to overhaul North Dakota's government ethics, despite the Republican-led Legislature's successful push of its own bill they believed met the requirements of the ballot measure.
Republican Gov. Doug Burgum and Senate majority and minority leaders must agree by consensus on who sits on the five-member panel, which is expected to be chosen by July 1.
Burgum spokesman Mike Nowatzki said the governor's office drafted the survey with "input and feedback" from legislative leaders.
FARGO, N.D. (AP) — North Dakota farmers have nearly completed planting their spring wheat crop.
According to the weekly federal crop report, 98 percent of North Dakota's spring wheat was planted as of Sunday. That's near last year's 99 percent and equal to the five-year average. Spring wheat is 86 percent emerged, behind 93 percent last year and 91 percent average. But 84 percent of spring wheat is rated in good or excellent condition.
North Dakota farmers also are close to wrapping up corn planting. Corn planting was 93 percent, behind 99 percent last year and 98 percent average.
Soybean planting continues to lag, with 88 percent planted compared with 96 percent last year and 93 percent average.
Oats, canola, flaxseed and barley are nearly all planted.
Farmers had 6.1 days suitable for fieldwork.
BISMARCK, N.D. (AP) — The North Dakota Legislature's 141 members have been assigned to committees to study topics that could inspire bills for the next legislative session.
The Legislative Management committee on Monday assigned the lawmakers to conduct 46 studies that range from education funding to the use of earnings from the voter-approved oil tax savings account.
The Legislative Management committee is a 17-member panel that oversees the Legislature's business between sessions.
Each committee will compile a report and any suggested legislation for the 2021 session.
Republicans hold more than two-thirds majorities in both the North Dakota House and Senate, and they control the study and committee selection process.
Democrats have only one member chairing a study committee. Two years ago, they had three interim committee chairmanships.
In sports…
Jamestown  (CSi)  The 39th Annual Dakota Anglers Little Britches Fishing Tournament is this Saturday June 15th.
Teams of one child  and one adult are invited to the  tournament.
Registration at Joos Grove  is 8-a.m. to 10-a.m.  Teams can fish at any one body of water, weigh is at 2-p.m.
Children  8 to 13 will  be eligible to register for their chance to be sponsored to attend the Devils Lake Fish Camp August 4 through August 8.
For more information call Dusty Attleson at 701-320-1731 or Kay Herrick at 701-252-8451.
NBA-FINALS
Warriors beat Raptors but lose Durant againTORONTO (AP) _ The Golden State Warriors are sending the NBA Finals back to Oakland following a flurry of late 3-pointers. But the Warriors will have to continue their quest for a third straight championship without the services of their All-Star forward.The good news for the Warriors was their ability to rally for a 106-105 win over the Raptors in Toronto to pull within three games to two in the series. Golden State trailed by six with about three minutes left until Stephen Curry and Klay Thompson nailed three straight from beyond the arc. Curry finished with 31 points, eight rebounds and seven assists, while Thompson added 26 points and six boards to help Golden State overcome a potentially serious injury to Kevin Durant.The Warriors announced after the game that Durant has an injured right Achilles and will undergo an MRI on Tuesday to determine the severity. Durant scored 11 points in 12 minutes before getting hurt again with about two months gone in the second quarter.Durant missed the Warriors' previous nine games with a strained calf and wasn't cleared to practice until after Game 4.Without Durant, the Warriors allowed the Raptors to take the lead in the fourth quarter before Golden State revived its quest for a third straight championship.The Raptors had a chance to pull out the win, but Kyle Lowry's 3-point attempt was way off the mark to deny Toronto of its first NBA crown.Kawhi (kah-WY') Leonard had a team-high 26 points but was unable to take the final shot. Lowry ended up with 18 points and Marc Gasol (gah-SAHL') finished with 17 after scoring 15 by intermission.

Game 6 is Thursday in Oakland.

NBA-NEWS

Parker retires

UNDATED (AP) _ One of the NBA's greatest point guards is calling it a career.

Four-time NBA champion Tony Parker has announced he's retiring after 18 seasons, saying it was an "incredible journey. The 37-year-old Parker played 17 seasons for the Spurs and made the postseason every year of his career before joining the Hornets and missing out this season.

Parker started 1,151 games regular season games and averaged 15.5 points and 5.6 assists per game. He also played in 226 playoffs games, averaging 17.9 points and 5.1 assists per game.

He was selected to six All-Star Games and named second-team All-NBA three times.

Also in the NBA:

_ Pelicans basketball operations chief David Griffin has announced the hiring of former WNBA and U.S. national team player Swin Cash as vice president of basketball operations and team development. Cash won two NCAA titles with Connecticut and captured three more championships during her 15-year WNBA career. She also claimed Olympic gold medals with the U.S. women's national team in 2004 and 2012.

MLB-DAVID ORTIZ SHOT

Ortiz arrives in Boston for gunshot wound treatment

BOSTON (AP) _ Ex-Red Sox slugger David Ortiz has arrived in Boston from the Dominican Republic for more medical care after being shot by an attacker outside a bar on Sunday.

Before departure, an Ortiz spokesman said the 43-year-old athlete was in stable condition after doctors removed his gallbladder and part of his intestine. He said Ortiz's liver was also damaged in Sunday night's shooting.

Ortiz, known affectionately as Big Papi, is one of the most beloved figures in sports history in the Dominican Republic and Boston. The fearsome power hitter led the Red Sox to three World Series championships, was a 10-time All-Star and hit 541 home runs.

The Red Sox honored the All-Star and World Series MVP before Monday's game against the Rangers.

MLB…

Rays pass Yanks by topping A's

UNDATED (AP) _ The Tampa Bay Rays are all alone atop the AL East after getting a series-opening victory against Oakland.

Charlie Morton stayed unbeaten with the Rays by tossing seven scoreless innings of two-hit ball to lead a 6-2 win over the Athletics. Morton improved to 8-0 this season and extended his career-best winning streak to 11 games dating to Aug. 17 with the Astros.

Brandon Lowe (low) snapped a scoreless tie with his third homer in two days, a two-run blast in the sixth. Kevin Kiermaier and Ji-Man Choi also belted two-run shots as the Rays moved a half-game ahead of the Yankees for the division lead.

Elsewhere on major league diamonds:

_ Elvis Andrus (AN'-droos) singled home the tiebreaking run in the 11th inning to send the Rangers past the Red Sox, 4-3. Danny Santana picked up his fourth hit of the night with an 11th-inning double before scoring the go-ahead run. Texas beat the Red Sox for just the third time in 15 games and snapped a six-game losing streak against Boston.

_ The Diamondbacks opened their 13-8 rout of the Phillies with three straight home runs before finishing with a team-record eight. Jarrod Dyson, Ketel (keh-TEHL') Marte and David Peralta (peh-RAHL'-tah) supplied the early round-trippers before Eduardo Escobar became the first Diamondback to homer from each side of the plate in consecutive innings. Ildemaro Vargas also went deep twice as the two teams combined for a major league-record 13 home runs.

_ The Braves rolled to a 13-7 win over the Pirates as Ronald Acuña (ah-KOON'-kuh) Jr. hit a grand slam and Ozzie Albies supplied two of Atlanta's five home runs. Nick Markakis (mahr-KAY'-kihs) and Freddie Freeman added two-run blasts as the Braves won their fourth in a row to pull into a first-place tie with the Phils in the NL East at 37-29. Pittsburgh starter Joe Musgrove hit Josh Donaldson with a first-inning pitch, leading to a benches-clearing incident and the ejections of both players.

_ Kurt Suzuki launched a grand slam during a six-run ninth and had five RBIs in the Nationals' 12-1 drubbing of the White Sox. Trea Turner came within a single of the cycle while collecting two RBIs in Washington's 12th win in 16 games. Anibal Sánchez earned his second straight win since an 0-6 starting, limiting Chicago to one run and four hits over six-plus innings.

_ Shohei Ohtani (SHOH'-hay oh-TAH'-nee) scored the tiebreaking run on a fielder's choice in the eighth inning to help the Angels rally past the Dodgers, 5-3. The Dodgers had a 3-1 lead in the seventh until Mike Trout unloaded a two-run homer. Chris Taylor had an early two-run double for the Dodgers, but the Angels chipped away and scored twice in the eighth without a hit.

_ Ryan McMahon singled home the go-ahead run in the eighth inning to complete the Rockies' comeback from a 4-0 deficit in a 6-5 win against the Cubs. Ian Desmond furnished a 486-foot blast for Colorado, which also received homers by Nolan Arenado (ar-eh-NAH'-doh) and Charlie Blackmon in its ninth straight home win. The Cubs fell a half-game behind the first-place Brewers in the NL Central despite homers from Anthony Rizzo, Kyle Schwarber and David Bote (BOH'-tee).

_ The Cardinals bounced back from a three-game sweep by the Cubs as Michael Wacha (WAH'-kah) threw six scoreless innings in a 4-1 victory at Miami. The former All-Star allowed five hits, struck out four and lowered his ERA to 5.63 in his return to the rotation. St. Louis scored three unearned runs in the sixth as catcher Jorge Alfaro's wild throw on a sacrifice bunt brought home a pair before Harrison Bader followed with a sacrifice fly.

_ The Mets and Yankees were rained out in the Bronx, creating a day-night doubleheader for Tuesday.

MLB-NEWS

Keuchel sharp in minor league start

UNDATED (AP) _ Dallas Keuchel (KY'-kul) dominated in his first minor league game since signing with the Braves, pitching one-hit ball for seven scoreless innings for Class A Rome against Charleston on Monday.

The 2015 AL Cy Young Award winner struck out nine in the South Atlantic League game as he prepares for his big league season debut. The 31-year-old Keuchel might make his Atlanta debut after one more minor league start.

Keuchel signed a one-year, $13 million contract last week.

In other MLB news:

_ Cardinals right-hander Adam Wainwright has been placed on the 10-day injured list with a left hamstring injury. The 37-year-old Wainwright was hurt running out a double in the fifth inning of Sunday's loss at the Cubs. He returned to St. Louis for evaluation while the Cardinals flew to Miami for a three-game series.

_ The Pirates have put right-hander Jordan Lyles on the 10-day injured list with tightness in his left hamstring. The move came after Lyles lasted only three innings, allowed three runs on five hits and four walks in just three innings of Saturday's 5-3 loss at Milwaukee.

NASCAR-MICHIGAN

Logano gives Penske fifth Cup win of year

BROOKLYN, Mich. (AP) _ Joey Logano has earned his second NASCAR Cup Series victory of the season, fending off Kurt Busch and Martin Truex Jr. in overtime at Michigan International Speedway.

Logano was trying to hold on to a dwindling lead over Truex and Busch with five laps remaining before Erik Jones went into the grass, prompting a caution flag that forced overtime. It was a dominant visit to Michigan for Logano, who won the pole in qualifying and then led a track-record 163 laps in the race.

Kurt Busch finished second, followed by Truex, Daniel Suarez and Kyle Busch in a race that was pushed back a day because of rain.
NFL-WINSLOW-RAPE TRIALWinslow convicted
SAN DIEGO (AP) _ Former NFL tight end Kellen Winslow Jr. has been convicted of raping a 58-year-old homeless woman last year in San Diego County.A jury returned the verdict Monday in San Diego Superior Court in Vista but was continuing to deliberate on two more counts of rape involving a hitchhiker and an unconscious teenage girl. He also was convicted of two counts of lewd conduct involving two other women.Winslow faces up to life in prison.TENNIS RANKINGSFrench Open champ Barty up to career-best No. 2 in rankingsPARIS (AP) _ French Open champion Ash Barty's first Grand Slam title has lifted her to a career-best No. 2 in the WTA rankings. Barty moved up six places Monday. Reigning U.S. Open and Australian Open champion Naomi Osaka remains at No. 1.

Former No. 1 Simona Halep dropped from No. 3 to No. 8 after losing to 17-year-old American Amanda Anisimova in the quarterfinals at Roland Garros, where she was the defending champion.

The top eight spots in the ATP rankings stayed the same, with French Open champion Rafael Nadal at No. 2, behind Novak Djokovic. Roger Federer is still at No. 3, and Roland Garros runner-up Dominic Thiem (teem) is No. 4.

WWCUP-TICKETS

Despite FIFA ticket boast, most World Cup games not sold out

NICE, France (AP) — FIFA says 14 of 52 Women's World Cup games have sold out, a month after boasting only a "few matches" still had tickets available.

The governing body provided ticketing details in response to questions from The Associated Press.

Of the nine games in the opening four days of the tournament, the only capacity games were host France's victory over South Korea in Paris and Brazil's win over Jamaica in Grenoble.

On the Women's World Cup Twitter account on May 7, FIFA wrote that "You can still buy tickets for a few matches" — despite it now being apparent more than 70 percent of games were not at capacity.

FIFA did not respond to a question about the tweet.
In world and national news..
NEW YORK (AP) — A helicopter crashed on the roof of a rain-shrouded midtown Manhattan skyscraper Monday, killing the pilot and briefly triggering memories of 9/11, after an erratic trip across some of the nation's most restricted airspace. Authorities said they did not suspect terrorism.
The crash near Times Square and Trump Tower shook the 750-foot (229-meter) AXA Equitable building, sparked a fire, and forced office workers to flee on elevators and down stairs, witnesses and officials said.
The pilot was the only person aboard, and there were no other reports of injuries.
DETROIT (AP) — Hundreds of boxes. Millions of records. From Michigan to New Mexico this month, attorneys general are sifting through files on clergy sex abuse, seized through search warrants and subpoenas at dozens of archdioceses.
They're looking to prosecute, and not just priests. If the boxes lining the hallways of Michigan Attorney General Dana Nessel's offices contain enough evidence, she said, she is considering using state racketeering laws usually reserved for organized crime. Prosecutors in Michigan are even volunteering on weekends to get through all the documents as quickly as possible.
For decades, leaders of the Roman Catholic Church have largely been left to police their own. But now, as American bishops gather for a conference to confront the reignited sex-abuse crisis this week, they're facing the most scrutiny ever from secular law enforcement.
BEIRUT (AP) — A Lebanese official says a U.S. permanent resident imprisoned for years in Iran is free and on his way to Lebanon.
The official says Nizar Zakka, a Lebanese businessman, is on a plane with the chief of Lebanon's General Security Directorate Gen. Ibrahim Abbas and heading to the Lebanese capital.
The official spoke to The Associated Press on condition of anonymity in line with regulations.
Zakka has been imprisoned in Iran since 2015. He is one of several prisoners with either dual nationality or links to the West held in Iran. His release comes as tensions between Iran and the U.S. remain high after President Donald Trump withdrew America from Tehran's nuclear deal with world powers.
BUDAPEST, Hungary (AP) — Hungary's interior minister and a South Korean official have visited the site at Budapest's Margit Bridge, where rescue crews are using a huge floating crane to lift a sunken tour boat out of the Danube River.
After lifting much of the top of the Hableany (Mermaid) to the river's surface, rescuers could be seen adding another wire strap to the back of the boat as water was being pumped out of the boat's hull. Four bodies were recovered from the boat soon after its top reached the surface.
Rescuers plan to lift the boat unto a barge and hand it over to police, who are continuing their investigation into the May 29 collision between the Hableany and the Viking Sigyn, a much larger river cruise ship.
Nineteen South Korean tourists and a Hungarian crewman were previously confirmed to have died, with eight people still listed as missing. Only seven of the 35 people on board were rescued.
HONG KONG (AP) — The head of Hong Kong's legislature has announced the schedule for debate on contentious changes to the territory's extradition laws, setting a vote by June 20.
Legislature President Andrew Leung said Tuesday that he had accepted 153 out of 238 proposed amendments to the bills. He said there would be 66 hours for debate.
Hundreds of thousands of people protested against the legislation on Sunday in the largest demonstration in Hong Kong in more than a decade.
The turnout reflected growing apprehension about relations with the Communist Party-ruled mainland.
DUBAI, United Arab Emirates (AP) — The New York Times says Iran has revoked the press accreditation of its Tehran-based correspondent.
The Times said early Tuesday that Iran's government offered no explanation for its decision regarding Thomas Erdbrink, a Dutch national who has lived for years in Iran.
The newspaper said Erdbrink lost his accreditation four months ago and that "officials of Iran's Foreign Ministry have repeatedly assured The Times that Mr. Erdbrink's credential would soon be restored."
Iran's mission to the United Nations did not immediately respond to a request for comment.
The revocation of Erdbrink's government-required accreditation comes amid heightened tensions between the U.S. and Iran, stemming from President Donald Trump's decision to pull America from Tehran's nuclear deal with world powers a year ago.
SHANGHAI (AP) — A Chinese Foreign Ministry spokesman has refrained from saying if President Xi Jinping intends to meet with U.S. President Donald Trump during a summit in Osaka later this month.
Geng Shuang said Tuesday when asked by reporters about a possible meeting that the Chinese side would release information when it is available. He reiterated Beijing's stance that it does not want a trade war but is not afraid to fight one.
Trump earlier said that he expects to meet with Xi in Osaka but step up tariffs on Chinese goods if they don't meet.
Geng said that if the U.S. was ready to hold "equal consultations" the door was wide open. He added, "But if it insists on escalating trade frictions, we will respond to it with resolution and perseverance."