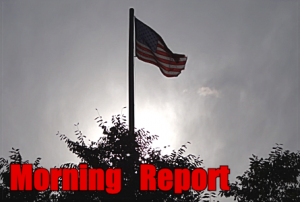 CSi Weather…
.  REST OF TODAY…Partly sunny.  A 50 percent chance of showers and thunderstorms in the afternoon. Some thunderstorms may be severe.
Highs in the mid 80s. West winds around 5 mph shifting to the northeast in the afternoon.
.TONIGHT…Mostly cloudy. Chance of rain showers and
thunderstorms in the evening, then rain showers likely and chance
of thunderstorms after midnight. Some thunderstorms may be severe
in the evening. Lows in the upper 50s. East winds 5 to 10 mph.
Chance of precipitation 60 percent in the Jamestown area, 50 percent in the Valley City area.
.SATURDAY…Decreasing clouds. Rain showers likely and chance of
thunderstorms. Highs in the lower 70s. Southeast winds 5 to
10 mph shifting to the northeast with gusts to around 25 mph in
the afternoon. Chance of precipitation 70 percent.
.SATURDAY NIGHT…Mostly cloudy with chance of rain showers and
slight chance of thunderstorms. Lows around 50. North winds 5 to
10 mph with gusts to around 25 mph. Chance of precipitation
40 percent in the Jamestown area, 50 percent in the Valley City area.
.SUNDAY…Mostly cloudy with a 20 percent chance of rain showers.
Highs in the upper 60s. North winds 10 to 15 mph.
.SUNDAY NIGHT…Decreasing clouds. Lows in the upper 40s.
.MONDAY…Mostly sunny. Highs in the upper 60s.
.MONDAY NIGHT…Partly cloudy. Lows in the upper 40s.
.TUESDAY…Partly sunny with a 30 percent chance of rain showers
and thunderstorms. Highs in the lower 70s.
.TUESDAY NIGHT…Mostly cloudy with a 40 percent chance of rain
showers and thunderstorms. Lows in the mid 50s.
.WEDNESDAY…Mostly cloudy. Chance of rain showers and slight
chance of thunderstorms in the morning, then rain showers likely
and chance of thunderstorms in the afternoon. Highs in the lower
70s. Chance of precipitation 60 percent.
.WEDNESDAY NIGHT…Mostly cloudy with a 50 percent chance of rain
showers and thunderstorms. Lows in the lower 50s.
.THURSDAY…Partly sunny with a 40 percent chance of rain showers
and thunderstorms. Highs in the lower 70s.
Thunderstorms are likely today and tonight. A few severe storms are possible this afternoon and evening across western and central North Dakota. Quarter size hail and gusts to 60 mph are the main threats.
Thunderstorms are possible Saturday, and Tuesday through Thursday.
Jamestown  (CSi)  Jamestown Regional Medical Center  will open its Cancer Center on June 17.
To celebrate, JRMC held the grand opening Thursday June 13.
As part of the celebration it was  announcement that  any debt remaining from the construction and furnishing of the Cancer Center has been cleared, as Elizabeth Ruen, Rural Healthcare Program of the Helmsley Charitable Trust, announced the trust had awarded a $500,000 grant to the Cancer Center.
JRMC  President & CEO Mike Delfs said, "It is part of the total cost of getting this up and running.  It gave us the ability to open the doors with this paid for on day one."
CSiNewsNow.com photos.
Previously reported:
On Monday's Wayne Byers Show on CSi Cable 2, JRMC Marketing Director, Katie Ryan-Anderson said the event includes: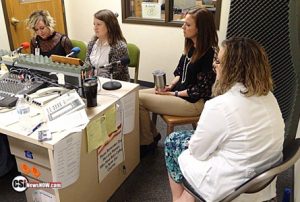 Light appetizers, Speeches from dignitaries, the Hope rock painting, and Tours of the cancer center.
She said following the hour long program, will be the Open House from 1:30-p.m., till around 2:30-p.m.
JRMC Foundation Director, Lisa Jackson said, speeches will be from JRMC President, & CEO Mike Delfs, along with JRMC, Chief Nursing Officer, Trisha Jungles, who will introduce the Care Team, and recognize the Cancer Center's partners, including the Roger Maris Center Center in Fargo.
She added that the JRMC Cancer Center has added personnel trained by the Roger Maris Cancer Center, along with a pharmacist, and two nurses.
She says, miles matter when a person is sick.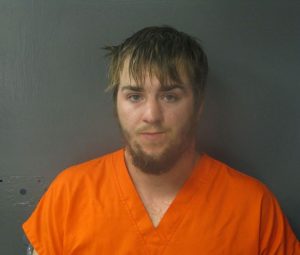 Jamestown  (CSi)  Jamestown  Police reports a Fargo man is under suspicion  of assaulting two Jamestown Police officers.
Major Justin Blinsky says,  28 year old Christopher Houston Perman, formerly of Jamestown, was taken into  custody on suspicion of disorderly conduct and assaulting two Jamestown police officers last Saturday.
Perman was taken to a medical facility Saturday and transferred to the Stutsman County Correctional Center last Tuesday awaiting formal charges.
Jamestown Police Department was assisted by the Stutsman County Sheriff's Office.
An investigation of possible thefts in the area is continuing.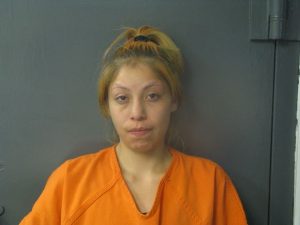 Valley City (CSi)  Valley City Police report that officers were dispatched to the 200 block of Central Avenue North about 9-a.m. Thursday,  for a break-in in progress  at an apartment unit.
Police Chief Phil Hatcher says officers located a female looking for a family member  in one of the apartments.
The woman had damaged some property and was yelling obscenities. He says officers were able to immediately take control of the situation.
Following an investigation, police arrested  25 year-old Gabrielle Audra Yellowhorse of Valley City, who was taken to the Barnes County Jail.
Charges of Criminal Mischief and Disorderly Conduct are pending against her.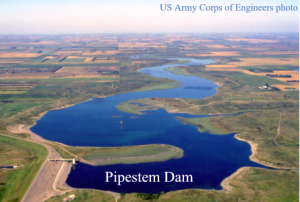 Omaha  (CSi)   —   Pipestem Reservoir has initiated summer releases to evacuate flood control storage by a target date of Sept. 1, 2019.  Releases were increased to 200 cfs Thursday, and will be stepped up to the expected summer release of 450 cfs Friday.Pipestem Reservoir is currently at pool elevation 1470.7 feet, which is 28.2 feet above the base of the flood pool, or approximately 35% full. Inflows into the reservoir are currently 0 cfs. Basin conditions and inflows to the reservoir will be continuously evaluated and adjustments to the releases will be made as needed.
Jamestown Reservoir is currently at pool elevation 1430.7 feet, approximately 0.3 feet below the base of the flood control pool.  Jamestown Dam is owned and operated by the U.S. Bureau of Reclamation and releases from the flood pool are directed by the Army Corps of Engineers.
High river flows continue on the James River in South Dakota, and conditions on the entire James River basin are considered in determining project releases.
LISBON, N.D. — 69 year old Ronald Wallner of Lisbon has identified as the man who was found dead in a Lisbon creek on Monday, June 10.
Wallner was found dead in a submerged truck in the Dead Colt Creek.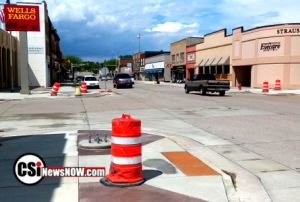 Valley City (CSi) – Central Avenue from Main to 3rd St has been reopened to traffic in time for Rally In The Valley.   Streetlight work remains, so traffic will see stop signs.
Bismarck  (CSi)  The North Dakota Aeronautics Commission reports, latest airline boarding numbers for Jamestown Regional Airport.
The report says in May this year, 839 passengers boarded United Express in Jamestown, compared to 1,122 in May of 2018, down 25-percent.
Through May this year, 4,177 Jamestown boardings, compared to 4,983 through May of 2018.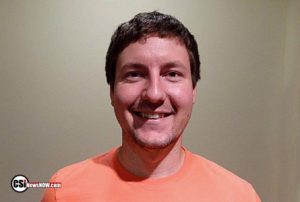 Jamestown  (CSi)  Jamestown's new City Forester, Erik Laber  began his duties in Jamestown, on June 3 to help with caring for Jamestown's Urban Forester.
On s  recent Wayne Byers Show on CSi Cable 2, Erik  said he was born and raised in Jamestown, and attended Pingree-Buchanan High School and majored in Horticulture and minored in Crop and weed science at NDSU.
His background includes employment with Jamestown Parks and Recreation, Mainline agronomy, along with the NDSU Central Grasslands REC, NDSU Animal Nutrition and Physiology Center.
He added that his first week activities as Jamestown City Forester has included, meeting people, addressing resident calls and questions, catching up on the gap between him as City Forester, and previous City Forester.
He said, that Dutch Elm Disease counting will be starting soon.  He will visit areas of Jamestown and check for elm logs with the barks attached and inform the property owner that they are in violation of the City Code pertaining to have the logs either debarked, or burned.
The elm bark beetle, harbors beneath the bark, transmitting the disease to other trees.
He outlined his immediate concerns of the Urban Forest, including, Ash and Maple trees losing leaves.  He attributes that to Anthracnose, a long cool wet spell followed by hot and drier weather.
He pointed out that while there is no real treatment, fertilizing is beneficial, and he noted a second flush of leaves, especially with Ash trees.  He says, typically a tree can withstand two to three years of having Anthracnose, and survive
He suggested to rake leaves in fall to prevent reinfection, prune for air flow and sunshine will help.
With campfire season in progress, not to transport infected firewood, as the fungus and insects live in dead wood.
Please plant a new tree if one is removed.
He pointed out that all new boulevard plantings need permit, adding to Call Before You Dig, to make sure not underground utilizes will be affected.
His office has a list of approved trees for boulevard plantings.
Reach Erik at his City Hall office, at 701-252-5900, or E-Mail Elaber@Jamestownd.gov
Jamestown  (CSi)  TSC in Jamestown is having a 'tractor show' and a chainsaw artist this Saturday June 15th from 10 to 3.  4-H will have a booth there for most of this time and will be selling tickets to win a Polaris helmet or chicken coops!!  Proceeds from those ticket sales will go to Stutsman County 4-H.
The helmet ticket sales and drawing will only be on June 15th – drawing that night and winner will be contacted on Monday.  The chicken coops will have ticket sales at TSC up to the fair on June 26th, then will be moved to the fair and sold there until Friday night with the winners will be announced at the 4-H Parade of Champions on Saturday June 29th at 4:30 pm.
Jamestown  (CSi)  The Jamestown city Park Board has given preliminary approval in the 2020 budget, of a 4-percent raise for full-time employees.
Jamestown Parks and Recreation Director, Doug Hogan says the salary increase would be included in preliminary budget figures to be reviewed at the July and August meetings.
The Park Board also approved developing a strategic plan.
An an online survey will solicit public comment on the department's facilities and programs.
GRAND FORKS, N.D. (AP) — A Grand Forks man is in custody after police were called to a report of a man with a gun at a Walmart store.Officers were called around 10:30 p.m. Thursday on a report that a man with a gun was in the electronics section of the store on Gateway Drive. But police say no gun was recovered at the scene and that no shots were fired.Police found the man inside the store and arrested him after a brief struggle. No one was hurt.Investigators learned there had been an altercation between the man and a Walmart employee. The 30-year-old suspect faces charges of terrorizing, preventing arrest and disorderly conduct.The store remained open.
RYDER, N.D. (AP) — A Minot man chasing a dog on a highway is dead after he was struck by an SUV in Ward County.The North Dakota Highway Patrol says a van stopped on the shoulder of Highway 28 south of Ryder around 10:30 a.m. Thursday. The people inside the van got out, and after a dog got loose from the vehicle, the 23-year-old man tried to chase it and was hit by the oncoming SUV.The SUV was driven by a 23-year-old woman from New Town. She was not hurt.It was raining at the time of the crash. KFGO Radio reports the name of the victim was not released. 
BISMARCK, N.D. (AP) — A federal appeals court has upheld a ruling blocking a proposed merger between Sanford Health and Mid Dakota Clinic.
The 8th U.S. Circuit Court of Appeals on Thursday affirmed U.S. Magistrate Judge Alice Senechal's preliminary injunction in 2017 blocking the merger.
North Dakota Attorney General Wayne Stenehjem and the Federal Trade Commission alleged the deal would violate antitrust law by significantly lessening competition for health care services in the Bismarck-Mandan area.
Stenehjem says the appeals court panel "recognized the potential negative consequences for patients in the Bismarck-Mandan area."
Sanford and Mid Dakota agreed to merge in 2017.
The 8th Circuit found that as a combined entity, Sanford and Mid Dakota Clinic would have up to a 98% share of many health care services in the region.
BISMARCK, N.D. (AP) — Lawyers in the federal case of a Rhode Island woman convicted in North Dakota of funneling lottery scam money between the U.S. and Jamaica have agreed on sentencing recommendations.
A jury last year found Melinda Bulgin guilty of conspiracy, fraud and money laundering in a scam that allegedly bilked more than 100 mostly elderly Americans out of $6 million. The wide-ranging case with more than 30 defendants wound up in North Dakota because that's where the initial identified victim lives.
Court documents show that attorneys have signed off on a sentencing range for Bulgin between 11 and 14 years in prison. She would also pay back more than $330,000. Sentencing is scheduled July 10.
The ringleader of the scam, Lavrick Willocks, signed a plea agreement and was sentenced last year to six years in prison.
MANDAN, N.D. (AP) — North Dakota residents are donating blood to fill a shortage this summer that a blood transfusion nonprofit says is leaving hospitals in the region without enough donations to meet their needs.
Vitalant serves hospitals in North Dakota and parts of South Dakota. The organization's donor recruitment official, Colleen Scott, tells the Bismarck Tribune that the region's blood supply was critical in February because of people getting sick and snowstorms affecting blood drives. But she says donations have significantly dropped in the summer months, when people are typically busier.
Vitalant is hosting daily blood drives, reaching out to loyal donors and encouraging everyone to bring a friend.
Bismarck resident Shannon Weber says she was encouraged to donate blood for the first time on Wednesday after learning about the shortage.
In sports…
NBA FINALSRaptors take 1st title, dethroning WarriorsOAKLAND, Calif. (AP) _ This is turning out to be quite a year for first-time champions.The Toronto Raptors are celebrating the first NBA championship in their 24-season history after taking Game 6 of the finals, 114-110. It comes one day after the St. Louis Blues captured their first Stanley Cup and two months after Virginia claimed its first NCAA men's basketball title.But Golden State didn't go down without a fight. The Raptors led 108-102 with just over two minutes remaining and were ahead just 111-110 when Danny Green threw the ball away with 9.6 seconds left. But Stephen Curry missed a 3-point attempt before the Warriors received a technical for taking an excessive timeout. Series MVP Kawhi (kah-WY') Leonard nailed the technical with 0.9 seconds to play and added two free throws to ice the victory.Pascal Siakam (see-A'-kam) and Kyle Lowry scored 26 points apiece to lead Toronto. Fred VanVleet was 5 of 11 from 3-point range to finish with 22 points. Leonard's late free throws also gave him 22 points.Klay Thompson was high man for Golden State with 30 points before leaving the game for good in the third quarter with a knee injury. Andre Iguodala (ihg-ah-DAH'-lah) scored 22 points and Stephen Curry had 21 for the Warriors, who were trying to become the first team since the 2002 Lakers to win a third straight NBA title.NBA-HORNETS-WALKER-FREE AGENCYHornets' Walker willing to take hometown discountCHARLOTTE, N.C. (AP) — Three-time All-Star point guard Kemba Walker says he'd be willing to work with the Hornets and take less than the "supermax" $221 million contract he's eligible to receive to re-sign with Charlotte.

The Hornets can offer their all-time leading scorer a five-year contract worth up to $221 million. Other NBA teams can only offer a four-year deal worth $140 million.

Walker says the Hornets remain his "first priority," but he plans to meet with other interested teams before making a decision on his future.

NBA free agency begins June 30.

PGA-US OPEN

Rose surges ahead with 65

PEBBLE BEACH, Calif. (AP) _ The winds were low and the scorers were lower during the first round of the U.S. Open at Pebble Beach.

Justin Rose closed with three straight birdies to take the lead at 6 under in the third major of the year. Rose was two off the pace until his birdie run moved him one shot ahead of Rickie Fowler, Xander Schauffele (SHOW'-flee), Aaron Wise and Louis Oosthuizen (WUHST'-hy-zehn). Rose also eagled the par-5 sixth hole to make up for his lone bogey.

For a course notorious for its strong winds, Pebble Beach was as gentle as could be on Thursday. Fowler carded six birdies and Schauffele made a 12-foot putt for eagle on the 18th hole to catch Fowler. Oosthuizen dropped one in from the bunker on his final hole a few minutes later to join them at 5-under 66 before Rose surged in front.

Two-time defending champion Brooks Koepka (KEHP'-kuh) is tied for 16th following a 2-under 69. Tiger Woods is at minus-1, Jordan Spieth (speeth) and Phil Mickelson opened with 72s and Rory McIlroy is tied for eighth at 3 under after winning the Canadian Open last weekend.
AMERICAN ASSOCIATION…
St. Paul 3, Fargo-Moorhead 2, 10 innings
MLB..UNDATED (AP) _ Nelson Cruz provided a solo homer and a two-run single as the Minnesota Twins doubled up the Seattle Mariners, 10-5. C.J. Cron hit his 15th homer for the Twins, who lead the majors with 132. Max Kepler drove in a pair for the Twins, who lead the AL Central by 11 games over Cleveland.
_ Nicky Lopez hit his first major league homer in the stadium where he played college ball to help the Royals take a 7-3 decision over the Tigers at TD Ameritrade Park in Omaha, Nebraska. The Creighton product was 8 for 61 in his previous 15 games and sat out Wednesday's contest in Kansas City before going 2 for 4 in the first big league game ever played in Nebraska. Homer Bailey allowed two hits in six shutout innings for the Royals.
The Atlanta Braves continue to separate themselves from the rest of the NL East.The Braves put together a five-run fifth inning en route to their seventh consecutive victory, 6-5 over Pittsburgh. Josh Donaldson singled home the tiebreaking run in the fifth against Joe Musgrove, three days after Musgrove hit Donaldson with a pitch to spark a benches-clearing incident.Julio Teheran allowed one earned run and three hits over six innings to help the Braves move 1 ½ games ahead of second-place Philadelphia in the division.The Pirates have dropped seven straight.In other baseball action:_ Angels DH Shohei Ohtani (shoh-HAY oh-TAH'-nee) has become the first Japanese player to hit for the cycle in the majors, doing it in a 5-3 victory over the Rays. Ohtani hit a three-run homer in the first inning, doubled in the third and tripled during the fifth before hitting a flare to right-center in the seventh. It's the eighth cycle in team history and the first since Mike Trout against the Mariners six years ago._ The White Sox pulled out a 5-4 win over the Yankees on Leury Garcia's tiebreaking, solo homer in the bottom of the seventh. Tim Anderson also connected and four relievers combined for 3 1/3 innings of three-hit ball in Chicago's fourth win in five games. García and Anderson combined for four hits and five RBIs while hitting at the top of the order._ Xander Bogaerts (BOH'-gahrts) hit a solo shot in the seventh inning to complete the Red Sox's rally from a five-run deficit in a 7-6 triumph over the Rangers. Boston scored its seven runs on home runs as Jackie Bradley Jr. belted a three-run blast before J.D. Martinez, Michael Chavis and Rafael Devers left the yard. Elvis Andrus (AN'-droos) drove in three runs on three singles for Texas._ Lourdes Gurriel (gur-ee-EHL') Jr. homered to ignite a seven-run sixth inning as the Blue Jays smothered the Orioles, 12-3. Rookie Cavan Biggio went deep twice in his 15th big league contest. Vladimir Guerrero Jr. and Danny Jansen had three hits and two RBIs apiece for Toronto, which scored 20 runs in the last two games of the series after tallying eight in dropping their previous five contests.

_ Cody Bellinger, Max Muncy and David Freese (freez) belted two-run homers to back Clayton Kershaw as the Los Angeles Dodgers beat the Chicago Cubs, 7-3. Bellinger also belted a solo shot in the seventh to help the NL West leaders drop the Cubs one game behind Milwaukee in the NL Central. Kershaw worked six innings but spotted Chicago a 3-0 lead after Kyle Schwarber and Kris Bryant hit leadoff homers.

_ Charlie Blackmon smacked a pair of solo homers and added a two-run triple to finish with four RBIs in the Rockies' 9-6 verdict over the Padres. Trevor Story added a two-run blast as Colorado won for the 11th time in its last 12 home games. Jon Gray struck out 10 and picked up the win despite yielding four runs and nine hits over six frames.

_ Zack Greinke (GREHN'-kee) took a no-hitter into the seventh inning of the Diamondbacks' seventh win in eight games, a 5-0 shutout of the Nationals. Greinke had faced the minimum when Trea Turner led off the seventh with a grounder between first and second. Alex Avila and Jarrod Dyson homered for Arizona.

_ The Mets and Cardinals were tied 4-4 after 8 ½ innings before the game was suspended because of rain. Michael Conforto hit a two-run homer to help New York take a 4-2 lead into the ninth, but St. Louis tied it on RBI hits by Kolten Wong and Harrison Bader off closer Edwin Diaz with two out. Play will resume Friday evening before the Mets and Redbirds play their scheduled game.

MLB-NEWS

Dodgers shelve Seager

UNDATED (AP) _ The Dodgers are spending some time without Corey Seager.

The Dodgers have put the shortstop on the injured list with a strained left hamstring. Seager was injured during the ninth inning of Tuesday's loss to the Angels.

The 25-year-old Seager is batting .278 with 21 doubles, eight homers and 38 RBIs for the NL West leaders this year.

In other baseball news:

_ The Yankees have placed Kendrys Morales on the 10-day injured list with a left calf strain. Morales is the 20th player to go on the IL this year for New York, matching its total for the entire 2018 season. The first baseman/designated hitter had three hits in the Yankees' 12-5 victory over the Mets on Tuesday but did not play in the second half of the doubleheader.

_ The Phillies have acquired utilityman Brad Miller from the Yankees for cash. Miller hit .250 with one homer and four RBIs in 36 at-bats for the Indians this season and was batting .294 with 10 homers and 29 RBIs for The Yanks' Triple-A team at Scranton Wilkes-Barre.

_ Rockies third baseman Nolan Arenado is in the lineup tonight after leaving Wednesday's game against the Cubs with a left forearm contusion. Arenado was batting in the bottom of the third when Chicago starter Cole Hamels hit him with a 90 mph fastball during Colorado's 10-1 loss at Wrigley Field.

_ The wife of former Red Sox star David Ortiz says he remains in guarded condition at a Boston hospital and "continues to heal and make progress." Six people have been detained in connection with Sunday's shooting of Ortiz in the Dominican Republic. Meanwhile, U.S. prosecutors say one suspect in the shooting is believed to be wanted in Pennsylvania for attempted homicide, while the father of another suspect said his son belongs to a notorious Dominican gang of drug-dealing hitmen.

STANLEY CUP-BLUES-PARADE

Parade, rally to honor Stanley Cup champion Blues Saturday

ST. LOUIS (AP) — A parade 52 years in the making will finally happen Saturday in St. Louis, when the city celebrates the Blues' first-ever Stanley Cup championship.

The Blues defeated the Boston Bruins 4-1 in Wednesday's Game 7 in Boston. The Blues joined the NHL as an expansion team in 1967 and had never before won a championship.

The Blues took to Twitter Thursday to announce celebration plans. A parade will start at noon at 18th and Market Street and head east. A rally will then take place beneath the Gateway Arch.

Fans attending the celebration may want to bring an umbrella. Rain is in the forecast.

Missouri Gov. Mike Parson also says the state Capitol dome will be lit up with blue lights in celebration Thursday.

COLLEGE BASKETBALL-KENTUCKY-CALIPARI

Coach Cal inks 10-year extension

LEXINGTON, Ky. (AP) _ Kentucky basketball coach John Calipari has signed a 10-year, $86 million contract extension through 2029.

The package includes an option in the sixth year to step down and become a special assistant to the athletic director or university representative.

The Hall of Fame coach is 305-71 at Kentucky and won the 2012 NCAA championship among four Final Four appearances.

The 60-year-old Calipari and the Wildcats previously announced an agreement to a long-term deal in April.

NFL NEWS

Report: NFL investigating Texans for tampering over Caserio

UNDATED (AP) _ The NFL is investigating tampering charges against the Texans after the Patriots accused them of contacting New England director of player personnel Nick Caserio for the Houston general manager job.

ESPN.com reported that New England complained to the league after Texans executive vice president of team development Jack Easterby, a former Patriots chaplain, attended the team's championship ring ceremony at the home of owner Robert Kraft. The Texans fired GM Brian Gaine the next day, less than 18 months after he took over the job.

ESPN.com noted that Easterby and Caserio are represented by the same agent, Bob LaMonte. The website says the Texans have requested permission to interview Caserio for their GM job, but it has not been given.

In other NFL news:

_ The Chiefs have signed kicker Harrison Butker to a five-year contract extension. Butker is 62 of 69 on field goals and 93 of 97 on extra points in two seasons with Kansas City.
ENGLEWOOD, Colo. (AP) — Pat Bowlen, the Denver Broncos owner who transformed the team from also-rans into NFL champions and helped the league usher in billion-dollar television deals, died late Thursday night, just under two months before his enshrinement in the Pro Football Hall of Fame. He was 75.
In a statement posted on the Broncos' website, Bowlen's family said he died peacefully at home surrounded by loved ones. They did not specify a cause of death. Bowlen had battled Alzheimer's for several years.
Bowlen was the first owner in NFL history to oversee a team that won 300 games — including playoffs — in three decades. He had as many Super Bowl appearances (seven) as losing seasons, and Denver is 354-240-1 since he bought the club in 1984.
Under his stewardship, the Broncos won Super Bowls in 1998, '99 and 2016.
In world and national news…
DUBAI, United Arab Emirates (AP) — The Dutch company Boskalis says it has been appointed to salvage the two tankers in the suspected attacks in the Gulf of Oman, near the strategic Strait of Hormuz.
Royal Boskalis Westminster said on Friday that the insurers of the two tankers, the Front Altair and the Kokuka Courageous, have appointed its subsidiary SMIT Salvage to salvage both vessels and their cargoes.
Boskalis says the situation of the Front Altair, which was carrying a petroleum product known as naptha, "is still worrisome." It does not elaborate, but adds that the crew left the ship following the suspected attack on Thursday and the fire on board has been extinguished.
The company says that the Kokuka Courageous, carrying the chemical compound methanol, is in a stable condition and being towed to a port in the Gulf region.
WASHINGTON (AP) — A Trump administration national security official is turning to advisers from a climate change-rejecting think tank for help crafting his challenges to mainstream science on global warming.
The Environmental Defense Fund obtained the emails of National Security Council adviser William Happer under the Freedom of Information Act. The group provided them to The Associated Press.
Email exchanges this February and March show Happer consulting with two advisers to the Heartland Institute on a paper attempting to knock down climate change. The Heartland Institute is a prominent opponent of mainstream scientific findings that fossil fuel emissions are damaging the Earth's atmosphere.
Academic experts criticize the official's continued work with groups and scientists who reject what numerous federal agencies say is the fact of climate change. The National Security Council declined comment.
(AP)  The Democratic National Committee has announced that 20 candidates have qualified for the party's first presidential debates later this month.
Montana Gov. Steve Bullock and U.S. Rep. Seth Moulton of Massachusetts were the only major candidates out of the two dozen Democratic hopefuls who failed to meet the polling or grassroots fundraising measures required to get a debate spot.
Two lesser-known candidates, former Sen. Mike Gravel of Alaska and Miramar, Florida, Mayor Wayne Messam, also missed the cutoff, announced Thursday.
The campaign's opening debates, set for June 26-27 in Miami, will offer a prime opportunity for many White House hopefuls to reshape a race defined in recent weeks by former Vice President Joe Biden's domination of national and many early state polls.
CHRISTCHURCH, New Zealand (AP) — The man accused of killing 51 people at two Christchurch mosques has pleaded not guilty to all the charges that have been filed against him.
Brenton Tarrant on Friday entered not guilty pleas to 51 charges of murder, 40 charges of attempted murder and one terrorism charge at the Christchurch High Court in relation to the March 15 massacre.
The 28-year-old Australian appeared via video link from a small room at the maximum security prison in Auckland where he's being held.
Tarrant's lawyer, Shane Tait, entered the pleas on Tarrant's behalf.
Wearing a gray sweat shirt, Tarrant smirked as his lawyer entered the pleas but otherwise showed little emotion. His link had been muted, and he didn't attempt to speak.
Judge Cameron Mander scheduled a six-week trial beginning next May.