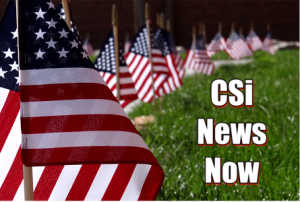 CSi Weather ..  SUNDAY…Mostly cloudy with a 30 percent chance of rain showers in the Jamestown area, 20 percent in the Valley City area.
Highs in the upper 60s. North winds 10 to 15 mph.
.SUNDAY NIGHT…Decreasing clouds. Lows in the upper 40s.
.MONDAY…Mostly sunny. Highs in the upper 60s.
.MONDAY NIGHT…Partly cloudy. Lows in the upper 40s.
.TUESDAY…Partly sunny with a 30 percent chance of rain showers
and thunderstorms. Highs in the lower 70s.
.TUESDAY NIGHT…Mostly cloudy with a 40 percent chance of rain
showers and thunderstorms. Lows in the mid 50s.
.WEDNESDAY…Mostly cloudy. Chance of rain showers and slight
chance of thunderstorms in the morning, then rain showers likely
and chance of thunderstorms in the afternoon. Highs in the lower
70s. Chance of precipitation 60 percent.
.WEDNESDAY NIGHT…Mostly cloudy with a 50 percent chance of rain
showers and thunderstorms. Lows in the lower 50s.
.THURSDAY…Partly sunny with a 40 percent chance of rain showers
and thunderstorms. Highs in the lower 70s.
Thunderstorms are likely Friday and  and Friday night. A few severe storms are possible this afternoon and evening across western and central North Dakota. Quarter size hail and gusts to 60 mph are the main threats.
A marginal chance of severe weather will be possible in the James River Valley Saturday afternoon.
Thunderstorms are possible Tuesday through Thursday.
Jamestown  (CSi)  The Second Annual Dakota Thunder Burn out has been postponed to Saturday June 22 at 12:30-p.m.,  Registration is at 10-a.m.
Spokesperson Tina Busche says the event is postponed from June 15, due to a 70 percent chance of rain in the forecast.
Valley City  (CSi)  The Valley City Area Chamber of Commerce invites the community to join events and activities as part of the 36th Annual Rally in the Valley on Saturday, June 15, around Valley City.
a few pics from Rally in the Valley 2017 . . .
The City Wide Garage Sale is Jun 14-16,  Class Reunions for the Classes of 1969, 1999, and 2009, Jun 14-16,  The Dakota Riders Motorcycle Club, Hill Climb, June 16.
More pixs from previous years at Facebook.
2018 Rally in the Valley Photos at Facebook
2017 Parade Photos Vol 1 at Facebook.com/TheReplayChannel
2017 Vol 2 Photos    After The Parade-Cars-Medicine Wheel-People
Jamestown  (CSi)  The Jamestown and Aberdeen Conlin's Furniture stores are set to close.
Jamestown, Conlin's Sales Manager Justin Brown, says, a final closing date for the store located at 1802 8th Ave. SW in Jamestown, that's been part of Jamestown's retail community since 1960 has not been finalized.  The Jamestown location was the second in the chain of Conlin's stores, and both Jamestown and Aberdeen location will close due to the retirement of the Conlin's owner.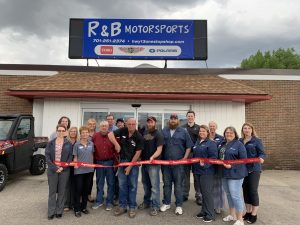 Jamestown  (Chamber)   Members of the Jamestown Area Chamber of Commerce Ambassadors and the Young Professionals of Jamestown held a ribbon cutting ceremony for R&B Motorsports to celebrate the opening of their new location in Jamestown.   The business is located at 1100 5th Ave SE.
Co-owner Rick Sailer and staff were on hand to celebrate their new location. R&B sells a variety of Polaris, Toro and other off road vehicles and mowers. They're open from 8:00am to 5:00pm Monday through Friday and 9:00am to noon on Saturday, stop by and check out all they have to offer!
Businesses qualify for a ribbon-cutting ceremony if they open, move, remodel, are under new ownership or change their name.  For more information, contact Emily Bivens by emailing: director@jamestownchamber.com or call the chamber at 701-252-4830.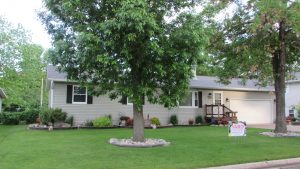 Jamestown  (Chamber)  The Jamestown Area Chamber of Commerce City Beautification Committee is pleased to announce the 3rd winner of the Yard of the Week Program for 2019.  Butch Forester of 1313 5th Avenue NW,  in Jamestown, has received this award for Week Three.  Drive by and stop to congratulate him on this beautiful yard and thank him for his efforts to help beautify Jamestown.  Congratulations, Butch for a job well done!
The Yard of the Week program has been established to recognize those within the community that take pride in the appearance of their yard and do their part to beautify the community. The program began June 1st and ends August 31st. Yards will be selected each week from nominations received. Nominated yards must be visible from the street.
To nominate a yard for the Yard of the Week program, please contact the Chamber at 701-252-4830 or stop by our office at 120 2nd Street SE, Jamestown for a nomination form.  The completed forms require a valid phone number so we can contact the perspective winner. Forms are also available on our Facebook page or on our website at www.jamestownchamber.com.  Forms can be emailed to director@jamestownchamber.com.
All single family residences within Jamestown are eligible for the program.
Jamestown  (CSi)   The Second Annual Cruz Schumacher Memorial, Mud Drags will be held on Sunday June 23, 2019 at 1-p.m., at the Stutsman County Fairgrounds.  The registration cut off is 12:30-p.m.
Featured will be, Stock, Street Stock, Modified Stock, Modified, Open, Powder Puff 1,2 & 3.
Trophies will be awarded in all Classes.  T-shirts will be available for purchase.
The event gate fee is $10, (12 and under are free.)
The racing fee is $20 per class.
Sponsored by the James Valley Off Roaders Club.
MINOT, N.D. (AP) — Police say an officer was injured in a struggle with a suspect during a traffic stop in Minot.
Authorities say a 28-year-old passenger wanted on an outstanding warrant was asked to step out of the vehicle Thursday and fought with the officer, injuring the officer before he was hit with a stun gun.
The driver of the vehicle drove off with the man inside. He eventually fled into an apartment building, forced his way into an occupied apartment and hid. KFGO reports police set up a perimeter and the suspect surrendered.
BISMARCK, N.D. (AP) — Lutheran Social Services of North Dakota plans to acquire the Ruth Meiers Hospitality House's property in Bismarck and turn the facility into affordable housing.
Lutheran Social Services is partnering with CommunityWorks North Dakota on the acquisition. The plan is to take over the facility by the end of summer and turn it into affordable housing.
Lutheran Social Services CEO Jessica Thomasson tells The Bismarck Tribune the sale of the site is "in the works." Choice Bank took ownership of the facility last month.
Thomasson says Lutheran Social Services got involved to try to preserve 85 units of affordable housing in Bismarck.
The status of Ruth Meiers Hospitality House is unclear. Thomasson says the nonprofit no longer offers services at the East Boulevard Avenue location and doesn't have staff.
In world and national news…
CHICAGO (AP) — Spokeswomen for the family of a slain Chicago woman whose baby was cut from her womb with a butcher knife says the infant boy has died.
Family spokeswoman Cecilia Garcia confirmed a family statement posted on Facebook that 19-year-old Marlen Ochoa-Lopez's baby died Friday at Christ Medical Center in Oak Lawn.
The baby had been in grave condition since the April 23 attack on his mother. Family spokeswoman Julie Contreras says in a statement that Yovanny Jadiel Lopez died from a severe brain injury.
Ochoa-Lopez's body was found in a garbage can last month behind the Chicago home of a woman now charged in Ochoa-Lopez's killing.
Prosecutors say 46-year-old Clarisa Figueroa claimed she had given birth to the baby when she took him to a hospital. She and her 24-year-old daughter are charged with first-degree murder.
DUBAI, United Arab Emirates (AP) — Japan's Prime Minister Shinzo Abe has condemned the suspected attack on a Japanese-operated tanker near the Strait of Hormuz this week as a threat to safe maritime navigation.
Abe, speaking to reporters Friday, says: "Japan adamantly condemns the act that threatened a Japanese ship, no matter who attacked."
The tanker, Kokuka Courageous, was attacked by what its crewmembers described as "flying objects" near the Strait of Hormuz, carrying methanol to Singapore and Thailand. All 21 Filipino sailors were safely evacuated.
Abe urged "all related countries" to avoid an accidental confrontation and refrain from any action that may escalate tensions. He pledged to help de-escalate tensions in the region.
Abe made the remarks after telephone calls with U.S. President Donald Trump, briefing him on his Iran visit this week, without elaborating. He pledged to keep cooperating with Trump.
WASHINGTON (AP) — A Trump administration national security official is turning to advisers from a climate change-rejecting think tank for help crafting his challenges to mainstream science on global warming.
The Environmental Defense Fund obtained the emails of National Security Council adviser William Happer under the Freedom of Information Act. The group provided them to The Associated Press.
Email exchanges this February and March show Happer consulting with two advisers to the Heartland Institute on a paper attempting to knock down climate change. The Heartland Institute is a prominent opponent of mainstream scientific findings that fossil fuel emissions are damaging the Earth's atmosphere.
Academic experts criticize the official's continued work with groups and scientists who reject what numerous federal agencies say is the fact of climate change. The National Security Council declined comment.
PHOENIX (AP) — Advocates were shocked to find a teenage mom and her premature newborn daughter huddled in a Border Patrol facility in what they say was another example of the poor treatment immigrants receive.
The mother is a Guatemalan teen who crossed the border without a parent and was held at a facility in McAllen, Texas.
Hope Frye, a volunteer who visits detention centers to ensure they comply with federal guidelines, said the baby was born in Mexico in early May has a head the size of her fist. She says the baby should have immediately received medical care.
Frye said the mom was in a wheelchair and in extreme pain.
Advocates say they are being sent to a facility for underage immigrants on Friday.
Customs and Border Protection has not commented.
PROVIDENCE, R.I. (AP) — The Navy has named the first female leader of the U.S. Naval War College after removing the college president who is under investigation.
Navy Secretary Richard Spencer announced Friday that Rear Adm. Shoshana Chatfield will be the new president.
Rear Adm. Jeffrey Harley was removed as the college president Monday, days after The Associated Press reported he was under investigation and more than a year after the initial complaint was filed.
The AP reported Harley was under investigation for allegedly spending excessively, abusing his hiring authority and otherwise behaving inappropriately, including keeping a margarita machine in his office.
Spencer was at the college in Newport, Rhode Island, on Friday for graduation.
Chatfield currently leads a military command in Guam, Joint Region Marianas.
WASHINGTON (AP) — President Donald Trump is now saying he may contact the FBI if a foreign power presented him with negative information about a political opponent.
Trump, in an interview Friday with "Fox & Friends," appeared to walk back his comments from earlier in the week.
The president still said he would "of course" look at the information in order to determine whether or not it was "incorrect."
But he added that if he "thought anything was incorrect or badly stated" he would "absolutely" notify law enforcement.
Those comments are different than what he told ABC this week, when he said he would consider accepting information from an outside nation and would not contact law enforcement. That outraged Democrats who said it evoked Russia's 2016 election interference.
WASHINGTON (AP) — NBC has announced how it will divvy up the 20 Democratic candidates for the first debate of the 2020 election campaign, which will be held over two nights in Miami later this month.
The lineup for the first two-hour session on June 26 features Elizabeth Warren, Cory Booker, Beto (BET'-oh) O'Rourke, Amy Klobuchar (KLOH'-buh-shar), Julián Castro, Bill de Blasio (dih BLAH'-zee-oh), John Delaney, Tulsi Gabbard, Tim Ryan and Jay Inslee.
The lineup for the next night features Bernie Sanders, Kamala (KAH'-mah-lah) Harris, Joe Biden, Pete Buttigieg (BOO'-tuh-juhj), Michael Bennet, Marianne Williamson, Eric Swalwell, Kirsten Gillibrand (KEER'-sten JIHL'-uh-brand), Andrew Yang and John Hickenlooper.
The Democratic National Committee says it divided the candidates at random but ensured that contenders considered front-runners would not be stacked on one night to avoid the impression that one night was more important than the other.