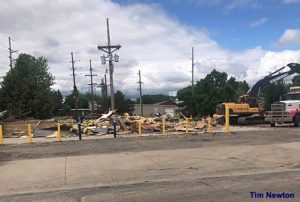 Jamestown (CSi)  Former Polar King customers were sad to see the iconic building being torn down on Monday morning.
The business closed on March 24, 2019, and the building and property was sold to new owners who have plans to construct a new building and non-restaurant business on the site.
*****
*****
Previously Reported: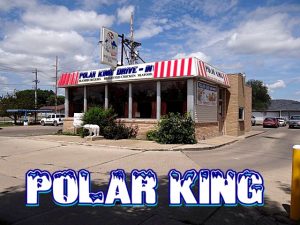 Jamestown (CSi) Polar King, located on 13th St NE in Jamestown, will close its doors for the final time at 8pm March 24. The building and property have been sold.
The business has been owned by Tom and Deb Stroh since 1991 when they took over from her mom and dad, who owned the store starting in 1984.
Prior to that, the business that began as Tastee Freeze, became the first Polar King location between 1964 and 1969, where Northwest Tire is now located on Business Loop West, before moving to the present Northeast Jamestown location.
Concurrently they owned and operated The Blue Jay Inn, that was located on 10th Street Southeast, now the location of the Chinese restaurant.
Deb says this building and property were recently sold with the building to house a non-restaurant business.
Deb will be a guest on an upcoming Wayne Byers Show on CSi Cable 2 at 8:25 a.m.
Be watching for the show date.