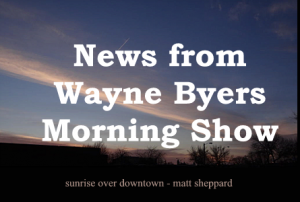 CSi Weather…
.TODAY…Mostly sunny. Highs in the lower 70s. North winds around5 mph shifting to the northeast in the afternoon.
.TONIGHT…Mostly clear. Lows in the lower 50s. Southeast winds
around 5 mph.
.WEDNESDAY…Cloudy. Chance of rain showers and slight chance of
thunderstorms in the morning, then rain showers likely and slight
chance of thunderstorms in the afternoon. Highs around 70.
Southeast winds 5 to 10 mph. Chance of precipitation 60 percent.
.WEDNESDAY NIGHT…Cloudy. Chance of rain showers and slight
chance of thunderstorms in the evening, then rain showers likely
and slight chance of thunderstorms after midnight. Lows in the
mid 50s. Southeast winds 5 to 10 mph. Chance of precipitation
70 percent.
.THURSDAY…Cloudy with rain showers and slight chance of
thunderstorms in the morning, then partly sunny with chance of
rain showers and slight chance of thunderstorms in the afternoon.
Highs in the lower 70s. South winds 5 to 10 mph shifting to the
west in the afternoon.
.THURSDAY NIGHT…Increasing clouds. Chance of rain showers and
slight chance of thunderstorms. Lows in the lower 50s. Chance of
precipitation 30 percent.
.FRIDAY…Mostly cloudy with chance of rain showers and slight
chance of thunderstorms. Highs in the lower 70s. Chance of
precipitation 50 percent.
.FRIDAY NIGHT…Mostly cloudy with chance of rain showers and
slight chance of thunderstorms. Lows in the lower 50s. Chance of
precipitation 50 percent.
.SATURDAY…Partly sunny with chance of rain showers and slight
chance of thunderstorms. Highs in the lower 70s. Chance of
precipitation 40 percent.
.SATURDAY NIGHT…Partly cloudy. Chance of rain showers and
slight chance of thunderstorms in the evening. Lows in the lower
50s. Chance of precipitation 30 percent.
.SUNDAY…Partly sunny with chance of rain showers and slight
chance of thunderstorms. Highs in the lower 70s. Chance of
precipitation 30 percent.
.SUNDAY NIGHT…Partly cloudy. Lows in the mid 50s.
.MONDAY…Mostly sunny. Chance of rain showers and slight chance
of thunderstorms in the afternoon. Highs in the mid 70s. Chance
of precipitation 30 percent.
The forecast for Wednesday is looking quite wet, mainly across
central North Dakota. Showers and storms look likely through the
day as remnants from Tuesday night`s precipitation continue.
The bigger threat appears to be the potential for minor flooding, mainly in urban areas as soil moisture is rather low across the area. The flood threat
appears to be due to a prolonged period of moderate rain
Although most of the rainfall should be moderate in nature, pockets of heavy rainfall will be possible as well. Some areas in central
North Dakota over 2 inches of rain on Wednesday.
Even more rainfall appears likely Wednesday night into Thursday.
The trend looks to continue into the weekend, bringing continued
chances for showers and storms through Sunday.
Jamestown  (CSi)  The Jamestown Public School Board on Monday unanimously approved an increase for  the posted salary for a network specialist position.
The post was unfilled for 18 months,  despite an hourly wage increase, and Superintendent, Robert Lech said, the vacancy caused large staffing and productivity issues for the  Technology Department.
Lech requested that the position be moved from the support staff wage scale to the non-teaching professionals wage scale with a salary commensurate to the teacher salary base.
Jamestown Public Schools, Technology Director, Mike Armitage,  presented the proposed 2019-2020 District Technology Plan.
The school board unanimously approved plan.
The board also unanimously approved Darby Heinert, a Jamestown High School teacher, to become the James Valley Career and Technology Center/high school assistant principal beginning in the 2019-2020 school year.
Following the Regular meeting, the school board went into Executive Session  discussing negotiation strategies.
The next negotiating session with the Jamestown Education Association is set for  June 27 at 5-p.m. at the Middle School's Thompson Community Room.
Monday's meeting was recorded by CSi 10 The Replay Channel with showings starting Tuesday.
Jamestown  (CSi)  A Spaghetti Supper Benefit will be held for Tammy Norheim on Wednesday June 19, 2019 from 5-p.m., to 7:30-p.m., at the Knight's of Columbus Hall in Jamestown.
Donation is $5 per person, $3 per child.
The will be a silent auction, and a 50/50 Raffle.
Tammy was recently diagnosed with Stage 4 pancreatic cancer that has metastasized to her liver.
Proceeds from this benefit will to toward her medical care, as she will be going to the Mayo Clinic and Roger Maris Cancer Center.
Anyone interested in donating an item for the Silent Auction, or volunteering can contact Jackie, at Jackie426@gmail.com, or Leora at lbrady@nd.gov
Monetary Donations can be made at Unison Bank in Jamestown.
Jamestown   (CSi)  The  Jamestown City Board of Adjustment Meeting will be held on Wednesday June 19, at 8-a.m., at City Hall.
On the agenda is a Building Code Variance Request(s) – 1811 Hwy 281 N.
Jamestown  (CSi)  Siting a unique menu, the owner of Hula's Fire Grill in Jamestown announces that the restaurant will close for business on Saturday June 22.
The restaurant offered an eclectic blend of Asian, American and Hawaiian spices, prepared with an island flair.
Jerry Wong also says the fact that the restaurant didn't have a liquor license may have been a contributing factor to the low number of patrons.
The restaurant opened at 110 2nd Street Northwest in Jamestown in February of this year.
The Jamestown Area Chamber of Commerce reported at the ribbon cutting earlier this year that Hula Fire Grill was founded by Jerry and Sandy Wong with the original location in Williston.  They saw the opportunity for expansion and decided to open their second restaurant here in Jamestown. Hula Grill serves an eclectic blend of Asian, American and Hawaiian spices, prepared with an island flair and served with a heavy dose of Hawaiian hospitality.
BISMARCK, N.D. (AP) — North Dakota officials have confirmed the presence of zebra mussels in Lake Ashtabula.
The state's Game and Fish Department says an angler discovered a suspected zebra mussel last week and turned it in. Subsequent inspections found populations of zebra mussels of various ages throughout the lake.
Lake Ashtabula is an impoundment on the Sheyenne River in Barnes and Griggs counties. It's operated by the U.S. Army Corps of Engineers and open for boating, swimming, fishing, camping and skiing.
The Game and Fish Department has now classified Lake Ashtabula and the Sheyenne River downstream all the way to the Red River as Class I aquatic nuisance species infested waters.
Emergency rules go into effect immediately to prohibit moving water away from the lake and river, including water for transferring bait.
PARSHALL, N.D. (AP) — The North Dakota Highway Patrol says a motorcyclist has died after crashing his Harley in Mclean County.
The patrol says 69-year-old Larry Snyder lost control of his bike on Highway 1804 and rolled into the ditch south of Parshall Saturday.
White Shield Ambulance took him to Garrison Memorial Hospital and he was later transferred by helicopter to Trinity Hospital in Minot where he died on Sunday.
FARGO, N.D. (AP) — A former North Dakota grain trader accused in a multi-million dollar fraud scheme has signed a plea agreement in federal court.
Authorities say 22-year-old Hunter Hanson, of Leeds, bilked about 60 farmers, elevators and commodity brokers in North Dakota, Minnesota and Canada. The deal calls for him to plead guilty to wire fraud and money laundering and play back about $11.4 million.
Court documents unsealed Monday show that Hanson contracted with farmers and grain elevators last year to buy crops and either failed to pay them or sent them checks that bounced. He allegedly laundered money between his multiple bank accounts and other businesses.
The actions led the state Public Service Commission to shut down the Devils Lake-based company.
Defense attorney Lucas Wynne did not immediately return a phone message Monday seeking comment.
BISMARCK, N.D. (AP) — Four North Dakota law enforcement agencies are teaming with the U.S. Marshals Service to expand its High Plains Fugitive Task Force to the Bismarck-Mandan area.
Sheriff's offices from Morton and Burleigh counties, along with police from Bismarck and Mandan have agreed to commit manpower and resources to help the agency arrest fugitives wanted on federal and state felony warrants.
U.S. Marshal Dallas Carlson says the plan for expanding the task force has been in the works for about a year. Carlson says it will draw on the success of a similar effort in eastern North Dakota.
The Bismarck Tribune says last year, the U.S. Marshals task forces nationwide arrested nearly 83,000 fugitives and cleared more than 101,000 warrants.
BISMARCK, N.D. (AP) — Some north Bismarck residents are complaining about calcium deposits in water from their faucets at home.
Bismarck's director of utility operations, Michelle Klose, says the problem has been identified in at least 64 mainly newer homes on the outskirts of the city.
The Bismarck Tribune reports that Klose says the residue does not present a health risk.
Greg Wavra, administrator of the North Dakota Drinking Water Program, says Bismarck's water meets the requirements of the federal Safe Drinking Water Act and that calcium buildup should not be a cause for alarm.
The city says magnesium heating rods may cause the deposits and suggests that homeowners switch to aluminum heating rods and lower the temperature of water heaters to mitigate the problem.
In sports…
MLB..UNDATED (AP) _ _Rick Porcello pitched seven shutout innings for Boston to outduel Minnesota ace Jose Berrios, and the Red Sox stretched their winning streak to a season-high six straight games with a 2-0 victory over the Twins. Porcello allowed only four hits and one walk with eight strikeouts, just his third start out of 15 this season with seven or more innings completed.
_ Tyler Beede allowed one run over six innings to earn his first big-league victory and the San Francisco Giants defeated the first-place Los Angeles Dodgers 3-2 in the opener of a four-game set between the NL West rivals. The 26-year-old right-hander scattered three hits, struck out seven and walked five on 97 pitches in the strongest outing of his young career.
Masahiro Tanaka pitched a two-hitter with 10 strikeouts for his fourth major league shutout, and the New York Yankees beat the Tampa Bay Rays 3-0 on Monday night to increase their slim lead in the AL East.DJ LeMahieu (leh-MAY'-hyoo) hit a two-run homer off Yonny Chirinos, and Cameron Maybin homered in his third consecutive game. That was all a dominant Tanaka (5-5) needed while throwing 76 of 111 pitches for strikes in his seventh complete game since coming over from Japan.Edwin Encarnación received an enthusiastic ovation from fans in his Yankees debut after being acquired from Seattle in a trade late Saturday night. Batting fifth as the designated hitter, the veteran slugger went 0 for 4 with a strikeout his first time up.No matter. New York won the opener of a three-game series and moved 1½ games ahead of the second-place Rays._ Jorge Soler hit a two-out, two-run homer in the eighth inning off Anthony Bass, and the Kansas City Royals rallied for a 6-4 win over Seattle, snapping a nine-game losing streak to the Mariners. After the Royals were shut down for most of the night by Tommy Milone, Soler hit a 1-1 pitch on the outside corner out to deep right-center field for his 19th home run of the season. Martin Maldonado added a solo home run in the ninth.

_ Manny Machado homered and doubled a few hours after appealing a one-game suspension handed down by MLB, and left-hander Joey Lucchesi threw seven brilliant innings in a combined four-hitter to lead the San Diego Padres over the Milwaukee Brewers 2-0. Machado was suspended one game and fined for "aggressively arguing and making contact" with plate umpire Bill Welke after being ejected for arguing a called third strike at Colorado on Saturday night.

_ Mike Fiers pitched three-hit ball into the seventh inning and the Oakland Athletics took advantage of Baltimore's shoddy defense to beat the Orioles 3-2. Fiers allowed two unearned runs over 6 2/3 innings. Oakland took a 3-2 lead in the second on catcher Chance Sisco's two-run throwing error. The last-place Orioles suffered their sixth straight loss.

_ Mike Soroka won his eighth straight decision and the Atlanta Braves' offense kept churning out runs in a 12-3 victory over the New York Mets. The NL East-leading Braves have scored 90 runs in winning 10 of their last 11. Soroka is the youngest pitcher with a winning streak that long since Dontrelle Willis won eight in row for the 2003 Florida Marlins.

_ Dexter Fowler and Matt Carpenter homered to back a strong outing by Miles Mikolas and lead the St. Louis Cardinals to a 5-0 win over the Miami Marlins. Mikolas snapped a career-high losing streak of five straight decisions.

_ Nick Senzel returned from an eye injury and drove in a pair of runs, Luis Castillo pitched two-hit ball into the seventh inning, and the Cincinnati Reds held on for a 3-2 victory over the Houston Astros. The Reds got the better of a reunion of once-familiar foes that rarely play each other anymore.

_ Lance Lynn had another quality start, Danny Santana homered and the Texas Rangers beat Cleveland 7-2 to spoil Mike Clevinger's return from the injured list. Lynn struck out nine without a walk and gave up one run over seven innings. Clevinger struck out seven and walked three in his first start since April 7. He threw 12 scoreless innings with 22 strikeouts his first two starts before missing more than two months because of a muscle strain in his upper back.

_ Shohei Ohtani hit one of three Angels homers in a seven-run second inning, Mike Trout went deep for the 20th time this season, and Los Angeles downed the Toronto Blue Jays 10-5 on Monday in the opener of a four-game series. Ohtani's three-run homer capped an offensive outburst from the Angels against a struggling Edwin Jackson, who lasted just 2/3 innings and allowed seven runs with six hits and two walks.

_ Justin Upton homered on the first pitch he saw in his return from the injured list, Mike Trout had a solo homer among his four hits and the Los Angeles Angels used a seven-run second inning to beat the Toronto Blue Jays 10-5. Shohei Ohtani and Kole Calhoun also connected in the second for the Angels, who have won all four meetings with Toronto this season. Toronto rookie Cavan Biggio hit two home runs.

_ The game between the Philadelphia Phillies and Washington Nationals has been postponed because of rain. The start of the game was delayed for nearly three hours before a decision was made to postpone. It will be made up at 1:05 p.m. as part of a day-night doubleheader Wednesday. The four-game series will now begin Tuesday night. Neither team immediately announced its pitching plans for Tuesday.

NBA-RAPTORS PARADE

UNDATED (AP) _ Toronto police say four people were shot and wounded at a rally for the NBA champion Raptors, and three people were arrested.

Droves of Raptors fans ran from the shooting in a stampede from the City Hall square, which was packed with tens of thousands of people. Police Chief Mark Saunders says four people suffered gunshot wounds but said none of the injuries were life-threatening. Two guns were recovered.

During a speech from one of the team owners, the host of the rally interrupted the proceedings to alert the crowd to an emergency and asked for calm. Canadian Prime Minister Justin Trudeau, Toronto Mayor John Tory, NBA Finals MVP Kawhi Leonard and other players were among those on stage at the time.

In other NBA news:

_ A Tennessee man charged with killing former NBA player Lorenzen Wright has pleaded guilty to a separate gun charge.Billy Ray Turner entered his plea in a Memphis court Monday before the scheduled start of his trial on charges of possessing a weapon as a convicted felon. Shelby County prosecutors say Turner illegally had two guns in his possession when he was charged with killing the 34-year-old Wright. Authorities have said Turner and Wright's ex-wife, Sherra Wright, conspired to kill the retired NBA player and Memphis native.

NHL-SHARKS-KARLSSON

Sharks sign D Erik Karlsson to $92M, 8-year deal

SAN JOSE, Calif. (AP) _ The San Jose Sharks have re-signed pending free agent defenseman Erik Karlsson to a $92 million, eight-year deal. The Sharks announced the deal two weeks before Karlsson was eligible to become an unrestricted free agent on July 1. The deal is said to carry an annual cap hit of $11.5 million and includes a full no-movement clause.

The Sharks acquired the two-time Norris Trophy winner just before the start of last season from Ottawa as a one-year rental. Karlsson was hampered by groin injuries for much of his first season in San Jose but also showed flashes as he helped the Sharks reach the Western Conference final, where they lost to eventual champion St. Louis in six games.

Elsewhere in the NHL:

_ Dallas Eakins is the Anaheim Ducks' new coach. The Ducks filled the NHL's last head coaching vacancy with the veteran coach of their AHL affiliate in San Diego. Eakins coached the Edmonton Oilers from the start of the 2013-14 season until December 2014, going 36-63-14. Eakins spent the past four seasons with the Gulls, leading them to the AHL's conference finals this season.

_ The New York Rangers have acquired defenseman Jacob Trouba from the Winnipeg Jets for defenseman Neal Pionk and the 20th overall pick in the draft. Trouba gives the rebuilding Rangers a legitimate top-pairing defenseman to speed up their move toward being playoff contenders again. The right-handed-shooting blue liner had eight goals and 42 assists for 50 points last season.

NFL-MCCROWN RETIRES

QB Josh McCown retires after 16 NFL seasons

UNDATED (AP) _ Quarterback Josh McCown has announced he is retiring from playing football after an NFL career that spanned 16 NFL seasons and included stints with 10 teams. He played the last two seasons with the New York Jets, serving as the starter in 2017 and as a veteran backup to rookie Sam Darnold last year.

McCown finished with 17,707 career yards passing with 98 touchdowns and 82 interceptions. He was a third-round draft pick of Arizona in 2002 and also spent time with Detroit, Oakland, Miami, Carolina, San Francisco, Chicago, Tampa Bay and Cleveland before joining the Jets.

McCown, who turns 40 on July 4 says he'll be helping coach his two sons, who are also quarterbacks, in high school this year.

In other NFL news:

_The Denver Broncos are planning several ways to honor team owner Pat Bowlen , who died last week at 75 after a long battle with Alzheimer's just two months shy of his enshrinement into the Pro Football Hall of Fame. Renaming their stadium in his honor isn't one of those. The team has lacked a naming rights partner for several years, and an online effort pushed by Broncos broadcast partner Orange & Blue 760 called for fans to sign a petition asking the team to rename the stadium "Pat Bowlen Field at Mile High."

DOMINICAN REPUBLIC-DAVID ORTIZ

Judge: 1 year of prison for suspect in David Ortiz shooting

UNDATED (AP) — Authorities in the Dominican Republic say they are closing in on the mastermind and motive behind the shooting of Red Sox baseball great David Ortiz as he recovers in a hospital in Boston.

A judge on Monday ordered a man nicknamed "Bone" to one year in preventive prison during a hearing closed to the public.

According to documents obtained by The Associated Press, the man, whose real name is Gabriel Alexánder Pérez Vizcaíno, is accused of being the liaison between the alleged hit men and the person who paid them.

The documents also state that Pérez sold the cellphone allegedly used to plan the attack to a woman for $180 a day after the June 9 shooting. Authorities said he wanted to get rid of the evidence.

In other MLB news:

_ Braden Bishop was back in the Seattle Mariners clubhouse for the first time in a couple of weeks on Monday, a few pounds lighter but feeling significantly better. The last time Bishop was around his teammates he was a matter of hours away from discovering he had suffered a lacerated spleen, was bleeding into his abdomen and about to be rushed into surgery. It's still several weeks, potentially up to a couple of months, before Bishop will be back on the field for the Mariners.

SOC-PLATINI ARRESTED

Platini arrested as part of 2022 World Cup investigation

PARIS (AP) — A justice official in France says former UEFA president Michel Platini has been arrested in relation to the awarding of the 2022 World Cup.

Confirming a report published by online news publication Mediapart, the official says Platini was taken into custody today as part of the investigation into the awarding of the tournament to Qatar. The official spoke on condition of anonymity because they were not authorized to discuss an ongoing investigation.

Platini, a former France soccer great, was being detained at the Anti-Corruption Office of the Judicial Police outside Paris.
In world and national news…
WASHINGTON (AP) — China's top diplomat has warned the United States against opening a "Pandora's box" in the Middle East after a recent flare-up in tension between Washington and Tehran.
Foreign Minister Wang Yi called on both countries to avoid escalating the situation, echoing earlier statements by Chinese officials following last week's apparent attacks on two oil tankers near the strategic Strait of Hormuz and the Persian Gulf.
Wang spoke on Tuesday at a news conference in Beijing after meeting his Syrian counterpart, Walid al-Moallem.
Iran has denied a U.S. accusation that it was behind the attacks, which hit Norwegian and Japanese ships off Iran's coast. Each vessel was loaded with petroleum products, and one was set ablaze.
China is the world's largest buyer of Iranian oil and has maintained its support for the Iran nuclear deal.
WASHINGTON (AP) — President Donald Trump is threatening to remove millions of people in the country illegally.
In a late-night tweet Monday, Trump says U.S. Immigration and Customs Enforcement will begin the removal process next week. He tells his Twitter followers, "They will be removed as fast as they come in."
An administration official says the effort will focus on people who have been issued final deportation orders by federal judges but remain at large in the country.
Trump has threatened a series of increasingly drastic actions as he tries to stem the flow of Central American migrants crossing the southern border, which has risen dramatically on his watch.
Immigration is expected to be a central issue of Trump's 2020 reelection campaign, which officially launches Tuesday.
(AP)  Suicide, long the leading cause of death in U.S. jails, hit a high of 50 deaths for every 100,000 inmates in 2014, the last year for government data. That's 2½ times the rate of suicides in state prisons and about 3½ times that of the general population.
It's a problem commonly blamed on the fact that more mentally ill people are landing behind bars. But increasingly, troubling questions are being raised about the treatment of inmates, possible patterns of neglect and whether better care could have stopped suicides.
An Associated Press/Capital News Service report finds that scores of jails have been sued or investigated for allegedly refusing inmates medication, ignoring cries for help or failing to monitor them despite warnings they might harm themselves.
HARTFORD, Conn. (AP) — The father of a 6-year-old killed in the 2012 shooting at the Sandy Hook Elementary School has won a defamation suit against the authors of a book that claimed the shooting never happened.
A Wisconsin judge on Monday ruled that Lenny Pozner had been defamed by James Fetzer and Mike Palacek, the authors of the book "Nobody Died at Sandy Hook." Damages will be decided in October.
The decision is the latest victory for victims' relatives who have been taking a more aggressive stance against conspiracy theorists.
The publisher, Moon Rock Books, also has agreed to stop selling the book in a settlement with Pozner.
Noah was among 20 first graders and six educators killed at the school.
SAN FRANCISCO (AP) — Facebook is launching a new digital currency to make e-commerce accessible to more people around the world.
The social media giant is announcing Libra, a cryptocurrency it is creating with more than two dozen partners including Uber, PayPal, Visa and Spotify.
The digital currency will be backed by a reserve of existing currencies from around the world likely including the U.S. dollar, the euro and the yen.
Facebook's long rumored currency will launch to the public early next year. It is likely to spark privacy concerns with people who are wary about giving Facebook more information about themselves.
But Facebook says it will keep financial data secure and separate from its social media sites.
Libra will be governed by a nonprofit made up of the founding companies and non-governmental organizations.