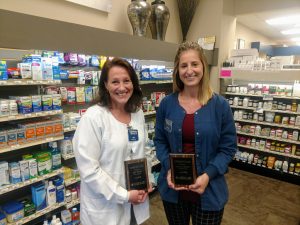 (Chamber)  The July Customer Service Award was awarded to Lori Graves and Miranda Erickson of The Medicine Shoppe for their outstanding customer service.  The chamber honors individuals who demonstrate a consistent commitment to delivering products or services that satisfy customers by exceeding their requirements or expectations.
Their letter of nomination outlined instances where each of these employees went above and beyond for their customers including staying after hours and gathering extra information.
Congratulations to Lori and Miranda, who along with all the other monthly winners, will be recognized at the Chamber's annual banquet in January 2020.  Customer Service Award nomination forms are available at the Chamber office and on their website at www.jamestownchamber.com or call 701-252-4830.