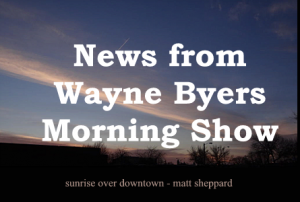 CSi Weather…
.REST OF TODAY…Sunny. Highs in the upper80s. South winds 5 to 15 mph.
.TONIGHT…Mostly clear.  A 20 percent chance of showers and thunderstorms after midnight in the Valley City area.
Lows in the mid 60s. Southwest winds 5 to 10 mph shifting to the northwest after midnight. Gusts up to 25 mph.
.FRIDAY…Sunny. Highs in the mid 80s. North winds around 5 mph.
.FRIDAY NIGHT…Partly cloudy. A 30 percent chance of showers and
thunderstorms after midnight in the Jamestown area, 20 percent in the Valley City area. Lows in the mid 60s. Northeast winds around 5 mph shifting to the southeast around 5 mph after midnight.
.SATURDAY…Mostly sunny with a 20 percent chance of showers and
thunderstorms. Highs in the mid 80s. South winds 5 to 10 mph.
.SATURDAY NIGHT…Partly cloudy with a 20 percent chance of
showers and thunderstorms. Lows in the upper 60s.
.SUNDAY…Mostly sunny. Highs in the lower 90s.
.SUNDAY NIGHT…Partly cloudy with slight chance of showers and
thunderstorms. Lows around 70.
.MONDAY…Mostly sunny. A 20 percent chance of showers and
thunderstorms in the afternoon. Highs in the lower 90s.
.MONDAY NIGHT…Partly cloudy with a 30 percent chance of showers
and thunderstorms. Lows in the upper 60s.
.TUESDAY…Partly sunny. A 20 percent chance of showers and
thunderstorms in the afternoon. Highs in the mid 80s.
.TUESDAY NIGHT…Partly cloudy with a 30 percent chance of
showers and thunderstorms. Lows in the mid 60s.
.WEDNESDAY…Mostly sunny with a 20 percent chance of showers and
thunderstorms. Highs in the mid 80s.
There is a slight chance of thunderstorms Thursday evening and
Thurday night. If storms do develop, they may become severe.
There are chances for thunderstorms Friday through Wednesday. A
few storms could be severe during this period. However,
uncertainty in details remains.
Valley City  (CSi)  The Valley City Commission met in Special Session Wednesday evening at City Hall.  All members were present.
NEW BUSINESS
The City Commission approved Gaming Site Authorization Renewal for Edgar A. Fisher American Legion Post No. 60.
Commissioners considered the Renewal of Alcoholic Beverage Licenses for VFW Post 2764.
At the July 2 the City Commission meeting, commissioners reviewed the request of the VFW Alcoholic Beverage License that was incomplete, and the request was denied. The liquor license renewal is pending the completed application.  City Auditor Avis Richter said, renewal  paperwork was due Jun 3, and the payment due, date was June 28. Late applications are a violation of the City Ordinance.
At the July 2 City Commission meeting, licenses for Woodland Steakhouse and Sabir's Dining in Valley City, whose applications were submitted late, were approved, with a stipulation that includes a public hearing, to determine any further action, including possible suspension.
At Wednesday's Administrative meeting, Auditor Richter said, the paperwork has been filed with the city including 10 of 12 months of sales which showed food sales exceeded alcohol sales, within parameters outlined in the North Dakota Century Code in establishments that serve food and alcohol. It was also pointed out that sales taxes were not filed in a timely manner.  A spokesperson said without alcohol sales in conjunction with special events, the club is likely to continue to struggle.
Commission Member Magnuson moved to grant the request, which was approved unanimously.
It was stated that the violation has occurred, and an official letter will be sent to the VFW for a representative of the VFW appear to state their case at another hearing.
After hearing the statement, an option for the city to reprimand the club for the violation could be to suspend liquor sales for a period of days.
The meeting was shown live on CSi Cable 68.
Jamestown  (CSi)  Ave Maria Village in Jamestown has set more fundraisers, to benefit the Kitchen Renovation Project.
On Wednesday's Wayne Byers Show on CSi Cable 2, Ave Maria Village, Development Director, Annie Hancock said, on Wednesday July 17, and Thursday July 18, Root Beer, and Orange floats will be served, outside Ave Maria Village.  It's hosted by Ave Maria Volunteers, with proceeds going to the Kitchen Renovation Project.
The Volunteer Pie Social is set for July 24, 12 noon to 1-p.m., with homemade pie, and coffee, tea or lemonade for a donation of $5, and the opportunity to bid on silent auction items, including  handmade baby blankets, quilted items, and gift baskets.  Proceeds will also to the Kitchen Remodel Project.
The 5th Annual Ave Maria Village Family & Friends Fun Walk is set for Saturday, August 10th.
Ave Maria Village is dedicated to the health and well-being of their residents and those in the community. Join the walk to promote a healthy lifestyle at any age. Everyone is welcome to walk… Just for the health of it!
The one mile loop will be marked on the north side of Ave Maria Village. You can walk the loop as many times as you'd like beginning at 9 AM, check in by 8:45-a.m.
Cost to register is $10 for heritage center tenants, $20 for adults, and $15 for adults 65+. Children and Ave Maria Village tenants walk for free. Registration will run through August 2nd and cost increases to $25 a person after that.
All funds raised through the walk and a raffle, will assist the ongoing Kitchen Renovation Project.
The drawing for the Summer Raffle, and door prizes will be at the Walk on August 10, at 10-a.m.  Must be present to win the door prizes.
Raffle Tickets are one for $5 or five for $20 and can be purchased at the front desk or call Annie at 701-952-5677.
Raffle Quilts donated by Ardina Bentz and Jill Bredahl.  The quilted wall hanging donated by Claudia Jacobson. The Spa Day Package donated by Licensed Beautician,  Deb Stafslein.
(NDHP)  The North Dakota Highway Patrol reports a one vehicle rollover Tuesday on I-94 injured one person.
26 year old Emir Zulejhic, of Louisville, KY, started to slow down due to torrential rains and high winds. He lost control of the vehicle and entered the center median. His vehicle then rolled an unknown number of times.
The vehicle came to rest on its right side near the left eastbound lane.
Zulejhic was transported to Sanford Medical Center in Bismarck for minor injuries. He was wearing his seatbelt.
Medina Ambulance assisted on the scene.
Bismarck  (NDHP) The North Dakota Highway Patrol reports, David Joseph Gray who on Monday, walked away from the Missouri River Correctional Center (MRCC), an unfenced, minimum-security facility in Bismarck, was captured Wednesday evening in the Wahpeton.
Officials contacted Highway Patrol as soon as they realized he was gone.
Gray is serving a sentence for possession of methamphetamine with intent to deliver and was scheduled for release in April 2021.
GRAND FORKS, N.D. (AP) — Grand Forks police have arrested a suspect accused of striking a pedestrian with his car and fleeing.
The victim who was treated at Altru Hospital told police the suspect deliberately struck him about 2:30 a.m. Thursday in Grand Forks.
Authorities were able to track down the car and arrest a 36-year-old Mekinock man. KFGO says he's accused of drunken driving, reckless endangerment and leaving the scene of an accident involving injury.
BISMARCK, N.D. (AP) — A federal judge in North Dakota has sentenced a Rhode Island woman to four years in prison for funneling lottery scam money between the U.S. and Jamaica.
Twenty-nine-year-old Melinda Bulgin, of Providence, received a sentence Wednesday that was 10 years less than prosecutors had sought.
The Bismarck Tribune reports that U.S. District Judge Daniel Hovland said Bulgin's role in the scam was not on the level of others who received lesser sentences than the 14 years requested by prosecutors.
Assistant U.S. Attorney Jonathan O'Konek called Bulgin's sentence "unreasonable" and "not a just punishment." The government has two weeks to appeal.
A jury in September convicted Bulgin of conspiracy, fraud and money laundering in a scam that authorities say bilked more than 100 mostly elderly Americans out of more than $6 million. The scam involved 31 defendants, including 14 Jamaican nationals, most of whom accepted plea deals with the government.
BISMARCK, N.D. (AP) — North Dakota is moving to allow people with low-level marijuana convictions to apply for pardons and have their records wiped clean if they avoid unlawful behavior for five years.
Republican Gov. Doug Burgum and Attorney General Wayne Stenehjem both supported the plan adopted Wednesday by the state pardon advisory board.
North Dakota joins other states and cities nationwide that are trying to fix problems the convictions have caused for people trying to find jobs and housing.
North Dakota's plan doesn't go as far as some others in automatically dismissing or pardoning convictions. Instead, people applying for pardons would have to fill out an online form. The deadline for the first round of applications is Aug. 10.
Stenehjem says as many as 175,000 marijuana convictions over several decades could be eligible.
WILLISTON, N.D. (AP) — The North Dakota Department of Health says the state's third medical marijuana dispensary is expected to open in Williston later this week.
Harvest of Williston is expected to start doing business on Friday. Health officials anticipate the next dispensary to open will be in Bismarck. A qualifying patient or designated caregiver must have a registry identification card to enter the display area of a dispensary. The state says more than 750 registry identification cards have been issued.
STANLEY, N.D. (AP) — Fire at a salt water disposal facility has caused a brine and oil spill in northwestern North Dakota.
The North Dakota Oil and Gas Division says the fire happened Monday at the Stanley SWD No. 3 salt water disposal facility about 12 miles (19 kilometers) north of Stanley.
Basic Energy Services reported Tuesday that 147,000 gallons of brine and 8,400 gallons of oil were released. The fire was caused by welding sparks at the location.
Cleanup is underway. An inspector has been to the site and will monitor cleanup.
Brine is a byproduct of oil production.
FLAGSTAFF, Ariz. (AP) — The Federal Communications Commission has approved a priority filing window for tribes to obtain licenses that could boost internet service in rural communities.
The commission voted 3-2 Wednesday in favor of the filing window for federally recognized tribes.
The 2.5 Ghz-band of spectrum largely is unassigned in the U.S. West and is seen as key to expanding 5G access.
The licenses could help tribes establish or expand broadband coverage in underserved areas. Tribally owned entities, including colleges and universities, also would be given priority for licenses.
The filing window for tribes could open as early as December. The remaining spectrum would be auctioned off for commercial use.
The FCC vote also removed the educational use requirement for the spectrum. The changes won't affect existing license holders.
In sports….
Jamestown  (CSi)   Dakota Anglers in Jamestown will be hosting the Fish Fry Tournament at Pelican Point Landing on Saturday July 13.
Teams may fish any one legal North Dakota water that must be declared at registration. Two person teams may enter; at least one team member must be a Dakota Anglers member or pay $20 dues to become a member."
Registration is from 7-8 at Four Winds Sharpening. Fishing starts at 8 am.
Weigh in at Pelican Point Landing at 3-p.m. sharp and payback is 100%. Plaques will be awarded for each winning team member and for largest walleye and largest northern.
Call Nathan with any questions at 701-200-2327.
AMERICAN ASSOCIATION…
Sioux City 5, Fargo-Moorhead 3, 7 innings
WIMBLEDON TENNIS…
WIMBLEDON, England (AP) _ Back on Centre Court and back in the semifinals of a major tournament, Serena Williams will take on Barbora Strycova (STREET'-soh-vah) at Wimbledon.
Williams is trying to win an eighth title at the All England Club and a 24th Grand Slam trophy overall — an achievement that would equal Margaret Court's all-time record.
The 33-year-old Strycova had been pondering retirement this year but now is the oldest first-time major semifinalist in the professional era. It took her 53 major tournaments to get this deep.
In the first semifinal, also on Centre Court, former No. 1 Simona Halep will face Elina Svitolina.
Like Strycova, Svitolina has never before been to the final four at a major tournament.
Halep won the French Open last year and is trying to reach her fifth major final.
MLB-OBIT-BOUTON
Yanks pitcher and "Ball Four" author dies
GREAT BARRINGTON, Mass. (AP) _ Former New York Yankees pitcher and controversial baseball author Jim Bouton has died at age 80.
Throwing so hard that his cap flew off his head, Bouton was 21-8 with six shutouts in 1963, his second season in the majors. He went 18-13 with four more shutouts in 1964 before winning a pair of World Series games against the Cardinals that fall.
But his playing career was forever eclipsed by his 1970 book "Ball Four," the first tell-all baseball memoir that angered many in the game's establishment. It chronicled his 1969 season with the Seattle Pilots and Houston Astros, but it also detailed Yankees great Mickey Mantle's carousing, and the use of stimulants in the major leagues. He was ostracized by players and management for exposing those secrets, waiting decades to be invited to a Yankees Old Timer's game.
Bouton's family said he died Wednesday at the home he shared with wife Paula Kurman. He fought a brain disease linked to dementia and was in hospice care. Bouton also had two strokes in 2012.
NBA-FREE AGENCY
UNDATED (AP) _ The Timberwolves are declining to match the Grizzlies' offer sheet to guard Tyus Jones. The 6-foot-2 Jones had spent his entire four-year NBA career with the Timberwolves and averaged 6.9 points, 4.8 assists and 22.9 minutes this past season. ESPN had reported that Jones and the Grizzlies had agreed to a three-year offer sheet worth $28 million.
Paul George and Kawhi (kah-WY') Leonard are officially members of the Los Angeles Clippers.
The Clippers completed their blockbuster trade with the Oklahoma City Thunder on Wednesday, acquiring George for guard Shai Gilgeous-Alexander, forward Danilo Gallinari and five first-round draft picks.
The Clippers surrendered their first-rounders in 2022, 2024 and 2026, plus sent ones for 2021 and 2023 that were obtained through Miami, to Oklahoma City.
Oklahoma City also has the right to swap first-round picks with the Clippers in 2023 and 2025.
A person with knowledge of the situation says Leonard has signed a three-year max contract that could be worth nearly $110 million. The final year is a player option, meaning he and George could both be free agents in 2021. Both players will have options that summer.
George and Leonard are Southern California natives who are coming off their best scoring seasons. George averaged a career-best 28 points last season despite shoulder issues that required surgery. Leonard averaged 26.6 points in the regular season and was even better in the playoffs, averaging 30.5 points for the Raptors in their run to the title.
In other NBA news:
_ The Mavericks have signed Seth Curry to a four-year, $32 million package, completing the guard's return after a year away. The brother of two-time MVP Stephen Curry had the best year of his career with Dallas in 2016-17, averaging 12.8 points, 2.7 assists and 29 minutes per game. He averaged 7.9 points for the Trail Blazers last season after missing all of 2017-18 with a stress reaction in his lower left leg.
_ Dallas also re-signed forward Maxi Kleber, who has averaged 6.1 points and 3.9 boards in two years with the team.
_ Klay Thompson has signed his five-year deal with the Warriors, a package worth nearly $190 million. It's the largest free-agent contract agreed to this summer, although he will miss part of next season while recovering from a torn ACL.
_ The 76ers have completed the signings of forwards Tobias Harris and former Celtics standout Al Horford. Both of those deals were agreed upon last week.
_ Commissioner Adam Silver says there was discussion at the board of governors meeting Wednesday about finding a way to remedy the draft day problem of players wearing hats of teams that had already traded their rights. Because of league rules involving the moratorium on player moves, drafted players have been unable to be introduced by their actual franchise for more than two weeks. Several ideas are under discussion, including changing the rules about how and when draft-night trades can be announced.
NFL-NEWS
Bucs cornerback suspended
UNDATED (AP) _ Tampa Bay Buccaneers cornerback Ryan Smith has been suspended without pay for the first four games of the regular season for violating the NFL's policy on performance-enhancers.
Smith is eligible to participate in all offseason and preseason practices and games. He will be allowed to return to the team Sept. 30, after Tampa Bay's Week 4 game at the Los Angeles Rams.
In other NFL items:
_ Former Titans All-Pro defensive lineman Albert Haynesworth says on social media that he needs a kidney transplant. The 38-year-old Haynesworth posted on Instagram that he's been battling kidney disease for a few years. He was selected as an All-Pro after the 2007 and 2008 seasons and had 30 1/2 sacks in 123 games.
_ Two former NFL players are among the six new officials for the upcoming NFL season. Field judge Nate Jones joins the league officiating staff from the Pac-12, following an eight-year pro career as a defensive back. Umpire Terry Killens was a linebacker during his seven NFL seasons before officiating in the American Athletic Conference.
NHL-NEWS
UNDATED (AP) _  Penguins center Matt Cullen has retired after a 21-season career that included three Stanley Cup titles. The 42 year-old won a Cup with Carolina in 2006 and then consecutive titles with Pittsburgh in 2016 and 2017. Cullen had 266 goals, 731 points and 502 penalty minutes over 1,516 games.
The Vancouver Canucks have acquired one of the top scorers still available on the free agent market by giving Michael Ferland a four-year deal worth about $14 million.
Ferland was an unrestricted free agent after putting up 40 points in 71 games for Carolina this past season. He previously played four years in Calgary, scoring a career-high 21 goals in the 2017-18 season.
WOMEN'S WORLD CUP-CELEBRATION
New York City honors champs
NEW YORK (AP) _ Adoring fans packed New York City's Canyon of Heroes on Wednesday amid a blizzard of confetti. They came to praise the World Cup-winning U.S. women's national soccer team as athletic leaders on the field, and as advocates for pay equity off it.
Crowds chanted "USA! USA!" and workers sounded air horns from a construction site as the hourlong parade moved up a stretch of lower Broadway that has long hosted so-called ticker tape parades for world leaders, veterans and hometown sports stars.
Co-captain Megan Rapinoe (rah-PEE'-noh) and her teammates shared a float with Mayor Bill de Blasio and U.S. Soccer Federation president Carlos Cordeiro. Rapinoe struck her now-famous victory pose, took a swig of Champagne and handed the bottle to a fan. Goalkeeper Alyssa Naeher held the World Cup trophy aloft.
The parade ended at City Hall, where Mayor Bill de Blasio presented the players with symbolic keys to the city.
BOSTON MARATHON BOMBING-MEMORIAL
Memorial to marathon bombing victims takes shape in Boston
BOSTON (AP) _ Four bronze spires that will make up part of a memorial to the victims of the Boston Marathon bombings have been put in place near the finish line.
The spires, ranging in height from about 17 feet to 21 feet, will serve as light poles for the memorial. They were installed Wednesday at one of the two locations where pressure cooker bombs detonated on April 15, 2013, killing three people and wounding more than 260 others.
Memorials will eventually stand at both sites and will also honor two police officers who died after the attacks.
Planning began four years ago for the $2 million memorial, and it's since undergone substantial redesign.
ESPYS
Morgan, USWNT, Greek Freak honored by network
LOS ANGELES (AP) — Alex Morgan won female athlete of the year and shared the best team award with her U.S. women's national soccer teammates at The ESPYS. The award was presented hours after the squad was honored with a ticker-tape parade in New York City to celebrate its Women's World Cup championship.
Milwaukee Bucks forward Giannis Antetokounmpo (YAH'-nihs an-the-toh-KOON'-poh) won male athlete of the year at the show honoring the past year's top athletes and moments in sports.
In world and national news…
DUBAI, United Arab Emirates (AP) — China is calling on all sides to avoid raising tensions in the Persian Gulf after Britain said three Iranian vessels sought to disrupt the passage of a British oil tanker through the Strait of Hormuz.
Foreign Ministry spokesman Geng Shuang says Beijing hopes the parties involved can "maintain cool and restraint" and safeguard peace and stability in the Gulf region.
Geng told reporters Thursday that China, a huge customer for oil and gas shipped through the strait, recognizes the influence events in the region can have on the stability of the global supply of resources.
China was a signatory to the 2015 nuclear deal between Iran and world powers and has sought to keep it in effect, despite the U.S. pulling out and re-imposing sanctions.
WASHINGTON (AP) — Labor Secretary Alex Acosta plans to make a statement Wednesday regarding his handling of a sex trafficking case involving now-jailed billionaire financier Jeffrey Epstein.
The Labor Department said Acosta will "make a statement and answer questions" from reporters at 2:30 p.m.
Acosta, a former federal prosecutor in south Florida, is under fire for his role in a secret 2008 plea deal that let Epstein avoid federal prosecution after allegations he molested teenage girls.
Epstein pleaded not guilty on Monday to new child sex-trafficking charges and could face up to 45 years in prison if convicted.
President Donald Trump has praised Acosta's work in his Cabinet and said he feels "very badly" for him, but said he'll be looking "very closely" at the matter.
WASHINGTON (AP) — A senior military officer has accused the Air Force general tapped to be the next vice chairman of the Joint Chiefs of Staff of sexual misconduct, potentially jeopardizing his nomination. Members of Congress have raised questions about the allegations and the military investigation that found insufficient evidence to charge him.
The officer tells The Associated Press that Gen. John Hyten subjected her to a series of unwanted sexual advances by kissing, hugging and rubbing up against her during 2017 while she was one of his aides. She says he tried to derail her military career after she rebuffed him.
The AP routinely does not name victims of sexual assault.
The Air Force investigated the woman's allegations, and found there was insufficient evidence to charge the general or recommend punishment.
WASHINGTON (AP) — To prepare for next week's high-stakes hearing with Robert Mueller, some Democrats are watching old video of his testimony on other matters.
Others are closely re-reading the former special counsel's 448-page report of Russia's election meddling and the Trump campaign. And almost all are worrying about how they'll make the most of the limited time for questioning.
Mueller has said he won't answer questions beyond what is in his report when he comes to Congress on July 17. He is expected to testify before the House's judiciary and intelligence committees for two hours each. Democrats will be trying to spotlight what they say are the report's most damaging findings about President Donald Trump.
A Rhode Island congressman, David Cicilline, says Democrats have to be "very strategic about the questions."
LONDON (AP) — Boris Johnson, who is likely to become U.K. prime minister within weeks, is denying he played any role in the departure of Britain's ambassador to Washington, who quit after coming under attack from President Donald Trump.
Kim Darroch resigned following a furor over leaked diplomatic cables which labeled Trump's White House as dysfunctional, clumsy and inept. Trump branded Darroch a "pompous fool" and cut off the administration's contact with him.
Politicians including Foreign Secretary Jeremy Hunt, Johnson's rival for the prime minister's job, criticized Trump's tirades and defended Darroch.
But Johnson merely stressed his good relations with the White House and the importance of the trans-Atlantic relationship. Darroch resigned hours after Johnson made those comments.
Johnson told The Sun newspaper it was "bizarre" people were blaming him for Darroch's departure.