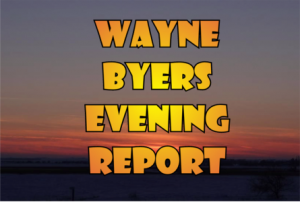 CSi Weather…
.TONIGHT…Partly cloudy in the evening then clearing. Slight chance of showers and thunderstorms. Lows in the mid 60s. South winds 10 to 15 mph shifting to the west 5 to 10 mph after midnight.
.FRIDAY…Sunny. Highs in the mid 80s. North winds around 5 mph.
.FRIDAY NIGHT…Partly cloudy. A 30 percent chance of showers and
thunderstorms after midnight in the Jamestown area, 50 percent in the Valley City area. Lows in the mid 60s. Northeast winds around 5 mph shifting to the southeast around 5 mph after midnight.
.SATURDAY…Mostly sunny with a 20 percent chance of showers and
thunderstorms. Highs in the mid 80s. South winds 5 to 10 mph.
.SATURDAY NIGHT…Partly cloudy with a 20 percent chance of
showers and thunderstorms. Lows in the upper 60s.
.SUNDAY…Mostly sunny. Highs in the lower 90s.
.SUNDAY NIGHT…Partly cloudy with slight chance of showers and
thunderstorms. Lows around 70.
.MONDAY…Mostly sunny. A 20 percent chance of showers and
thunderstorms in the afternoon. Highs in the lower 90s.
.MONDAY NIGHT…Partly cloudy with a 30 percent chance of showers
and thunderstorms. Lows in the upper 60s.
.TUESDAY…Partly sunny. A 20 percent chance of showers and
thunderstorms in the afternoon. Highs in the mid 80s.
.TUESDAY NIGHT…Partly cloudy with a 30 percent chance of
showers and thunderstorms. Lows in the mid 60s.
.WEDNESDAY…Mostly sunny with a 20 percent chance of showers and
thunderstorms. Highs in the mid 80s.
There is a slight chance of thunderstorms Thursday evening and
Thurday night. If storms do develop, they may become severe.
There are chances for thunderstorms Friday through Wednesday. A
few storms could be severe during this period. However,
uncertainty in details remains.
Update…
HAWLEY, Minn. (AP) (WDAY-INFORUM)  — An ultralight plane crashed Thursday afternoon at a municipal airport in western Minnesota killing the pilot.  The small plane crashed just after 12:30 p.m. Thursday at Hawley Municipal Airport.
Th pilot's name, age and hometown were not immediately released.
Airport manager Lisa Jetvig says local emergency officials and the Federal Aviation Administration  were on the scene Thursday afternoon  and the National Transportation Safety Board has been notified.
 She says the airplane crashed south of the airport's single runway.
Clay County, Minnesota Sheriff  Mark Empting says a bystander who removed the pilot from the aircraft was slightly injured, and was treated at the scene by first responders.
A fire caused by the crash was extinguished by the Hawley Fire Department.
Assisting at the scene were, the Hawley Police Department, and the Minnesota State Patrol.The city-owned airport is west of Hawley (HAW'-lee) on U.S. 10. The airport's runway was closed.Hawley is about 22 miles (35 kilometers) east of Moorhead.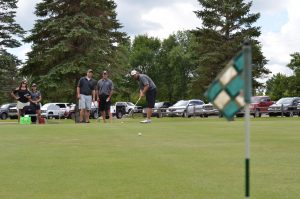 Jamestown  (JRMC)  — For the first time since the opening, golfers will take to the course in support of those battling cancer.
Jamestown Regional Medical Center's annual Golf "FORE" Good tournament is set for Friday, July 19. All proceeds benefit the JRMC Cancer Center.
"This year is an especially exciting year," said Lisa Jackson, JRMC Foundation director. "Now that the JRMC Cancer Center is open, we feel energized. We appreciate the community's support as we continue to raise funds to sustain this service."
The JRMC Cancer Center opened in June 2019. The center offers chemotherapy and other infusions in its six sun-lit and spacious infusion bays. The space also includes exam rooms, a consultation area and space for nurses and staff. The community raised $1.7 million of the $1.9 million needed to build the space.
Now that it is open, the JRMC Cancer Center will provide chemotherapy infusions for more than 100 residents of Jamestown and the surrounding communities. Currently, those people travel more than 100 miles for that care. This will eliminate more than 160,000 miles of travel per year.
The title Golf "FORE" Good sponsor is the JRMC Auxiliary.
The JRMC Auxiliary title sponsored the event for the second time this year. The 40 or so members support JRMC through organizing fundraisers and supporting the JRMC Gift Shoppe.
"Everyone is so in favor of getting the JRMC Cancer Center here so people don't have to drive," said Eunice Sahr, JRMC Auxiliary president.
The Auxiliary meets monthly and is always seeking new members.
With the help of the Auxiliary and other community sponsors, last year's Golf "FORE" Good netted about $30,000.
Other 2019 Golf "FORE" Good sponsors include:
Birdie: $1,000
Hillerud Construction
Sanford Health
Central Business Systems
Great River Energy
Beverage: $500
Blue Cross Blue Shield of North Dakota
Delta Dental
FocusOne Solutions
Hole: $300
BWBR
Barb and Curt Togstad Continue Aiding Recipients Affected by Cancer Evermore (C.A.R.E.) Endowment Fund
Ed Ryan "Read to Them"
Davis
Casey's General Stores
Wilhelm Chevrolet Buick GMC
Dixon Golf
Vogel Law Firm
Registration is $100 per player and includes an 18-hole golf scramble, cart, meals, drink tickets, commemorative photo and a swag bag (valued at $150). Every player receives a sleeve of golf balls and special commemorative shot glass in memory of Jerry Baenen.
The tournament kicks off at 10 a.m. at the Jamestown Country Club.
The Hole-in-One is presented by Wilhelm Chevrolet GMC Buick.
For more information, contact Jackson or Penny Holland at (701) 952-4880 or ljackson@jrmcnd.com.
For more information on services at JRMC, visit www.jrmcnd.com or call (701) 952-1050.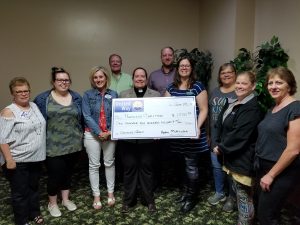 Jamestown  (Cassie DuBray)  The South Central Homeless Coalition representing North Dakota's Region VI, received a 2019 United Way Venture Grant of $1,500 to support the annual blessing bag drive. Earlier this year, the coalition drive partnered with Jamestown Ministerial Association, Triumph Inc, North Dakota State Hospital, and other community members to collect and assemble "Blessing Bags" of donated essential care items for people experiencing homelessness and or other hardships. With donations collected during that drive, the coalition was able to assemble nearly 200 bags which have all been distributed within our region.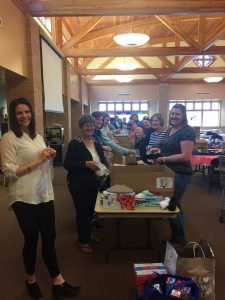 As this drive was smaller than previous years, the coalition is extremely grateful for the grant which  will be used to be able to purchase additional supplies to build more blessing bags to be used for families and individuals experiencing homelessness or extreme need.
Blessing bags will be shared with various organizations within Region VI such as South Central Human Service Center, Community Action, Freedom Resources, James River Correctional Center, Veteran Services, local churches, and Public Schools for distribution to individuals who are experiencing homelessness or extreme need.
The purpose of the South Central Homeless Coalition's purpose shall be to advocate, coordinate, and optimize services for homeless men, women and children within Region VI of the South Central Human Service Center. For more information contact coalition President Pastor Susan Haukaas at Trinity Lutheran Church (701) 252-2841.
Jamestown  (CSi)   The Drag Races at Jamestown Regional Airport will be held on July 13 and 14, to be held on the airport's taxiway, as approved by the FAA, which did not allow the drags to be held on the main runway, stemming from recent improvements.
Saturday and Sunday from 6:30-a.m., to 5:30-p.m.
Jamestown (CSi)  Coming up on Saturday July 13 is a Grill Out and Rummage Sale from 9-a.m., to 1-p.m., at the  James River Humane shelter, located off the I-94 Bloom Exit.
Proceeds benefiting the James River Humane Society.
Jamestown (CSi)  The All Vets Club in Jamestown will host a "Military Appreciation, Summer Social,"
On Tuesday July 23 starting at 5:30-p.m.
A free dinner is open to all veterans, being served at 6-p.m.
Following the dinner, there will be door prizes and 60's DJ music.
The guest or spouse meal charge is $9.
All organizations and auxiliary members are encourage to attend the Social Appreciation event for a fun evening.
For more information call the All Vets Club at 701-252-8994.
WATFORD CITY, N.D. (AP) — Authorities say man from New Mexico died when his pickup collided head on with a semi in McKenzie County.The North Dakota Highway Patrol says the 29-year-old pickup driver was speeding in the wrong lane of Highway 23 near Watford City when the collision occurred about 11 p.m. Wednesday. The pickup overturned and the semi jackknifed.The patrol says another semi hauling crude oil was damaged when it struck crash debris. The driver of the first semi was taken to McKenzie County Hospital.
BISMARCK, N.D. (AP) — A small South Dakota city has been hit hard by the deaths of two people who drove into a giant chasm that appeared in a dark North Dakota highway after a flash flood washed through.
The Bismarck Tribune reports that 65-year-old Jim Vanderwal and 60-year-old Trudy Peterson, both of Mobridge, South Dakota, were retrieved Tuesday from the hole on the Standing Rock Reservation in Sioux County.
Mark Kaiser says his former colleague Peterson worked at the dialysis unit at the Indian Health Service in Fort Yates. He says she had a bubbly personality and a unique laugh.
Vanderwal's sister, Cindy Fjeldheim, says he was a driver for a U.S. mail contractor who made the run between Bismarck and Mobridge six days a week. She says he almost made it home.
BISMARCK, N.D. (AP) — Dakota Access oil pipeline opponents plan to request a hearing on a proposal to nearly double the pipeline's capacity.The North Dakota Public Service Commission decided unanimously Wednesday to open the proposal up for public input.Earthjustice attorney Jan Hasselman, who represents the Standing Rock Sioux Tribe, said the tribe wants the pipeline shut down, but since there is a proposal to expand its capacity, "Someone needs to be accountable to make sure that's safe and legal."The commission should hold a hearing and demand an engineering analysis of the proposed expansion, Hasselman told The Bismarck Tribune.The line's operator, Texas-based Energy Transfer, said last month that it plans to expand the pipeline's capacity from more than 500,000 barrels per day to as much as 1.1 million barrels. It said the expansion would let the company meet growing demand without having to turn to additional pipelines or rail shipments.The company, which was formerly known as Energy Transfer Partners, would build additional pumping stations in North Dakota, South Dakota and Illinois. Since some of the land in North Dakota falls outside of the pipeline corridor, permission would be needed from the PSC.

Commissioner Julie Fedorchak said the PSC would consider requests from the public for a hearing like it did in the past for the original pipeline.

"This is a process that is something the commission uses on a very routine basis," Fedorchak said.
In world and national news…
WASHINGTON (AP) — Opponents of having a citizenship question on the 2020 census say they'll return to court to fight President Donald Trump's push to add the controversial query.
Trump is expected to announce new executive action Thursday, after last month's Supreme Court ruling forbidding the administration from asking about citizenship, at least temporarily.
The American Civil Liberties Union's Dale Ho says the Trump administration's ongoing efforts are "unlawful." The ACLU represents plaintiffs in the census case in New York.
The head of the Mexican American Legal Defense and Educational Fund, Thomas Saenz, says census officials "cannot defy those court orders simply because Donald Trump wants them to do so." The fund represents plaintiffs in Maryland.
NEW YORK (AP) — Former Israeli Prime Minister Ehud Barak is playing down his ties with Jeffrey Epstein — the U.S. financier facing sex-trafficking charges.
Barak's connection with Epstein has emerged in Israel just days after the 78-year-old former premier announced his political comeback.
U.S. tax records show Barak received some $2 million in grants last decade from the Wexner Foundation. At the time of the grants, Epstein was a trustee of the foundation.
The documents say the grants were for unspecified "research."
In a radio interview Thursday, Barak said he met Epstein several times but said he "didn't support me or pay me."
The Wexner Foundation did not immediately respond to queries seeking comment.
Epstein has pleaded not guilty to federal charges of abusing dozens of underage girls in New York and Florida in the early 2000s.
(AP)  The American Civil Liberties Union has filed a federal lawsuit that aims to protect asylum seekers from an immigration enforcement operation expected to start this weekend.
The lawsuit argues that those individuals weren't allowed a fair chance to request asylum and their deportation orders aren't valid. Most of them are from El Salvador, Guatemala and Honduras.
The ACLU alleges "massive bureaucratic errors" led to a failure to send proper notices to appear in court. Thousands were ordered removed without attending hearings.
The ACLU says most of the asylum seekers fled violence. It wants each person who was ordered removed that way since May 2014 to get a hearing.
The lawsuit was filed Thursday in New York on behalf of nonprofit organizations that work with refugees.
NEW ORLEANS (AP) — The Mississippi Emergency Management Agency is telling people in the southern part of the state to be prepared for heavy rain from Tropical Storm Barry as it pushes northward through the Gulf of Mexico.
The agency says people in low-lying areas should have a plan to evacuate before waters rise.
Forecasters say the storm could become a hurricane and make landfall in Louisiana. Effects could be felt in Mississippi by early Friday.
MEMA says there's the potential for storm surge greater than 3 feet (1 meter) on the Mississippi Gulf Coast and the south and central parts of the state could have heavy rainfall and flooding.
CLEVELAND, Miss. (AP) — The small Mississippi Delta town of Cleveland serves as a reminder that fierce debates over the integration of black and white students are not a thing of the past.
Two rival high schools in Cleveland had to be merged just two years ago after a judge determined that all-black student bodies in the town of 12,000 people were illegal vestiges of segregation. It is one of scores of school districts around the U.S. still facing federal desegregation mandates.
The federal government's role in integrating schools came into the national spotlight following an exchange during the Democratic presidential debate between Joe Biden and Sen. Kamala Harris. The former vice president was attacked for his work in the 1970s to oppose federally-ordered busing to achieve a racial balance in schools.
COLUMBUS, Ohio (AP) — An Ohio hospital system says it's firing 23 more employees and changing leadership after investigating excessive painkiller doses given to dozens of patients who died.
The Mount Carmel Health System announcement Thursday comes five weeks after the Columbus-area doctor accused of ordering the doses, William Husel (HYOO'-suhl), pleaded not guilty to murder charges in 25 deaths.
Mount Carmel says the newly fired employees include five physician, nursing and pharmacy management team members. The CEO says he's resigning this month, and the chief clinical officer is retiring in September.
Mount Carmel fired Husel earlier. His lawyer says Husel was providing comfort care to dying patients, not trying to kill them.
Nurses and pharmacists who administered or approved the drugs aren't being prosecuted, though dozens were reported to professional boards for review.
WASHINGTON (AP) — The White House says President Donald Trump is withdrawing a plan that would have eased the financial bite of drug costs for people on Medicare by allowing them to receive rebates that drugmakers now pay insurers and middlemen.
The plan from Health and Human Services Secretary Alex Azar was once highly promoted, but ran into opposition within the White House.
The pushback grew after the nonpartisan Congressional Budget Office said the plan would have little impact on manufacturer prices and would cost taxpayers $177 billion over 10 years.
White House spokesman Judd Deere says the change was made "based on careful analysis and thorough consideration."
Deere says Trump isn't backing away from his promise to lower drug prices, and the administration is setting its sights on bipartisan legislation in Congress.