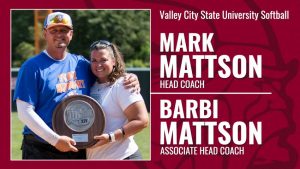 VALLEY CITY (VCSU) – Valley City State University athletic director Jill DeVries announced Friday the hiring of Mark Mattson and Barbi Mattson as the new softball coaching staff at VCSU. 
The Mattsons take over the VCSU program after coaching the last seven seasons at Angelina College, an NJCAA Division I school in Lufkin, Texas. Under their leadership, Angelina College won its first ever national championship in 2014, and last season the Roadrunners were national runner-up at the NJCAA Division I level.
Mark takes over as head coach at VCSU, while Barbi has been named associate head coach. VCSU is the third school where the husband and wife have teamed up to lead the softball program, including a stop at North Dakota State College of Science in Wahpeton, N.D. 
"We are extremely excited to have Mark and Barbi take over our softball program," said DeVries. "Their established level of success, their outgoing personalities, and their passion for softball and collegiate athletics will be great assets to our campus. I am confident they will continue to grow and advance our softball program at the national level."
Valley City State is coming off just its third ever appearance at the NAIA Softball World Series. The Vikings set a school record with 54 wins and were ranked as high as No. 6 in the nation last season.
The Mattsons are no strangers to success on the national level after leading Angelina College to a national title in 2014. As a result, the Mattsons were named the NFCA Coaching Staff of the Year at the NJCAA Division I level. This past season, the Roadrunners took second in the nation and had six players sign to play NCAA Division I softball next year. 
During their seven seasons at Angelina, the Roadrunners compiled a 253-131 record and made two appearances in the NJCAA National Tournament. Prior to their time at Angelina, the Mattsons started the softball program at North Dakota State College of Science in Wahpeton, N.D., and led the Wildcats to two conference titles and three regional tournament appearances. The Mattsons have also expected academic success from their teams, which earned the Team Academic All-American Award three times at Angelina College and once at NDSCS.
 "We'd like to thank VCSU president Alan LaFave and athletic director Jill DeVries for this amazing opportunity," said the Mattsons. "We are so excited to join the Valley City State University family and the Valley City community. We can't wait to meet the rest of the team and get back to work to continue the success they have had."
Both Mark and Barbi are lifelong softball players. Mark was a member of the Men's Fastpitch National Championship team in 1998, while Barbi played collegiately at Snow College (Utah) and Adams State University (Colo.). Mark has been coaching softball since 1998, and Barbi began her coaching career in 2006. 
Mark is a native of West Fargo, N.D., where he graduated from West Fargo High School. He later went on to earn a bachelor's degree in physical education from Lincoln Memorial University in Harrogate, Tennessee. 
Barbi earned a master's degree in athletic administration and coaching from Concordia University-Irvine (Calif.). She also has a bachelor's degree from Adams State College in exercise physiology and leisure science. Barbi has taught classes as an adjunct instructor in the physical education department at both NDSCS and Angelina College.
The Mattsons have three children: sons Miken (11) and Juco (8) and daughter Marki (5).