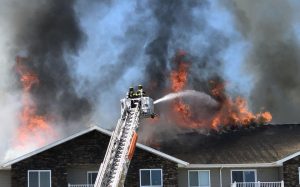 MANDAN, N.D. (AP) — The Red Cross is helping tenants displaced by a large apartment fire in Mandan.
Firefighters from Mandan and Bismarck rotated in and out of service Sunday afternoon because of the sweltering heat. Temperatures approached 90 degrees (32 Celsuis).
(Photo by Bismack Tribune)
Deputy Mandan Police Chief Lori Flaten says the fire destroyed the roof of the 42-unit building. She was unsure about the stability of the rest of the structure.
Red Cross spokeswoman Gretchen Hjelmstad says the agency is meeting with affected families to determine their needs and will provide financial assistance, among other things.
The Bismarck Tribune says Mandan Middle School served as a temporary shelter for the residents.