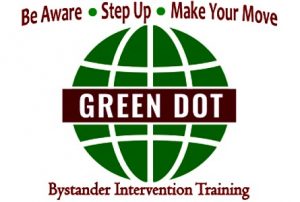 Valley City (CSi) The "Green Dot" violence prevention program will be initiated in Valley City with a program in Valley City on July24.
A ribbon cutting ceremony is planned at the Abused Person Outreach Center's (APOC) s new location at 160 2nd Avenue, Northwest, in Valley City.
"Green Dot" through the North Dakota Dept of Health and a grant from the Center for Disease seeks to engage all members of the community as bystanders who can identify behaviors that lead to harm (red dots) and respond in a way that will make it less likely the harm occurs or gets worse (green dots).
As part of the event, a scavenger hunt will be held for children to allow them to learn about Green Dot by engaging with local businesses and employees, some of whom have gone through the bystander training.
A "Green Dot," booth will allow adults to walk through everyday scenarios where they may witness violence and briefly offer tools to address and end that violence.
Participate will be entered into a raffle drawing for an Amazon Echo Dot, gift cards from local businesses.
More information about Valley City "Green Dot," on social media, @VCGreenDot or E-Mail VCGreenDot@gmail.com.
To learn more about APOC contact Kasey Skalicky at 701-490-2172, or E-Mail VCAPOC@gmail.com