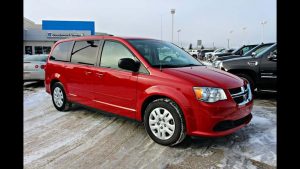 Jamestown  (JPD) The Jamestown Police Department reports, that the vehicle stolen Tuesday morning in Jamestown was located in Fargo.
Two juveniles have been apprehended.
Previously…
Jamestown  (JPD)  The Jamestown Police Department requests any public information regarding a stolen auto, that was stolen about 10:10-a.m., on Tuesday from a Southwest Jamestown residence.
The police department statement said, "There is a good chance that it is still in the Jamestown area."
The Vehicle, a Red 2013 Dodge Caravan with North Dakota  License plates, 032 ACY.  (Photo is of a similar vehicle).
Anyone seeing the vehicle is asked to call the LEC  dispatch center at 701-252-1000.