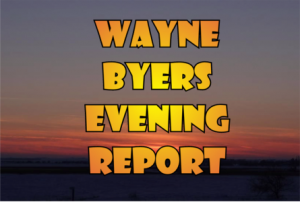 CSi Weather…
REST OF TODAY…Mostly sunny. Highs in the lower 80s. Southwest winds 5 to 10 mph.
.TONIGHT…Mostly clear. Lows around 60. South winds around
5 mph.
.WEDNESDAY…Sunny. Highs in the mid 80s. South winds 5 to
15 mph.
.WEDNESDAY NIGHT…Mostly cloudy. Chance of showers and slight
chance of thunderstorms after midnight. Lows in the upper 60s.
South winds 10 to 15 mph. Chance of precipitation 30 percent in the Jamestown area, 40 percent in the Valley City area.
.THURSDAY…Mostly sunny with a 20 percent chance of showers and
thunderstorms. Highs in the mid 80s. Southwest winds around
10 mph.
.THURSDAY NIGHT…Mostly clear. Lows in the lower 60s.
.FRIDAY…Sunny. Highs in the mid 80s.
.FRIDAY NIGHT…Mostly clear. Lows in the lower 60s.
.SATURDAY…Mostly sunny. Highs in the upper 80s.
.SATURDAY NIGHT…Increasing clouds. A 20 percent chance of
showers and thunderstorms. Lows in the mid 60s.
.SUNDAY…Mostly sunny. Highs in the mid 80s.
.SUNDAY NIGHT…Mostly clear. A 20 percent chance of rain showers
and thunderstorms after midnight. Lows in the upper 50s.
.MONDAY…Mostly sunny. Highs in the upper 70s.
Showers and storms are likely late Wednesday night and into Thursday as the focus shifts east towards the James River Valley along a cold front. Quiet weather is expected to return on Friday, with a few weak disturbances to move
through area during the weekend, bringing low thunderstorm chances
Saturday through Monday.
Update…
Jamestown  (JPD) The Jamestown Police Department reports, that the vehicle stolen Tuesday morning in Jamestown was located in Fargo.
Two juveniles have been apprehended.
Previously…
Jamestown  (JPD)  The Jamestown Police Department requests any public information regarding a stolen auto, that was stolen about 10:10-a.m., on Tuesday from a Southwest Jamestown residence.
The police department statement said, "There is a good chance that it is still in the Jamestown area."
The Vehicle, a Red 2013 Dodge Caravan  with North Dakota  License plate, 032 ACY.  (Photo is of a similar vehicle).
Anyone seeing the vehicle is asked to call the LEC  dispatch center at 701-252-1000.
Valley City police hope new technology will crack a 38-year-old cold case.
News Release from Valley City  Police Chief Phil Hatcher Valley City, ND:
On April 15, 1981, officers with the VCPD were dispatched to the 200 Block of Viking Drive SW in Valley City for a report. Officers found what appeared to be a newborn female baby that was deceased and left in the leaves and underbrush. Investigation revealed the newborn child had died from asphyxia after a live birth. A large, broad, investigation was conducted into this infanticide, ultimately finding no suspect and as such, no prosecution has been commenced. The infant was named Baby Rebecca and was buried in a local cemetery.
In the 38 years since, several members of the VCPD, ND BCI, and the ND State Crime Lab have continued the investigation, never allowing Baby Rebecca's case to be forgotten. With advancements in DNA technology in the recent years and the ability to access numerous DNA databases, law enforcement, in conjunction with the Barnes County State's Attorney's Office, decided it was time to continue this investigation, because even though the wheels of justice sometimes turn slowly, justice never sleeps.
An order for exhumation was signed by Barnes County State's Attorney, Tonya Duffy, and Barnes County Sheriff, Randy McClaflin on June 28, 2019.
On July 18, 2019, VCPD exhumed Baby Rebecca and sent her for another medical examination by the Medical Examiner's Office at UND. Biological samples were able to be found. Subsequently, further DNA testing will be done on Baby Rebecca to determine her parental origins.
It is hoped that this new information will help bring closure and justice to this 38 year old unsolved case. Anybody with any information about this case is urged to contact the Valley City Police Department at 701-845-3110.
Jamestown  (CSi)  The Jamestown City Council's Finance & Legal Committee, Building, Planning & Zoning Committee  and Civic Center & Promotion Committee met Tuesday evening at City Hall.
Council Member Phillips was not present.
FINANCE & LEGAL COMMITTEE
Considered was  recommending approval of maintaining the stop loss coverage at $20,000 per member and establishing the monthly premium rates for the City of Jamestown Employee Group Health Plan for the fiscal year September 1, 2019, through August 31, 2020, as follows:
City Share Employee Share Total Single Plan $673.14 -0- $673.14
Single Plus Dependent $827.80 $322.20 $1,150.00
Family Plan $981.76 $703.12 $1,684.88
The committee recommends approving, pending reviewing the figures as indicated and varified.
Considered was the request from JSDC for 2020 South Central Dakota Regional Council  Dues from Economic Development Funds, in the amount of $36,458.00, with the City Share to be $22,969.00 and paid from the City Sales Tax Fund, to be requested in January from the city and county.
The committee recommends, approving the request.
The committee considered the recommendation from JSDC for Economic Development Funds for Train ND, in the amount of $45,000, with the City Share to be $36,000 and paid from the City Sales Tax Fund. JSDC CEO, Connie Ova said, the dollars will go to a paid position, to train workers for another one year period and then reviewed.  The past year 400 workers were trained. The training is held in Jamestown.
The committee recommends approval.
The committee then  considered authorizing the City Administrator and staff to work with John Shockley, Ohnstad Twitchell, the City's representative, to draft a project specific plan for the upper four floors, and schedule a public hearing regarding the request from EPIC Companies to form a tax increment finance  (TIF) district for the upper four floors of UJ student housing, only, at the proposed mixed-use facility on the University of Jamestown campus.   The building will be owned by EPIC, and with retail space on the first floor, taxable.  The land is owned by UJ and not taxed.  The building is being appraised at $20 million dollars, with and estimated annual income of $30,000.
The five story building is being constructed with site work, now in progress, across from Harold Newman Arena on the UJ campus, to help address the growing student population while also bringing business an opportunity to northeast Jamestown.  Weather permitting the building is anticipated to be finished by August of 2020.
Plans for the mixed-use building include local businesses having the opportunity to open a second location on the main level of the building to expand, with businesses serving the community and UJ students. It will have over 13,000 square feet of commercial space and house 112 student beds.  At the end of five years, the university plans to buy the building.
At Tuesday's meeting the committee recommended, proceeding with the authorization.
The committee recommended approving the request from Stutsman Harley Davidson to conduct a dance in the dealership parking lot on September 7, 2019.
The committee recommends recognizing Ryker's Run for Little Hearts as an other public spirited organization and authorize the issuance of a raffle permit.
The committee recommends holding a first reading of an ordinance to amend and re-enact Section 25.5 to increase the City Sales Tax by one-half percent from two percent (2%) to two and one-half percent (2.5%) effective January 1, 2020.  It will be allocated from one fund.
At the recent city budget meeting, Mayor Dwaine Heinrich said $2-million dollars needs to be in the 2020 budget to meet the balance and have a proper amount in the reserve fund.
He said rather than raise property taxes, he proposes to take the Civic Center out of the General Fund budget, increase the sales tax by a half percent, and half of that, or a quarter percent be used to fund the city's share of specials assessments.  He added that a half percent would generate $600,000 to the city annually.  The current seven percent city sales tax generates $1.2 million.
City Attorney Leo Ryan says an increase in the sales tax does not have to go to a public vote.
It takes three months from city approval for the sales tax increase to be implemented.
Also at Tuesday's committee meeting:
The committee recommends the city enter into an agency access agreement with the State of North Dakota to access programs utilized in complying with Marsy's law. The request was made by the City Attorney's Office request.
BUILDING, PLANNING & ZONING COMMITTEE
A PUBLIC HEARING was held concerning the notice of floodway encroachment at 916 2nd Avenue  Northwest, specifically a deck on the property. City Building Inspector, Jamison Veil said one deck has been removed and other remains.  He said minimum regulations need to be in force, as part of the city participating in the flood district program.
City Attorney Leo Ryan said if the deck is not removed, the city can remove it at the cost of the property owner, Rodney and Shari Pettys.
At the meeting Rodney Pettys, the property owner presented photos of his deck, and compared it to other decks that could be in violation.  He indicated that he will tear out his deck.
Following the Public Hearing, Mayor Heinrich said a policy needs to be developed.
The committee recommends tabling until the August Building, Planning and Zoning Committee meeting.
INFORMATIONAL: Appointment applications received to serve as members of the Planning Commission to fill three open positions with three year terms to August 2022 will be held at the August 5, 2019, City Council meeting.
CIVIC CENTER AND PROMOTION COMMITTEE
Considered was a  bid received for the Jamestown Civic Center Roofing Removal and Replacement Area "A" Project.
The committee considered bids received for the Jamestown Civic Center Expansion Joint Removal and Replacement Project.
The bids will be reconsidered at the City Council meeting, pending review of the bids and some irregularities.
The meeting was shown live on CSi Cable 67, followed by replays.
Valley City  (CSi)  The Valley City Commission met in Special Session Tuesday at 7-a.m., at City Hall.
Commissioners Continued discussing first draft of 2020 Budget.  All members were present.
City Auditor Avis Richter, and the commissioners heard from department head requests for funding.
Those included, Sheyenne Valley Friends of Animals, requesting $1000, the same request as in 2019.
The organization has expenses of spaying and neutering of animals along with microchipping of the dogs and cats before adoption and shots. It also provides education in schools.
The Barnes County Museum, Historical Society request $4,000 the same amount as in the previous 4-5 years.  Wes Anderson explained the role of the organization siting difference avenues of providing services to the city.  He noted the museum is open every day pointing out tourists the come to Valley City, adding traveling exhibits at the museum.
The Valley City/Barnes County Library in a Special Revenue Fund, if approved will receive eight point one mills, amounting to $141,000 in the mill levy.  State dollars will also be available based on the mill levy.
The library is also requesting $5,000 in an initiative, to include converting a portion of the parking lot to public parking.  The library plans to establish branch locations in Valley City and Barnes County, including a museum branch.  Roof repairs were also noted.
With Culture and Recreation funds, The Bridges Arts Council requested $1,000 for programming.  It has been proposed to merge the Community School for the Arts, with the Arts Council, to expand programs, with a five year budget developed in a strategic plan.  An instructor is planned to be hired, at a cost of $10,000.  Grants will also be applied for. Funds have been provided by the Valley City Barnes County Development Corporation.
The Valley City Fire Department made its budget request, with Fire Chieg Magnuson.  Specific numbers not discussed at this meeting.
It was noted, new equipment purchases.
City Administrator Schelkoph said the Fire Department's request for a new fire truck will come before the next regular commission meeting.  With the Fire Department's building reserve fund, dollar are requested for structure improvements, and, replacement of the fire truck estimated at nearly $200,000.
With the Police Department Budget, Chief Phil Hatcher pointed out an increase in 2020 in revenues, based on a parking control person collecting more fines, plus an increase in parking and moving violation fees.  The School Resources Officer position will continue for another two school years.
He also pointed out Police Department salary increases, and purchasing new weapons.  He said the VCPD contributes $16,000 annually, to the Stutsman County Drug Task Force that serves multiple counties in the region, including Barnes and Valley City.
$20,000 is requested for officer body cameras, including software.  He added the equipment is not urgently needed at this time, but it can offer a measure of liability protection.
The 2020 Police Department requests amount to a 1.1-1.2percent increase over 2019.
The entire meeting was shown live on CSi 68, followed by replays.
Valley City (CSi)  Tuesday morning the Valley City Commission met in Special Session at City Hall.  All members were present.
ORDINANCE
The City Commission heard second and final reading of an Ordinance to Amend and Reenact portion of Title 4 (Alcoholic Beverages) of the Valley City Municipal Code.  City Attorney Martineck, said the Ordinance now pertains to Brewery Tap Rooms licenses, and certification, upon applications and renewals.  It also allows spot checks, of liquor establishments.
RESOLUTION
City Commissioners  took no action of  a Resolution Amending the Master Fee Schedule. Discussion  included the City Commission approving a late fee for late liquor license applications, in the amount of $250 and a fee of $100 per day each additional business day in violation, and then  the establishment may request a hearing.  Also discussed was a $500 license fee for a brewer tap room license.
The meeting was shown on CSi Cable 68, followed by replays.
Jamestown  (CSi)  Ave Maria Village in Jamestown has set more fundraisers, to benefit the Kitchen Renovation Project.
Ave Maria Village, Development Director, Annie Hancock said, the Volunteer Pie Social is set for July 24, 12 noon to 1-p.m., with homemade pie, and coffee, tea or lemonade for a donation of $5, and the opportunity to bid on silent auction items, including  handmade baby blankets, quilted items, and gift baskets.  Proceeds will also to the Kitchen Remodel Project.
The 5th Annual Ave Maria Village Family & Friends Fun Walk is set for Saturday, August 10th.
Ave Maria Village is dedicated to the health and well-being of their residents and those in the community. Join the walk to promote a healthy lifestyle at any age. Everyone is welcome to walk… Just for the health of it!
The one mile loop will be marked on the north side of Ave Maria Village. You can walk the loop as many times as you'd like beginning at 9 AM, check in by 8:45-a.m.
Cost to register is $10 for heritage center tenants, $20 for adults, and $15 for adults 65+. Children and Ave Maria Village tenants walk for free. Registration will run through August 2nd and cost increases to $25 a person after that.
All funds raised through the walk and a raffle, will assist the ongoing Kitchen Renovation Project.
The drawing for the Summer Raffle, and door prizes will be at the Walk on August 10, at 10-a.m.  Must be present to win the door prizes.
Raffle Tickets are one for $5 or five for $20 and can be purchased at the front desk or call Annie at 701-952-5677.
Raffle Quilts donated by Ardina Bentz and Jill Bredahl.  The quilted wall hanging donated by Claudia Jacobson. The Spa Day Package donated by Licensed Beautician,  Deb Stafslein.
Valley City  (VCPS)  Valley City Public Schools student registration is on Monday, August 12th and Tuesday, August 13th at the Hi-Liner Activity Center (H.A.C).
Community groups and organizations are invited to set up a table and have an opportunity to provide information that will be of benefit to students  this coming school year. The tables are available for use in the front lobby of the HAC.
Anyone interested in setting up a table at registration should contact Jess Storhoff at 701.845.0483 or at jess.storhoff@k12.nd.us before 12:00pm on Thursday, August 8th.
MINOT, N.D. (AP) — An airman from the Minot Air Force Base is accused of breaking into a local residence while armed with a gun and terrorizing a man and woman in the home.
Twenty-two-year-old Jonathan Bailey Geers is charged in district court with burglary, terrorizing and reckless endangerment.
Minot Daily News reports a probable cause affidavit says Geers went to the man's residence early Saturday, despite a no contact order, broke into the home, began beating him and threatened to kill him. The court document says Geers pointed the gun at the couple and also threatened to kill himself.
Police arrived and say they found Geers in the living room with a gun to his head. He was taken into custody.
Bond was set at $50,000 cash in court Monday. Geers was ordered to stay on base.
NORTHWOOD, N.D. (AP) — Sheriff's officials say an overweight semitrailer loaded with dried beans caused a more-than-century-old bridge to collapse in North Dakota.
Grand Forks County sheriff's officials say the bridge over the Goose River near Northwood collapsed Monday afternoon. Photos show the wooden and iron span buckling under the weight of the vehicle. The bridge is partly submerged in the water.
The 56-foot-long (17-meter-long) bridge was built in 1906 and is listed on the National Register of Historic Places.
It has a 14 ton weight restriction. Sheriff's officials say the semitrailer was 29 tons over that limit.
The driver, who was not injured, faces an $11,400 overload fine.
Officials say it will cost up to $1 million to replace the bridge.
Northwood is about 200 miles (320 kilometers) northeast of Bismarck.
BISMARCK, N.D. (AP) — North Dakota health officials still doesn't know the cause of a pair of pipelines spills last week that leaked oilfield wastewater into a tributary of the Missouri River and another that spread over some pastureland.
State environmental scientist Bill Suess (sees) says Tuesday that cleanup of the "produced water" is ongoing at the two spill sites.
The spills were reported by Polar Midstream. The company on July 14 reported a 20,000-gallon spill east of Williston and about a mile from Lake Sakakawea, the largest reservoir on the Missouri River.
Suess says investigators don't think the spill reached the river.
The second spill leaked more than 12,000 gallons of oilfield wastewater, impacting an unknown amount of pastureland.
The company did not immediately return a telephone call Tuesday.
BISMARCK, N.D. (AP) — North Dakota's Health Department is warning residents to avoid blue-green algae in a pair of Morton County lakes.
The agency issued the blue-green algae advisories Tuesday for Harmon Lake and Sweetbriar Lake.
Hot summer weather contributes to the production of the algae that's also known as cyanobacteria. People and animals who ingest affected water can get sick and even die. There's no known antidote for toxins blue-green algae can produce.
People are urged to avoid water that looks discolored or scummy or has a foul odor.
In world and national news…
WASHINGTON (AP) — President Donald Trump is threatening Guatemala over immigration after its high court blocked its government from signing an asylum deal with the United States.
Trump tweeted Tuesday that Guatemala has decided against signing a "safe-third agreement" requiring Central American migrants seeking asylum in the U.S. to instead apply for those protections in Guatemala — even though Guatemala's government had said it did not intend to make such a deal.
Guatemala's top court recently blocked the government from signing an agreement.
Trump says he'll now look at targeting the money Guatemalans working in the U.S. send back to their country or at imposing tariffs as punishment.
A July 15 meeting between Trump and Guatemala's president was called off because the high court had yet to issue its ruling.
LONDON (AP) — Israeli Prime Minister Benjamin Netanyahu says he is looking forward to facing common challenges with Boris Johnson.
The Israeli leader offered "heartfelt congratulations from Jerusalem" on Twitter after Johnson's election Tuesday as the leader of Britain's governing Conservative Party who will succeed Prime Minister Theresa May.
Netanyahu says he looks forward to cooperating "both in facing our common challenges and seizing the opportunities ahead."
Johnson also received applause from the head of Israel's Kibbutz Movement, who said in a statement that the prime minister's time as a volunteer on a kibbutz in 1984 "left him a soft spot for Israel."
Johnson last visited Israel in 2017 as foreign secretary and is widely perceived as having a sympathetic view of Israel.
WASHINGTON (AP) — The immigration enforcement operation touted by President Donald Trump that targeted some 2,000 people resulted in 35 arrests.
Trump billed the operation as a major show of force in an effort to "deport millions" of people in the country illegally as the number of Central American families crossing the southern border has skyrocketed. It was canceled once and then rescheduled; Trump announced the day it would begin after media reports.
The arrests took place in 10 major cities around the country.
Of those arrested, 18 were members of families and 17 were collateral apprehensions of people in the country illegally encountered by Immigration and Customs Enforcement officials.
The acting head of ICE Matt Albence says the operation is ongoing.
Another operation targeting immigrants with criminal records netted 899 arrests.
SAN JUAN, Puerto Rico (AP) — A Puerto Rico judge has issued search warrants for the cellphones of government officials tied to an online chat that has sparked a political crisis in the U.S. territory.
Territorial Justice Department spokesman Kelvin Carrasco told The Associated Press on Tuesday that the warrants were approved overnight and were issued for those who have not yet turned over their phones. He did not name the officials and declined further comment because the investigation is ongoing.
The warrants follow massive protests demanding the ouster of Gov. Ricardo Rosselló, who participated in an offensive, obscenity-laden online chat between him and his advisers that was leaked and triggered the crisis. The group also insulted women and mocked constituents, including victims of Hurricane Maria.
WASHINGTON (AP) — Senate Majority Leader Mitch McConnell says he doesn't intend to watch former special counsel Robert Mueller testify before Congress on Russia's interference in the 2016 election.
The Republican told reporters Tuesday the public already has a "pretty full picture" of Mueller's report.
McConnell said he doesn't know "how many times we want to see this movie again." He said the public has "moved on past" it.
The former special counsel is set to appear Wednesday in his first extended public remarks since being appointed more than two years ago to lead the probe.
Mueller's 448-page report released in April did not establish that Trump's campaign conspired or coordinated with Russia. But the special counsel did not exonerate President Donald Trump of wrongdoing in obstructing the investigation.