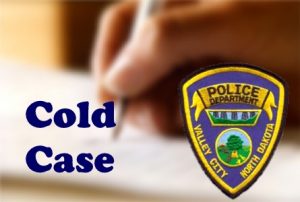 Valley City police hope new technology will crack a 38-year-old cold case.
News Release from Police Chief Phil Hatcher Valley City, ND:
On April 15, 1981, officers with the VCPD were dispatched to the 200 Block of Viking Drive SW in Valley City for a report.   Officers found what appeared to be a newborn female baby that was deceased and left in the leaves and underbrush.  Investigation revealed the newborn child had died from asphyxia after a live birth.  A large, broad, investigation was conducted into this infanticide, ultimately finding no suspect and as such, no prosecution has been commenced. The infant was named Baby Rebecca and was buried in a local cemetery.
In the 38 years since, several members of the VCPD, ND BCI, and the ND State Crime Lab have continued the investigation, never allowing Baby Rebecca's case to be forgotten. With advancements in DNA technology in the recent years and the ability to access numerous DNA databases, law enforcement, in conjunction with the Barnes County State's Attorney's Office, decided it was time to continue this investigation, because even though the wheels of justice sometimes turn slowly, justice never sleeps.
An order for exhumation was signed by Barnes County State's Attorney, Tonya Duffy, and Barnes County Sheriff, Randy McClaflin on June 28, 2019.
On July 18, 2019, VCPD exhumed Baby Rebecca and sent her for another medical examination by the Medical Examiner's Office at UND. Biological samples were able to be found. Subsequently, further DNA testing will be done on Baby Rebecca to determine her parental origins.
It is hoped that this new information will help bring closure and justice to this 38 year old unsolved case. Anybody with any information about this case is urged to contact the Valley City Police Department at 701-845-3110.