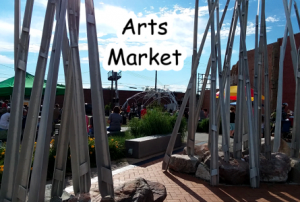 August 22nd  5:30-p.m., to 8:30-p.m.
At 6:30-p.m., on the Boulder Pavilion – THE GREAT OUTDOORS With: Prairie Hills Singers  a Men's quartet,  and Cheaper Than Therapy providing musical entertainment. The Great Outdoors is a country/variety band from Fargo with big vocals, fiddle, keys, guitars and drums. Cheaper Than Therapy is a local quartet singing barbershop and other harmonies.
Prairie Hills Singers were formed in 1980 with talent from around the Medina ND area. This talented group of men have sung at weddings, open houses, anniversaries, funerals, Christmas concerts and conventions. Their repertoire includes music of the Statler Brothers, Oak Ridge Boys, Gaither Family with hymns, gospel, barbershop, country and more.
5:30 – 7:30 pm – Creatures in Clay with Bill Nybo
6:30 pm – The Great Outdoors
The Great Outdoors is a Country/Variety band based in Fargo, ND. The band features dynamic vocals, fiddle, keys, guitars and drums. The Great Outdoors will get the crowd up on their feet. With a wide variety of songs and styles, the band gets the party started right. There is no limit to what the band can throw out to an audience. From blazing country fiddle tunes and current country radio hits to Chicago Blues and get your heart pumping Classic and 80's/90's Rock. These boys will get it done.
August 29 – STEVIE K & FRIENDS With: Open Mic Night
Steve Kuykendall along with other local musicians will open the night. And then open the mic to all poets, writers, musicians, comedians, solos, duos, and any and all performers to share your talent with the community at our monthly open mic night. There will be a sign up sheet at the stage. Please limit your piece to 10 minutes. Facilitated by local musician Steve Kuykendall who will also provide all amplification.
5:30 – 7:30 pm – Watercolor bubble painting with The Arts Center staff
While you are exploring our unique vendors and enjoying the entertainment, be sure to sample what downtown Jamestown has to offer. Fantastic restaurants and boutiques await your discovery!
Previously:  Downtown Arts Market Thurs Aug 15 includes The Kicks Band that was founded in 1975 by Edward Christianson for musicians to enjoy music socializing and playing great big band literature and to improvise jazz.
Also performing are Bernie & the Other Guys, which includes Bernie Madsoe on guitar and vocals, Rodney Brandt on bass and vocals and John Crowston on mandolin and vocals. The group formed about four years ago, playing at open mics, church services and other events. Their music includes country, folk, bluegrass, light rock and gospel.
Previously reported:
Jamestown  (CSi)  The Jamestown Arts Market was Thurs Aug 8, featuring Blue Wailer,  with The Steve K Band, and the Opening Reception for the JFAA Annual Arts Show.
The Arts Market runs from 5:30-p.m., to 8:30-p.m., at the Hansen Arts Park in Downtown Jamestown.
The Blue Wailers are a traditional five-member blues group based in Minnesota. They say the blues are about feeling good.  The Wailers respect tradition, paying homage to the greats like Robert Johnson, Son House, Elmore James and Muddy Waters.
The 55th annual JFAA Annual Arts Show started Thursday, August 8, with an opening reception at The Arts Center with juror, Bismarck artist, Paul Noot.    Noot will announce winning entries in the categories and provide comments on why the entries were selected for awards.
Previously: 
Jamestown (CSi)  Native Hoop Dancer Kevin Locke  and Bolder Shades of Blue  performed at the Arts Market Thurs Aug 1 in downtown Jamestown.
In 2013, Locke was at Frontier Village and The Replay Channel recorded this short segment of his dance.  That video is at the end of the photos.
Also on stage at the Arts Market was 
Bolder Shades of Blue.   
Youtube Video at end of pixs from performance at Fred's Den 2017.
still photos by CSiNewsNow.com
Video of Hoop Dance at Frontier Fort by The Replay Channel
Video of Bolder Shades of Blue from Bolder Shades of Blue website.