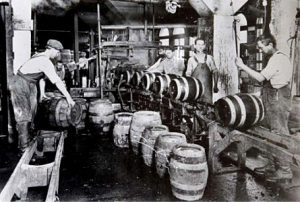 This Day In History – August 16, 1887 – Phillip Bauer has decided to rebuild his brewery they burned down last spring*** from the 125th Anniversary Calendar of Jamestown History & North Dakota Beer: A Heady Story by Alicia Underlee Nelson***
The first brewery in town was called a variety of names including the Jamestown Brewery, the City Brewery, Henry Danner's Brewery and South Side Brewery. It was operated by Henry Danner, a professionally trained brewer from Jefferson, Wisconsin.
he built a thirty by sixty foot brick brewery on his property along the James River, east of Klaus Park, in 1880. The newspaper said it was the largest building in town. By 1882, the South Side Brewery was producing fifteen barrels of lager a day (which had increased to thirty barrels a day by 1886), and Danner claimed to sell two hundred kegs a week in and around Jamestown.
That sounds like a lot for a small town (Jamestown had about one thousand residents in  1883), but the little city anchored a strong beer scene. There were twenty-three saloons in town, as well as large German speaking population south of the city that had a strong cultural appreciation for beer. Danner also shipped beer to cities along the Northern Pacific line. the tracks ran right by his brewery.
Donner sold the brewery to Phillip Bauer in 1886. Bauer lived in Iowa, so his son, Otto, oversaw operations in Jamestown. The brewery was heavily damaged by a fire in 1887. It was rebuilt just before statehood brought unexpected changes to the beer industry.
Jamestown's second Brewery opened in 1885. It was called Jamestown Brewery Company, although the locals also called it the North Side Brewery since it was located along a loop in the James River near Fourth Avenue North. Jamestown Brewery Company was a family business all the way around.
The original wooden brewery building was built by Oswald Kulewatz, who was in the bottling business with this brother, Fredrick. They partnered with another pair of brothers of German descent named Otto and Gaudenz.