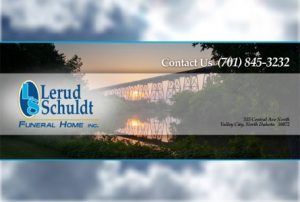 Irene Compson, age 92, of Valley City, ND, died Saturday, August 10th at the Sheyenne Care Center in Valley City.
A funeral service will be held at 2:00 PM on Wednesday, August 14th at Trinity Lutheran Church in Valley City.
Visitation will be held on Tuesday from 5:00 PM until 7:00 PM at Trinity Lutheran Church and one hour before the service on Wednesday afternoon.
A prayer service will be held at 7:00 PM Tuesday evening at the church.
Interment will be in Memory Gardens Cemetery near Valley City.
Irene Rae Krug, the daughter of Raymond and Clara (Storbeck) Krug, was born August 11, 1926 on the family farm in Cuba Township of Barnes County.
She attended rural school and later moved to Valley City to attend high school.
After her graduation, Irene worked at Royal Cafe and Woolworths Department Store.
She interned at the Barnes County Register of Deeds and later worked for Teachers Retirement.
On September 2, 1944, she married Raymond H. Compson in Valley City.
They owned and operated Ray's V-8 Clinic for more than 30 years until their retirement.
Irene is survived by her sons Larry (Jan) Compson and Terry (Kay) Compson; her grandchildren, Tim (Tracey) Compson, Becky Compson and Tammy (Aaron) Martin; nine great-grandchildren; two sisters, Janice Jorgenson and Sally Hanson.
Irene was preceded in death by her parents, husband Raymond and three sisters, Colleen Greb, Helen Johnson and Rae Compson.