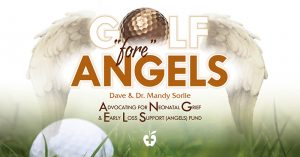 Jamestown  (JRMC)  — A child who dies in the womb knows only its parents love. He knows no pain.
In support of these families, the 9-hole GOLF "fore" ANGELS tournament benefits infant bereavement care at Jamestown Regional Medical Center.
Every year, families experience the loss of an infant due to an unexpected circumstance. The Dr. Mandy and Dave Sorlie ANGELS fund helps pay medical bills for those parents through the JRMC Foundation. The fund is available to anyone who experiences infant loss at JRMC at the gestation of 16 weeks or greater up to 4 months of age due to unavoidable circumstances.
"Family is the most important thing in my world," said Dr. Sorlie. "I can't imagine losing a child at any age, much less never getting to meet them. It breaks my heart."
ANGELS stands for Advocating for Neonatal Grief and Early Loss Support. On average, families that have insurance would otherwise have to pay more than $1,500 for these medical services. ANGELS removes this financial burden and helps families grieve by paying medical bills for families who experience loss.
Since the fund was established four years ago, ANGELS has helped, on average, two to three families each year, shared Dr. Sorlie.
"It is a wonderful feeling to be surrounded by people who care so deeply about others who experience the loss of a child," said JRMC Foundation Director Lisa Jackson. "GOLF 'fore' ANGELS support is in remembrance of our angels."
This year, the tournament raised more than $10,000 thanks to its sponsors, fund supporters and teams.
Tournament results:
Tourney Winners (Lowest Gross Score)
The following teams tied for first:
Team Hochhalter

Blake Hochhalter
Jerzy Martin
Garin Martin
Andrew Dunphy

Team Ulland

Brandie Ulland
Greg Ulland
Dustin Jensen
Mary Jensen

50/50 Cash Raffle: Bill Atwood
Putting contest: Marco Moser wins a Golden putter by Don Wilhelm GMC
Women's Longest Drive: Jade Lindberg
Longest Putt: Kyle Olson
Closest to the Pin: Jerzy Martin
Best Looking Shot off the Tee: Dave and Owen Sorlie
Men's Longest Drive: Jerzy Martin
Shortest Drive: Ryan Wanzek
Closest in Two: Greg Ulland
Sponsors:
Angel
Mandy and Mr. Dave Sorlie Family
Advocate
Jason & Meghan Braun Family
Melinda Forsman – Younique
Reis Above Aviation
Sanford Health
Susan M. & Jim Matthiesen – In memory of Tenley Henning
The Collins Family – In memory of Julie Collins & Claire Patnaude
The PixSquad
Hole
Annie Schlecht – Zen Sleep Consulting
Dale A. Knudson Family
Dental Specialists of Jamestown
Hillerud Construction, Inc.
Otter Tail Power Company
Ryan, Jess & Gavin Skjeret
Sean & Katie Rinkenberger Family
Special Gifts
Alison Reisenauer
Chris & Renae Lunde Family
Cork & Barrel
Don & Marla Wegner
Larry and Mrs. Letitia Johnson – In Memory of Steven Thorsen
Steven Maier
Don & Marla Wegner
Gary & Marit Petrek
Hampton Inn & Suites
Jamestown Country Club
Joe & Nancy Burgard
LaCarreta
Lisa Jackson
Mark & Michelle Watne
Mary Mayer
Papa Murphy's Pizza
Pat & Marla Walter
Rosie Suko
Simply Home
Susan L. and Jim Matthiesen
Tiffany Hemberger
Valley Sales Company
Wanda Walker – In memory of Kami Jo Walker
Wilhelm Buick GMC
Learn more at www.jrmcnd.com/giving.