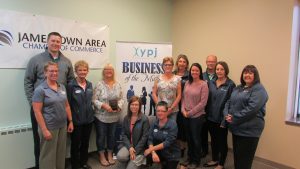 Jamestown  (Chamber)  Members of the chamber Young Professionals of Jamestown and the Chamber Ambassadors recently presented the August Business of the Month Award to Two Rivers Estate Sales of Jamestown for their outstanding customer service and continued commitment to the community.
The nomination stated, "Sandy and Joan are outstanding with all the work they do for people. They have positive attitudes and have helped numerous families. They do an awesome job preparing, organizing, setting up, going long hours, and cleaning up after the estate sales."
The Young Professionals of Jamestown honor businesses that provide superior customer service, exhibit community spirit and provide a positive economic impact to the community.  This award provides recognition throughout the month with a plaque and a recognition banner for the month. Two Rivers Estate Sales, along with all of the other monthly winners, will be considered for the Business of the Year to be awarded at the Chamber's Annual Banquet in January of 2020.  Business of the Month award nomination forms are available at the Chamber office and online at www.jamestownchamber.com .  Call 701-252-4830 for more information.