Update…
Valley News Live reports, the dog and owner have been reunited, after the dog is treated for injuries.
Previously…
Valley City  (Valley News Live)   A Valley City dog sits in limbo at a vet clinic after a concerned onlooker reported abuse to the police.  Pictures show large scabs on the dog's belly—which police believe are from the dog being dragged on the ground.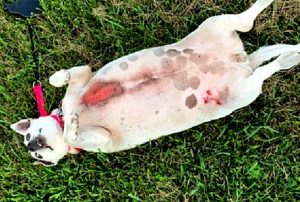 She was found early Saturday evening, apparently abandoned.
Nicole Fearing visiting her dad from out of town,  posted to Facebook, saying she initially saw the dog being dragged by the owner near Dairy Queen in Valley City. Fearing says she called the police when the dog was left behind.
The Valley City Veterinary Hospital tells KVLY that the dog had been awaiting care there. But the staff wouldn't provide any more details.
Chief Hatcher says the police department contracts with the vet clinic to handle impounded animals.
He says, "We expect the dog to survive."
Hatcher says "What we're looking for right now is if anybody out there can better describe the person or the direction they may have gone afterwards."
Chief Hatcher says both animal cruelty and abandonment are Class B misdemeanors.