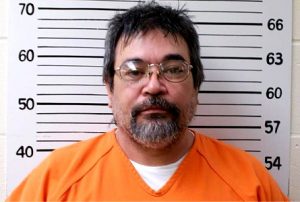 Jamestown  (JPD)  Jamestown Police reports that on  Monday August 12, 2019, at approximately 8:30-p.m., the Jamestown Police Department responded to a 911 call at the Walmart parking lot, located at 921 25 St SW, to investigate a report of an aggravated assault that occurred with a knife.
The 29 year old male victim of the assault reported to Police he was approached by an acquaintance, as he exited out of Walmart. There was a brief exchange of words between the suspect and victim. The male suspect then grabbed the victim from behind, around his shoulders, brandished a knife, and inflicted non-life threatening injuries to the victim's upper neck/chin area, using the knife. The male suspect left the parking lot in a vehicle. The victim received medical attention at the scene.
During the investigation, the Jamestown Police Department was able to identify the male suspect as 54 year old Roylan Laureta. Once Laureta was determined to be the suspect, he was located in rural Logan County at approximately 0130 hrs, on August 13, 2019, with the assistance of the Logan County Sheriff's Office and Napoleon Police Department. Laureta was arrested on suspicion of Aggravated Assault and is being held in the Stutsman County Correctional Center awaiting formal charges pertaining to this incident.
The Jamestown Police Department was assisted by the Stutsman County Sheriff's Office, Logan County Sheriff's Office, Napoleon Police Department, and the North Dakota Highway Patrol. Anyone with further information about this incident is asked to contact the Jamestown Police Department at 701-252-1000, as the investigation is on-going.