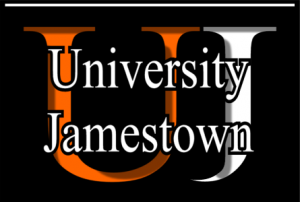 Jamestown  (uj.edu)  Classes at the University of Jamestown will begin Monday, Aug. 26. Welcome Weekend, formerly known as New Student Orientation, begins Friday, Aug. 23.
The Community Block Party will take place from 5 to 8 p.m. on Wednesday, Aug. 28 in downtown Jamestown. Everyone is welcome.
Homecoming and Family Weekend will be held Oct. 3-5. The University's Opening Doors Transforming Lives Capital Campaign will conclude with a celebration on Saturday, Oct. 5.
The University will observe Fall Break on Monday, Oct. 21, and Thanksgiving Break Nov. 23-Dec. 1. The Fall Semester ends Thursday, Dec. 19.
The Spring Semester begins Monday, Jan. 13. Spring Break is scheduled for March 9-13. The Semester ends May 7, and Baccalaureate and Commencement will take place Saturday, May 9.
Established as Jamestown College in 1883 by members of the Presbyterian Church, the University of Jamestown is a private, liberal arts university granting Bachelor of Arts, Bachelor of Science, and Bachelor of Science in Nursing degrees as well as master's degrees in Education, Leadership, and Clinical Counseling and a Fargo-based Doctor of Physical Therapy degree.
For more information, visit www.uj.edu.