Jamestown  (CSi)  The Jamestown Arts Center's Director,  Mindi Schmitz, on Thursday's Wayne Byers Show on CSi Cable 2, reminded viewers of programs and events.
Arts After School registration is now open for the fall. Classes begin Sept. 9 and are open to children in grades 3-6. An after school snack and busing in the city are included. Scholarships are available. Learn more about the full schedule, artist information and register online at jamestownarts.com.
Upcoming classes include:"Intro to Photography" with Troy Gunderson will be from 7 to 9 p.m. Tuesdays, Sept. 3, 10, 17 and 24, at Teen City.
Learn the basics of digital photography, what the terms mean, plus techniques that will improve compositions. Participants will learn how to use their camera in manual mode and how to adjust the aperture, shutter speed and ISO to achieve photos not obtainable in automatic modes. The main focus of the instruction will be on using your DSLR camera. Informational handouts will be provided. To aid in learning, participants should become familiar with their camera's controls and features. Digital cameras are OK to use but cameras with adjustable controls are preferred. The cost is $90, $80 for Arts Center members.
All classes take place at The Arts Center in Downtown Jamestown.
This year's program begins Sept. 9 with "Medieval Fine Arts" that runs through Sept. 27 with Dina Laskowski. The program runs from 3:15 to 5 p.m. each session and will explore medieval times to experience the fine arts. The group will create a variety of projects such as storytelling, writing, acting, calligraphy, creating gargoyles and dragons, catapults, castles, family crests and more. The cost is $120.
Mindi also said that Auditions for two upcoming Community Theater productions,  "Sweeny Todd," and "Conflict,"  will be held at the Arts Center, September 4 from 6-p.m., to 8-p.m., and September 7 from 1-p.m., to 3-p.m.  Contact the Jamestown Arts Center for more information.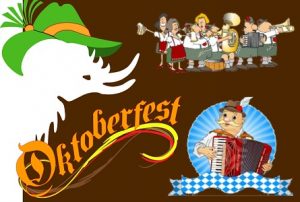 Coming up is the Annual Oktoberfest celebration on September 14.
The current exhibit is the Jamestown Fine Arts Association Arts Show, showing through September 21.
Contact the Jamestown Art Center, at 701-251-2496, on line to jamestownarts.com