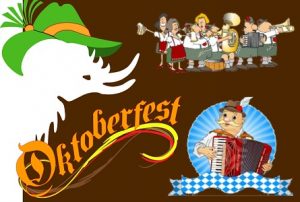 A celebration of beer, brats and lederhosen.
Saturday, September 14 from 5:30 – 8:30 pm
in The Hansen Arts Park.
Oktoberfest is a Munich tradition since 1810, when it celebrated the betrothal of the Bavarian King Ludwig I to Princess Therese.  Since that time, Oktoberfest has grown to a worldwide phenomenon, a celebration of all things German… in particular the especially potent Oktoberfest beer!
On September 14th, The Arts Center is proud to sponsor our own annual Oktoberfest celebration!  This year, for the first time we are holding Oktoberfest downtown in our own Hansen Arts Park, the perfect venue for this popular fundraiser.  This year's celebration includes:
• Oktoberfest beers on tap
• German style bratwurst and snacks as part of the admission price
• Live music
• German style games and raffles   
It's as close as you can come to a trip to Bavaria without leaving ND… a real Oktoberfest celebration right here in downtown Jamestown!
Enjoy great beer and food, live music and best of all, genuine German gemütlichkeit… all at The Arts Center's Oktoberfest!  We hope to see on September 14th!
Tickets are $35 and are available from Cork & Barrel, The Arts Center, Arts Center Board members and at the gate.