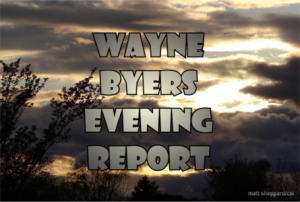 CSi Weather…
.REST OF TODAY…Showers and chance of thunderstorms. Some thunderstorms may be severe in the afternoon. Highs in the lower 70s. Southwest winds 5 to 10 mph. Chance of precipitation 70 percent.
.TONIGHT…Mostly clear. Slight chance of rain showers and
thunderstorms in the evening. Lows in the mid 50s. West winds 5 to 10 mph.
.FRIDAY…Mostly sunny. Highs in the upper 70s. West winds 5 to
10 mph.
.FRIDAY NIGHT…Partly cloudy. Lows in the upper 50s. Southwest
winds 5 to 10 mph.
.SATURDAY…Partly sunny. Chance of rain showers and slight
chance of thunderstorms in the afternoon. Highs in the lower 70s.
Northwest winds 5 to 10 mph. Chance of precipitation 40 percent in the Jamestown area, 50 percent in the Valley City area.
.SATURDAY NIGHT…Partly cloudy. Chance of rain showers and
slight chance of thunderstorms in the evening, then slight chance
of rain showers after midnight. Lows in the lower 50s. Chance of
precipitation 40 percent.
.SUNDAY…Sunny. Highs in the mid 70s.
.SUNDAY NIGHT…Mostly clear. Lows in the upper 50s.
.MONDAY…Sunny. Highs in the lower 80s.
.MONDAY NIGHT…Mostly clear. Lows in the lower 60s.
.TUESDAY…Mostly sunny. Highs in the lower 80s.
.TUESDAY NIGHT…Partly cloudy. A 20 percent chance of rain
showers and thunderstorms after midnight. Lows around 60.
.WEDNESDAY…Mostly sunny. Highs around 80.
There is a chance of thunderstorms Thursday afternoon . A few storms may be severe with large hail up to the size of quarters and strong wind gusts, mainly along and south of Interstate 94.
There is a slight chance for thunderstorms Friday and Saturday.
The threat for severe weather will be low.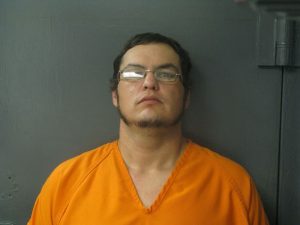 Valley City  (CSi)  The Barnes County Sheriff reports, 35 year old Anthony Allen Rolland, was arrested by a Barnes County Deputy, and taken into custody in Wimbledon,  on an outstanding Cass County warrant by a Barnes County Deputy.
It was determined that Rolland was residing in the City of Wimbledon for several weeks.
Rolland was wanted by the Cass County Sheriff's Office for Failure to Register as a Sex Offender, a class C Felony.
Rolland is also facing a charge in Barnes County of Failure to Register as a Sex Offender; a class C Felony, and with Driving Under Suspension, a class B Misdemeanor.
Rolland is currently in custody at Barnes County Corrections Center. The incident remains under investigation by the Barnes County Sheriff's Office.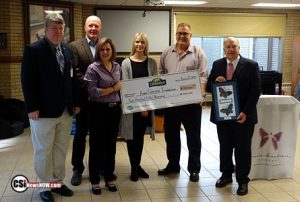 Jamestown (CSi) Thursday morning the Anne Carlsen Center in Jamestown received a major gift of $250,000, presented by Robert Irving, President of Cavendish Farms.   The gift will go towards the construction of a new facility.
In a statement The Anne Carlsen Center says, "Because of our tremendous growth in the last decade, as well as the increased medically complex needs of those we serve, a new facility is needed in Jamestown.  One that provides our children with a family-freiendly and technologically advanced space.
Ten years ago, we made a step toward the dream of a brighter future.  Today, we are another step closer to having that dream come to fruition, due to the generosity of Mr. Rober Irving, President of Cavendish Farms. "
The Anne Carlsen Center's Chief Development Officer, Eric Wilkie, adds,ACC hopes to break ground on the $41 million project in 2020,  east of Jamestown Regional Medical Center.
Jamestown  (CSi)  The Jamestown Arts Center's Director,  Mindi Schmitz, on Thursday's Wayne Byers Show on CSi Cable 2, reminded viewers of programs and events.
Arts After School registration is now open for the fall. Classes begin Sept. 9 and are open to children in grades 3-6. An after school snack and busing in the city are included. Scholarships are available. Learn more about the full schedule, artist information and register online at jamestownarts.com.
Upcoming classes include:"Intro to Photography" with Troy Gunderson will be from 7 to 9 p.m. Tuesdays, Sept. 3, 10, 17 and 24, at Teen City.
Learn the basics of digital photography, what the terms mean, plus techniques that will improve compositions. Participants will learn how to use their camera in manual mode and how to adjust the aperture, shutter speed and ISO to achieve photos not obtainable in automatic modes. The main focus of the instruction will be on using your DSLR camera. Informational handouts will be provided. To aid in learning, participants should become familiar with their camera's controls and features. Digital cameras are OK to use but cameras with adjustable controls are preferred. The cost is $90, $80 for Arts Center members.
All classes take place at The Arts Center in Downtown Jamestown.
This year's program begins Sept. 9 with "Medieval Fine Arts" that runs through Sept. 27 with Dina Laskowski. The program runs from 3:15 to 5 p.m. each session and will explore medieval times to experience the fine arts. The group will create a variety of projects such as storytelling, writing, acting, calligraphy, creating gargoyles and dragons, catapults, castles, family crests and more. The cost is $120.
Mindi also said that Auditions for two upcoming Community Theater productions,  "Sweeny Todd," and "Conflict,"  will be held at the Arts Center, September 4 from 6-p.m., to 8-p.m., and September 7 from 1-p.m., to 3-p.m.  Contact the Jamestown Arts Center for more information.
Coming up is the Annual Oktoberfest celebration on September 14.
The current exhibit is the Jamestown Fine Arts Association Arts Show, showing through September 21.
Contact the Jamestown Art Center, at 701-251-2496, on line to jamestownarts.com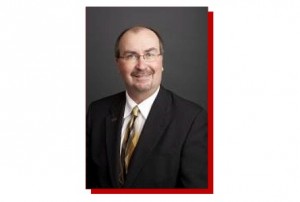 BISMARCK, N.D. (AP) — A legislative panel has begun its work to study potential uses of earnings from the Legacy Fund, the voter-approved oil tax savings account.
The 11-member committee that includes Senate and House majority and minority leaders held its first meeting Thursday. Four additional meetings are to be held before the Legislature meets again in 2021.
Voters in 2010 endorsed a constitutional amendment that requires setting aside 30 percent of state tax revenues on oil and natural gas production in the fund.
The fund holds more than $5.5 billion. And earnings increasingly have been targeted for spending, or to balance the state budget.
Some lawmakers fear without a good plan moving forward, voters may attempt to drain the fund.
MANDAN, N.D. (AP) — A man accused of using a needle nose pliers to stab a person outside a Walmart store in Mandan is facing felony charges.
Twenty-four-year-old Hilario Flores is charged with aggravated assault with a weapon and terrorizing. Flores is accused of stabbing a vendor inside the store last Friday causing a puncture wound in the back of his head and a cut behind his left ear that required eight stitches. About 100 people were evacuated from the store after the stabbing.
Police say Flores told them he thought the vendor was a store employee who may have seen him attempting to steal and he was trying to scare him.
The Bismarck Tribune says a judge set Flores' bail at $100,000 cash Wednesday afternoon. Court documents do not list an attorney for him.
Update…
OMAHA, Neb. (AP) — The latest monthly survey of bankers in parts of 10 Plains and Western states indicates a shrinking rural economy, and three-quarters of bankers said President Donald Trump's trade policies are having a negative effect on their local economies.
The Rural Mainstreet survey released Thursday shows the its overall index falling from an already anemic 50.2 in July to 46.5 this month. Any score below 50 indicates a shrinking economy.
Creighton University economist Ernie Goss, who oversees the survey, says trade tensions "are driving growth lower for areas of the region with close ties to agriculture." Goss also noted that despite negative consequences from tariffs, nearly 7 of 10 bank CEOS surveyed support either raising or continuing the Trump administration's current tariffs.
Bankers from Colorado, Illinois, Iowa, Kansas, Minnesota, Missouri, Nebraska, North Dakota, South Dakota and Wyoming were surveyed.
BISMARCK, N.D. (AP) — North Dakota regulators say drillers set a record for oil production in June.
The Department of Mineral Resources says the state produced an average of 1.42 million barrels of oil daily in June. That was up from 1.39 million barrels a day in May and the previous record of 1.4 million barrels daily set in January.
North Dakota also produced a record 2.87 billion cubic feet of natural gas per day in June, up from 2.81 billion cubic feet in May.
Statewide, companies flared 24 percent of all gas produced, or double the 12 percent target.
There were a record 15,741 wells producing in June. The June tallies are the latest figures available.
There were 61 drill rigs operating Thursday, down two from the June average.
In world and national news…
ELIZABETHTON, Tenn. (AP) — Dale Earnhardt Jr. was taken to a hospital after his plane crashed in east Tennessee.
The NASCAR television analyst and former driver's sister, Kelley Earnhardt Miller, tweeted that "everyone is safe and has been taken to the hospital for further evaluation."
Federal Aviation Administration officials said a Cessna Citation rolled off the end of a runway and caught fire after landing at Elizabethton Municipal Airport at 3:40 p.m. Thursday. FAA officials said the preliminary indication is that two pilots and three passengers were aboard.
Carter County Sheriff's Office spokesman Thomas Gray confirmed Earnhardt was aboard but said he wasn't one of the pilots.
Earnhardt retired as a full-time racer in 2017 and has been working as an analyst for NBC. He is part of the scheduled broadcast team for Saturday night's Cup Series event in Bristol, Tennessee.
JERUSALEM (AP) — House Speaker Nancy Pelosi is slamming Israel's decision to deny admission to two Muslim-American congresswomen, calling the snub "beneath the dignity of the great State of Israel."
The California Democrat, long a supporter of Israel, also said President Donald Trump's statements attacking liberal Democratic Reps. Rashida Tlaib and Ilhan Omar and encouraging Israel to block their planned visit is "a sign of ignorance and disrespect, and beneath the dignity of the Office of the President."
Tlaib, of Michigan, and Minnesota Democrat Omar are critics of Israel's treatment of Palestinians, and many Republicans say Omar's past rhetoric is anti-Semitic.
Pelosi noted that Israel's ambassador to the U.S., Ron Dermer, recently said that Israel would not deny any members of Congress from entering the country. She called the reversal "sad" and "deeply disappointing."
MADRID (AP) — Britain's Foreign Office has warned Iran to abide by the assurances it provided to the government of Gibraltar that led to the release of a detained Iranian supertanker.
In a statement hours after a Gibraltar court released the Grace I, U.K. authorities insisted they would not allow Iran or anyone else to bypass European Union sanctions meant to punish Syria for using chemical weapons against its own people.
But the U.K. also insisted that there should be "no comparison or linkage" between the enforcement of sanctions and "Iran's unacceptable and illegal seizure of, and attacks on, commercial shipping vessels in the Strait of Hormuz."
Britain wants Iran to release the British-flagged oil tanker Stena Impero, which was seized by the Islamic Republic after British Marines took over the Grace I.
PHILADELPHIA (AP) — Philadelphia District Attorney Larry Krasner says a suspected gunman fired more than 100 rounds during an hourslong standoff.
Six police officers were wounded.
Krasner told reporters Thursday that Maurice Hill has not yet been charged, but he will likely face attempted murder and other charges.
He credited police with ending the standoff Wednesday night. He called it "brilliant policing and maybe a little bit of a miracle."
SAN FRANCISCO (AP) — A panel of judges has dismissed an appeal by the U.S. government contending that detained immigrant children may not necessarily require soap for shorter stints in custody under a longstanding settlement agreement.
A three-judge panel for the Ninth U.S. Circuit Court of Appeals in San Francisco on Thursday dismissed a challenge to a lower court decision that authorities failed to provide safe and sanitary conditions for the children under the 1997 settlement.
The panel wrote that assuring the children eat enough edible food, have soap and toothpaste and aren't sleep-deprived are essential to their safety.
A U.S. government lawyer in June argued the settlement was vague about what is required to determine a facility is safe and sanitary.
A federal judge in 2017 found the government had breached the agreement.
ATLANTA (AP) — A federal judge has ordered Georgia to stop using its outdated voting machines after this year and to be ready with hand-marked paper ballots if its new system isn't in place for the presidential primaries.
U.S. District Judge Amy Totenberg's 153-page ruling Thursday is not a complete victory for either side.
Voting integrity advocates and individual voters had wanted an immediate switch to hand-marked paper ballots.
Georgia Secretary of State Brad Raffensperger has certified a new voting system and said it will be in place for the March primaries.
The ruling means the state can keep its plans to use the old system for special and municipal elections this fall.