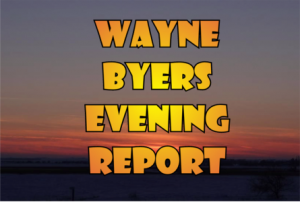 CSi Weather…
.FRIDAY NIGHT…Mostly clear. Lows in the upper 50s. Southwest winds 5 to 10 mph.
.SATURDAY…Mostly sunny in the morning, then mostly cloudy with rain showers likely and slight chance of thunderstorms in the afternoon. Highs in the lower 70s. Northwest winds 5 to 15 mph. Chance of precipitation 90 percent .
.SATURDAY NIGHT…Partly cloudy. Chance of rain showers and
slight chance of thunderstorms in the evening. Lows around 50.
Northwest winds 5 to 10 mph. Chance of precipitation 50 percent.
.SUNDAY…Mostly sunny. Highs in the lower 70s. Southwest winds
5 to 10 mph.
.SUNDAY NIGHT…Mostly clear. Lows in the upper 50s.
.MONDAY…Sunny. Highs in the lower 80s.
.MONDAY NIGHT…Partly cloudy with a 20 percent chance of rain
showers and thunderstorms. Lows in the upper 50s.
.TUESDAY…Mostly sunny. Highs in the mid 70s.
.TUESDAY NIGHT…Mostly clear. Lows in the mid 50s.
.WEDNESDAY…Sunny. Highs in the mid 70s.
.WEDNESDAY NIGHT…Partly cloudy. Lows in the upper 50s.
.THURSDAY…Mostly sunny. Highs in the upper 70s.
A risk for severe storms for Saturday afternoon/evening.
The main threat area would be along the cold front across the far southern James Valley.
Precipitation chances end rather quickly from west to east Saturday afternoon/evening.
For Sunday, quiet weather.
A warming trend continues Monday with widespread 80s forecast along with a chance for late day/evening showers and storms.
There are two chances for rain in the next work week with one on Monday night into Tuesday and the other late in the week around Thursday or Friday.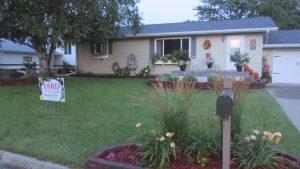 Jamestown (Chamber)  The Jamestown Area Chamber of Commerce Beautification Committee is pleased to announce the 12th winner of the Yard of the Week Program for 2019.  Ken & Heather Aune of 1519 7th Ave NE in Jamestown have received this award for week twelve.  Join us in congratulating them on their beautiful yard and thank them for their efforts to help beautify Jamestown.  Congratulations, Ken & Heather for a job well done!
The Yard of the Week program has been established to recognize those within the community that take pride in the appearance of their yard and do their part to beautify the community. The program began June 1st and ends August 31st. Yards will be selected each week from nominations received. Nominated yards must be visible from the street.
To nominate a yard for the Yard of the Week program, please contact the Chamber at 701-252-4830 or stop by our office at 120 2nd Street SE, Jamestown for a nomination form.  The completed forms require a valid phone number so we can contact the perspective winner. Forms are also available on our Facebook page or on our website at www.jamestownchamber.com.  Forms can be emailed to director@jamestownchamber.com.
All single family residences within Jamestown are eligible for the program.
Jamestown  (CSi)  The Jamestown Area Grief Support Team is hosting a Widow's Retreat October 4th to October 6th at Maryvale Retreat Center in Valley City, ND.
On Friday's Wayne Byers Show on CSi Cable 2, the organizer of  the Window's Retreat that started seven years ago, Kathy Vanderbergh said the weekend will begin at 7:00 p.m. on Friday, October 4th and concludes after a brunch on Sunday, October 6th.  The cost of the retreat is $150.00 and includes 2 nights lodging in a private room, 5 meals and all supplies.
Also on our show from JAGST, Eileen Lisko added, the retreat is an opportunity for widows to immerse themselves in healing with no distractions in a relaxing, supportive and positively charged atmosphere with others who have experienced the loss of a husband. Participants will learn coping skills and about resources that may help during the grieving process.
The weekend will include a special guest speaker; a panel of Jamestown Area Grief Support Team members who are widows; time for personal sharing and discussion; a Service of Remembrance and workshops on journaling, self-nurturing/pampering and understanding the grief journey. There will be time for informal interaction among those attending and time for private reflection while walking the beautiful Maryvale grounds.
For a brochure and registration form, please call Eileen at 701-269-4521 (you may leave a message that includes your name and mailing address; or you can e-mail to drlisko@csicable.net.) Registrations are due by September 1st and space is limited.  Registrations will be accepted on a first-come, first- serve basis.  For more information, please call Carol at 701-320-3801 or Eileen at 701-269-4521
The Jamestown Area Grief Support Team is a non-profit organization dedicated to offering support to those who have experienced losses.
In Genevieve Davis Ginsburg's book, Widow to Widow, she states "Widowhood is a club no one elects to join.… Only another widow knows what it feels like to become a widow. … Most widows are comforted and reassured when they can connect with others in the same human struggle."  These quotes describe the theme of the JAGST Widow's Retreat.  Women who have experienced the death of their husbands, whether recently or years ago, deal with many emotions, challenges and struggles as they grieve their loss.  Although no one can take these struggles away and even though every widow's experience is unique, spending time with others who have had a similar experience can often help in the journey of grief.
BISMARCK, N.D. (AP) — Gov. Doug Burgum has appointed a former Wyoming transportation commissioner to lead North Dakota's transportation department.
Burgum says William Panos will start the job in North Dakota on Oct. 21. He replaces Tom Sorel, a former Minnesota transportation commissioner who resigned after less than two years on the job in North Dakota.
Panos served as Wyoming transportation commissioner from 2008 to 2012. He has served as Lake County, Illinois' chief administrative officer only since July.
North Dakota's transportation department has nearly 1,000 employees, and a two-year budget of $1.4 billion.
Panos will be paid $172,400 annually.
BISMARCK, N.D. (AP) — The Native American tribe leading the fight against the Dakota Access oil pipeline wants a judge to resolve all legal challenges to federal permits issued for the project.
The Standing Rock Sioux filed a motion for summary judgment in federal court Friday.
The tribe argues the $3.8 billion project needs to be shut down until the government has conducted a thorough environmental analysis and studied alternative pipeline routes.
The pipeline sparked massive protests in North Dakota before it began moving oil from the state in 2017. The pipeline runs through the Dakotas and Iowa to a shipping point in Illinois.
Texas-based Energy Transfer announced in June it plans to expand the pipeline's capacity from more than 500,000 barrels per day to as much as 1.1 million barrels.
WILLISTON, N.D. (AP) — North Dakota's Health Department says crude oil and wastewater overflowed from a tank in near Williston, impacting an unknown amount of pastureland.
State environmental scientist Bill Suess (sees) says the tank is on a well pad owned and operated by Kraken Operating LLC. He says the company on Thursday reported the spill that occurred about 16 miles northeast of Williston.
Suess says about 8,400 gallons of oil and produced water overflowed from the tank, and about 420 gallons migrated off the well pad.
Produced water is a mixture of saltwater and oil that can contain drilling chemicals.
Suess says crews were cleaning up the spill on Friday. He says no water sources were affected.
BISMARCK, N.D. (AP) — Regulators say the volume of natural gas flared in June reached an unprecedented level due to shutdowns of several natural gas processing facilities and pipelines
The Bismarck Tribune reports that the amount of natural gas burned off as a byproduct of oil production during June jumped 155 million cubic feet per day, to 687 million cubic feet per day. Statewide, companies flared 24% of all gas produced, or double the 12% target.
North Dakota set an oil production record in June at 1.42 million barrels per day.
Department of Mineral Resources Director Lynn Helms says July flaring numbers could still be high, but they could improve in August and later in the year as more pipelines and processing plants come online.
In world and national news..
NEW YORK (AP) — Police have released a flyer asking people to help them find a man who was recorded on security cameras placing a pair of rice cookers in a New York City subway station.
The discovery of the cookers Friday led to an evacuation and roiled the morning commute. A third cooker of the same type was later discovered 2 miles (3 kilometers) away on a sidewalk.
One photo released by police shows a young man looking over his shoulder as he lugs a cooker into an elevator.
The flyer shows him looking almost at the camera by what appear to be the elevator doors.
Senior NYPD official John Miller says it's unclear whether the man was intentionally trying to alarm the public or just discarding the cookers.
JERUSALEM (AP) — Democratic congresswoman Rashida Tlaib says she won't visit her relatives in the West Bank after Israel issued a permit on humanitarian grounds, citing "oppressive conditions meant to humiliate me."
Israel barred Tlaib and another congresswoman from visiting Jerusalem and the West Bank over their support for the international boycott movement, but said Tlaib could visit her relatives in the West Bank on humanitarian grounds. The Interior Ministry released a letter purportedly signed by Tlaib in which she promised not to advocate boycotts during her visit.
In an official statement released later Friday, Tlaib said "visiting my grandmother under these oppressive conditions meant to humiliate me would break my grandmother's heart."
She added that "silencing me with treatment to make me feel less-than is not what she wants for me – it would kill a piece of me that always stands up against racism and injustice."
HOUSTON (AP) — A federal appeals court ruling will allow the Trump administration to begin rejecting asylum at some parts of the U.S.-Mexico border for migrants who arrived after transiting through a third country.
The 9th U.S. Circuit Court of Appeals ruled Friday that U.S. District Judge Jon Tigar's order would only apply to states within the circuit. Two southern border states, California and Arizona, are in the circuit's jurisdiction, but New Mexico and Texas aren't.
The two busiest areas for border crossings are in South Texas' Rio Grande Valley and the region around El Paso, Texas, which includes New Mexico.
The American Civil Liberties Union says it will continue fighting the restrictions.
The U.S. Department of Justice did not immediately comment.
NEW DELHI (AP) — A spokesman says President Donald Trump spoke with Prime Minister Imran Khan of Pakistan conveyed the importance of India and Pakistan reducing tensions through bilateral dialogue regarding the situation in Jammu and Kashmir.
The spokesman, Hogan Gidley, said the two leaders also discussed building on the growing relationship between the United States and Pakistan, citing the momentum created during their recent meeting at the White House.
Earlier Friday The U.N. Security Council met behind closed doors for the first time in decades on Jammu and Kashmir.
TASIILAQ, Greenland (AP) — The government of Greenland says that it's happy President Donald Trump has taken an interest in the nation, talking to aides and allies about buying the island for the U.S., but that it's not for sale.
Following reports that Trump had spoken about the notion of buying Greenland, the semiautonomous Danish territory between the Atlantic and Arctic oceans issued a short statement Friday to clarify it wasn't on the market.
Lars Loekke Rasmussen, who served as Danish prime minister until June, tweeted "it must be an April Fool's Day joke."
A Trump ally told The Associated Press on Thursday that the Republican president had discussed the purchase but was not serious about it. And a Republican congressional aide said Trump brought up the notion of buying Greenland in conversations with American lawmakers enough times to make them wonder, but they have not taken his comments seriously.
Both spoke on the condition of anonymity to discuss private conversations.