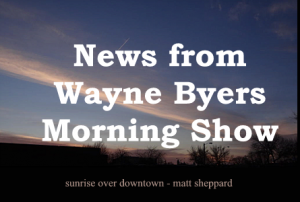 CSi Weather…
REST OF TODAY…Sunny. Highs in the mid 80s. South winds around 10 mph.
.TONIGHT…Partly cloudy with a 30 percent chance of showers and thunderstorms in the Jamestown area, 20 percent in the Valley City area. Lows in the lower 60s. Southwest winds 5 to 10 mph.
.TUESDAY…Sunny. Highs in the mid 70s. North winds 10 to 15 mph.
.TUESDAY NIGHT…Mostly clear. Lows in the lower 50s. North winds
around 5 mph.
.WEDNESDAY…Sunny. Highs in the lower 70s. North winds around
5 mph.
.WEDNESDAY NIGHT…Mostly clear. Lows in the lower 50s.
.THURSDAY…Sunny. Highs in the mid 70s.
.THURSDAY NIGHT…Partly cloudy in the evening, then mostly
cloudy with chance of rain showers and slight chance of
thunderstorms after midnight. Lows in the upper 50s. Chance of
precipitation 30 percent.
.FRIDAY…Partly sunny with chance of rain showers and slight
chance of thunderstorms. Highs in the mid 70s. Chance of
precipitation 30 percent.
.FRIDAY NIGHT…Increasing clouds. A 20 percent chance of rain
showers and thunderstorms. Lows in the mid 50s.
.SATURDAY…Partly sunny. Highs in the mid 70s.
.SATURDAY NIGHT…Mostly cloudy with a 20 percent chance of
showers and thunderstorms. Lows around 60.
.SUNDAY…Partly sunny. A 20 percent chance of showers and
thunderstorms in the afternoon. Highs in the mid 70s.
Isolated severe thunderstorms are possible Monday evening, from 10- pm through 5-am. The main hazards will be large hail up to golf ball size and damaging wind gusts up to 60 mph. A tornado or two is also possible.
Thunderstorms are possible periodically from Thursday night
through Sunday.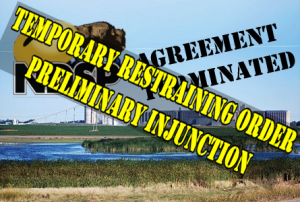 Jamestown  (CSi) In an order, issued Tuesday Aug 13, the Cass County District Court entered a temporary restraining order and preliminary injunction prohibiting the Spiritwood Energy Park Association (SEPA)  from terminating the agreement with North Dakota Soybean Processors.
On July 24 this year,  the SEPA  exercised its option to terminate a Key Terms Agreement with ND Soybean Processors for a planned soybean crushing plant at Spiritwood, thus effectively ending the connection between NDSP and SEPA that they had entered into in 2017 for the development of a large-scale soybean-crushing facility at the Energy Park.
The court order is in response to a lawsuit NDSP filed against SEPA on August 8, 2019, seeking an injunction.
NDSP asserts that SEPA violated the terms of the development agreement it entered into with NDSP when SEPA attempted to terminate the agreement for convenience on July 24, 2019.
Also on that date,  in  Executive Session, the SEPA Board also approved a temporary exclusivity agreement with another firm for the development of an unspecified project at the SEPA industrial park.
The court order also prohibits SEPA from entering into a new agreement with another entity for the purposes of  developing, constructing, or operating a soybean-crushing facility in or adjacent to the Spiritwood Energy Park.
The temporary restraining order remains effective until a further order of the Court.  A hearing in the case is scheduled for Sept. 4 in Fargo.
NDSP  states that it remains ready, willing, and able to proceed with the  $287 million soybean crushing facility at the Spiritwood Energy Park, and to aggressively protect its rights embaling NDSP  to proceed to construct what would be the only farmer-owned soybean-crushing facility in North Dakota.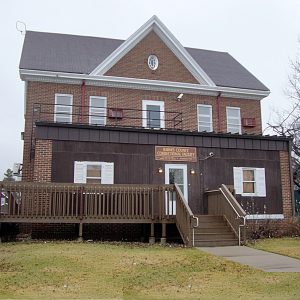 Valley City  (CSi)  The Barnes County Jail Committee meets next on Monday, August 19 at 5:30 p.m., at the Barnes County Commission Chambers,  regarding constructing a new Barnes County Law Enforcement Center, and Correctional Center.
Scheduled at the meeting is information from Klein McCarthy Architects.
The meeting is open to the public.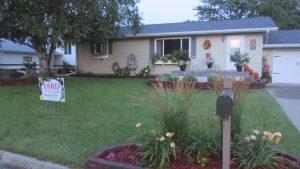 Jamestown (Chamber)  The Jamestown Area Chamber of Commerce Beautification Committee is pleased to announce the 12th winner of the Yard of the Week Program for 2019.  Ken & Heather Aune of 1519 7th Ave NE in Jamestown have received this award for week twelve.  Join us in congratulating them on their beautiful yard and thank them for their efforts to help beautify Jamestown.  Congratulations, Ken & Heather for a job well done!
The Yard of the Week program has been established to recognize those within the community that take pride in the appearance of their yard and do their part to beautify the community. The program began June 1st and ends August 31st. Yards will be selected each week from nominations received. Nominated yards must be visible from the street.
To nominate a yard for the Yard of the Week program, please contact the Chamber at 701-252-4830 or stop by our office at 120 2nd Street SE, Jamestown for a nomination form.  The completed forms require a valid phone number so we can contact the perspective winner. Forms are also available on our Facebook page or on our website at www.jamestownchamber.com.  Forms can be emailed to director@jamestownchamber.com.
All single family residences within Jamestown are eligible for the program.
Jamestown  (CSi)  The Jamestown Area Grief Support Team is hosting a Widow's Retreat October 4th to October 6th at Maryvale Retreat Center in Valley City, ND.
On Friday's Wayne Byers Show on CSi Cable 2, the organizer of  the Window's Retreat that started seven years ago, Kathy Vanderbergh said the weekend will begin at 7:00 p.m. on Friday, October 4th and concludes after a brunch on Sunday, October 6th.  The cost of the retreat is $150.00 and includes 2 nights lodging in a private room, 5 meals and all supplies.
Also on our show from JAGST, Eileen Lisko added, the retreat is an opportunity for widows to immerse themselves in healing with no distractions in a relaxing, supportive and positively charged atmosphere with others who have experienced the loss of a husband. Participants will learn coping skills and about resources that may help during the grieving process.
The weekend will include a special guest speaker; a panel of Jamestown Area Grief Support Team members who are widows; time for personal sharing and discussion; a Service of Remembrance and workshops on journaling, self-nurturing/pampering and understanding the grief journey. There will be time for informal interaction among those attending and time for private reflection while walking the beautiful Maryvale grounds.
For a brochure and registration form, please call Eileen at 701-269-4521 (you may leave a message that includes your name and mailing address; or you can e-mail to drlisko@csicable.net.) Registrations are due by September 1st and space is limited.  Registrations will be accepted on a first-come, first- serve basis.  For more information, please call Carol at 701-320-3801 or Eileen at 701-269-4521
The Jamestown Area Grief Support Team is a non-profit organization dedicated to offering support to those who have experienced losses.
In Genevieve Davis Ginsburg's book, Widow to Widow, she states "Widowhood is a club no one elects to join.… Only another widow knows what it feels like to become a widow. … Most widows are comforted and reassured when they can connect with others in the same human struggle."  These quotes describe the theme of the JAGST Widow's Retreat.  Women who have experienced the death of their husbands, whether recently or years ago, deal with many emotions, challenges and struggles as they grieve their loss.  Although no one can take these struggles away and even though every widow's experience is unique, spending time with others who have had a similar experience can often help in the journey of grief.
BISMARCK, N.D. (AP) — A landfill north of Williston could soon become the first facility in North Dakota to accept higher levels of radioactive oilfield waste under new state regulations.
The Bismarck Tribune reports Secure Energy Services is seeking permits allowing it to dispose of radioactive material at its 13-Mile Landfill, which already accepts other types of waste generated by oil development.
The Health Department increased the allowable concentrations of technologically enhanced radioactive material — or TENORM — to be disposed of at approved landfills from 5 picocuries per gram to 50 picocuries per gram in 2016. Picocuries are a measure of radioactivity.
The change was controversial at the time, drawing lengthy hearings and a lawsuit from environmental groups.
BISMARCK, N.D. (AP) — Gov. Doug Burgum has appointed a former Wyoming transportation commissioner to lead North Dakota's transportation department.
Burgum says William Panos will start the job in North Dakota on Oct. 21. He replaces Tom Sorel, a former Minnesota transportation commissioner who resigned after less than two years on the job in North Dakota.
Panos served as Wyoming transportation commissioner from 2008 to 2012. He has served as Lake County, Illinois' chief administrative officer only since July.
North Dakota's transportation department has nearly 1,000 employees, and a two-year budget of $1.4 billion.
Panos will be paid $172,400 annually.
In sports…
Boys Soccer…
East/West Scores
Friday…
Jamestown 3, Fargo Shanley 1.
West Fargo 2, Bismarck Century 0.
West Fargo 2, Minot 1.
Fargo Davies 1, Minot 0.
Bismarck Century 3, Fargo Davies 1.
Saturday…
Bismarck High 3, Fargo North 0.
G.F. Central 4, Mandan 0.
G.F. Red River 9, Williston 2.
Mandan 2, Fargo North 2.
Bismarck High 1, G.F. Red River 0.
Jamestown 7, Williston 1.
AMERICAN ASSOCIATION…
Fargo-Moorhead 6, Gary Southshore 5
MLB…
Twins beat Rangers to keep 2 ½-game lead
UNDATED (AP) _ The Minnesota Twins have maintained their 2 ½-game lead over Cleveland atop the AL Central by completing a four-game sweep of the Rangers in Texas.
Jorge Polanco lined a bases-loaded triple in the eighth inning to break a 3-3 tie in the Twins' 6-3 victory. Minnesota squandered a 3-0 lead before Polanco delivered his second hit of the afternoon.
Marwin Gonzalez hit a two-run double and Sam Dyson got the victory despite allowing Shin-Soo Choo's game-tying solo homer in the seventh. Taylor Rogers ended the game by striking out Rougned Odor (ROOG'-nehd oh-DOHR') with two runners on.
Minnesota heads home after adding two games to their division lead while in Texas.
In New York, Mike Freeman supplied a three-run homer among his three extra-base hits as the Indians doubled up the Yankees, 8-4 to gain a split of their four-game series. Oscar Mercado homered and drove in three runs for Cleveland, and Francisco Lindor (lihn-DOHR') went deep.
Mike Clevenger needed 104 pitches to get through five arduous innings, but he struck out 10 and scattered three hits to move to 8-2.
_ Rafael Ortega launched a go-ahead grand slam in the sixth inning to send Atlanta past the Dodgers, 5-3. Ortega made the most of only his second start with the Braves with his first career grand slam off Dustin May to erase the Braves' 3-1 deficit. Atlanta starter Max Fried (freed) lasted five innings despite yielding Cody Bellinger's three-run homer in the first.
_ Nicholas Castellanos (kas-tee-AH'-nohs), Justin Heyward and Anthony Rizzo homered as the Cubs whipped the Pirates, 7-1 in Williamsport, Pa. Jose Quintana struck out seven and held Pittsburgh to five hits over seven shutout innings. Kyle Schwarber hit a two-run single for the Cubs, who remain tied for first with St. Louis in the NL Central.
Elsewhere on major league diamonds:
_ The Rays completed a 5-4 comeback win over the Tigers when Ji-Man Choi delivered a two-run single in the bottom of the ninth. Tommy Pham hit a two-run homer in the eighth off Buck Farmer that pulled the Rays within 4-3. Tampa Bay pitchers set a three-game series team record by recording 49 strikeouts, including 12 on Sunday.
_ Zack Greinke (GREHN'-kee) earned his 200th career victory and the Astros avoided a four-game sweep by knocking off the Athletics, 4-1. Greinke is 13-4 this season after limiting Oakland to a run and four hits over seven innings. Alex Bregman crushed a go-ahead, three-run homer among his four hits as Houston increased its lead in the AL West to 7 ½ games over the A's.
_ Rafael Devers (DEH'-vurz) was 4 for 5 with a homer, two doubles and four RBIs in the Red Sox's 13-7 comeback win over the Orioles. The 22-year-old Devers joined Hall of Famers Ted Williams, Bobby Doerr and Jim Rice as the only Red Sox players to have a 100-RBI season before turning 23. J.D. Martinez added three hits and two RBIs for the Bosox, who trailed 6-0 before earning their fifth consecutive win.
_ The Angels rode homers by Shohei Ohtani (SHOH'-hay oh-TAH'-nee), Kole Calhoun, Matt Thaiss (thays) and Anthony Bemboom to a 9-2 rout of the White Sox. Thaiss was 3-for-4 with a three-run blast and four RBIs as Los Angeles won for the fourth time in five games. Winning pitcher Griffin Canning was reached for only one run and five hits while striking out eight over seven innings.
_ Yusei Kikuchi fired a two-hitter in his first big league shutout as the Mariners whipped the Blue Jays, 7-0. Kikuchi struck out eight, walked one and retired the final 14 batters in his first win since beating Baltimore on June 23. Tom Murphy, Kyle Seager, Austin Nola and Keon Broxton homered for Seattle.
_ Paul Goldschmidt smacked a two-run homer and Tommy Edman was 3-for-5 with a solo shot and two runs scored in the Cardinals' 5-4 victory at Cincinnati. Jack Flaherty's scoreless streak was snapped at 23 innings, but he allowed only one run in five frames. Carlos Martinez gave up three straight hits and two runs to open the ninth before earning his 14th save, striking out Eugenio (ay-oo-HEH'-nee-oh) Suàrez to end it.
_ Juan Soto and Brian Dozier each provided two of the Nationals' team record-tying eight home runs in a 16-8 thrashing of the Brewers. Matt Adams and Victor Robles hit back-to-back homers in the first to give the Nationals a 4-0 lead, and Anthony Rendon (rehn-DOHN') and Soto did the same in the third as the advantage ballooned to 13-0. Erick Fedde (FEH-dee) won his third consecutive start, allowing four runs on ten hits over five innings as the Nationals stayed 5 ½ games behind the NL East-leading Braves.
_ Pete Alonso belted his NL rookie-record 40th home run as the Mets earned an 11-5 victory in the rubber match of their series with the Royals. Michael Conforto hit a long homer in the first inning and collected four RBIs for New York, which trailed 4-3 before scoring six times in the seventh inning. Amed Rosario furnished the tiebreaking, two-run double before the Mets improved to 24-10 since the All-Star break.
_ Austin Hedges was 4-for-4 with a tiebreaking, solo homer in the seventh inning to carry the Padres to a 3-2 victory at Philadelphia. Luis Urías also went deep for the Padres, who had lost seven consecutive rubber games before taking two of three in Philadelphia. Joey Lucchesi (loo-KAY'-see) gave up two runs and three hits over six innings to get the victory after going 0-3 with a 6.15 ERA in six starts since the All-Star break.
_ Wilmer Flores and David Peralta (peh-RAHL'-tah) homered for the Diamondbacks in a 6-1 victory against the Giants. Merrill Kelly struck out five and allowed six hits over 5 2/3 innings to help Arizona avoid a four-game sweep. Madison Bumgarner took the loss for the Giants after giving up four runs and six hits over six innings.
_ The Rockies completed a three-game sweep by topping the Marlins, 7-6 on Garrett Hampson's bases-loaded single in the bottom of the 10th. Nolan Arenado homered twice for Colorado, which has won four straight and swept a series for the first time since June 18-20. Miami's Neil Walker forced extra innings with an RBI single off closer Wade Davis.
MLB-NEWS
Rockies' Oberg again treated for blood clot in pitching arm
UNDATED (AP) _ Rockies right-hander Scott Oberg has been treated for a blood clot in his pitching arm for the second time in his career.
Manager Bud Black said Oberg had a procedure to dissolve the clot at a hospital on Saturday and remained there overnight. The Rockies put Oberg on the 10-day injured list Sunday.
Black said the 28-year-old Oberg started feeling heaviness in his arm on Saturday and alerted the training staff.
Oberg replaced struggling Wade Davis as the team closer two weeks ago and picked up his sixth save Friday against Miami.
In other MLB news:
_ Ronald Acuña (ah-KOON'-yah) Jr. was removed from the Braves' game against the Dodgers Sunday after he stood at the plate admiring a long flyball that did not leave the park. The 21-year-old Acuña likely would have had an easy double if he had hustled from home plate. Manager Brian Snitker followed Acuña into the tunnel for an apparent conversation during the fourth inning.
_ Phillies outfielder Bryce Harper left Sunday's game against the Padres after the fifth inning because of dehydration. Harper has played in 123 of 124 games this season.
_ The Nationals have put struggling closer Sean Doolittle on the 10-day injured list with right knee tendinitis, a day after he surrendered three home runs in the ninth inning against Milwaukee. Doolittle has posted a career-worst 4.33 ERA with 28 saves. The NL wild-card leaders recalled righty Kyle McGowin from Double-A Harrisburg.
_ Reds first baseman Joey Votto (VAH'-toh) has landed on the 10-day injured list with lower back tightness that caused him to miss their weekend series with the Cardinals. The six-time All Star is hitting .262 with 12 home runs and 39 RBIs in 113 games this season. The Reds also recalled utility player Brian O'Grady from Triple-A Louisville.
NFL-BEARS-KICKING COMPETITION
Raiders GM losing patience with Brown
UNDATED (AP) _ Oakland Raiders general manager Mike Mayock told disgruntled receiver Antonio Brown it's time to decide whether he's "all in or all out" about playing this season after losing a fight with the NFL over his helmet.
Brown also lost a grievance with the league to allow him to use a helmet that is no longer certified as safe.
Mayock issued a statement expressing his frustration that Brown didn't participate in practice Sunday despite being healed from the frost-bitten feet that have sidelined him for most of training camp. Mayock says there are "89 guys busting their tails" and that he hopes Brown will join his teammates soon.
In other NFL news:
_ Eddy Pineiro has won the Bears' kicking competition. The Bears have cut kicker Elliott Fry, who was competing with Pineiro and several others for the job. Pineiro came to Chicago from the Raiders for a late-round draft pick after spending all of last year on injured reserve.
_ Former NFL and University Texas running back Cedric Benson has died in a motorcycle accident at age 36. Benson won the Doak Walker award as the nation's top college running back in 2004 and was drafted fourth overall by the Bears in 2005. He also played for the Cincinnati Bengals and Green Bay Packers.
PGA-BMW CHAMPIONSHIP
Thomas wins at Medinah
MEDINAH, Ill. (AP) _ Justin Thomas has the No. 1 seed in the FedEx Cup finale after capturing the BMW Championship at Medinah (meh-DY'-nuh).
Thomas entered the final round with a six-shot lead, but he was only two strokes ahead until he carded three birdies in a five-hole stretch on the back nine. He closed with a 4-under 68 for a three-shot win over Patrick Cantlay, who fired a 65.
The top 30 advance to the Tour Championship. Masters champion Tiger Woods will not be among them to defend his title at East Lake.
OBIT-WHITAKER
Jack Whitaker dies
NEW YORK (AP) _ Longtime television sports broadcaster Jack Whitaker has died at 95.
Whitaker spent 22 years with CBS Sports, which announced that he died of natural causes in his sleep.
His Hall of Fame broadcasting career ranged from the first Super Bowl to Secretariat's Triple Crown to short essays from major sporting events. Whitaker had been the only living play-by-play announcer from the first 21 Super Bowls.
In world and national news….
KABUL, Afghanistan (AP) — An Afghan official says at least 66 people have been wounded in a series of explosions in the eastern province of Nangarhar as the country marks Independence Day.
Noor Ahmad Habibi, deputy spokesman for the provincial governor, says at least 10 explosions occurred around the provincial capital, Jalalabad. He says most of the people have minor injuries and have been released after treatment at local hospitals.
No one has immediately claimed responsibility for the attack. Both the Taliban and the local affiliate of the Islamic State group are active in Nangarhar province.
GRAND RAPIDS, Mich. (AP) — Justin Amash has left the Republican Party over his opposition to President Donald Trump, and Democrats are celebrating.
The Michigan congressman's departure means a three-way race in his politically shifting Grand Rapids-area district, giving Democrats fresh hope for picking up his a seat.
Amash is also flirting with another way to wound Trump — by running for president as a Libertarian. More than 200,000 Michigan voters supported a third-party candidate in 2016, when Trump won the state by just over 10,000 votes
Amash was the first Republican on Capitol Hill to say Congress should begin impeachment proceedings.
Amash's is another cautionary tale for GOP lawmakers who consider opposing Trump. Those who do quickly find it's a lonely place to be, and may mean the end of a political career.
COPENHAGEN, Denmark (AP) — Denmark's prime minister says U.S. President Donald Trump's idea of buying Greenland from Denmark is "an absurd discussion," reiterating that the semi-autonomous Danish territory in the Arctic is not for sale.
Mette Frederiksen, who was visiting the world's largest island to meet Premier Kim Kielsen, says "Greenland is not Danish. Greenland is Greenlandic. I persistently hope that this is not something that is seriously meant."
Frederiksen said Sunday that the Arctic, with resources that Russia and others could exploit for commercial gain, "is becoming increasingly important to the entire world community."
Trump is expected to visit Denmark in early September as part of a trip to Europe.
GIBRALTAR (AP) — An Iranian supertanker with $130 million worth of light crude oil that the U.S. suspects is tied to a sanctioned organization has left Gibraltar and is heading east into the Mediterranean Sea, with its next destination reported to be Greece.
Ship tracking service MarineTraffic said on Monday that the Iran-flagged Adrian Darya 1, previously named Grace 1, has set course for Kalamata, Greece, with an estimated arrival on Aug. 25. It wasn't immediately clear why the tanker would be heading there or whether the destination could change.
The vessel left Gibraltar late on Sunday after having been detained for a month in the British overseas territory for allegedly attempting to breach European Union sanctions on Syria. Gibraltar authorities rejected attempts by the U.S. to seize the oil tanker.
BEIRUT (AP) — Syria's Foreign Ministry says Turkey has sent armored vehicles loaded with ammunition into the country, heading to a rebel-held northwestern town that's part of a government offensive on the country's last rebel stronghold.
The ministry called the move a "flagrant Turkish intervention," saying the Turkish convoy reached Saraqeb, a town north of Khan Sheikoun early on Monday. Syrian government troops meanwhile reached the western outskirts of Khan Sheikoun earlier in the day.
There was no immediate word from Turkey about a convoy headed to Syria.
Turkey backs the Syrian opposition and has 12 observation posts in the northwestern Syrian province of Idlib, the last major rebel stronghold in the war-torn country.
The ministry says "this hostile behavior of the Turkish regime" wouldn't affect Syrian troops' push into Khan Sheikhoun.
BEIJING (AP) — China is lashing out at Taiwan over its offer of political asylum to participants in Hong Kong pro-democracy movement.
Spokesman for the Cabinet's Taiwan Affairs Office Ma Xiaoguang said Monday the offer would "cover up the crimes of a small group of violent militants" and encourage their "audacity in harming Hong Kong and turn Taiwan into a 'heaven for ducking the law."
The government of the self-ruled island China considers its own territory strongly supports the protests, and Hong Kong students in Taiwan held events over the weekend expressing their backing. Taiwan's president made the asylum offer last month, though it's not clear if requests have been received.
Ma demanded Taiwan's government "cease undermining the rule of law" in Hong Kong, cease interfering in its affairs and not "condone criminals."