CSi Weather…
Update…
TONIGHT…Mostly clear in the Jamestown area in the Jamestown area, partly cloudy. Isolated showers and thunderstorms after midnight in the Valley City area. Some thunderstorms may be severe. Lows in the mid 60s. Southwest winds 5 to 15 mph. Chance of precipitation
20 percent..   Lows in the lower 60s. South winds 5 to 10 mph.
.TUESDAY…Sunny. Highs in the mid 70s. North winds 10 to 15 mph with gusts to around 30 mph.
.TUESDAY NIGHT…Clear. Lows in the lower 50s. Northwest winds
around 5 mph.
.WEDNESDAY…Sunny. Highs in the lower 70s. North winds around
5 mph.
.WEDNESDAY NIGHT…Mostly clear. Lows in the lower 50s.
.THURSDAY…Sunny. Highs in the lower 70s.
.THURSDAY NIGHT…Partly cloudy in the evening, then mostly
cloudy with a 40 percent chance of rain showers and thunderstorms
after midnight. Lows in the upper 50s.
.FRIDAY…Partly sunny with a 40 percent chance of rain showers
and thunderstorms. Highs in the lower 70s.
.FRIDAY NIGHT…Decreasing clouds. A 30 percent chance of rain
showers and thunderstorms. Lows in the upper 50s.
.SATURDAY…Partly sunny. Highs in the mid 70s.
.SATURDAY NIGHT…Mostly cloudy with a 30 percent chance of
showers and thunderstorms. Lows around 60.
.SUNDAY…Partly sunny with a 40 percent chance of showers and
thunderstorms. Highs in the upper 70s.
Monday night, isolated severe thunderstorms are possible across eastern
North Dakota and northwest Minnesota as a cold front drops a
thunderstorm complex down from Canada. The main hazards will be
large hail up to quarter size and damaging wind gusts up to 60
mph.
Thunderstorms are again possible periodically from Thursday night
through Sunday.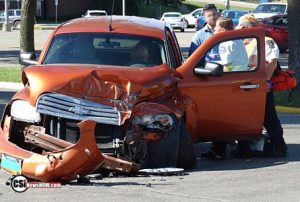 Jamestown  (CSi)  Jamestown Police investigated a two vehicle crash Monday morning about 10:20, at the intersection of  4th Street and 4th Avenue, Northeast.
The crash involve a maintenance truck, and a small crossover car.
Jamestown Ambulance Service treated on person on scene, for a laceration.
The full report will be filed by Jamestown Police.
Valley City (CSi) The Barnes County Jail Committee meets next on Monday, August 19 at 5:30 p.m., at the Barnes County Commission Chambers, regarding constructing a new Barnes County Law Enforcement Center, and Correctional Center.
Scheduled at the meeting is information from Klein McCarthy Architects.
The meeting is open to the public.
Jamestown  (CSi)  Jamestown Public Works informs residents that areas included in this years' #19-41 street maintenance project will be crack sealed as part of the City's road maintenance program starting Tuesday, August 20, 2019 beginning at approximately 7:00 a.m. and will continue throughout the week.
Major traffic areas that will be impacted include:
Hospital Hill – Beginning at 5th St & 5th Ave NE continuing along 13th St NE to 27th Ave NE.
Motorists and other traffic should use extreme caution when entering these construction areas and consider alternate routes if possible.
Valley City   (CSi)   Weather permitting, Valley City Public works will fog mosquitoes on Tuesday, August 20 starting approximately,  8-p.m. and continuing if needed on Wednesday, morning, August 21st in the morning.
Parents are advised to keep children and pets out of the streets and away from the spray machines. Motorists are urged to use caution when traveling in the area of the operation.
If there are any questions, call Valley City  Public Works at 845-0380.
Valley City  (VCPS)  Valley City Public Schools Superintendent, Josh Johnson reminds students and parents about how street improvement projects will effect the school district over the next four to six weeks.
He says, the project will lead to street closures on Central Avenue near Jefferson Elementary. He adds there will be increased number of supervisors in the student pickup/drop off areas. Limit access to areas on the north side of school to allow for a safe walk to and from the buses.
Vehicles will be unable to drive south on Central Avenue between the entrance to Hanna Field to the intersection of 9th Street. This will become a short one-way for those vehicles traveling north off 9th Street. He said they will allow parking on Central Avenue on the east side of the road during Phase I.
After the Labor Day weekend, the second phase of this street project will begin and completely close the road between the entrance of Hanna Field and 12th Street. No Vehicles will be able to travel in this area until the project is completed.
Johnson said to create a consistent plan for students for the first 4-6 weeks of school, a plan will be implemented on the first day of school August 21 until the project has been completed.
It includes:
Buses dropping off and picking up students in the newly created "Bus Only" zone on 12th Street.
Student drop off/pickup by vehicle will occur in the Hanna Field parking lot. Johnson says painted parking spot lines and driving lanes will aid in the safe navigation of this parking lot.
He adds,"Please know that we will NOT be able to provide a drive loop for picking up students at the sidewalk due to the number of vehicles in the Hanna Field parking lot and in an effort to keep our students safe."
The individual picking up your child must come to up to the sidewalk and escort them across the parking lot back to the vehicle. Students will NOT be allowed to walk across the parking lot by themselves.
Johnson said to notify the school district  if you are unable to come to the sidewalk to escort your child across the parking lot and the 12th Street, crosswalks will be supervised after school for those students walking or biking.
VCPS Junior/Senior High Students, Staff, Parents and Guardians:
Johnson adds,  "We all know that street construction has been part of our summer here in Valley City and unfortunately, the construction around the Junior/Senior High will not be fully completed until after the first couple weeks of school. We really need your help to ensure that you follow our recommendations for student dropoff/pickup, parking, and pedestrian traffic. We expect that construction will not be completed until after the Labor Day weekend. Please see the Key Information and Our Recommendations detailed and on the map that has been attached with this communication.
Key Information
5th Street Intersection with Central Avenue (north side of VCHS) will be closed to all East/West Vehicle Traffic beginning August 20th until further notice.
Central Avenue will be open and be accessible for our School Buses and Vehicle Traffic between 4th Street and 5th Street.
Our Recommendations.
1) Student dropoff/pickup will be most accessible at Junior High Door #6 or the Hi-Liner Activity Center Bus Lane. Senior High
Door #1 will be open as usual, but vehicle access to this area will be difficult due to the intersection closure on Central Avenue (see map details).
2) Students walking to or from school will not be allowed to cross the intersection at 5th Street and Central Avenue, rather they should cross
Central Avenue at the crosswalks on either 4th Street, 6th Street, or 9th Street.
3) Student parking is always difficult around VCHS and will be even a bit more during the street construction. We ask for our student's patience and understanding until construction has been completed.
The safety of our students will always be our highest priority and we ask that you please drive with caution in the coming weeks. The street construction is beyond our control and kindly ask that you work with us to ensure students stay safe traveling to and from school. Thank you for your understanding and all of our efforts to be very safe around VCHS for the next couple of weeks while construction on the streets is completed.
Thank you and if you have any questions please contact me at the district office or our administrators at the junior high office or senior high office at 701.845.0483.
Jr_Sr-High-Street-Construction-
Bismarck  (NDDOT)  A Public Input Meeting will be held from 5:00 p.m. to 7:00 p.m. on August 26th, 2019, at the Medina City Hall at 104 2nd Ave. SW in Medina, ND. The Public Input Meeting will utilize an open house format with a formal presentation at 5:30 p.m.
The purpose of the Public Input Meeting is to discuss proposed improvements and detour routes for the Streeter Interchange overhead bridge (Exit 228), located along I-94 at mile point 228.321, which is approximately 2 miles west of the city of Medina. The project consists of replacing of the existing structure and the partial re-grading of the ramps and approach roadways.
If unable to attend the Public Input Meeting, written statements or comments must be mailed by September 10, 2019, to Travis Brossart, Bridge Division, 608 E. Blvd. Ave. Bismarck, ND 58505. Email tbrossart@nd.gov with "Public Input Meeting" in the e-mail subject heading.
The North Dakota Department of Transportation (NDDOT) will consider every request for reasonable accommodation to provide:
an accessible meeting facility or other accommodation for people with disabilities,
language interpretation for people with limited English proficiency (LEP), and
translations of written material necessary to access NDDOT programs and information.
To request accommodations, contact the Paula Messmer, Civil Rights Division, NDDOT, at (701) 328-2978 or civilrights@nd.gov. TTY users may use Relay North Dakota at 711 or 1-800-366-6888.
In sports….
Bismarck (NDGF)  North Dakota Game and Fish reports that Deer Archery Season Opens August 30* at noon, and continues through Jan. 5, 2020.
Bowhunters canbuy a license online [ https://gf.nd.gov/buy-apply ]at the state Game and Fish Department website, gf.nd.gov; by calling 800-406-6409; or at vendors linked to the Game and Fish Departments online licensing system [https://gf.nd.gov/licensing/electronic-licensing-retailers ]. Hunters who purchase bow licenses at a vendor location will receive a tag at time of purchase; otherwise, hunters who purchase their license over the phone or personal computer should allow for several days to receive their tag in the mail. A general game and habitat license is also required for archery hunters, and must be purchased prior to receiving the archery tag.
Bowhunters must follow all regulations of the managing agency when using tree stands, ground blinds and game cameras on public hunting areas, including displaying an equipment registration number, or the owner's name, address and telephone number, on all equipment left unattended on Game and Fish wildlife management areas.
In addition, hunting big game over bait is prohibited on both public and private land in deer hunting units 3A1, 3A2, 3A3 north of U.S. Highway 2, 3B1, 3C west of the Missouri River, 3E1, 3E2, 3F1 and 3F2.
Hunters should refer to the2019 deer hunting guide [
https://gf.nd.gov/regulations/deer ]for season information and regulations.
Also…
Waterfowl hunters age 16 and older are reminded a federal duck stamp is required beginning Sept. 1. Waterfowl includes ducks, geese, swans, mergansers and coots.
This years 2019-20 federal duck stamp isavailable for electronic purchase [
https://gf.nd.gov/buy-apply ]through the North Dakota Game and Fish Departments website, gf.nd.gov, instant licensing telephone number, 800-406-6409, or at license vendors registered with the departments licensing system. Physical stamps are not available at North Dakota license vendors, but they can still be purchased at many U.S. Postal Service offices.
The electronic stamp is a purchase item like any other hunting or fishing license.
When the purchase is completed the electronic stamp is valid immediately. The words "Federal Duck Stamp" will be printed on the license certificate, along with an expiration date 45 days from the date of purchase.The actual physical stamp will be sent by postal mail.
The physical stamp is processed and sent by the official duck stamp vendor in Texas, and should arrive to the individual buyer well before the expiration date printed on the electronic license. The physical stamp must remain in possession of the hunter after the 45-day electronic stamp has expired. Individuals who have questions regarding the status of their physical stamp can contact the federal duck stamp vendor customer service number at 800-852-4897.
The federal duck stamp has a fee of $25. An additional $1.50 fee is added to cover shipping and handling costs of the actual physical stamp.
(AP) Cross off another milestone for Clemson, college football's newest superpower.
For the first time, the defending national champion Tigers are No. 1 in The Associated Press preseason Top 25 presented by Regions Bank .
Clemson won its second national title in three seasons behind freshman quarterback Trevor Lawrence to claim equal standing with Alabama at the top of the sport.
The Crimson Tide, coming off a 44-16 loss to Clemson in the College Football Playoff championship, is No. 2. Clemson received 52 first-place votes and Alabama received the other 10. Clemson snaps a record-tying string of three straight years in which Alabama was the preseason No. 1.
Georgia, Alabama's Southeastern Conference rival, is No. 3, followed by No. 4 Oklahoma and No. 5 Ohio State.
In world and national news…
SANTA MONICA, Calif. (AP) — One of Jeffrey Epstein's first known accusers says police didn't take her complaint seriously in 1997 and blew the chance to bring the financier to justice long before he was charged with sexually abusing dozens of teenage girls and women.
Alicia Arden says she never heard back from police in Santa Monica, California, after accusing Epstein of groping her during what she thought was a modeling interview for Victoria's Secret.
Police told The Associated Press last week that the case was dropped after Epstein gave a conflicting statement and Arden asked not to press charges, an assertion she strongly denies. Officers would not elaborate on Epstein's account. His attorneys have previously said police discounted Arden's allegations.
Arden says the fact that she was discredited was a "stab to my heart."
NEW YORK (AP) — New York City Mayor Bill de Blasio says the police commissioner's firing of the officer whose chokehold contributed to the death of an unarmed black man means that "justice was served."
De Blasio said Monday he hopes Commissioner James O'Neill's decision to fire Officer Daniel Pantaleo "brings some small measure of closure" to the family of Eric Garner.
Garner's death in 2014 after Pantaleo tried to arrest him was captured on a cellphone video that caused widespread outrage. But the head of Pantaleo's union criticized the officer's firing and said the decision would change the way officers did their jobs and make them less safe.
De Blasio, who is seeking the Democratic nomination for president, was grilled about Garner's death at the last Democratic debate and was heckled by protesters shouting "Fire Pantaleo."
WASHINGTON (AP) — The acting director of the federal Bureau of Prisons has been removed from his position more than a week after millionaire financier Jeffrey Epstein took his own life while in federal custody.
Attorney General William Barr announced Hugh Hurwitz's reassignment Monday. Hurwitz had served as the agency's acting director since May 2018.
No reason was given for the reassignment, but the move comes as the bureau faces increased scrutiny after Epstein's suicide Aug. 10 at a New York jail.
The FBI and Justice Department's inspector general are investigating.
Barr has named Kathleen Hawk Sawyer to succeed Hurwitz. She was the agency's director from 1992 until 2003.
Hurwitz also led the agency when Boston mobster James "Whitey" Bulger was killed in a federal prison in West Virginia in October.
KABUL, Afghanistan (AP) — An Afghan official says at least 66 people have been wounded in a series of explosions in the eastern province of Nangarhar as the country marks Independence Day.
Noor Ahmad Habibi, deputy spokesman for the provincial governor, says at least 10 explosions occurred around the provincial capital, Jalalabad. He says most of the people have minor injuries and have been released after treatment at local hospitals.
No one has immediately claimed responsibility for the attack. Both the Taliban and the local affiliate of the Islamic State group are active in Nangarhar province.
BERLIN (AP) — Germany's central bank has issued a gloomy economic report suggesting that growth in the summer continued to shrink, raising the possibility Europe's largest economy may be entering a recession.
A technical recession is defined as two consecutive quarters of negative growth, and Germany saw a 0.1% drop in the second quarter, from April to June.
In its monthly report Monday, the Bundesbank said with falling industrial production and orders, it appears that the slump likely continued through the summer.
It says "the overall economic performance could decline slightly once again. Central to this is the ongoing downturn in industry."
The Bundesbank says the trade conflict between the U.S. and China, Brexit and other issues have hampered Germany's export-dependent economy, though it's still expected to post growth over the full year.