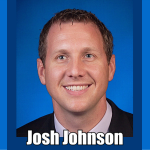 Valley City  (VCPS)  Valley City Public Schools Superintendent, Josh Johnson reminds students and parents about how street improvement projects will effect the school district over the next four to six weeks.
He says, the project will lead to street closures on Central Avenue near Jefferson Elementary. He adds there will be increased number of supervisors in the student pickup/drop off areas. Limit access to areas on the north side of school to allow for a safe walk to and from the buses.
Video of Pickup/Drop Off Instructions for Jefferson:
Vehicles
will not
be able to drive south on Central Avenue between the entrance to Hanna Field to the intersection of 9th Street. (DQ) This will become a short one-way for those vehicles traveling north off 9th Street. He said they will allow parking on Central Avenue on the east side of the road during Phase I.
After the Labor Day weekend, the second phase of this street project will begin and completely close the road between the entrance of Hanna Field and 12th Street. No Vehicles will be able to travel in this area until the project is completed.
Johnson said to create a consistent plan for students for the first 4-6 weeks of school, a plan will be implemented on the first day of school August 21 until the project has been completed.
It includes:
Buses dropping off and picking up students in the newly created "Bus Only" zone on 12th Street.
Student drop off/pickup by vehicle will occur in the Hanna Field parking lot. Johnson says painted parking spot lines and driving lanes will aid in the safe navigation of this parking lot.
He adds,"Please know that we will NOT be able to provide a drive loop for picking up students at the sidewalk due to the number of vehicles in the Hanna Field parking lot and in an effort to keep our students safe."
The individual picking up your child must come to up to the sidewalk and escort them across the parking lot back to the vehicle. Students will NOT be allowed to walk across the parking lot by themselves.
Johnson said to notify the school district  if you are unable to come to the sidewalk to escort your child across the parking lot and the 12th Street, crosswalks will be supervised after school for those students walking or biking.
VCPS Junior/Senior High Students, Staff, Parents and Guardians:
Johnson adds,  "We all know that street construction has been part of our summer here in Valley City and unfortunately, the construction around the Junior/Senior High will not be fully completed until after the first couple weeks of school. We really need your help to ensure that you follow our recommendations for student dropoff/pickup, parking, and pedestrian traffic. We expect that construction will not be completed until after the Labor Day weekend. Please see the Key Information and Our Recommendations detailed and on the map that has been attached with this communication.
Key Information
5th Street Intersection with Central Avenue (north side of VCHS) will be closed to all East/West Vehicle Traffic beginning August 20th until further notice.
Central Avenue will be open and be accessible for our School Buses and Vehicle Traffic between 4th Street and 5th Street.
Our Recommendations.
1) Student dropoff/pickup will be most accessible at Junior High Door #6 or the Hi-Liner Activity Center Bus Lane. Senior High
Door #1 will be open as usual, but vehicle access to this area will be difficult due to the intersection closure on Central Avenue (see map details).
2) Students walking to or from school will not be allowed to cross the intersection at 5th Street and Central Avenue, rather they should cross
Central Avenue at the crosswalks on either 4th Street, 6th Street, or 9th Street.
3) Student parking is always difficult around VCHS and will be even a bit more during the street construction. We ask for our student's patience and understanding until construction has been completed.
The safety of our students will always be our highest priority and we ask that you please drive with caution in the coming weeks. The street construction is beyond our control and kindly ask that you work with us to ensure students stay safe traveling to and from school. Thank you for your understanding and all of our efforts to be very safe around VCHS for the next couple of weeks while construction on the streets is completed.
Thank you and if you have any questions please contact me at the district office or our administrators at the junior high office or senior high office at 701.845.0483.
Jr_Sr-High-Street-Construction-