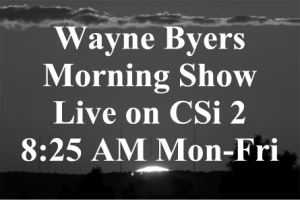 CSi Weather…
.REST OF TODAY…Sunny. Highs in the lower 70s. North winds 10 to 15 mph with gusts to around 30 mph.
.TONIGHT…Mostly clear. Cooler. Lows around 50. Northwest winds around 5 mph.
.WEDNESDAY…Sunny. Highs in the mid 70s. North winds around
5 mph.
.WEDNESDAY NIGHT…Clear. Lows around 50. East winds around
5 mph.
.THURSDAY…Sunny. Highs in the lower 70s. Southeast winds 5 to
15 mph.
.THURSDAY NIGHT…Partly cloudy. Chance of rain showers and
slight chance of thunderstorms after midnight. Lows in the mid
50s. Chance of precipitation 30 percent.
.FRIDAY…Mostly cloudy with chance of rain showers and slight
chance of thunderstorms. Highs in the lower 70s. Chance of
precipitation 40 percent.
.FRIDAY NIGHT…Mostly cloudy with chance of rain showers and
slight chance of thunderstorms. Lows in the upper 50s. Chance of
precipitation 30 percent.
.SATURDAY…Mostly cloudy with a 20 percent chance of rain
showers and thunderstorms. Highs in the mid 70s.
.SATURDAY NIGHT…Mostly cloudy with a 40 percent chance of
showers and thunderstorms. Lows around 60.
.SUNDAY…Partly sunny with a 30 percent chance of showers and
thunderstorms. Highs in the mid 70s.
.SUNDAY NIGHT…Partly cloudy with a 20 percent chance of rain
showers and thunderstorms. Lows in the mid 50s.
.MONDAY…Mostly sunny. Highs in the mid 70s.
Periodic thunderstorms are possible from Thursday night through
Monday.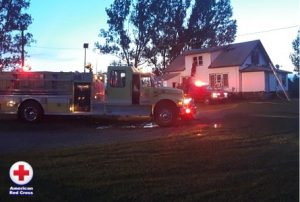 Pingree  (CSi) The Kensel and Pingree fire departments were called out at 4:07-a.m. for a house in Pingree. The report from the Law Enforcement Center said  of the upstairs of the home was on fire.
Kensel units rolled out at 4:07 am and the Pingree fire units  at 4:56am.
More information as it becomes available.
Pictures provided by the Red Cross.
Jamestown  (CSi)  Jamestown Police investigated a two vehicle crash Monday morning about 10:20, at the intersection of  4th Street and 4th Avenue, Northeast.
The crash involve a maintenance truck, and a small crossover car.
Jamestown Ambulance Service treated on person on scene, for a laceration.
The full report will be filed by Jamestown Police.
Jamestown  (CSi)  Jamestown Public Works informs residents that areas included in this years' #19-41 street maintenance project will be crack sealed as part of the City's road maintenance program starting Tuesday, August 20, 2019 beginning at approximately 7:00 a.m. and will continue throughout the week.
Major traffic areas that will be impacted include:
Hospital Hill – Beginning at 5th St & 5th Ave NE continuing along 13th St NE to 27th Ave NE.
Motorists and other traffic should use extreme caution when entering these construction areas and consider alternate routes if possible.
Valley City   (CSi)   Weather permitting, Valley City Public works will fog mosquitoes on Tuesday, August 20 starting approximately,  8-p.m. and continuing if needed on Wednesday, morning, August 21 in the morning.
Parents are advised to keep children and pets out of the streets and away from the spray machines. Motorists are urged to use caution when traveling in the area of the operation.
If there are any questions, call Valley City Public Works at 845-0380.
Jamestown  (CSi)   The Jamestown Public School Board  met Monday evening.
The school board discussed the  referendum  and election on Tuesday, September 24, from 7 a.m. to 7 p.m. in the Thompson Community Room at Jamestown Middle School.
If passed, the referendum would give the board the authority to double the district's building fund from 10 mills to 20, a total of $718,000 annually.
Superintendent, Robert Lech said "This is a piece of the solution, not the solution.
We're spending more than what we're bringing in already … we're asking for help."
Lech said the increase would amount to a $45 annual tax increase on a residential home valued at $100,000. The additional tax would be on tax statements distributed in December.
Lech added that the district plans to  levy the maximum 20 mills for the next several years to cover larger projects, including a $6.5 million HVAC/temperature control upgrade, building upgrades and roofing installments.
The school board is looking for 10 additional temporary employees to assist with the September election.
In other business, the school board approved reviewing a request from Jamestown Parks and Recreation to support a Jack Brown Stadium upgrade.
The school board meeting was recorded by CSi  10 The Replay Channel, with showings starting on Wednesday.
Valley City  (VCPS)  Valley City Public Schools Superintendent, Josh Johnson reminds students and parents about how street improvement projects will effect the school district over the next four to six weeks.
He says, the project will lead to street closures on Central Avenue near Jefferson Elementary. He adds there will be increased number of supervisors in the student pickup/drop off areas. Limit access to areas on the north side of school to allow for a safe walk to and from the buses.
Vehicles will be unable to drive south on Central Avenue between the entrance to Hanna Field to the intersection of 9th Street. This will become a short one-way for those vehicles traveling north off 9th Street. He said they will allow parking on Central Avenue on the east side of the road during Phase I.
After the Labor Day weekend, the second phase of this street project will begin and completely close the road between the entrance of Hanna Field and 12th Street. No Vehicles will be able to travel in this area until the project is completed.
Johnson said to create a consistent plan for students for the first 4-6 weeks of school, a plan will be implemented on the first day of school August 21 until the project has been completed.
It includes:
Buses dropping off and picking up students in the newly created "Bus Only" zone on 12th Street.
Student drop off/pickup by vehicle will occur in the Hanna Field parking lot. Johnson says painted parking spot lines and driving lanes will aid in the safe navigation of this parking lot.
He adds,"Please know that we will NOT be able to provide a drive loop for picking up students at the sidewalk due to the number of vehicles in the Hanna Field parking lot and in an effort to keep our students safe."
The individual picking up your child must come to up to the sidewalk and escort them across the parking lot back to the vehicle. Students will NOT be allowed to walk across the parking lot by themselves.
Johnson said to notify the school district  if you are unable to come to the sidewalk to escort your child across the parking lot and the 12th Street, crosswalks will be supervised after school for those students walking or biking.
VCPS Junior/Senior High Students, Staff, Parents and Guardians:
Johnson adds,  "We all know that street construction has been part of our summer here in Valley City and unfortunately, the construction around the Junior/Senior High will not be fully completed until after the first couple weeks of school. We really need your help to ensure that you follow our recommendations for student dropoff/pickup, parking, and pedestrian traffic. We expect that construction will not be completed until after the Labor Day weekend. Please see the Key Information and Our Recommendations detailed and on the map that has been attached with this communication.
Key Information
5th Street Intersection with Central Avenue (north side of VCHS) will be closed to all East/West Vehicle Traffic beginning August 20th until further notice.
Central Avenue will be open and be accessible for our School Buses and Vehicle Traffic between 4th Street and 5th Street.
Our Recommendations.
1) Student dropoff/pickup will be most accessible at Junior High Door #6 or the Hi-Liner Activity Center Bus Lane. Senior High
Door #1 will be open as usual, but vehicle access to this area will be difficult due to the intersection closure on Central Avenue (see map details).
2) Students walking to or from school will not be allowed to cross the intersection at 5th Street and Central Avenue, rather they should cross
Central Avenue at the crosswalks on either 4th Street, 6th Street, or 9th Street.
3) Student parking is always difficult around VCHS and will be even a bit more during the street construction. We ask for our student's patience and understanding until construction has been completed.
The safety of our students will always be our highest priority and we ask that you please drive with caution in the coming weeks. The street construction is beyond our control and kindly ask that you work with us to ensure students stay safe traveling to and from school. Thank you for your understanding and all of our efforts to be very safe around VCHS for the next couple of weeks while construction on the streets is completed.
Thank you and if you have any questions please contact me at the district office or our administrators at the junior high office or senior high office at 701.845.0483.
Jr_Sr-High-Street-Construction-
Bismarck  (NDDOT)  A Public Input Meeting will be held from 5:00 p.m. to 7:00 p.m. on August 26th, 2019, at the Medina City Hall at 104 2nd Ave. SW in Medina, ND. The Public Input Meeting will utilize an open house format with a formal presentation at 5:30 p.m.
The purpose of the Public Input Meeting is to discuss proposed improvements and detour routes for the Streeter Interchange overhead bridge (Exit 228), located along I-94 at mile point 228.321, which is approximately 2 miles west of the city of Medina. The project consists of replacing of the existing structure and the partial re-grading of the ramps and approach roadways.
If unable to attend the Public Input Meeting, written statements or comments must be mailed by September 10, 2019, to Travis Brossart, Bridge Division, 608 E. Blvd. Ave. Bismarck, ND 58505. Email tbrossart@nd.gov with "Public Input Meeting" in the e-mail subject heading.
The North Dakota Department of Transportation (NDDOT) will consider every request for reasonable accommodation to provide:
an accessible meeting facility or other accommodation for people with disabilities,
language interpretation for people with limited English proficiency (LEP), and
translations of written material necessary to access NDDOT programs and information.
To request accommodations, contact the Paula Messmer, Civil Rights Division, NDDOT, at (701) 328-2978 or civilrights@nd.gov. TTY users may use Relay North Dakota at 711 or 1-800-366-6888.
BISMARCK, N.D. (AP) — A fire at a well in Williams County led to the release of 280 barrels of brine.
The North Dakota Oil and Gas Division says the fire happened Saturday at a well 5 miles east of Alamo. Whiting Oil and Gas Corp. reported the brine release Sunday.
All brine was contained on location and cleanup has started. A North Dakota Oil and Gas inspector has been on site and will monitor the cleanup process.
In sports….
VALLEY CITY (VCSU) – The Valley City State University men's basketball team has finalized its recruiting class for the upcoming season. Head coach Ryan Montgomery has announced the signing of six new student-athletes for the 2019-20 season.
The group includes one sophomore transfer and five incoming freshmen. All have signed letters of intent to continue their education and basketball careers at VCSU this fall.
"We're excited to welcome this group of guys into our program," said Montgomery. "These are student-athletes we have identified as being a good fit for VCSU basketball but also for the VCSU community. We can't wait to get them on campus and on the court."
The Vikings are set to open the 2019-20 season on Oct. 18 with a game against Brandon University at Jamestown's Newman Arena.
Chris Thompson – Guard – 6'5" – 205 lbs
Sophomore – Transfer from Bryant and Stratton College (Wis.)
Thompson averaged 8.5 points, 5 rebounds and 2 assists per game last season as he helped Bryant and Stratton College to a 25-8 record. He was named to the Region IV All-Tournament Team. Thompson played his high school ball at Gale-Ettrick-Trempealeau High School (Wis.) where he averaged 15 points, 6 rebounds and 3 assists. He graduated high school as the all-time steals leader and is second all-time in scoring at G-E-T. Thompson was a 4-time All-Conference Selection, 2-time All-State Honorable Mention and was also named the Conference Player of the Year.
"Chris is a tremendous addition for our program," said Montgomery. "To sign a transfer player who has three years to play is huge. Chris will add another scoring option at the wing and also provide size in our back court. He is a great person and comes from a great family. Lastly, he has had great tutelage from Coach Majkrzak at Bryant and Stratton and Coach Wagner at G-E-T giving us confidence Chris will be ready for the upcoming season."
Matthew Schlottman – Forward – 6'9" – 195 lbs
Freshman – Hastings High School (Minn.)
Schlottman averaged 18 points, seven rebounds and three assists per game during his senior season at Hastings High School. He was a 2-time All-Conference selection in high school and was named to the 2019 4A Academic All-State Team.
"It's not often that you can you identify a 6-foot-9 shooting forward, but we did that with landing Matt," said Montgomery. "He can shoot it from anywhere on the floor, and he has the confidence to do it. We love his competitive nature and his love of basketball. Matt is a great student who comes from a great family, and we are excited to have them be a part of our basketball family."
Will Tinjum – Forward – 6'6" – 210 lbs
Freshman – Chisago Lakes High School (Minn.)
Tinjum averaged 17 points, seven rebounds and three assists per game as a senior at Chisago Lakes High School. Tinjum was a 2-time All-Conference selection and a 2-time Academic All-State selection.
"Smart and confident, those two words describe Will," said Montgomery. "We love his upside and believe he is going to surprise people quickly. Will committed to us in the spring and had an immediate impact on our staff in regards to his maturity and IQ. He is a stat stuffer with great pedigree and family."
Carter Cresap – Point Guard – 5'10" – 163 lbs
Freshman – Perham High School (Minn.)
Cresap averaged 13 points, five assists and four rebounds per game during his senior season at Perham High School. He helped Perham to an appearance at the 2018-19 Minnesota State Basketball Tournament and was a 2-time All-Conference selection. Cresap ranks fifth all-time for career 3-point percentage (47.1 percent) in Minnesota State High School League history.
"We are very excited about Carter," Montgomery said. "We believe he has only scratched the surface of his potential. His shooting ability is second to none, and he has played a tremendous amount of basketball at a good level in Minnesota. Carter was coached by his father, Dave Cresap, who is a great coach at Perham High School and helped prepare Carter for college basketball. Both his parents, Dave and Teri, are VCSU alumni."
Keaton Kvilvang – Guard – 6'2" – 175 lbs
Freshman – North Star High School (Cando, N.D.)
Kvilvang was named All-District and All-Region after averaging 19.1 points and 4.9 rebounds per game as a senior at North Star High School. Academically, he is a member of the National Honor Society, was named to the District All-Academic Team and was named his school's Salutatorian.
"The Kvilvang name is well known around Valley City, and Keaton with represent both names well," said Montgomery. "Keaton has the tools to become a good college basketball player and will work hard to develop his game. He shoots it very well and will provide depth at our guard position. Keaton's brother, Christian, was our lone senior last year and our experience with him was great. We expect the same with Keaton and we look forward to seeing his family in the stands once again."
Kellen Hinsz – Guard – 6'1" – 175 lbs
Freshman – Barnesville High School (Minn.)
Hinsz averaged 16 points, five rebounds and three assists per game as a senior at Barnesville High School, and was named to the All-Conference Team.
"Kellen wants to be a college basketball player," said Montgomery. "He has a strong desire to play at our level and this will carry him a long ways. Kellen does a lot of things really well and plays with a chip on his shoulder. We always try to identify players like Kellen in our recruiting classes. He will be an important contributor to our success this season.
Bismarck (NDGF)  North DakotaGame and Fish reports that Deer Archery Season Opens August 30* at noon, and continues through Jan. 5, 2020.
Bowhunters canbuy a license online [ https://gf.nd.gov/buy-apply ]at the state Game and Fish Department website, gf.nd.gov; by calling 800-406-6409; or at vendors linked to the Game and Fish Departments online licensing system [https://gf.nd.gov/licensing/electronic-licensing-retailers ]. Hunters who purchase bow licenses at a vendor location will receive a tag at time of purchase; otherwise, hunters who purchase their license over the phone or personal computer should allow for several days to receive their tag in the mail. A general game and habitat license is also required for archery hunters, and must be purchased prior to receiving the archery tag.
Bowhunters must follow all regulations of the managing agency when using tree stands, ground blinds and game cameras on public hunting areas, including displaying an equipment registration number, or the owner's name, address and telephone number, on all equipment left unattended on Game and Fish wildlife management areas.
In addition, hunting big game over bait is prohibited on both public and private land in deer hunting units 3A1, 3A2, 3A3 north of U.S. Highway 2, 3B1, 3C west of the Missouri River, 3E1, 3E2, 3F1 and 3F2.
Hunters should refer to the2019 deer hunting guide [
https://gf.nd.gov/regulations/deer ]for season information and regulations.
Also…
Waterfowl hunters age 16 and older are reminded a federal duck stamp is required beginning Sept. 1. Waterfowl includes ducks, geese, swans, mergansers and coots.
This years 2019-20 federal duck stamp isavailable for electronic purchase [
https://gf.nd.gov/buy-apply ]through the North Dakota Game and Fish Departments website, gf.nd.gov, instant licensing telephone number, 800-406-6409, or at license vendors registered with the departments licensing system. Physical stamps are not available at North Dakota license vendors, but they can still be purchased at many U.S. Postal Service offices.
The electronic stamp is a purchase item like any other hunting or fishing license.
When the purchase is completed the electronic stamp is valid immediately. The words "Federal Duck Stamp" will be printed on the license certificate, along with an expiration date 45 days from the date of purchase.The actual physical stamp will be sent by postal mail.
The physical stamp is processed and sent by the official duck stamp vendor in Texas, and should arrive to the individual buyer well before the expiration date printed on the electronic license. The physical stamp must remain in possession of the hunter after the 45-day electronic stamp has expired. Individuals who have questions regarding the status of their physical stamp can contact the federal duck stamp vendor customer service number at 800-852-4897.
The federal duck stamp has a fee of $25. An additional $1.50 fee is added to cover shipping and handling costs of the actual physical stamp.
AMERICAN ASSOCIATION…
Fargo-Moorhead 6, Gary Southshore 0
MLB…
_ José Abreu hit a towering three-run homer to cap a four-run second inning, and Iván Nova survived early trouble to win his fifth straight decision as the Chicago White Sox beat the division-leading Minnesota Twins 6-4 Monday night.
Grandal breaks up Cards' bid for combined no-hitter in 8th
ST. LOUIS (AP) — Pitcher Dakota Hudson carried a no-hitter into the seventh inning and Paul DeJong homered, leading the St. Louis Cardinals to a 3-0 win Monday over the Milwaukee Brewers.
Hudson, who is 12 and 6 on the year, pitched 6 2/3 innings, striking out seven and walking four. He threw 111 pitches, 64 for strikes, before being lifted after walking Eric Thames with two outs in the seventh. His seven strikeouts tied a career high.
The victory moved the Cardinals into sole possession of first place in the NL Central over the idle Chicago Cubs. The Brewers fell to three games behind St. Louis.
In other Monday MLB action:
_ Yuli Gurriel had two hits and drove in two runs as the Houston Astros built a lead with a big first inning and held on for a 5-4 win over the Detroit Tigers. The Astros jumped on Detroit starter Edwin Jackson for four runs in the first inning to go ahead 4-1.
_ Asdrúbal Cabrera hit the last of Washington's four home runs and drove in five runs, and three relievers combined for 6 2/3 innings of one-hit ball as the Nationals thumped the Pittsburgh Pirates 13-0. The Nationals have scored 79 runs in their last eight games while going 7-1. They've scored 43 times in their past three, including a 15-14 loss.
_ Tom Murphy homered twice and drove in four runs, Austin Nola also went deep and had three RBIs, and the Seattle Mariners beat the playoff-contending Tampa Bay Rays 9-3. Murphy, who had three hits and a walk, hit a three-run drive in the first inning and added a solo shot in the fifth. Nola had a two-run homer during a four-run second off Rays two-way player Brendan McKay and had an RBI single in the fourth.
_ Kirby Yates came close to giving it up, but found the pitch he needed to finish it off. Yates fanned Eugenio Suarez with the bases loaded, preserving a 3-2 victory over the Cincinnati Reds that reminded the Padres of the importance of having a dependable closer, even when he's not having his best day.
_ Nicky Lopez and Nick Dini homered on successive pitches in the seventh inning and the Kansas City Royals stretched Baltimore's latest losing streak to eight games, defeating the Orioles 5-4. Kansas City won for only the sixth time in its last 22 games and Baltimore absorbed its 13th loss in 14 games.
_ Francisco Mejía moved San Diego closer to the club record for homers with his solo shot off the foul pole, Manny Machado had another big hit off Trevor Bauer, and the Padres held on for a 3-2 victory over the Cincinnati Reds.
_ The Los Angeles Angels returned to Texas for the first time since pitcher Tyler Skaggs was found dead in his hotel room before the start of a series at the Rangers last month, losing 8-7 in 11 innings after letting a six-run lead get away. Isiah Kiner-Falefa brought home the winning run with a high-chop infield single that scored Jose Trevino and ended the Rangers' four-game losing streak. Shohei Ohtani extended the longest hitting streak of his career to 10 games with an RBI triple.
_ Carson Kelly hit a tiebreaking solo homer in the eighth inning, part of a three-run rally that sent the Arizona Diamondbacks to a 5-3 victory over the Colorado Rockies. David Peralta added a two-run triple in the eighth, making a winner of reliever Yoan Lopez after he got two outs in the top of the inning. Wade Davis took the loss after giving up Kelly's home run.
MLB-RED SOX SALE
Red Sox shut down Sale for rest of season
BOSTON (AP) — Red Sox left-hander Chris Sale is receiving treatment for inflammation in his elbow that will shut him down for the rest of the regular season, another blow to the defending World Series champions whose postseason hopes appear all but dashed.
Orthopedist Dr. James Andrews gave Sale an injection of platelet-rich plasma on Monday and said he will be re-evaluated in six weeks.
Looking beyond this frustrating season, the treatment could be good news for the club, which feared Sale might need Tommy John surgery. That would likely have cost him the 2020 season.
Boston was off Monday and was 6½ games out of a wild card spot.
Sale signed a six-year, $160 million contract in March that includes $50 million in deferred money.
In other MLB news:
_ Washington Nationals ace Max Scherzer is expected to come off the injured list to start Thursday against Pittsburgh. The three-time Cy Young Award winner had a bullpen session Monday. Scherzer has been on the injured list for most of the past six weeks because of a strained muscle in his back. Scherzer is 9-5 with a 2.41 ERA in 20 starts. His 12.7 strikeouts per nine innings leads the NL.
_ The Braves have claimed outfielder Billy Hamilton off waivers from the Kansas City Royals to bolster their injury-plagued roster. The 28-year-old Hamilton is a five-time Gold Glove finalist and switch-hitter who gives Atlanta some defensive options and speed off the bench. He played in 93 games for the Royals, hitting .211 with 18 stolen bases.
COLLEGE FOOTBALL-POLL
Clemson tops preseason poll
UNDATED (AP) _ Cross off another milestone for Clemson, college football's newest superpower.
For the first time, the defending national champion Tigers are No. 1 in The Associated Press preseason Top 25 presented by Regions Bank .
Clemson won its second national title in three seasons behind freshman quarterback Trevor Lawrence to claim equal standing with Alabama at the top of the sport.
The Crimson Tide, coming off a 44-16 loss to Clemson in the College Football Playoff championship, is No. 2. Clemson received 52 first-place votes and Alabama received the other 10. Clemson snaps a record-tying string of three straight years in which Alabama was the preseason No. 1.
Georgia, Alabama's Southeastern Conference rival, is No. 3, followed by No. 4 Oklahoma and No. 5 Ohio State.
In other college football news:
_ No. 4 Oklahoma has named Jalen Hurts its starting quarterback for the Sept. 1 season opener against Houston. Hurts played in three national championship games for Alabama and helped the Crimson Tide win the 2017 national title. He transferred to Oklahoma in January.
_ Wisconsin football officials say they don't have any information on when reinstated receiver Quintez Cephus might rejoin the team. The school reinstated Cephus after he was acquitted of sexual assault charges, but his attorney says the school has upheld a sexual harassment violation against him.
Two women had accused him of assaulting them both in one night in April 2018. Cephus was expelled earlier this year ahead of his trial.
The school said new information had come to light but some violations of the university's nonacademic misconduct policy were upheld. The statement didn't elaborate.
NFL-49ERS-BRONCOS
Garappolo shaky in 49ers' 24-15 win over Broncos
DENVER (AP) — Broncos receiver Emmanuel Sanders had a better return to action than 49ers quarterback Jimmy Garoppolo in San Francisco's 24-15 preseason win at Denver on Monday night.
Broncos rookie QB Drew Lock injured his right thumb when he was sacked on the first series of the second half, cutting short his most significant action of the preseason in his quest to win the backup job behind starter Joe Flacco.
Sanders caught a 5-yard pass from Flacco on the Broncos' first offensive play and added a 19-yard run on a reverse in his first game since tearing his left Achilles tendon in practice last December. (He also hauled in a 45-yard reception that was erased by left tackle Garett Bolles' holding penalty.)
Garoppolo went just 1 for 6 for zero yards and an interception in his first game since suffering a season-ending knee injury last September.
NFL-PACKERS-RODGERS
Rodgers expected to play in Packers' 3rd preseason game
GREEN BAY, Wis. (AP) — Aaron Rodgers is participating in practice and is expected to play in the Packers' third preseason game against the Oakland Raiders in Canada.
Green Bay general manager Brian Gutekunst said Monday the plan is for the two-time MVP to make his preseason debut Thursday night in Winnipeg, Manitoba.
Rodgers sat out the Packers' second preseason game in Baltimore and was sidelined during practice Sunday with back tightness.
Rodgers, along with 25 other teammates, did not dress for the first preseason game against Houston.
Thursday will mark the third time the Packers have played a preseason game outside the United States.
In other NFL news:
_ Star receiver Antonio Brown has returned to training camp with the Oakland Raiders a day after being given an ultimatum by general manager Mike Mayock to be "all in or all out." Brown didn't attend practice Sunday as he works to find a helmet that he's comfortable using and that meets safety standards set by the NFL and NFLPA.
_ The New England Patriots have placed receiver Josh Gordon on the non-football injury list while he gets back into shape following his suspension. The move comes after the NFL conditionally lifted the suspension. Gordon was suspended indefinitely in December for violations of the league's substance abuse policy.
_ Miami Dolphins receiver Kenny Stills is objecting to recent comments from rapper Jay-Z about social activism by current and former NFL players, including Colin Kaepernick. Jay-Z and the league last week announced a partnership he characterized as a progressive step to carry on the campaign that Kaepernick began by kneeling during the national anthem to bring attention to police brutality and racial division. Stills isn't so sure the Jay-Z partnership represents progress.
_ Jim Hardy, the oldest living University of Southern California and Los Angeles Rams football player who was the MVP of the 1945 Rose Bowl, has died. He was 96. The university said he died Aug. 16 of natural causes at his home in the desert city of La Quinta. Hardy played seven seasons in the NFL.
NBA-HAWKS-SCHLENK
Hawks promote GM Schlenk to president of basketball ops
ATLANTA (AP) — The Atlanta Hawks have given general manager Travis Schlenk an extra title: president of basketball operations.
Owner Tony Ressler announced the promotion on Monday, saying he is "extremely pleased with the direction that Travis and our entire basketball operations team has us heading as a franchise."
As he goes into his third year with the Hawks, Schlenk has totally overhauled the roster and assembled an impressive core of young players through the draft, including Trae Young, John Collins and incoming first-round picks De'Andre Hunter and Cam Reddish.
The Hawks have endured two straight losing seasons but Ressler says the massive rebuilding job has provided "the cap space, draft picks and financial flexibility needed to have long-term success in the NBA."
HOWARD UNIVERSITY-STEPHEN CURRY
Curry helps Howard launch golf program
WASHINGTON (AP) — Two-time NBA MVP Stephen Curry is helping Howard University launch a Division I golf program.
The Golden State Warriors star guard and the school announced the six-year partnership Monday.
The specifics of his contribution were not disclosed.
Howard officials say they plan to have women's and men's golf teams for the 2020-21 academic year.
The school had a Division II golf program in the past, along with intercollegiate and intramural club teams. The 31-year-old Curry, who has won three NBA championships with the Warriors, says he decided to get involved after meeting a Howard student who had been trying to get the university to have a golf team.
Curry says "it's tough" to hear about students "who have the talent but don't have a fair shot at the game."
TENNIS-MATCH-FIXING
Chilean tennis player banned 8 years for match-fixing
LONDON (AP) — Chilean tennis player Juan Carlos Saez has been banned for eight years for match-fixing.
The Tennis Integrity Unit says Saez refused to cooperate with its investigation and also failed to report "a corrupt approach" at a tournament.
Saez originally attracted the TIU's attention because of evidence of unusual patterns on betting markets around his matches.
Saez's career high ranking is 230. He is currently 1,082nd after his ranking dropped during the investigation. He hasn't played a tournament since November.
According to the TIU, 12 mostly low-ranked players have been sanctioned so far in 2019 for various charges related to match-fixing and betting, along with one coach and one umpire. Others are suspended while under investigation.
In world and national news…
SHENZHEN, China (AP) — The founder of Chinese tech giant Huawei says he expects no relief from U.S. export curbs due to the political climate in Washington but expressed confidence the company will thrive because it is developing its own technology.
Ren Zhengfei also said Tuesday he doesn't want relief from the U.S. sanctions if it requires China to make concessions in a tariff war, even if that means his daughter, who is under house arrest in Canada on U.S. criminal charges, faces a longer legal struggle.
In an interview with The Associated Press, Ren said Huawei expects U.S. curbs on most technology sales to go ahead despite Monday's announcement of a second 90-day delay. He said no one in Washington would risk standing up for the company.
NEW YORK (AP) — New court records show Jeffrey Epstein signed a will just two days before he killed himself in the Manhattan federal jail.
A law firm representing Epstein's estate confirmed Monday that the papers were filed last week in the U.S. Virgin Islands.
The records put the estate at more than $577 million but list no details of any beneficiaries.
A copy of the will was first published by the New York Post.
Epstein killed himself this month while awaiting trial on sex trafficking and conspiracy charges.
Prosecutors dismissed those charges Monday but are considering charging others in the case.
Several of Epstein's alleged victims have said they will go after his assets for damages.
Attorney William Blum said in a statement that any claims against the estate will be "fairly administered."
BEIRUT (AP) — The main insurgent group in the Syrian province of Idlib says it partially pulled out its fighters from an opposition-controlled town as government forces advanced in the area.
A statement on Tuesday from the main al-Qaida-linked faction in Syria says it's "a redeployment" and that its fighters withdrew to the southern part of the town of Khan Sheikhoun from where they would continue to defend their territory.
The withdrawal is a significant loss for the opposition in its last major stronghold of Idlib, in northwestern Syria.
Backed by Russian air power, Syrian President Bashar Assad's forces were able to enter a small part of the town overnight, according to opposition activists.
Khan Sheikhoun is a stronghold of al-Qaida-linked Hayat Tahrir al-Sham, the most powerful militant group in the area.
(AP)  Joe Biden won't be among the parade of White House hopefuls in California this week, skipping the Democratic National Committee's summer meeting to campaign in New Hampshire instead.
The former vice president will have the nation's first primary state essentially to himself.
Party activists will hear from more than a dozen candidates including Elizabeth Warren, Bernie Sanders and Kamala Harris.
The choice reflects Biden's deliberate front-runner strategy as he continues to lead national and early state primary polls. He's choosing carefully when to appear alongside the candidates who are trying to upend him, and he's keeping a distance, at least publicly, from the party machinery that ultimately proved an albatross to Hillary Clinton in her 2016 defeat.
Biden's campaign manager will attend the party gathering on his behalf.
LOS ANGELES (AP) — Hoping to fend off the extinction of mountain lions and other species that require room to roam, transportation officials and conservationists will build a mostly privately funded wildlife crossing over a major Southern California highway.
It will give big cats, coyotes, deer, lizards, snakes and other creatures a safe route to open space and better access to food and potential mates.
The span along U.S. 101 will be only the second animal overpass in a state where tunnels are more common. Officials say it will be the first of its kind near a major metropolis and the largest in the world, stretching above 10 lanes of busy highway and a feeder road just 35 miles (56 kilometers) northwest of downtown LA.
The $87 million bridge last month entered its final design phase. It's on track for groundbreaking within two years and completion by 2023.