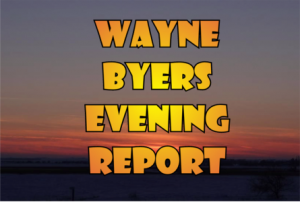 CSi Weather…
.TONIGHT…Mostly clear. Cooler. Lows around 50. Northwest winds around 5 mph.
.WEDNESDAY…Sunny. Highs in the mid 70s. North winds around 5 mph.
.WEDNESDAY NIGHT…Clear. Lows around 50. East winds around
5 mph.
.THURSDAY…Sunny. Highs in the lower 70s. Southeast winds 5 to
15 mph.
.THURSDAY NIGHT…Partly cloudy. Chance of rain showers and
slight chance of thunderstorms after midnight. Lows in the mid
50s. Chance of precipitation 30 percent.
.FRIDAY…Mostly cloudy with chance of rain showers and slight
chance of thunderstorms. Highs in the lower 70s. Chance of
precipitation 40 percent.
.FRIDAY NIGHT…Mostly cloudy with chance of rain showers and
slight chance of thunderstorms. Lows in the upper 50s. Chance of
precipitation 30 percent.
.SATURDAY…Mostly cloudy with a 20 percent chance of rain
showers and thunderstorms. Highs in the mid 70s.
.SATURDAY NIGHT…Mostly cloudy with a 40 percent chance of
showers and thunderstorms. Lows around 60.
.SUNDAY…Partly sunny with a 30 percent chance of showers and
thunderstorms. Highs in the mid 70s.
.SUNDAY NIGHT…Partly cloudy with a 20 percent chance of rain
showers and thunderstorms. Lows in the mid 50s.
.MONDAY…Mostly sunny. Highs in the mid 70s.
Periodic thunderstorms are possible from Thursday night through
Monday.
Jamestown  (CSi)  The Jamestown City Council's Finance & Legal Committee, Building, Planning & Zoning Committee, and Civic Center & Promotion Committee met Tuesday evening at City Hall.
All members were present.
FINANCE & LEGAL COMMITTEE
The committee  recommends approving the request from the JSDC for an additional $200,000 in FlexPACE interest buy down funds for 2019 from the Economic Development Fund for Jonny B's Brickhouse, with the City Share to be $160,000, and paid from the City Sales Tax Fund.  Renewals will be renewed annually.
The committee  recommends approving the request from JSDC Economic Development Funds for Jamestown Tourism Grant, in the amount of $75,000, for 2020, with the City Share to be $60,000, paid from the City Sales Tax Fund.   Jamestown Tourism Director Searle Swedlund said the funds are paired with the Hospitality Funds, and earmarked for tourism grant requests.
Council Member Phillips was allowed to vote, being an Ex-Officials member of the Tourism Board.
The committee recommends approval and authorize the signing of the NDDOT Contract for Permit to install and operate a pop-up demonstration consisting of a temporary multi-use path and walk/bike event, at Jamestown Reservoir, which will be conducted September 6 and 7, 2019.  Jamestown Parks and Recreation, as the agency, and Central Valley Health District is partners in the project.  This is the First Phase of the project to gauge community interest.
The committee recommends approval and authorizing the signing of the Department of Transportation North Dakota State Aid for Public Transit Funding Agreement for Section 5311 and State Aid to Public Transit funding on behalf of Jamestown Taxi Service, and committing the local share of funds necessary as budgeted for (State FY 2020) 2019 – 2020.
Considered was the request from AE2S to amend the current agreement for the Water Treatment Plant data security and alarm program to allow required reporting and data downloads at a monthly cost of $20 to be paid from the Water Utility Fund. The request was moved to the City Council Meeting.
The committee recommends approving  the request from Jamestown Fine Arts Association to close 2nd St SW from 1st Ave South west to the alley, on Saturday, September 14, 2019, from  11-a.m., to 9-p.m., for the OKtoberfest Fundraiser to be held at Hansen Arts Park.  The closure fee is $75.
INFORMATIONAL: The second reading of an Ordinance, to amend and re-enact Section 25.5 to increase the City Sales Tax by one-half percent from two percent (2%) to two and one-half percent (2.5%) effective January 1, 2020, is scheduled at the September 3, 2019, City Council meeting.
The committee recommends approving the request from JSDC for up to $5,000 from Economic Development Funds for the Center for Economic Development – Energy Efficiency Improvements (HVAC and lighting improvements), with the City Share to be $4,000, and paid from the City Sales Tax Fund, $1,000 from Stutsman County.   The total cost is $25,000.
BUILDING, PLANNING & ZONING COMMITTEE
The committee considered findings of facts and determination of remedy for an unpermitted structure in the floodway and floodway encroachment for Rodney and Shari Pettys, tabled from July 23, committee meeting, until August 20, 2019.   Rodney Pettys has built a structure in the James River floodway.  The City Building Inspector sent a letter to him indicating the violation, according of a city Ordinance.  Part of the structure has been removed.  City Engineer, Tom Blackmore said any changes to allow the structure to remains needs, specifications, and  permits approved by the city's flood plain administrator. City Fire Chief Jim Reuther said, those types of structures seriously impede  sandbagging during floods.
The committee recommends contacting the owner to remove the structure by October 31, 2019.
Considered was the approval of the Minor Subdivision, Preliminary/Final plat of CAD Addition, Lot 1, Block 1, a re-plat of Lots 15 &16, a vacated alley, and a vacated Portion of 16th St SW, Block 7, Mill Hill Second Addition within the SE ¼, Section 35, T140N, R64W, City of Jamestown, ND. The property is located at the 800 block of 16th St SW, Jamestown, ND. The City Planning Commission has given it's approval.   The committee recommends approval, as well.
CIVIC CENTER AND PROMOTION COMMITTEE
No agenda items at this time.   City Council Member Pam Phillips did say, Jamestown Tourism's Board toured the Civic Center, by Manager, Pam Fosse, on Monday, as a part of their meeting.
The meeting was shown live on CSi Cable 67, followed by replays.
Jamestown  (CSi)   Jamestown Public Works advised the public that areas included in this year's #19-41 street maintenance project will be chip-sealed as part of the City's road maintenance program starting Wednesday, August 22, 2019, beginning approximately at 1:00 p.m. and continuing throughout the week.
Major traffic areas that will be impacted include:
13th St NE to 19th St NE
3rd Ave NE to 12th Ave NE
Where signs are posted remove vehicles from roadway during this operation. Motorists and other traffic should use extreme caution when entering these construction areas and consider alternate routes if possible.
Valley City  (CSi)  The Valley City Commission met is Regular Session, Tuesday evening at City Hall.  All members were present.
APPROVAL OF CONSENT AGENDA
Approved was an Application to Block off Street for VCSU Vikings Campus Activity Board on August 28, 2019 from 9:00 PM to 12:00 AM on 2nd Avenue SE
Commissioners Approved an Application to Block off Street for Twin City Roofing for 3rd Street NW & Central Avenue beginning September 3, 2019 for two weeks – to include the parking locations only
Approve was Retail Tobacco License for Mosby LLC dba Boomers Corner Keg.
PUBLIC COMMENTS… No one spoke….
ORDINANCE
The City Commission approve an Ordinance Amending Title 5, Animals
City Attorney Martineck said,  one change invloces the procedure in impounding animals.
It's a  "B" Misdemeanor regarding vicious animals.
The third change is regarding animal running at large.  The first and second infraction are administrative offenses. The fine for a first offense  is $50, the second offense, $100 and after that a misdemeanor with an appearance in court for a decision on the fine.
RESOLUTION
City Commissioners Approved a Resolution Approving Comprehensive Land Use and Transportation Plan  
A Stantec representative explained Land Use plan specifics, including population growing to 2045, including a high growth rate to 11,000 from the current 6,500.  The target is  9,450 for at 2045.
Specificg rowth areas were identified, and a future land use plan was presented, showing on Valley City may grow in the future.   It does not affect zoning.
Vacant parcels are also considered in the plan.
With the transportation plan, public comments were considered, concerning streets and sidewalks.
2015 traffic counts were used as a basis.  Federal aid is available in certain instances such as safety improvements.
Current truck routes were identified, along with current traffic volumes in Valley City.
Crash data was noted over the past five years in Valley City and the severity of each crash.
Also identified was bridges in the city, along with bike and pedestrian facilities, and quality of pavements.
Recommendations were made on pavement management including longevity.
Future growth areas were identified including areas northwest  and southeast of Valley City, and looking at developing connector routes.
Street congestion was also noted.
Changes were noted to move some collector roads to a local roadway.
The plan outlines adoption of transportation goals, and coordinating the transportation plan with the land use plan.
After hearing the plans from Stantec, the City Commission, approved the Land Use and Transportation Plan.
Mayor Carlsrud pointed out the need for an accurate 2020 census, in terms of future funding for Valley City.  The City Commission approved a Census Committee.
NEW BUSINESS
The City Commission, reviewed the long range schedule for Permanent Flood Protection and city infrastructure improvements.  Phase Five was outlined with areas identified, over the next few years.
The Commissioners were asked to reach a consensus on Phase Five funding, particularly an extension of the 6th Avenue Southwest  permanent flood protection plan concerning the  stability of the river bank and prioritizing that area.  It includes sanitary sewer lift station plans.
The funds are different from those used for other infrastructure  projects.
Also noted were sanitary sewer relining.
Other items addressed included Special Assessment cost shares for infrastructure improvements.  KLJ outlined future infrastructure dollars coming from the state legislature's approval of  "The Prairie Dog Bill."
A concern was adding these Special Assessment on top of Special Assessment that need to be paid yet.
Long Range infrastructure plans were noted, including the critical need for water main replacement, with some pipes about 100 years old.
Also included in the plans were StreetScape-2, and street improvements along with Phase Four of  Permanent Flood Protection. Along with other critical needs, and funding sources and timetables.
City Administrator, David Schelkoph said the City Commission's direction and vision are needed, in developing a plan, saying the most critical need to be addressed in water main replacement, especially in Northwest Valley City.
CITY ADMINISTRATOR'S REPORT:  No report was given.
CITY UPDATES & COMMISSION REPORTS:
Building Inspector Dave Anderson reminded property owners to keep trees, trimmed in accordance with the Ordinance, regarding height.
KLJ reported on changes with traffic flows around Valley City Jr./Sr. High School due to street construction.
Mayor Carlsrud reminded motorist to use caution with school starting, and in conjunction with street construction.
The meeting was shown live on CSi Cable 68 followed by replays.
Jamestown  (CSi)  The third quarter fundraising organization, as chosen by FCCU staff, is Jessy's Toy Box, the local nonprofit was started by 'Jessy' Haberman in 2015. Jessy was born with a rare syndrome and received infusions at the Sanford Roger Maris Cancer Center. After receiving a toy as a gift at one of these sessions it became Jessy's dream to continue the gift of giving and that every child receive a gift during their hospital stay.
In memory of Jessy, his parents continue to support his dream for Jessy's Toy Box.
FCCU branches will be holding a toy drive in support of Jessy's Toy Box. All donations will be distributed to kids from 0-18 years old at local children's hospitals and infusion centers.
Ideas for giving include:
– New toys, board games and books
– Blankets and slippers
– Art, jewelry, nail and craft kits
– Gift cards (iTunes, Amazon, Xbox, PlayStation, Barnes and Noble)
– Cash donations (to be used for movie tickets or area activities)
Also,  FCCU employees will also be doing Jeans Fridays with all funds raised going to support Jessy's Toy Box. The fundraising continues through September 30.
For more information find on Jessy's Toy Box, visit: jessystoybox.wixsite.com
DICKINSON, N.D. (AP) — Officials at Dickinson State University say a student was walking to campus after football practice when he discovered a body near the university's practice fields.
The body was discovered shortly before 5 p.m. Monday near the large, grassy fields that lie between the football stadium and campus. The fields are used by the university and surrounding community.
The individual's identity has not been released.
Vice President of University Relations Marie Moe says Dickinson police are investigating. A message left with the police department was not immediately returned.
Moe says that based on available information, officials do not believe the person was a student or connected to the university. Fall classes haven't started, and the only students on campus are athletes who arrived early for practice. All student athletes have checked in.
GRAND FORKS, N.D. (AP) — A major donor to the University of North Dakota who had threatened to withhold donations over a dispute with the former president has agreed to a 10-year contract extension with the school to operate the team's hockey arena.
School and Ralph Engelstad Arena officials announced Tuesday that the deal will run through September of 2030. Terms were not announced.
Engelstad Foundation trustee Kris McGarry, whose late father donated money for the $110 million arena, was at odds with previous president Mark Kennedy over the arena usage agreement, among others things. Kennedy was named president at the University of Colorado in May.
McGarry said in a release that she appreciated interim President Joshua Wynne's "leadership on this issue."
The foundation recently donated $4 million for a $6 million hockey scoreboard.
BISMARCK, N.D. (AP) — Lawsuits from environmentalists and landowners have made investors skittish and delayed progress another year on the proposed $800 million oil refinery near Theodore Roosevelt National Park in western North Dakota, the developer's top executive said.
Meridian wants to build the refinery just 3 miles (5 kilometers) from the park that's the state's top tourist attraction, drawing more than 700,000 visitors annually. Environmental groups argue pollution from the factory will spoil scenery and air quality at the 30,000-acre (12,000-hectare) park.
"Absolutely lawsuits have cost us time, and fear over the lawsuits have cost us a lot of money," Meridian Energy Group CEO William Prentice told The Associated Press. "That is a true and undeniable fact."
Meridian began site work last summer, aiming to have the Davis Refinery operating by mid-2021. Prentice said the company now plans to have the factory running in 2022 due to funding and legal setbacks .
Securities fillings show the company has raised less than 5% of the project's construction costs. And the company has two disputes pending before the state Supreme Court.
Prentice said the company has raised $40 million and will have all funding secured within months.
"We are chipping away," he said. "We are not Exxon."
PIERRE, S.D. (AP) — Members of a legislative committee are still exploring the legalization of industrial hemp in South Dakota, despite a past veto and continued opposition from Republican Gov. Kristi Noem.
Several lawmakers met Monday in Pierre to hear from officials in North Dakota and Montana, where the crop is legal.
Noem sent members of her administration to the meeting to oppose legalization. KELO reported that the administration's common theme is that too many questions remain. Public Safety Secretary Craig Price said legalizing industrial hemp would open the way for new attempts to legalize marijuana.
Minority Whip Oren Lesmeister has been meeting with officials from states where industrial hemp is grown and processed. He says those states have strict rules, and fears that industrial hemp will lead to marijuana production are unwarranted.
In sports…
(AP)   Clemson quarterback Trevor Lawrence headlines The Associated Press preseason All-America team presented by Regions Bank .
He has two teammates from the top-ranked Tigers with him on the first team.
Lawrence, the first freshman to quarterback to lead a team to a national championship in more than 30 years, was joined on the first-team offense by Clemson running back Travis Etienne. Clemson linebacker Isaiah Simmons was a first-team selection on defense.
Clemson and No. 2 Alabama tied for the most first-team selections with three.
Wide receiver Jerry Jeudy, an All-American last season, was selected to the preseason first team, along with defensive lineman Raekwon Davis and linebacker Dylan Moses.
Alabama quarterback Tua Tagovailoa, the Heisman Trophy runner-up, was selected to the second team.
The AP All-America team is sponsored by Regions Bank this season, the first time the venerable player honor roll that dates to 1925 has ever had a presenting sponsor.
In world and national news…
(AP)  Federal agents say a truck driver warned that he would commit a mass shooting at a church in Memphis, Tennessee, on Thursday.
Court records filed Monday say Thomas Matthew McVicker was apprehended in Indianapolis before the plan could be carried out.
An FBI special agent says in an affidavit that McVicker made "credible threats to conduct a mass shooting and suicide."
McVicker's friend in southern Alabama this month told a Florida FBI agent that McVicker was considering "shooting a church up" or killing people on the street.
The affidavit doesn't specify a motive, nor does it identify a specific Memphis church.
Court records list McVicker's address as Punta Gorda, Florida. The records don't list a lawyer who could be reached for comment on McVicker's behalf.
ROME (AP) — Italian League's leader and hard-line Interior minister Matteo Salvini has repeatedly kissed a rosary while sitting in the Senate next to Premier Giuseppe Conte, who was delivering a key speech in which he announced his resignation.
It wasn't the first time that the far-right leader pulled out a rosary in public, but his gesture on Tuesday seemed to be an open challenge to Conte, who in his address to senators accused Salvini of "religious insensitivity" for using "religious symbols for politics purposes."
During a later address to senators, Salvini fired back to Conte by saying: "I'll ask the Madonna for protection for as long as I live".
Conte has announced plans to tender his resignation later in the day, blaming Salvini for his decision to end his 14-month-old populist government with an "irresponsible" move.
LONDON (AP) — German Chancellor Angela Merkel says the main stumbling block with Britain's departure from the European Union can be removed if a "practical solution" is found for the Irish border issue.
Speaking Tuesday after a meeting with Nordic countries in the Icelandic capital of Reykjavik, Merkel says the remaining 27 EU countries are willing to find such a solution and avoid unraveling a carefully negotiated Brexit deal agreed upon with the British government last year.
The deal was repeatedly rejected by U.K. lawmakers, leading to the resignation of British Prime Minister Theresa May. She was replaced by Brexit hardliner Boris Johnson, who wants a new divorce deal.
Merkel, who is hosting Johnson for talks in Berlin late Wednesday, said whichever path Britain chooses the EU is willing to cooperate closely on economic and security issues.
HELHEIM GLACIER, Greenland (AP) — Greenland is where Earth's refrigerator door is left open, where glaciers dwindle and seas begin to rise.
Scientists are hard at work there, trying to understand the alarmingly rapid melting of the ice, for Greenland is where the planet's future is being written.
Summer this year is hitting the island hard with record-shattering heat and extreme melt. Scientists estimate that by the end of the summer, about 440 billion tons of ice — maybe more — will have melted or calved off Greenland's giant ice sheet.
Helheim glacier, for example, has shrunk about 6 miles (10 kilometers) since scientists visited in 2005.
SRINAGAR, India (AP) — Authorities say thousands of people, mostly young male protesters, have been arrested and detained in Indian-administered Kashmir amid an ongoing communications blackout and security lockdown imposed more than two weeks ago to curtail civil unrest after a change to Kashmir's decades-old special status.
According to three high-ranking Kashmir police officials and arrest statistics shared with The Associated Press on Tuesday, at least 2,300 people have been detained in jails and other facilities in the Himalayan valley. The officials spoke anonymously fearing punishment from superiors.
The latest crackdown began this month, just before Prime Minister Narendra Modi's Hindu nationalist-led government stripped Kashmir of its semi-autonomy and its statehood, creating two federal territories.
A Central Reserve Police Force spokesman told the AP that he didn't know how many people have been detained.