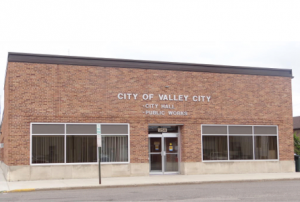 Valley City  (CSi)  The Valley City Commission met is Regular Session, Tuesday evening at City Hall.  All members were present.
APPROVAL OF CONSENT AGENDA
Approved was an Application to Block off Street for VCSU Vikings Campus Activity Board on August 28, 2019 from 9:00 PM to 12:00 AM on 2nd Avenue SE
Commissioners Approved an Application to Block off Street for Twin City Roofing for 3rd Street NW & Central Avenue beginning September 3, 2019 for two weeks – to include the parking locations only
Approve was Retail Tobacco License for Mosby LLC dba Boomers Corner Keg.
PUBLIC COMMENTS… No one spoke….
ORDINANCE
The City Commission approve an Ordinance Amending Title 5, Animals
City Attorney Martineck said,  one change involves the procedure in impounding animals.
It's a  "B" Misdemeanor regarding vicious animals.
The third change is regarding animal running at large.  The first and second infraction are administrative offenses. The fine for a first offense  is $50, the second offense, $100 and after that a misdemeanor with an appearance in court for a decision on the fine.
RESOLUTION
City Commissioners Approved a Resolution Approving Comprehensive Land Use and Transportation Plan  
A Stantec representative explained Land Use plan specifics, including population growing to 2045, including a high growth rate to 11,000 from the current 6,500.  The target is  9,450 for at 2045.
Specificg rowth areas were identified, and a future land use plan was presented, showing on Valley City may grow in the future.   It does not affect zoning.
Vacant parcels are also considered in the plan.
With the transportation plan, public comments were considered, concerning streets and sidewalks.
2015 traffic counts were used as a basis.  Federal aid is available in certain instances such as safety improvements.
Current truck routes were identified, along with current traffic volumes in Valley City.
Crash data was noted over the past five years in Valley City and the severity of each crash.
Also identified was bridges in the city, along with bike and pedestrian facilities, and quality of pavements.
Recommendations were made on pavement management including longevity.
Future growth areas were identified including areas northwest  and southeast of Valley City, and looking at developing connector routes.
Street congestion was also noted.
Changes were noted to move some collector roads to a local roadway.
The plan outlines adoption of transportation goals, and coordinating the transportation plan with the land use plan.
After hearing the plans from Stantec, the City Commission, approved the Land Use and Transportation Plan.
Mayor Carlsrud pointed out the need for an accurate 2020 census, in terms of future funding for Valley City.  The City Commission approved a Census Committee.
NEW BUSINESS
The City Commission, reviewed the long range schedule for Permanent Flood Protection and city infrastructure improvements.  Phase Five was outlined with areas identified, over the next few years.
The Commissioners were asked to reach a consensus on Phase Five funding, particularly an extension of the 6th Avenue Southwest  permanent flood protection plan concerning the  stability of the river bank and prioritizing that area.  It includes sanitary sewer lift station plans.
The funds are different from those used for other infrastructure  projects.
Also noted were sanitary sewer relining.
Other items addressed included Special Assessment cost shares for infrastructure improvements.  KLJ outlined future infrastructure dollars coming from the state legislature's approval of  "The Prairie Dog Bill."
A concern was adding these Special Assessment on top of Special Assessment that need to be paid yet.
Long Range infrastructure plans were noted, including the critical need for water main replacement, with some pipes about 100 years old.
Also included in the plans were StreetScape-2, and street improvements along with Phase Four of  Permanent Flood Protection. Along with other critical needs, and funding sources and timetables.
City Administrator, David Schelkoph said the City Commission's direction and vision are needed, in developing a plan, saying the most critical need to be addressed in water main replacement, especially in Northwest Valley City.
CITY ADMINISTRATOR'S REPORT:  No report was given.
CITY UPDATES & COMMISSION REPORTS:
Building Inspector Dave Anderson reminded property owners to keep trees, trimmed in accordance with the Ordinance, regarding height.
KLJ reported on changes with traffic flows around Valley City Jr./Sr. High School due to street construction.
Mayor Carlsrud reminded motorist to use caution with school starting, and in conjunction with street construction.
The meeting was shown live on CSi Cable 68 followed by replays.