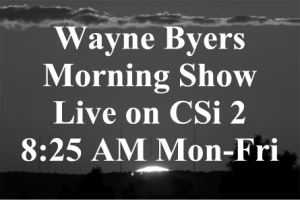 CSi Weather…
REST OF TODAY…
.Sunny. Highs in the mid 70s. Northwest winds around 5 mph.
.TONIGHT…Clear. Lows in the upper 40s. East winds around 5 mph.
.THURSDAY…Sunny. Highs in the mid 70s. Southeast winds 5 to
15 mph.
.THURSDAY NIGHT…Mostly clear. A 20 percent chance of rain
showers and thunderstorms after midnight in the Jamestown area, 50 percent in the Valley City area.   Lows in the mid 50s.
Southeast winds 10 to 15 mph. Gusts up to 25 mph after midnight.
.FRIDAY…Partly sunny with chance of rain showers and slight
chance of thunderstorms. Highs in the lower 70s. South winds
10 to 15 mph. Chance of precipitation 40 percent in the Jamestown area, 50 percent in the Valley City area.
.FRIDAY NIGHT…Mostly cloudy with a 30 percent chance of showers
and thunderstorms. Lows in the lower 60s.
.SATURDAY…Mostly cloudy with a 50 percent chance of showers and
thunderstorms. Highs in the mid 70s.
.SATURDAY NIGHT…Mostly cloudy. Showers and thunderstorms likely
in the evening, then chance of showers and slight chance of
thunderstorms after midnight. Lows in the lower 60s. Chance of
precipitation 60 percent.
.SUNDAY…Partly sunny with chance of showers and slight chance
of thunderstorms. Highs in the mid 70s. Chance of precipitation
40 percent.
.SUNDAY NIGHT…Partly cloudy with chance of rain showers and
slight chance of thunderstorms. Lows in the mid 50s. Chance of
precipitation 30 percent.
.MONDAY…Mostly sunny with a 20 percent chance of rain showers
and thunderstorms. Highs around 70.
.MONDAY NIGHT…Mostly clear. Lows in the lower 50s.
.TUESDAY…Mostly sunny with chance of rain showers and slight
chance of thunderstorms. Highs in the upper 60s. Chance of
precipitation 40 percent.
A weakening cold front is likely to move into central ND Friday
For the upcoming weekend, multiple chances of showers and storms. Severe-storm risk is uncertain due to the potential for significant cloud cover to limit precipitation.
Jamestown  (CSi)  The Jamestown City Council's Finance & Legal Committee, Building, Planning & Zoning Committee, and Civic Center & Promotion Committee met Tuesday evening at City Hall.
All members were present
FINANCE & LEGAL COMMITTEE
The committee  recommends approving the request from the JSDC for an additional $200,000 in FlexPACE interest buy down funds for 2019 from the Economic Development Fund for Jonny B's Brickhouse, with the City Share to be $160,000, and paid from the City Sales Tax Fund.  Renewals will be renewed annually.
The committee  recommends approving the request from JSDC Economic Development Funds for Jamestown Tourism Grant, in the amount of $75,000, for 2020, with the City Share to be $60,000, paid from the City Sales Tax Fund.   Jamestown Tourism Director Searle Swedlund said the funds are paired with the Hospitality Funds, and earmarked for tourism grant requests.
Council Member Phillips was allowed to vote, being an Ex-Officials member of the Tourism Board.
The committee recommends approval and authorize the signing of the NDDOT Contract for Permit to install and operate a pop-up demonstration consisting of a temporary multi-use path and walk/bike event, at Jamestown Reservoir, which will be conducted September 6 and 7, 2019.  Jamestown Parks and Recreation, as the agency, and Central Valley Health District is partners in the project.  This is the First Phase of the project to gauge community interest.
The committee recommends approval and authorizing the signing of the Department of Transportation North Dakota State Aid for Public Transit Funding Agreement for Section 5311 and State Aid to Public Transit funding on behalf of Jamestown Taxi Service, and committing the local share of funds necessary as budgeted for (State FY 2020) 2019 – 2020.
Considered was the request from AE2S to amend the current agreement for the Water Treatment Plant data security and alarm program to allow required reporting and data downloads at a monthly cost of $20 to be paid from the Water Utility Fund. The request was moved to the City Council Meeting.
The committee recommends approving  the request from Jamestown Fine Arts Association to close 2nd St SW from 1st Ave South west to the alley, on Saturday, September 14, 2019, from  11-a.m., to 9-p.m., for the OKtoberfest Fundraiser to be held at Hansen Arts Park.   The closure fee is $75.
INFORMATIONAL: The second reading of an Ordinance, to amend and re-enact Section 25.5 to increase the City Sales Tax by one-half percent from two percent (2%) to two and one-half percent (2.5%) effective January 1, 2020, is scheduled at the September 3, 2019, City Council meeting.
The committee recommends approving the request from JSDC for up to $5,000 from Economic Development Funds for the Center for Economic Development – Energy Efficiency Improvements (HVAC and lighting improvements), with the City Share to be $4,000, and paid from the City Sales Tax Fund, $1,000 from Stutsman County.   The total cost is $25,000.
BUILDING, PLANNING & ZONING COMMITTEE
The committee considered findings of facts and determination of remedy for an unpermitted structure in the floodway and floodway encroachment for Rodney and Shari Pettys, tabled from July 23, committee meeting, until August 20, 2019.   Rodney Pettys has built a structure in the James River floodway.  The City Building Inspector sent a letter to him indicating the violation, according of a city Ordinance.  Part of the structure has been removed.  City Engineer, Tom Blackmore said any changes to allow the structure to remains needs, specifications, and permits, and approved by the city's flood plain administrator.
City Fire Chief Jim Reuther said, those types of structures seriously impede sandbagging during floods.
The committee recommends contacting the owner to remove the structure by October 31, 2019.
Considered was the approval of the Minor Subdivision, Preliminary/Final plat of CAD Addition, Lot 1, Block 1, a re-plat of Lots 15 &16, a vacated alley, and a vacated Portion of 16th St SW, Block 7, Mill Hill Second Addition within the SE ¼, Section 35, T140N, R64W, City of Jamestown, ND. The property is located at the 800 block of 16th St SW, Jamestown, ND. The City Planning Commission has given it's approval.   The committee recommends approval, as well.
CIVIC CENTER AND PROMOTION COMMITTEE
No agenda items at this time.   City Council Member Pam Phillips did say, Jamestown Tourism's Board toured the Civic Center, by Manager, Pam Fosse, on Monday, as a part of their meeting.
The meeting was shown live on CSi Cable 67, followed by replays.
Valley City  (CSi)  The Valley City Commission met is Regular Session, Tuesday evening at City Hall.
All members were present.
APPROVAL OF CONSENT AGENDA
Approved was an Application to Block off Street for VCSU Vikings Campus Activity Board on August 28, 2019 from 9:00 PM to 12:00 AM on 2nd Avenue SE
Commissioners Approved an Application to Block off Street for Twin City Roofing for 3rd Street NW & Central Avenue beginning September 3, 2019 for two weeks – to include the parking locations only
Approve was Retail Tobacco License for Mosby LLC dba Boomers Corner Keg
PUBLIC COMMENTS … No one spoke…
ORDINANCE
The City Commission approve an Ordinance Amending Title 5, Animals
City Attorney Martineck said,  one change involves the procedure in impounding animals.
It's a  "B" Misdemeanor regarding vicious animals.
The third change is regarding animal running at large.  The first and second infraction are administrative offenses. The fine for a first offense  is $50, the second offense, $100 and after that a misdemeanor with an appearance in court for a decision on the fine.
RESOLUTION
City Commissioners Approved a Resolution Approving Comprehensive Land Use and Transportation Plan  
A Stantec representative explained Land Use plan specifics, including population growing to 2045, including a high growth rate to 11,000 from the current 6,500.  The target is  9,450 for at 2045.
Specific  growth areas were identified, and a future land use plan was presented, showing on Valley City may grow in the future.   It does not affect zoning.
Vacant parcels are also considered in the plan.
With the transportation plan, public comments were considered, concerning streets and sidewalks.
2015 traffic counts were used as a basis.  Federal aid is available in certain instances such as safety improvements.
Current truck routes were identified, along with current traffic volumes in Valley City.
Crash data was noted over the past five years in Valley City and the severity of each crash.
Also identified was bridges in the city, along with bike and pedestrian facilities, and quality of pavements.
Recommendations were made on pavement management including longevity.
Future growth areas were identified including areas northwest  and southeast of Valley City, and looking at developing connector routes.
Street congestion was also noted.
Changes were noted to move some collector roads to a local roadway.
The plan outlines adoption of transportation goals, and coordinating the transportation plan with the land use plan.
After hearing the plans from Stantec, the City Commission, approved the Land Use and Transportation Plan.
Mayor Carlsrud pointed out the need for an accurate 2020 census, in terms of future funding for Valley City.  The City Commission approved a Census Committee.
NEW BUSINESS
The City Commission, reviewed the long range schedule for Permanent Flood Protection and city infrastructure improvements.  Phase Five was outlined with areas identified, over the next few years.
The Commissioners were asked to reach a consensus on Phase Five funding, particularly an extension of the 6th Avenue Southwest  permanent flood protection plan concerning the  stability of the river bank and prioritizing that area.  It includes sanitary sewer lift station plans.
The funds are different from those used for other infrastructure  projects.
Also noted were sanitary sewer relining.
Other items addressed included Special Assessment cost shares for infrastructure improvements.  KLJ outlined future infrastructure dollars coming from the state legislature's approval of  "The Prairie Dog Bill."  A concern was adding these Special Assessment on top of Special Assessment that need to be paid yet.
Long Range infrastructure plans were noted, including the critical need for water main replacement, with some pipes about 100 years old.  Also included in the plans were StreetScape-2, and street improvements along with Phase Four of  Permanent Flood Protection. Along with other critical needs, and funding sources and timetables.
City Administrator, David Schelkoph said the City Commission's direction and vision are needed, in developing a plan, saying the most critical need to be addressed in water main replacement, especially in Northwest Valley City.
CITY ADMINISTRATOR'S REPORT:  No report was given.
CITY UPDATES & COMMISSION REPORTS:
Building Inspector Dave Anderson reminded property owners to keep trees, trimmed in accordance with the Ordinance, regarding height.
KLJ reported on changes with traffic flows around Valley City Jr./Sr. High School due to street construction.
Mayor Carlsrud reminded motorist to use caution with school starting, and in conjunction with street construction.
The meeting was shown live on CSi Cable 68 followed by replays.
Jamestown  (CSi)   Jamestown Public Works advised the public that areas included in this year's #19-41 street maintenance project will be chip-sealed as part of the City's road maintenance program starting Wednesday, August 21, 2019, beginning approximately at 1:00 p.m. and continuing throughout the week.
Major traffic areas that will be impacted include:
13th St NE to 19th St NE
3rd Ave NE to 12th Ave NE
Where signs are posted remove vehicles from roadway during this operation. Motorists and other traffic should use extreme caution when entering these construction areas and consider alternate routes if possible.
Jamestown  (CSi)  The third quarter fundraising organization, as chosen by FCCU staff, is Jessy's Toy Box, the local nonprofit was started by 'Jessy' Haberman in 2015. Jessy was born with a rare syndrome and received infusions at the Sanford Roger Maris Cancer Center. After receiving a toy as a gift at one of these sessions it became Jessy's dream to continue the gift of giving and that every child receive a gift during their hospital stay.
In memory of Jessy, his parents continue to support his dream for Jessy's Toy Box.
FCCU branches will be holding a toy drive in support of Jessy's Toy Box. All donations will be distributed to kids from 0-18 years old at local children's hospitals and infusion centers.
Ideas for giving include:
– New toys, board games and books
– Blankets and slippers
– Art, jewelry, nail and craft kits
– Gift cards (iTunes, Amazon, Xbox, PlayStation, Barnes and Noble)
– Cash donations (to be used for movie tickets or area activities)
Also,  FCCU employees will also be doing Jeans Fridays with all funds raised going to support Jessy's Toy Box. The fundraising continues through September 30.
For more information find on Jessy's Toy Box, visit: jessystoybox.wixsite.com
DICKINSON, N.D. (AP) — Officials at Dickinson State University say a student was walking to campus after football practice when he discovered a body near the university's practice fields.
The body was discovered shortly before 5 p.m. Monday near the large, grassy fields that lie between the football stadium and campus. The fields are used by the university and surrounding community.
The individual's identity has not been released.
Vice President of University Relations Marie Moe says Dickinson police are investigating. A message left with the police department was not immediately returned.
Moe says that based on available information, officials do not believe the person was a student or connected to the university. Fall classes haven't started, and the only students on campus are athletes who arrived early for practice. All student athletes have checked in.
BISMARCK, N.D. (AP) — North Dakota's Health Department says a 2015 pipeline spill of liquid natural gas in the western part of the state is much bigger than originally reported and could take another decade to clean up.
Oklahoma-based Oneok Partners reported a 10-gallon spill of natural gas condensate from a pipeline at its Garden Creek gas plant near Watford City in July 2015.
North Dakota Environmental Quality Chief Dave Glatt says the company reported last October that it had recovered 240,000 gallons of the liquid gas and that cleanup was ongoing. But the state report of the spill was never updated to reflect the severity.
The larger-than-publicized spill was first reported by DeSmog, a blog dedicated to fighting climate change misinformation. It cited an unnamed person who provided a document that said the spill could be as large as 11 million gallons.
Oneok says that estimate was just "hypothetical assumptions" done by a consultant.
GRAND FORKS, N.D. (AP) — A major donor to the University of North Dakota who had threatened to withhold donations over a dispute with the former president has agreed to a 10-year contract extension with the school to operate the team's hockey arena.
School and Ralph Engelstad Arena officials announced Tuesday that the deal will run through September of 2030. Terms were not announced.
Engelstad Foundation trustee Kris McGarry, whose late father donated money for the $110 million arena, was at odds with previous president Mark Kennedy over the arena usage agreement, among others things. Kennedy was named president at the University of Colorado in May.
McGarry said in a release that she appreciated interim President Joshua Wynne's "leadership on this issue."
The foundation recently donated $4 million for a $6 million hockey scoreboard.
BISMARCK, N.D. (AP) — The head of a company developing an $800 million oil refinery near Theodore Roosevelt National Park in North Dakota says lawsuits have made investors skittish, delaying progress on the project.
Meridian Energy Group CEO William Prentice says company hopes to have the refinery operating in 2022, a year later than planned.
Meridian wants to build the refinery just 3 miles (5 kilometers) from the park that's the state's top tourist attraction. Environmental groups argue pollution from the factory will spoil scenery and air quality.
Securities fillings show the company has raised less than 5% of the project's construction costs. And the company has two disputes pending before the state Supreme Court.
Prentice says the company will prevail in court and funding will be secured within months.
PIERRE, S.D. (AP) — Members of a legislative committee are still exploring the legalization of industrial hemp in South Dakota, despite a past veto and continued opposition from Republican Gov. Kristi Noem.
Several lawmakers met Monday in Pierre to hear from officials in North Dakota and Montana, where the crop is legal.
Noem sent members of her administration to the meeting to oppose legalization. KELO reported that the administration's common theme is that too many questions remain. Public Safety Secretary Craig Price said legalizing industrial hemp would open the way for new attempts to legalize marijuana.
Minority Whip Oren Lesmeister has been meeting with officials from states where industrial hemp is grown and processed. He says those states have strict rules, and fears that industrial hemp will lead to marijuana production are unwarranted.
In sports….
AMERICAN ASSOCIATION…
Gary Southshore 2, Fargo-Moorhead 0
MLB…
UNDATED (AP) _ Nelson Cruz was 4-for-5 with a solo homer, three RBIs and three runs scored as the Minnesota Twins stormed past Chicago White Sox, 14-4 to open a three-game lead over Cleveland in the AL Central. Max Kepler added his team-leading 34th home run of the season to stay one ahead of the 39-year-old Cruz in the power department.
The Indians were knocked off in New York as Michael Conforto belted a tiebreaking, two-run homer in the sixth before the Mets broke open an eventual 9-2 rout of Cleveland.
OAKLAND, Calif. (AP) _ Matt Olson and Mark Canha (KAN'-ah) hit back-to-back homers in the first inning to jumpstart the Oakland Athletics' fifth victory in six games, 6-2 over the New York Yankees. Homer Bailey worked around seven hits over 5 2/3 innings, blanking the Yanks following a solo homer by Gary Sánchez in the first inning. Domingo Germán (hehr-MAHN') fell to 16-3 and had his career-best seven-game winning streak snapped by yielding five earned runs and eight hits in 5 1/3 innings.
HOUSTON (AP) _ George Springer, Jose Altuve (al-TOO'-vay) and Martín Maldonado (mahr-TEEN' mal-doh-NAH'-doh) homered to lead the Houston Astros past the Detroit Tigers, 6-3. Houston starter Aaron Sanchez gave up four hits and three runs with two walks in a season-low 2 1/3 innings before landing on the injured list with a sore pectoral muscle. Brad Peacock took over for Sanchez and struck out three in 1 2/3 scoreless innings.
UNDATED (AP) _ The St. Louis Cardinals have held onto their half-game lead over the Chicago Cubs atop the NL Central. Dexter Fowler supplied a tiebreaking, bases-loaded double and drove in four runs as the Cardinals beat the Brewers, 9-4. Anthony Rizzo homered twice and the Cubs kept pace with St. Louis by topping the Giants, 5-3.
UNDATED (AP) _ The Braves' 5-1 win over the Marlins gives Atlanta a six-game lead over Washington atop the NL East. Freddie Freeman was 3-for-4 with a pair of homers, four RBIs and three runs scored for the Braves. Starling Marte belted a three-run homer off Daniel Hudson to cap a four-run eighth that gave Pittsburgh a 4-1 win against the Nationals.
_ Tom Murphy ran his home run streak to four games by slamming a tiebreaking, two-run shot in the sixth inning of the Mariners' 7-4 victory over the Rays. Kyle Seager went deep for the M's, giving him eight home runs during his 14-game hitting streak. Tommy Milone got the win after giving up four runs in five innings of Seattle's sixth victory in eight games.
_ Andrew Heaney had a career-high 14 strikeouts without a walk over eight innings of the Angels' 5-1 victory against the Rangers in Game 1 of a doubleheader. Luis Rengifo (rehn-HEE'-foh) also hit a two-run shot to support Heaney, who allowed just four hits and blanked the Rangers until Willie Calhoun's two-out homer in the sixth. Mike Trout belted his 42nd home run to tie Dodgers first baseman Cody Bellinger for the major league lead.   The Rangers gained a split of the twinbill as Delino DeShields raced home from second on an error by first baseman Albert Pujols (POO'-hohlz) to complete a 3-2 win over Los Angeles.
The Orioles ended an eight-game skid by downing the Royals, 4-1.
_ Dexter Fowler supplied a tiebreaking, bases-loaded double and drove in four runs as the Cardinals beat the Brewers, 9-4 to keep their half-game lead over Chicago in the NL Central. The Cardinals added two more runs when Fowler and Tommy Edman drew bases-loaded walks. Kolten Wong hit a two-run single to help St. Louis win for the ninth time in 11 games.
_ Anthony Rizzo homered twice and the Cubs stayed a half-game behind the NL Central-leading Cardinals by topping the Giants, 5-3. Cole Hamels permitted three runs and five hits over six innings en route to his first win since June 12 at Colorado. Nicholas Castellanos (kas-tee-AH'-nohs) also went deep and Jonathan Lucroy (LOO'-kroy) snapped a 3-3 deadlock with an RBI single in the fifth.
_ The Nationals' bullpen wasted a strong outing from Stephen Strasburg by surrendering four runs in the eighth inning of a 4-1 loss to the Pirates. Starling Marte belted a three-run homer off Daniel Hudson to cap the winning rally. Strasburg limited Pittsburgh to four hits and a walk over seven shutout innings, leaving with a 1-0 lead.
_ Aaron Nola is 12-3 after giving up two runs on four hits with seven strikeouts over seven innings of the Phillies' 3-2 triumph over the Red Sox. Nola and the Philadelphia bullpen blanked Boston following Jackie Bradley Jr.'s two-run homer in the third. Jean Segura doubled home a pair in a three-run first for the Phils.
_ Pinch-hitter Jake Lamb furnished a tiebreaking, two-run single in the sixth inning and Eduardo Escobar followed with a two-run triple before the Diamondbacks held on to beat the Rockies, 8-7. Arizona scored five runs in the sixth off Colorado starter Kyle Freeland and reliever Bryan Shaw.
_ Freddy Galvis (GAL'-vees) launched a tiebreaking, two-run blast in the sixth inning to push the Reds past the Padres, 3-2. Sonny Gray improved to 9-6 by limiting San Diego to a run and four this while striking out 10 over six innings. Cal Quantrill struck out nine over six innings for the Padres.
MLB News…
UNDATED (AP) _ Indians ace Corey Kluber has been shut down for two weeks with an abdominal strain suffered while continuing his rehab from a broken arm.
Kluber was pulled from a minor league start for Triple-A Columbus at Charlotte on Sunday after one inning because of abdominal tightness. He hasn't pitched for the Indians since May 1, when he was struck by a line drive at Miami.
_ Cubs reliever Steve Cishek (SEE'-shehk) has been activated after spending time on the injured list due to left hip inflammation. Infielder David Bote (BOH'-tee) was optioned to Triple-A Iowa on Monday to make room for Cishek, who is 3-5 with seven saves and a 3.58 ERA in 54 games this year.
_ Mets reliever Robert Gsellman (guh-ZEHL'-man) has a partially torn lat muscle that puts the rest of his season in jeopardy. The injury was confirmed in an MRI, a blow to the Mets' bullpen as the team tries to earn a playoff berth. Gsellman is 2-3 with a 4.66 ERA and one save in 52 appearances covering 63 2/3 innings.
_ Braves reliever Jacob Webb is likely done for the season after being placed on the 60-day injured list with an ailing right elbow. The 26-year-old Webb had been one of the most effective pitchers in Atlanta's shaky bullpen, with a 4-0 record, two saves and a 1.39 ERA in 36 appearances.
_ Pitcher Félix Hernández will rejoin the Mariners' starting rotation this weekend, according to manager Scott Servais (SUR'-vihs). The 2010 AL Cy Young Award winner has missed three months with right shoulder stiffness. He pitched 3-plus innings Monday night for Triple-A Tacoma in his fourth rehab appearance, giving up one run on four hits and three walks while striking out five.
_ Authorities in the Dominican Republic have arrested former MLB pitcher Octavio Dotel (ohk-TAH'-vee-oh doh-TEHL') and cited ex-infielder Luis Castillo for their alleged links to a drug-trafficking and money-laundering ring. The country's attorney general says police are also actively pursuing the suspected leader of the ring, César Emilio Peralta, also known as "César the Abuser."
COLLEGE FOOTBALL-AP PRESEASON ALL-AMERICA TEAM
UNDATED (AP) _ Clemson quarterback Trevor Lawrence headlines The Associated Press preseason All-America team presented by Regions Bank.
Lawrence just became the first freshman to quarterback to lead a team to a national championship in more than 30 years. He's joined on the first-team by Clemson running back Travis Etienne and Tigers linebacker Isaiah Simmons.
Clemson and No. 2 Alabama tied for the most first-team selections with three.
Crimson Tide wide receiver Jerry Jeudy, was selected to the preseason first team, along with defensive lineman Raekwon Davis and linebacker Dylan Moses of Alabama.
In other college football news:
_ Sophomore quarterback J.T. Daniels will start at Southern California for the second straight season. Coach Clay Helton announced that Daniels won a four-man competition for the job over freshman Kedon Slovis, redshirt junior Matt Fink and redshirt sophomore Jack Sears.
NFL-NEWS…
UNDATED (AP) _ Star receiver Antonio Brown was back on the field for the Oakland Raiders on Tuesday after missing the previous practice as part of his dispute with the league and union over his helmet.
Brown took part in a walkthrough without wearing a helmet and then went into the weight room as the rest of his teammates stretched. Brown came back out toward the end of the stretch but wasn't wearing a helmet like all of his teammates who were practicing.
Brown didn't attend practice Sunday as he works to find a helmet that he's comfortable using and that meets safety standards set by the NFL and NFLPA.
In other NFL news:
_ The Patriots have cut punter Ryan Allen, who booted them to three Super Bowl victories in six seasons. First signed as an undrafted free agent in 2013, he put three of his five punts inside the 20-yard line during February's Super Bowl victory over the Rams. The move likely means fifth-round draft choice Jake Bailey will make the team.
_ The Cowboys have agreed on a contract extension with young linebacker Jaylon Smith while the holdout by Pro Bowl running back Ezekiel Elliott nears a month since the team reported to training camp. Smith was a second-round draft pick by the Cowboys in 2016 but didn't make his NFL debut until a year later. He started all 16 games last season.
_ Colts quarterback Andrew Luck will miss another week of practice as he continues recovering from a lower left leg injury. He last practiced July 28. The Colts already had said the injury probably would keep Luck out of the entire preseason.
_ A person familiar with the situation says Broncos rookie quarterback Drew Lock will miss the rest of the preseason with a sprained right thumb. Lock is competing with Kevin Hogan to be Joe Flacco's backup.
CLEAVES-SEX ASSAULT CHARGES
FLINT, Mich. (AP) _ A jury has acquitted former Michigan State basketball star Mateen (mah-TEEN') Cleaves of sexual assault and other charges.
The verdict Tuesday by the jury in Cleaves' hometown of Flint comes nearly four years after a then-24-year-old woman accused Cleaves of sexually assaulting her in a Flint area motel room.
Cleaves led Michigan State to the NCAA basketball championship in 2000 and played for four NBA teams.
TENNESSEE STATE-QB INDICTED
NASHVILLE, Tenn. (AP) _ Tennessee State quarterback Demry Croft has been indicted on six counts of rape and two counts of sexual battery.
The 22-year-old Croft was released from jail Monday on $50,000 bond. An arraignment has been scheduled for Sept. 4.
The indictment against Croft says he engaged in unlawful sexual conduct and sexual penetration on Dec. 1 without the woman's consent.
School officials said they're aware a student-athlete was arrested but added that they would have no further comment because of state and federal student privacy laws.
SOCCER-EQUAL PAY…
LOS ANGELES (AP) _ A judge has set a May 5 trial date for the gender discrimination lawsuit filed by the women's national team against U.S. Soccer, just over 2 ½ months before the Tokyo Olympics.
The players sued U.S. Soccer in March, alleging institutionalized gender discrimination that includes inequitable compensation when compared with their counterparts on the men's national team. The federation claims that compensation for each team is the result of separate collective bargaining agreements, and that the pay structures are different as a result.
SWEDEN-PAY DISPUTE
STOCKHOLM (AP) — Female hockey players in Sweden will go ahead with their boycott of an international tournament in Finland because of their unhappiness about pay and working conditions.
Sweden was to play its first game of the Five Nations Tournament today against Japan, but the squad of 43 players will be absent. They refused to attend a five-day training camp in Sweden last week.
Anders Larsson, chairman of the Swedish Ice Hockey Federation, says the boycott is damaging the brand of the country's hockey team and is a failure for both the federation and the Swedish team.
In world and national news…
WASHINGTON (AP) — President Donald Trump says his administration is a looking at tax cut proposals but not as a response to a potential recession. He says, "I'm looking at that all the time anyway." Trump talked about the economy and trade with China during a meeting Tuesday in the Oval Office with the president of Romania.
Trump says his administration is looking at a cut in the capital gains tax when investors sell assets. It is also exploring lower payroll taxes.
But mostly, Trump is pressuring the Federal Reserve to cut interest rates. He says, "They have to do a rate cut."
Trump says the word recession is "inappropriate" and if the Fed would do its job, "you would see a burst of growth like you've never seen before."
COPENHAGEN, Denmark (AP) — A spokeswoman for Denmark's royal palace says U.S. President Donald Trump's decision to postpone a visit to Denmark next month was "a surprise."
Lene Balleby told The Associated Press Wednesday that the household, which formally had invited Trump to visit Denmark Sep. 2 and 3 as part of a European trip, had no further comments.
Trump announced his decision by tweet after the Danish prime minister dismissed the notion of selling Greenland to the U.S. as "an absurd discussion."
"Denmark is a very special country with incredible people, but based on Prime Minister Mette Frederiksen's comments, that she would have no interest in discussing the purchase of Greenland, I will be postponing our meeting scheduled in two weeks for another time," Trump said.
There was no immediate reaction from the Danish government.
WASHINGTON (AP) — President Donald Trump says any Jewish people who vote Democratic show "either a total lack of knowledge or great disloyalty."
Trump commented Tuesday amid his ongoing feud with Democratic congresswomen Ilhan Omar of Minnesota and Rashida Tlaib (ruh-SHEE'-duh tuh-LEEB') of Michigan. Trump has taken several steps favored by Israel, while the Muslim lawmakers are outspoken critics of Israel's treatment of the Palestinians.
Trump calls Omar a "disaster" for Jews and says he didn't "buy" the tears Tlaib shed Monday as she discussed the situation.
At Trump's urging, Israel last week blocked the pair from entering the country. Israel later agreed to a humanitarian visit for Tlaib to visit her grandmother who lives in the West Bank. Tlaib declined.
Recent polling shows that a majority of Jews identify as Democrats.
WASHINGTON (AP) — John McCain's family is asking Americans to reach out to one another and agree to disagree in honor of the late senator's commitment to civility in public life.
The family is making the request near the anniversary of McCain's death from brain cancer. It's part of the family's effort to define his legacy in an era of harsh exchanges over politics on social media and cable television.
McCain's widow, Cindy, says Arizona State University has donated about 26 acres (11 hectares) in Tempe, Arizona, for a library that the McCains hope will be a national "gathering place" for civil discourse.
The counterprogramming this week contrasts with President Donald Trump's style. Trump continues to complain at rallies about McCain's 2017 vote that sank the Republican rewrite of the Affordable Care Act.
MELBOURNE, Australia (AP) — The Vatican says it will let Cardinal George Pell exhaust all his appeals of his sexual abuse convictions in Australia before taking up his case in its own canon law investigation.
Vatican spokesman Matteo Bruni says the decision to hold off on any action is consistent with the way the Vatican has handled other sex abuse cases.
Bruni was responding to questions after an Australian appeals court on Wednesday upheld Pell's conviction on charges he molested two 13-year-old choirboys in Melbourne's St. Patrick's Cathedral more than two decades ago. Pell can still lodge a final appeal with the High Court, Australia's final arbiter.
If the Vatican eventually convicts Pell of sex abuse under canon law, he could be defrocked. Pell has already been barred from exercising public ministry or having contact with minors.
Pell has insisted on his innocence.