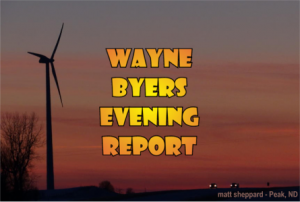 CSi Weather…
TONIGHT…Clear. Lows in the upper 40s. Northeast winds around 5 mph.
.THURSDAY…Sunny. Highs in the lower 70s. Southeast winds 5 to 10 mph.
.THURSDAY NIGHT…Mostly clear. Lows in the mid 50s. Southeast winds around 10 mph.
.FRIDAY…Partly sunny with a 50 percent chance of rain showers
and thunderstorms. Highs in the mid 70s. South winds 10 to 15 mph
with gusts to around 30 mph.
.FRIDAY NIGHT…Mostly cloudy with a 40 percent chance of showers
and thunderstorms. Lows in the lower 60s.
.SATURDAY…Mostly cloudy with a 50 percent chance of showers and
thunderstorms. Highs in the mid 70s.
.SATURDAY NIGHT…Showers and thunderstorms likely in the
evening, then showers likely and slight chance of thunderstorms
after midnight. Lows in the lower 60s. Chance of precipitation
70 percent.
.SUNDAY…Mostly cloudy with chance of showers and slight chance
of thunderstorms. Highs in the mid 70s. Chance of precipitation
50 percent.
.SUNDAY NIGHT…Decreasing clouds. Chance of rain showers and
slight chance of thunderstorms. Lows in the mid 50s. Chance of
precipitation 40 percent.
.MONDAY…Mostly sunny with a 20 percent chance of rain showers
and thunderstorms. Highs in the lower 70s.
.MONDAY NIGHT…Mostly clear. Lows in the lower 50s.
.TUESDAY…Mostly sunny with a 20 percent chance of rain showers
and thunderstorms. Highs in the upper 60s.
A weakening cold front is likely to move into central ND Friday
For the upcoming weekend, multiple chances of showers and storms. Severe-storm risk is uncertain due to the potential for significant cloud cover to limit precipitation.
A period of well below normal temperatures with highs in the 60s early and midweek, next week.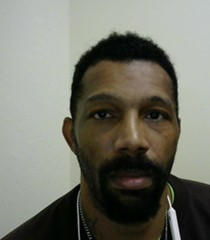 Jamestown  (CSi 8-21-19)   Jamestown Police warns residents that a convicted sex offender has changed his Jamestown address.
Larry Gant AKA Larry Johnson, Jr., now lives at 1018 4th Avenue Southwest, Jamestown Motel, Number 40, Jamestown, ND
He presently has no vehicle.
Gant is a 41 year old black male, five feet 11 inches tall, weighing 177 pounds with Brown eyes and Black hair.
He has been assigned a high risk assessment by the  North Dakota Risk Level Committee, of the office of the North Dakota Attorney General.
Offense:
Aggravated Rape…
Gant and two other individuals entered a residence through a bedroom window. They raped a developmentally disabled teenager who was sleeping in the bedroom
Conviction Date: February 11, 2003 at Shelby County District Court, in Tennessee. Disposition: 8 years.
Gant is presently on probation with North Dakota Parole and Probation.
Gant is not wanted by police at this time, and is currently serving the sentence imposed by the court. This notification is meant for public safety, and not to increase fear in the community, nor should this information be used to threaten, assault, or intimidate the offender. Attempts to harass, intimidate or threaten these offenders, or their families, landlords or employers will be turned over for prosecution.
Printed handouts of Gant's photo and demographics are available at the Jamestown Police Department.
More information on registered offenders is available on the Attorney General's web site: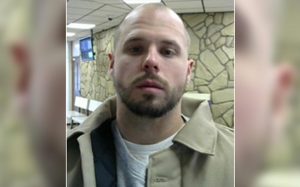 GRAND FORKS  (Grand Forks Herald) —   Grand Forks Police is  asking for the public's help to find a sex offender who has failed to check in.
The Grand Forks Herald reports that the Grand Forks Plice Department's Facebook post says, 27 year old Seth Allen Suko, has ties to Grand Forks and Jamestown. Charges of failure to register are pending.
Suko was convicted in 2014 of two charges of gross sexual imposition for having sex with children under age 15 during 2012 in Stutsman and Barnes counties. He served three years in prison and is still on probation.
Suko is required to register as a sex offender for the rest of his life.
In 2017, Suko escaped from the Lake Region Law Enforcement Center. His disappearance went unnoticed for 30 hours although he was captured in Devils Lake two days later. His escape triggered serious investigations into the facility's staffing and policies.
Anyone with information about Suko's whereabouts is encouraged to call police at (701) 787-8000.
Valley City  (CSi)  Valley City Public Schools Superintendent, Josh Jonson says, the 2019-20  school year first day enrollment,  was at 1,124 students, again above the 1,100 enrollment figure.
Johnson adds that last year school year Valley City Public Schools  enrollment went below 1,100 students, with the  peak enrollment over the past 10 years was 1,137 2011-12 school year.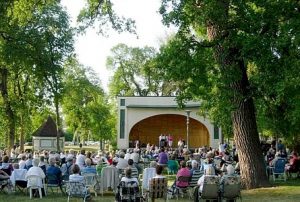 Valley City  (CSi)  The Maasjo Sisters from the Valley City and Fingal area will perform at the final Music in the Park, on Wednesday August 21, starting at 7:15 p.m.
The Maasjo sisters are a local trio featuring Sandy Maasjo, Shirley Buttke and Carol Thibeault
Enjoy  free popcorn. Bring along lawn chairs to the family oriented event A freewill offering is taken each night for the continued support of the City Park Bandshell. If it rains the program will be held at the Foss Music Building on the VCSU Campus, College Street Southwest.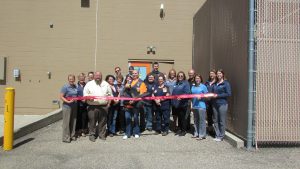 Jamestown  (Chamber)    Members of the Jamestown Area Chamber of Commerce Ambassadors and the Young Professionals of Jamestown held a ribbon cutting ceremony for Walmart to celebrate the opening of their newly renovated Online Grocery Pick-up location in Jamestown.
This business is located at 921 25th St. SW in Jamestown.  A back-section entrance of the current store has been remodeled and designated parking spaces have been marked to accommodate the changes in consumer behavior. Consumers will now be able to order products online and Walmart staff will bring the items out to your vehicle as you arrive at the designated pick-up area.
Businesses qualify for a ribbon-cutting ceremony if they open, move, remodel, are under new ownership or change their name.  For more information, contact Emily Bivens by emailing: director@jamestownchamber.com or call the chamber at 701-252-4830.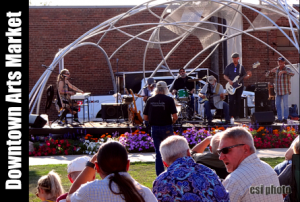 Jamestown  (CSi)  The next Jamestown Arts Market at Hansen Arts Park in Downtown Jamestown is Thursday August 22nd  5:30-p.m., to 8:30-p.m.
At 6:30-p.m., on the Boulder Pavilion – THE GREAT OUTDOORS With: Prairie Hills Singers  a Men's quartet,  and Cheaper Than Therapy providing musical entertainment. The Great Outdoors is a country/variety band from Fargo with big vocals, fiddle, keys, guitars and drums. Cheaper Than Therapy is a local quartet singing barbershop and other harmonies.
Prairie Hills Singers were formed in 1980 with talent from around the Medina ND area. This talented group of men have sung at weddings, open houses, anniversaries, funerals, Christmas concerts and conventions. Their repertoire includes music of the Statler Brothers, Oak Ridge Boys, Gaither Family with hymns, gospel, barbershop, country and more.
5:30 – 7:30 pm – Creatures in Clay with Bill Nybo
6:30 pm – The Great Outdoors
The Great Outdoors is a Country/Variety band based in Fargo, ND. The band features dynamic vocals, fiddle, keys, guitars and drums. The Great Outdoors will get the crowd up on their feet. With a wide variety of songs and styles, the band gets the party started right. There is no limit to what the band can throw out to an audience. From blazing country fiddle tunes and current country radio hits to Chicago Blues and get your heart pumping Classic and 80's/90's Rock. These boys will get it done.
The final Arts Market will be on Thursday August 29 – STEVIE K & FRIENDS With: Open Mic Night.
Steve Kuykendall along with other local musicians will open the night. And then open the mic to all poets, writers, musicians, comedians, solos, duos, and any and all performers to share your talent with the community at our monthly open mic night. There will be a sign up sheet at the stage. Please limit your piece to 10 minutes. Facilitated by local musician Steve Kuykendall who will also provide all amplification.
5:30 – 7:30 pm – Watercolor bubble painting with The Arts Center staff.
BISMARCK, N.D. (AP) — North Dakota regulators have set a Nov. 13 public hearing on a proposed expansion of the Dakota Access pipeline.
Texas-based Energy Transfer wants to double the capacity of the line to as much as 1.1 million barrels daily. The pipeline has been moving North Dakota oil through to a shipping point in Illinois since 2017.
The Standing Rock Sioux, which led original opposition to the pipeline , had sought a hearing. The tribe said expanding capacity would increase the likelihood and consequences of a spill. The pipeline is routed less than half a mile from the band's reservation, beneath a Missouri River reservoir that provides the tribe's drinking water.
The public hearing will be held in Linton, near where a pump station would go in to increase the line's capacity.
BISMARCK, N.D. (AP) — The North Dakota Health Department's acknowledgment this week that a 2015 pipeline leak of liquid natural gas is hundreds of thousands of gallons larger than reported raises questions about how many other spills and leaks are underreported — and state officials were not immediately able to answer Wednesday.
State Environmental Quality Chief Dave Glatt said the agency does not update initial public reports on spills but is considering doing so in the future.
"I get it — people want more information," Glatt said.
The agency said Tuesday that a 2015 pipeline spill of gas liquids, or "condensate," at a western North Dakota natural gas plant that was first reported as just 10 gallons (8 imperial gallons) is at least hundreds of thousands of gallons larger and may take an additional decade to clean up.
The initial state report on the spill at Oneok Partners LP's Garden Creek I gas processing plant was never updated, even as Oneok updated the state on cleanup. In October, Oneok told the state it had recovered 240,000 gallons (nearly 200,000 imperial gallons) of the liquid gas and cleanup continued.
The environmental blog DeSmog, which first reported the discrepancy, reported that the spill may be as large as 11 million gallons (9 million imperial gallons). The blog cited an unidentified person who provided a draft document on a cleanup plan.
The company said the actual amounts of the release aren't known.
Glatt said the company could face sanctions but has not yet because of its efforts to clean up its site.
"We still have that option," he said.
BISMARCK, N.D. (AP) — A Bismarck man who was convicted of murder 20 years ago is arguing that a life sentence discriminates against younger inmates.
Shawn Helmenstein, 42, is seeking to clarify his parole eligibility date.
He was sentenced in 2000 to life in prison with the possibility of parole for killing 25-year-old Robbie Rahrich during a liquor store robbery. A jury also convicted him of robbery, adding 10 years to his sentence.
Helmenstein argued Tuesday that a 22-year-old sentenced to life with the possibility of parole would have to serve more than 46 years before becoming eligible for release, but a person convicted at age 42 would be eligible after less than 31 years.
"My argument is this — how is that constitutional, and I hate to use the word fair, to people who are younger?" Helmenstein said. "If you're younger and you commit a crime and you get a life expectancy, it's showing age discrimination by giving you more time."
The Bismarck Tribune reported that South Central District Judge James Hill appeared skeptical of Helmenstein's argument, but said he would consider it.
"I think that what's really critically important here is that Mr. Helmenstein has a date and a number so the parole date will be secure," Hill said. "I will also consider his argument that he's presented here today."
Helmenstein's life expectancy was not included in his original sentence as it should have been. Life expectancy is needed as a reference point to calculate when 85% of a sentence has been served and when a defendant would be eligible for parole.
Helmenstein's attorney, Todd Ewell, said his client is entitled to a hearing, but that he could not support his client's argument about age discrimination
In sports…
MINNEAPOLIS (AP) — Lucas Giolito pitched a three-hit shutout of the second-highest scoring team in the major leagues, racking up 12 strikeouts for the Chicago White Sox in a 4-0 victory over Minnesota on Wednesday to take the series from the first-place Twins.
Giolito (14-6) allowed only runner past first base, a double by Jonathan Schoop in the eighth. The 25-year-old fanned Jake Cave to finish that inning and reach double-digit strikeouts for the third straight time, the first White Sox starter to do so since Chris Sale did so in eight consecutive turns in 2015. The last right-hander with a streak that long for the team was Edwin Jackson, with three in a row in 2010.
José Abreu went 3 for 5 with two RBIs for the White Sox from his usual third spot in the lineup, with Leury Garcia and Tim Anderson each producing two hits from their places in front of him. The first three batters scored all four runs against Twins starter Jake Odorizzi (13-6), who was outdone by his fellow American League All-Star.
Giolito matched Cleveland's Shane Bieber for the major league lead with his third complete game of the season. The White Sox and Indians have a baseball-best five apiece. Giolito got his with 115 pitches, without a walk.
The Twins were blanked for the third time this year, all at home and also on April 30 by Houston and June 17 by Boston. They took a three-game lead on the Indians in the AL Central into the day. This 13-game stretch entirely against the third-place White Sox and fifth-place Detroit Tigers that began this week looked like a favorable spot on the schedule, but losing two out of three at home to the White Sox was another reminder that solid starting pitching can make quite the difference, even if there's a considerable difference between two teams in the standings.
The Twins fell to 8-5 against the White Sox this season. They have lost seven consecutive weekday games with afternoon start times.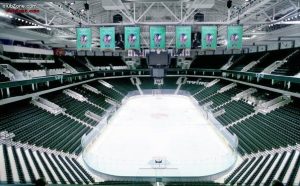 GRAND FORKS, N.D. (AP) — A major donor to the University of North Dakota who had threatened to withhold donations over a dispute with the former president has agreed to a 10-year contract extension with the school to operate the team's hockey arena.
School and Ralph Engelstad Arena officials announced Tuesday that the deal will run through September of 2030. Terms were not announced.
Engelstad Foundation trustee Kris McGarry, whose late father donated money for the $110 million arena, was at odds with previous president Mark Kennedy over the arena usage agreement, among others things. Kennedy was named president at the University of Colorado in May.
McGarry said in a release that she appreciated interim President Joshua Wynne's "leadership on this issue."
The foundation recently donated $4 million for a $6 million hockey scoreboard.
In world and national news…
WASHINGTON (AP) — The Department of Homeland Security is moving to end a long-standing federal court agreement that limits how long immigrant children can be kept in detention.
That's according to two DHS officials who spoke to the AP on condition of anonymity to discuss regulations not made public. They could come as early as this week.
The move is almost certain to spark a new court fight over the government's ability to hold families until their cases are decided.
The so-called Flores agreement requires the government to keep children in the least restrictive setting possible and to release them generally after 20 days in detention.
Because of those restrictions, migrant families coming into the country have been released into the U.S. while their asylum requests wind their way through the courts.
COPENHAGEN, Denmark (AP) — President Donald Trump does not appreciate Denmark's rejection of his idea to buy Greenland.
The American leader told reporters on Wednesday that "all they had to say was, 'No, we'd rather not do that.'"
Instead, Danish Prime Minister Mette Frederiksen called the idea "an absurd discussion" and said she was "disappointed and surprised" that Trump canceled his Sept. 2-3 visit to Denmark in a tweet earlier in the day.
Trump, leaving the White House for an event in Kentucky, said Frederiksen's comments were "nasty," adding "You don't talk to the United States like that," at least during his presidency.
Greenland is a semi-autonomous territory of Denmark.
Fredericksen said the U.S. remains one of Denmark's close allies. Denmark's royals had invited Trump but the palace says they were blindsided by the tweet canceling the trip.
CHARLESTON, W.Va. (AP) — Can the governor of West Virginia be forced to live in the state capital? A lawsuit seeking to do just that is still in play.
A judge in West Virginia on Wednesday requested additional documents in the case against Gov. Jim Justice, further extending the long-running suit.
Democratic Del. Isaac Sponaugle filed the case and says Justice should be required to live in Charleston because the state Constitution says the governor must "reside at the seat of government." He has filed two similar suits but they were thrown out on technicalities.
Justice's lawyers argue that the definition of the word reside is unclear and say the governor is in Charleston when he needs to be.
Justice has said he lives in Lewisburg, not at the governor's mansion.
BERLIN (AP) — German Chancellor Angela Merkel is hosting British Prime Minister Boris Johnson in Berlin as Britain and the European Union are hurtling toward a costly no-deal Brexit in October.
Despite growing tensions between Britain and the EU, Merkel said Tuesday the main stumbling block concerning Britain's departure from the European Union — the Irish border issue — can be removed if a "practical solution" is found.
Merkel said the remaining 27 EU countries are willing to find such a solution but don't want to reopen a carefully negotiated Brexit deal agreed last year.
Merkel, who is set to welcome Johnson with military honors on Wednesday evening, also said whichever path Britain chooses the EU is willing to cooperate closely on economic and security issues.
CARACAS, Venezuela (AP) — Dr. Saturnina Clemente pulls up to the small clinic in the impoverished Caucaguita neighborhood armed with one of Venezuela's most sought-after commodities: Hormonal implants to prevent pregnancy.
In a country where contraceptives are in short supply, word in the shantytown on the outskirts of Venezuela's capital spreads quickly. The lucky get on a list run by community leaders. The less fortunate hope there will be extras.
The veteran doctor has 104 implants and there won't be enough for everyone. As a physician at the nation's largest pediatric hospital, Clemente knows first hand that the consequences for those who don't get one are high.
"It's a sense of impotency, of frustration," she says. "You see that it's not enough, that the demand is much higher."
As Venezuela's crisis deepens, women are bearing the brunt of the nation's upheaval. Despite promises by the socialist government to provide every woman access to family planning, recent surveys and interviews with health professionals indicate access to contraceptives remains incomprehensive.
International organizations like the U.N. Population Fund have begun stepping in by importing tens of thousands of contraceptives this year, but their work is still limited. It's an ordeal with increasingly international ramifications, as a growing number of pregnant women flee to countries like Colombia seeking care they cannot get in Venezuela.
"Women are getting pregnant and don't have options," said Luisa Kislinger, a women's rights activist. "They're forced into motherhood."
Nicol Ramírez is 15 and already a mother. Her name is on Clemente's list, but to get an implant she needs to show a negative pregnancy test. The young mom and her older sister frantically call their mother. They need 40,000 bolivars, the equivalent of about $3, in order to do the simple test at a nearby laboratory.
"The situation in this country isn't one for having children," Ramírez says, balancing her baby daughter on one hip. "I'm still a girl myself."
During the late Hugo Chávez's presidency, Venezuela's government expanded services aimed at helping poor mothers by providing monthly cash transfers. Chavez lavished praise on women and hailed the so-called "revolutionary mothers" who would help promote his vision.
The 1999 constitution he advanced guarantees "full family planning services" to women among a host of other benefits.
"The socialist revolution should be feminist," he declared.