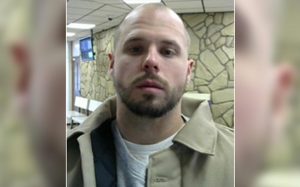 GRAND FORKS  (Grand Forks Herald) —   Grand Forks Police is  asking for the public's help to find a sex offender who has failed to check in.
The Grand Forks Herald reports that the Grand Forks Plice Department's Facebook post says, 27 year old Seth Allen Suko, has ties to Grand Forks and Jamestown. Charges of failure to register are pending.
Suko was convicted in 2014 of two charges of gross sexual imposition for having sex with children under age 15 during 2012 in Stutsman and Barnes counties. He served three years in prison and is still on probation.
Suko is required to register as a sex offender for the rest of his life.
In 2017, Suko escaped from the Lake Region Law Enforcement Center. His disappearance went unnoticed for 30 hours although he was captured in Devils Lake two days later. His escape triggered serious investigations into the facility's staffing and policies.
Anyone with information about Suko's whereabouts is encouraged to call police at (701) 787-8000.