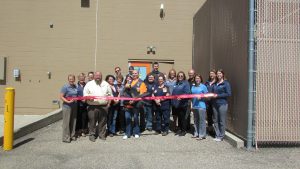 Jamestown  (Chamber)    The Jamestown Chamber held a ribbon cutting ceremony for Walmart to celebrate the opening of their newly renovated Online Grocery Pick-up location in Jamestown.
This business is located at 921 25th St. SW in Jamestown.  A back-section entrance of the current store has been remodeled and designated parking spaces have been marked to accommodate the changes in consumer behavior. Consumers will now be able to order products online and Walmart staff will bring the items out to your vehicle as you arrive at the designated pick-up area.
Businesses qualify for a ribbon-cutting ceremony if they open, move, remodel, are under new ownership or change their name.  For more information, contact Emily Bivens by emailing: director@jamestownchamber.com or call the chamber at 701-252-4830.