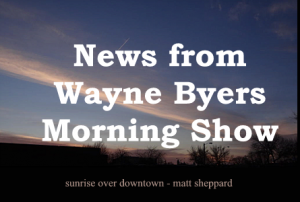 CSi Weather…
.TODAY…Sunny. Highs in the mid 70s. Southeast winds 5 to 15 mph.
.TONIGHT…Mostly clear. Lows in the mid 50s. Southeast winds 10 to 15 mph.
.FRIDAY…Partly sunny. A 20 percent chance of rain showers and thunderstorms in the afternoon. Highs in the upper 70s. Southeast winds 10 to 20 mph.
.FRIDAY NIGHT…Mostly cloudy with a 30 percent chance of showers
and thunderstorms in the Jamestown area, 40 percent in the Valley City area. Lows in the lower 60s. South winds 15 to
20 mph.
.SATURDAY…Mostly cloudy with a 40 percent chance of showers and
thunderstorms. Highs in the mid 70s. South winds 15 to 20 mph.
.SATURDAY NIGHT…Mostly cloudy. Chance of showers and
thunderstorms in the evening, then showers likely and slight
chance of thunderstorms after midnight. Lows in the lower 60s.
Chance of precipitation 60 percent.
.SUNDAY…Showers and thunderstorms likely. Highs in the mid 70s.
Chance of precipitation 70 percent.
.SUNDAY NIGHT…Mostly cloudy with rain showers likely and chance
of thunderstorms in the evening, then partly cloudy with chance
of rain showers and slight chance of thunderstorms after
midnight. Lows in the upper 50s. Chance of precipitation
60 percent.
.MONDAY…Mostly sunny with chance of rain showers and slight
chance of thunderstorms. Highs in the upper 60s. Chance of
precipitation 30 percent.
.MONDAY NIGHT…Partly cloudy. Lows in the lower 50s.
.TUESDAY…Mostly sunny with chance of rain showers and slight
chance of thunderstorms. Highs in the mid 60s. Chance of
precipitation 30 percent.
.TUESDAY NIGHT…Partly cloudy. A 20 percent chance of rain
showers and thunderstorms in the evening. Lows in the upper 40s.
.WEDNESDAY…Mostly sunny. Highs in the mid 60s.
There is a chance of thunderstorms late tonight. Severe weather is
not expected.
There are chances of thunderstorms Friday through Sunday, but at
this time there is considerable uncertainty in the potential
strength of any storms.
This Day In History – August 22, 1905 – Father Edward Geraghty was installed as pastor of St James Catholic Church. *** from the 125th Anniversary Calendar of Jamestown History ***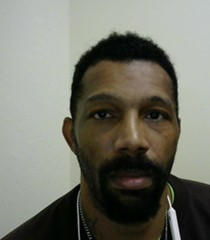 Jamestown  (CSi 8-21-19)   Jamestown Police warns residents that a convicted sex offender has changed his Jamestown address.
Larry Gant AKA Larry Johnson, Jr., now lives at 1018 4th Avenue Southwest, Jamestown Motel, Number 40, Jamestown, ND
He presently has no vehicle.
Gant is a 41 year old black male, five feet 11 inches tall, weighing 177 pounds with Brown eyes and Black hair.
He has been assigned a high risk assessment by the  North Dakota Risk Level Committee, of the office of the North Dakota Attorney General.
Offense:
Aggravated Rape…
Gant and two other individuals entered a residence through a bedroom window. They raped a developmentally disabled teenager who was sleeping in the bedroom
Conviction Date: February 11, 2003 at Shelby County District Court, in Tennessee. Disposition: 8 years.
Gant is presently on probation with North Dakota Parole and Probation.
Gant is not wanted by police at this time, and is currently serving the sentence imposed by the court. This notification is meant for public safety, and not to increase fear in the community, nor should this information be used to threaten, assault, or intimidate the offender. Attempts to harass, intimidate or threaten these offenders, or their families, landlords or employers will be turned over for prosecution.
Printed handouts of Gant's photo and demographics are available at the Jamestown Police Department.
More information on registered offenders is available on the Attorney General's web site: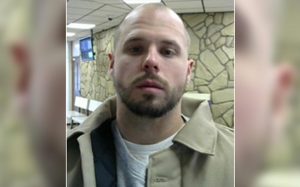 GRAND FORKS  (Grand Forks Herald) —   Grand Forks Police is  asking for the public's help to find a sex offender who has failed to check in.
The Grand Forks Herald reports that the Grand Forks Plice Department's Facebook post says, 27 year old Seth Allen Suko, has ties to Grand Forks and Jamestown. Charges of failure to register are pending.
Suko was convicted in 2014 of two charges of gross sexual imposition for having sex with children under age 15 during 2012 in Stutsman and Barnes counties. He served three years in prison and is still on probation.
Suko is required to register as a sex offender for the rest of his life.
In 2017, Suko escaped from the Lake Region Law Enforcement Center. His disappearance went unnoticed for 30 hours although he was captured in Devils Lake two days later. His escape triggered serious investigations into the facility's staffing and policies.
Anyone with information about Suko's whereabouts is encouraged to call police at (701) 787-8000.
Update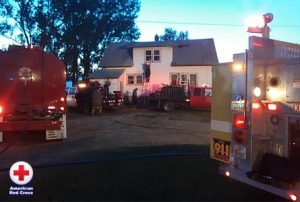 Edmunds  (CSi)  A fire heavily damaged an Edmunds home  Tuesday,  morning.
The Kensel and Pingree fire departments were called  at 4:o7-a.m.
The report from the Law Enforcement Center said of the upstairs of the home was on fire.
Kensal Fire Chief Dave Kramer reports the homeowner was able to get out of the structure following being alerted by a smoke detector.  No injuries were reported.
Kramer said the cause of the fire is under investigation with the State Fire Marshall's office.
Valley City  (CSi)  Valley City Public Schools Superintendent, Josh Jonson says, the 2019-20  school year first day enrollment,  was at 1,124 students, again above the 1,100 enrollment figure.
Johnson adds that last year school year Valley City Public Schools  enrollment went below 1,100 students, with the  peak enrollment over the past 10 years was 1,137 2011-12 school year.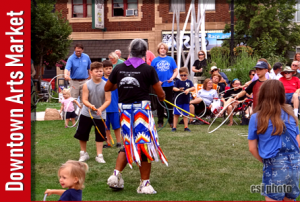 Jamestown  (CSi)  The next Jamestown Arts Market at Hansen Arts Park in Downtown Jamestown is Thursday August 22nd  5:30-p.m., to 8:30-p.m.
At 6:30-p.m., on the Boulder Pavilion – THE GREAT OUTDOORS With: Prairie Hills Singers  a Men's quartet,  and Cheaper Than Therapy providing musical entertainment. The Great Outdoors is a country/variety band from Fargo with big vocals, fiddle, keys, guitars and drums. Cheaper Than Therapy is a local quartet singing barbershop and other harmonies.
Prairie Hills Singers were formed in 1980 with talent from around the Medina ND area. This talented group of men have sung at weddings, open houses, anniversaries, funerals, Christmas concerts and conventions. Their repertoire includes music of the Statler Brothers, Oak Ridge Boys, Gaither Family with hymns, gospel, barbershop, country and more.
5:30 – 7:30 pm – Creatures in Clay with Bill Nybo
6:30 pm – The Great Outdoors
The Great Outdoors is a Country/Variety band based in Fargo, ND. The band features dynamic vocals, fiddle, keys, guitars and drums. The Great Outdoors will get the crowd up on their feet. With a wide variety of songs and styles, the band gets the party started right. There is no limit to what the band can throw out to an audience. From blazing country fiddle tunes and current country radio hits to Chicago Blues and get your heart pumping Classic and 80's/90's Rock. These boys will get it done.
The final Arts Market will be on Thursday August 29 – STEVIE K & FRIENDS With: Open Mic Night.
Steve Kuykendall along with other local musicians will open the night. And then open the mic to all poets, writers, musicians, comedians, solos, duos, and any and all performers to share your talent with the community at our monthly open mic night. There will be a sign up sheet at the stage. Please limit your piece to 10 minutes. Facilitated by local musician Steve Kuykendall who will also provide all amplification.
5:30 – 7:30 pm – Watercolor bubble painting with The Arts Center staff.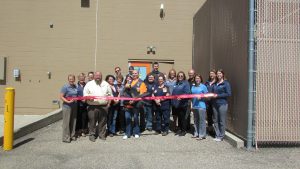 Jamestown  (Chamber)    Members of the Jamestown Area Chamber of Commerce Ambassadors and the Young Professionals of Jamestown held a ribbon cutting ceremony for Walmart to celebrate the opening of their newly renovated Online Grocery Pick-up location in Jamestown.
This business is located at 921 25th St. SW in Jamestown.  A back-section entrance of the current store has been remodeled and designated parking spaces have been marked to accommodate the changes in consumer behavior. Consumers will now be able to order products online and Walmart staff will bring the items out to your vehicle as you arrive at the designated pick-up area.
Businesses qualify for a ribbon-cutting ceremony if they open, move, remodel, are under new ownership or change their name.  For more information, contact Emily Bivens by emailing: director@jamestownchamber.com or call the chamber at 701-252-4830.
Jamestown  (JRMC) — Tea, treats and sweets can help save a life.
The Jamestown Regional Medical Center Auxiliary's Tea for All Seasons is set for 2 p.m. on Tuesday, September 10.
The afternoon includes sandwiches, tea and sweets. The event will also feature the Jamestown Quilters Display, JRMC Gift Shoppe Style Show and a silent auction. Tickets are $10 per person and can be purchased from any JRMC Auxiliary member, at the JRMC Gift Shoppe or the day of the event.
This year marks the 16th anniversary of the event. In 2018, Tea for All Seasons raised about $2,200. All proceeds benefit JRMC Family BirthPlace equipment.
JRMC Volunteer Coordinator Mary Engels invites all to attend the event and that hats, dresses and tea-time attire is fun, but optional.
JRMC Auxiliary member Eunice Sahr, says,  "Each year, Tea for All Seasons continues to grow. It is great to see the fellowship of the variety of people who attend."
The JRMC Auxiliary consists of more than 40 volunteers and meets the first Monday of each month. If interested in volunteer opportunities, call (701) 952-4809 or e-mail volunteer@jrmcnd.com.
FARGO, N.D. (AP) — Law enforcement officers have caught up with a man in Fargo who tried to avoid arrest by jumping into the Red River.
KFGO reports authorities say the 27-year-old man, who was wanted on a warrant, fled from a traffic stop in Moorhead, Minnesota Wednesday night and led police on a brief pursuit before jumping into the river and swimming across to Fargo.
That's where he was arrested by Fargo police and Clay County sheriff's deputies.
BISMARCK, N.D. (AP) — North Dakota regulators have set a Nov. 13 public hearing on a proposed expansion of the Dakota Access pipeline.
Texas-based Energy Transfer wants to double the capacity of the line to as much as 1.1 million barrels daily. The pipeline has been moving North Dakota oil through to a shipping point in Illinois since 2017.
The Standing Rock Sioux, which led original opposition to the pipeline , had sought a hearing. The tribe said expanding capacity would increase the likelihood and consequences of a spill. The pipeline is routed less than half a mile from the band's reservation, beneath a Missouri River reservoir that provides the tribe's drinking water.
The public hearing will be held in Linton, near where a pump station would go in to increase the line's capacity.
BISMARCK, N.D. (AP) — A man who was convicted of murder 20 years ago is arguing that a life sentence discriminates against younger people.
Shawn Helmenstein is seeking to clarify his parole eligibility date. The 42-year-old Helmenstein was sentenced in 2000 to life in prison with the possibility of parole for a deadly liquor store robbery.
The Bismarck Tribune reports that South Central District Judge James Hill appeared skeptical of Helmenstein's argument, but said he'd consider it.
Helmenstein argued a 22-year-old sentenced to life with the possibility of parole would have to serve more than 46 years before becoming eligible for release, but a person convicted at age 42 would be eligible after less than 31 years.
Hill said he would modify Helmenstein's sentencing judgment to include his life expectancy. That will help calculate Helmenstein's parole eligibility date.
In sports…
AMERICAN ASSOCIATION…
Milwaukee 5, Fargo-Moorhead 4
MLB…
UNDATED (AP) _ Lucas Giolito (jee-oh-LEE'-toh) picked up his 14th win of the season this afternoon by stifling one of baseball's top offenses.
Giolito scattered three hits in his third complete game of the year to pitch the Chicago White Sox past the Minnesota Twins, 4-0. The right-hander struck out 12 and didn't allow a runner in scoring position until Jonathan Schoop (skohp) doubled in the eighth inning.
José Abreu (ah-BRAY'-oo) went 3 for 5 with two RBIs for the White Sox.
Minnesota entered the game ranked second in the majors in runs and first in homers.
The outcome keeps the AL Central-leading Twins three games ahead of second-place Cleveland.
The Indians lost to the Mets for the second consecutive night as New York scored twice in the 10th inning to pull out a 4-3 victory. J.D. Davis won it with an RBI single that scored Michael Conforto, who was credited with the tying RBI after closer Brad Hand failed to cover first on a potential game-ending double-play grounder.
The Mets rallied for their fourth straight win after Carlos Santana slammed his 30th home run to put Cleveland ahead in the top of the 10th.
The Mets and the Phillies are now 1 ½ games behind the Cardinals for the second NL wild card.
Elsewhere on major league diamonds:
_ Khris Davis and Marcus Semien belted two-run homers off JA Happ and Stephen Piscotty added a solo blast as the Oakland Athletics knocked off the New York Yankees, 6-4. Mike Fiers (FY'-urz) improved to 12-3 by limiting the Yankees to two runs over 5 1/3 innings, helping the A's win for the sixth time in seven games. The Athletics kept their half-game lead over Tampa Bay for the second AL wild card, and the Yankees dropped their third in a row to cut their lead in the AL East to nine games over the Rays.
_ The Cubs have taken over the NL Central lead by getting a two-run homer by Kris Bryant in the bottom of the eighth to lead a 12-11 downing of the Giants. Nicholas Castellanos and Kyle Schwarber also connected as Chicago picked up its fourth straight win and vaulted a half-game ahead of the second-place Cardinals. Castellanos was 4-for-5 with three RBIs and two runs scored in the victory.
_ St. Louis suffered a 5-3 loss to the Brewers as Mike Moustakas (moos-TAH'-kahs) homered and Keston Hiura (HEE'-rah) drove in a pair of runs in the rain-shortened game. Winning pitcher Adrian Houser gave up one earned run and six hits in 5 1/3 innings to help Milwaukee beat the Redbirds for the first time in seven tries. The game was stopped after 7 1/2 innings and made official following a rain delay of 66 minutes.
_ Adeiny Hechavarría (ah-DAY'-nee eh-cheh-vah-REE'-ah) and Ronald Acuña (ah-KOON'-yah) Jr. each belted two-run homers to back Julio Teheran in the Braves' 5-0 shutout of the Marlins. Teheran struck out a season-high nine and limited Miami to five hits over six innings. Atlanta is 14-4 versus the Marlins this year, with Teheran going 3-0.
_ Atlanta still tops the NL East by six games after the second-place Nationals crushed the Pirates for the second time in three nights, 11-1. Patrick Corbin worked eight scoreless innings to remain unbeaten in five decisions since June 11. Asdrubal (as-DROO'-bul) Cabrera's three-run blast capped a six-run third for the NL wild-card leaders.
_ Bryce Harper smacked a go-ahead, two-run homer in the fifth inning as the Phillies downed the Red Sox, 5-2 to sweep the two-game series. Corey Dickerson drove in two runs with a triple and a single in Philadelphia's sixth victory in eight games. Jackie Bradley Jr. homered for the second straight night to give the Red Sox a 2-0 lead before the Phillies rallied.
_ The Dodgers pulled out a 2-1 win over the Blue Jays on Max Muncy's solo shot in the bottom of the 10th. Muncy sent his 33rd homer to center field off Tim Mayza, one inning after Kenley Jansen gave up a tying homer to Rowdy Tellez. Will Smith also went deep for the NL West leaders, who have baseball's best home record at 50-16 and lead their division by 20 games over Arizona.
_ The Rockies knocked off the Diamondbacks, 7-2 as Tim Melville pitched seven innings of two-hit ball in his first major league appearance in almost two years. Melville limited Arizona to a first-inning double and a sixth-inning home run to go with four strikeouts and two walks. He also drove in two runs with a single and a squeeze bunt to help the Rockies win the season series, 10-9.
_ Luis Castillo is 12-5 after allowing one run and five hits over six innings of the Reds' 4-2 victory against the Padres in Cincinnati. José Iglesias hit a solo home run to support Castillo, who was rocked for eight runs and nine hits in Friday's loss to St. Louis. Eugenio (ay-oo-HEH'-nee-oh) Suarez and Freddy Galvis (GAL'-vees) each had two hits and an RBI as the Reds took the rubber match of the three-game series.
_ Astros ace Justin Verlander went the distance on a two-hitter and came away with a 2-1 loss to the Tigers. Verlander retired his first 14 batters and finished with 11 strikeouts and no walks, but he also gave up home runs to Ronny Rodriguez and John Hicks, the last of which broke a 1-1 stalemate in the ninth. Robinson Chirinos (chih-REE'-nohs) provided four of Houston's six hits, including his 14th round-tripper of the season.
_ Willy Adames (ah-DAH'-mehs) scored on a wild pitch in the Rays' two-run ninth to complete a 7-6 win over the Seattle Mariners. Kevin Kiermaier drove in four runs, including a solo homer that tied the game in the ninth after Tampa Bay squandered a 5-3 lead. The Rays avoided a three-game sweep and finished 3-3 on their six-game homestand.
_ The Orioles banged out four home runs in an 8-1 thrashing of the Royals. Jonathan Villar (vee-AHR') opened the scoring with a two-run shot, Anthony Santander and Renato Núñez hit back-to-back home runs in the fifth inning and Hanser Alberto put the game away with a three-run blast in the sixth. Baltimore tied a major league record by surrendering its 258th homer, but it was the only run allowed by Aaron Brooks over five innings.
_ Hunter Pence drove in three runs, including an RBI, walk-off single in the ninth inning of the Rangers' 8-7 decision over the Angels. Texas blew a pair of two-run leads and overcame a late three-run deficit to win for the third time in the four-game set. Pence had a two-run double in the seventh and Shin-Soo Choo singled home the tying run an inning later.
MLB-NEWS
Braves place McCann on IL
UNDATED (AP) _ The Braves have placed catcher Brian McCann on the 10-day injured list with a left knee sprain suffered in Tuesday's 5-1 win over the Marlins.
The injury prompted Atlanta to recall receiver Alex Jackson, who has hit .224 with 25 home runs for Triple-A Gwinnett this year. Jackson went 0-for-10 in three games for the Braves early this season when McCann was out with a strained right hamstring.
Elsewhere in MLB news:
_ Cubs reliever Brandon Morrow won't pitch this season. Team president Theo Epstein says the closer is out for the year following another setback in his recovery from right elbow surgery. Morrow hasn't pitched in a game since July 2018 and underwent an arthroscopic procedure last November.
_ Pirates pitcher Chris Archer has been placed on the 10-day injured list with right shoulder inflammation, one day after being removed following the first inning of his start against the Nationals. The team's director of sports medicine said Archer will not throw for at least a week then be re-evaluated. The Bucs also placed right-hander Clay Holmes on the 10-day IL with right quadriceps discomfort and recalled right-handers Dario Agrazal (AG'-rah-zahl) and Parker Markel from Triple-A Indianapolis.
_ The Rockies have put starting pitcher Jon Gray on the 60-day injured list because of a left foot fracture, ending his season. The 27-year-old Gray is 11-8 with a 3.84 ERA this year, striking out 150 in as many innings. The right-hander was scheduled to start today's game at Arizona.
NFL-NEWS
Dolphins' Grant gets extension
UNDATED (AP) _ Miami Dolphins receiver Jakeem Grant is 5-foot-6, which means that under his new contract, he could be worth nearly $364,000 per inch.
Grant signed a four-year extension Wednesday for up to $24 million through the 2023 season.
One of the NFL's smallest and fastest players, Grant has three career touchdowns on returns, which ties the franchise record. He has only 34 career receptions for 471 yards and four touchdowns, but is expected to play a significant role in first-year coach Brian Flores' offense this season.
Grant missed the final six games last year with a calf injury that required surgery but has fully recovered. He is entering the final year of his rookie contract and could have become a free agent in March.
In other NFL news:
_ A person familiar with the situation tells The Associated Press that Lions defensive tackle Damon Harrison has accepted a one-year, $11 million extension, giving him three years left under contract with the franchise. The Lions acquired Harrison from the New York Giants in the middle of last season for a draft pick.
_ The Saints have added linebacker Will Compton and offensive lineman Fisayo Awolaja to their training camp roster. The additions announced Wednesday come after the club waived reserve long snapper Nick Moore and placed offensive tackle Chris Clark on injured reserve with a right leg injury.
_ Jets linebacker Brandon Copeland has been suspended by the NFL for the first four games of the regular season for violating the league's policy on performance-enhancing substances. Copeland can still participate in the team's preseason practices and games. He's eligible to return to the active roster on Oct. 7.
_ None of the Seahawks' top three draft picks were on the practice field Wednesday. Wide receiver DK Metcalf underwent minor knee surgery and safety Marquise Blair is dealing with back spasms. The pair of second-round picks joined first-round selection L.J. Collier on the medical report.
NHL-NEWS
Wild hire Bill Guerin as new GM
UNDATED (AP) _ The Minnesota Wild have hired Bill Guerin (GEHR'-ihn) as their new general manager.
Guerin won two Stanley Cups as a player and two more titles in the front office with the Pittsburgh Penguins. He spent the last five seasons as assistant general manager of the Penguins, who won consecutive Stanley Cups in 2016 and 2017.
The 48-year-old Guerin had 429 goals and 427 assists in 1,263 career games with eight different teams.
In other NHL news:
_ The Senators have signed forward Colin White to a six-year contract with an average annual value of $4.75 million. White ranked fifth in points among NHL rookies last season, scoring 14 goals and 27 assists.
_ Forward Derick Brassard has agreed to a one-year contract with the Islanders. Brassard has totaled 176 goals and 275 assists in 786 NHL games, but he had just 14 goals and 23 points in 70 games last season.
SKATING-CALLAGHAN BAN
Skating coach punished for sexual misconduct
UNDATED (AP) _ Figure skating coach Richard Callaghan has been banned from figure skating by the U.S. Center for SafeSport for sexual misconduct.
Callaghan was ruled "permanently ineligible" for actions involving a minor. He was accused by a former student, Adam Schmidt, in a lawsuit. Schmidt alleged that Callaghan sexually abused him from 1999-2001. Schmidt was 14 in 1999.
Callaghan coached Tara Lipinski to Olympic gold and mentored six-time U.S. champion Todd Eldredge.
TENNIS-US OPEN SEEDINGS
Joker, Osaka top singles seedings
NEW YORK (AP) _ U.S. Open officials have used the ATP and WTA rankings to set its seedings for the final Grand Slam of the year.
That means Novak Djokovic (JOH'-koh-vihch) is the No. 1 men's seed, followed by Rafael Nadal, Roger Federer and Dominic Thiem (teem). Defending women's champ Naomi Osaka is the top women's seed, ahead of Ash Barty, Karolina Pliskova (PLIHSH'-koh-vah) and Simona Halep (HA'-lehp).
TENNIS HALL OF FAME
4 Grand Slam champions on 2020 tennis Hall of Fame ballot
NEWPORT, R.I. (AP) _ Former Grand Slam champions Goran Ivanisevic (ee-van-EE'-seh-vihch), Sergi Bruguera (SUR'-jee broo-GEHR'-uh), Conchita Martínez and Jonas Björkman are the four candidates for the International Tennis Hall of Fame's class of 2020.
Ivanisevic (ee-van-EE'-seh-vihch) won the 2001 Wimbledon title and reached the final three other times. Bruguera won back-to-back French Open titles in 1993 and 1994, while fellow Spaniard Martínez won the 1994 Wimbledon championship. Björkman won the career Grand Slam in doubles and reached No. 1 in the doubles rankings.
The 2020 class will be announced in January. Induction is set for July 18.
In world and national news..
WASHINGTON (AP) — President Donald Trump says his administration is a looking at tax cut proposals but not as a response to a potential recession. He says, "I'm looking at that all the time anyway." Trump talked about the economy and trade with China during a meeting Tuesday in the Oval Office with the president of Romania.
Trump says his administration is looking at a cut in the capital gains tax when investors sell assets. It is also exploring lower payroll taxes.
But mostly, Trump is pressuring the Federal Reserve to cut interest rates. He says, "They have to do a rate cut."
Trump says the word recession is "inappropriate" and if the Fed would do its job, "you would see a burst of growth like you've never seen before."
WASHINGTON (AP) — The Congressional Budget Office is upping its projections for this year's federal deficit by $63 billion and increasing its forecast for deficits over the next decade by $809 billion.
The nonpartisan office projects the deficit will exceed $1 trillion beginning next year.
The office says its projections on both fronts stem mostly from recently enacted legislation that lifted the nation's debt limit and reversed scheduled 10% cuts to defense and nondefense programs.
COPENHAGEN, Denmark (AP) — A former Danish prime minister has lashed out at U.S. President Donald Trump for his tweet about military spending, saying defense willingness is not just about the amount of money spent.
Lars Loekke Rasmussen, who led the country until June, tweeted Thursday to Trump: "We have had (proportionally) exactly the same numbers of casualties in Afghanistan as US. We always stands firm and ready."
Trump, who has urged NATO members to do more to meet the alliance's goal of committing 2 percent of gross domestic product to defense, earlier tweeted that "Denmark is only at 1.35%."
Loekke Rasmussen's comment is the latest in an escalating spat between the U.S. and Denmark after Trump scrapped a visit saying current Prime Minister Mette Frederiksen made a "nasty" statement when she rejected his idea of buying Greenland as an absurdity.
FORT LAUDERDALE, Fla. (AP) — The will that Jeffrey Epstein signed just two days before his jailhouse suicide puts more than $577 million in assets in a trust fund that could make it more difficult for his dozens of accusers to collect a share of his riches.
Estate lawyers and other experts say prying open the trust and dividing up the financier's fortune is not going to be easy and could take years.
One attorney says Epstein managed to manipulate the system one last time from beyond the grave.
The 66-year-old Epstein killed himself Aug. 10 while awaiting trial on federal sex trafficking charges. He was accused of sexually abusing dozens of teenage girls.
COLUMBUS, Ohio (AP) — West Virginia University President Gordon Gee (gee) and former Ohio Gov. John Kasich (KAY'-sik) are forming a nonprofit that will work to steer money from any national opioid settlement to hospitals and health-based research.
The duo plans to announce Citizens for Effective Opioid Treatment on Thursday. The 501(c)4 organization will educate policymakers and the public about the negative impacts of the opioid epidemic on health care infrastructure and advance health-related solutions to the crisis.
Their plan is the latest in a tug-of-war over what to do with the potential billions from a settlement with drugmakers and distributors, if one's reached.
Local governments want the Cleveland-based federal judge overseeing the majority of 2,000-plus lawsuits over the toll of opioids to let them split the money. Most state attorneys general oppose the plan.
WASHINGTON (AP) — Former Colorado Gov. John Hickenlooper says he will challenge Republican incumbent Cory Gardner for his Senate seat.
Hickenlooper announced his run by video message on Thursday. He becomes the front-runner in a crowded Democratic primary field competing for the right to face Gardner, considered the most vulnerable Republican senator in the country.
Hickenlooper initially brushed off Democratic entreaties to run against Gardner. Instead he mounted a longshot presidential campaign that collapsed before it ended in mid-August.
The Democrats already in the Senate race are younger, and they have indicated they won't go quietly. One said the primary "won't be a coronation."
Hickenlooper remains widely popular and well known with Colorado Democrats, but Republicans hope Democratic Party's generational struggles will wound him in the primary.
SEOUL, South Korea (AP) — South Korea says it is canceling an intelligence-sharing pact with Japan amid a bitter trade dispute with its Asian neighbor.
South Korea's presidential office made the announcement Thursday, saying tightened export controls imposed by Japan have caused a "grave" change in security cooperation between the countries.
The decision is expected to further aggravate tensions between South Korea and Japan, two of America's most important allies in the region.
The move is a setback to U.S. efforts to bolster trilateral security cooperation with Seoul and Tokyo.