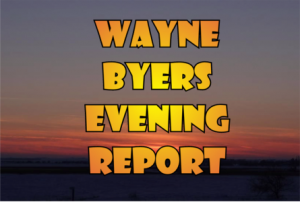 CSi Weather…
TONIGHT…Mostly clear. Lows in the mid 50s. Southeast winds 10 to 15 mph.
.FRIDAY…Partly sunny. A 20 percent chance of rain showers andthunderstorms in the afternoon in the Jamestown area. Highs in the upper 70s. Southeast winds 10 to 20 mph.
.FRIDAY NIGHT…Mostly cloudy with a 30 percent chance of showers
and thunderstorms in the Jamestown area, 40 percent in the Valley City area. Lows in the lower 60s. South winds 15 to 20 mph.
.SATURDAY…Mostly cloudy with a 40 percent chance of showers and
thunderstorms. Highs in the mid 70s. South winds 15 to 20 mph.
.SATURDAY NIGHT…Mostly cloudy. Chance of showers and
thunderstorms in the evening, then showers likely and slight
chance of thunderstorms after midnight. Lows in the lower 60s.
Chance of precipitation 60 percent.
.SUNDAY…Showers and thunderstorms likely. Highs in the mid 70s.
Chance of precipitation 70 percent.
.SUNDAY NIGHT…Mostly cloudy with rain showers likely and chance
of thunderstorms in the evening, then partly cloudy with chance
of rain showers and slight chance of thunderstorms after
midnight. Lows in the upper 50s. Chance of precipitation
60 percent.
.MONDAY…Mostly sunny with chance of rain showers and slight
chance of thunderstorms. Highs in the upper 60s. Chance of
precipitation 30 percent.
.MONDAY NIGHT…Partly cloudy. Lows in the lower 50s.
.TUESDAY…Mostly sunny with chance of rain showers and slight
chance of thunderstorms. Highs in the mid 60s. Chance of
precipitation 30 percent.
.TUESDAY NIGHT…Partly cloudy. A 20 percent chance of rain
showers and thunderstorms in the evening. Lows in the upper 40s.
.WEDNESDAY…Mostly sunny. Highs in the mid 60s.
There is a chance of thunderstorms late Thursdaynight. Severe weather is
not expected.
There are chances of thunderstorms Friday through Sunday, but at
this time there is considerable uncertainty in the potential
strength of any storms.
Valley City  (CSi)  A vehicle fire on Thursday morning just before 6-a.m., is under investigation.  Valley City Fire Chief Scott Magnuson says, when the fire units arrived on the scene, at 1114 Second Street Southeast, a 1992 Chevy pickup was fully engulfed in flames.
No injuries were reported.
He the State Fire Marshall's office is participating in the investigation.
Jamestown  (CSi)  The Jamestown City Council's Police & Fire Committee and  Public Works Committee met Thursday evening at City Hall.
All members were present.
POLICE & FIRE COMMITTEE
Jamestown City Fire Chief Jim Reuther said with the ladder truck out of service, it was taken to West Fargo for repair work.  He said there was a leveling problem, and the truck is still out of service being again taken out of town for additional work, at Land O Lakes, in Minnesota.
The Fire Chief pointed out that, the City of Jamestown and the state have an agreement that has  the state providing funds to provide repair costs over $500.  The ladder truck also provides fire protection for the high rise buildings at the North Dakota State Hospital.
He said fire protection will still be available with other equipment.
PUBLIC WORKS COMMITTEE
A  Stormwater utility fees presentation was made.  Alternatives were made on the rate structure, from feedback received, from the city council and the public, along with the process as it relates to parcels, concerning runoff, including vacant property and ag land.  Three dollars per month fee to residential properties is one alternative in the report to support the utility.  Another alternative is four dollars per month for all properties. Another is a base fee at  $1.75 for each parcel, plus a number to be determined as a multiplier.
The calculations show a rate fee of from$2.65  to $23.65 per property, per month.
After considering the alternatives, committee unanimously  recommends, through a Resolution  the rate of a one year minimum residential fee of $3.00 per month, as residents have been told.  The monthly fee for all other properties is $4.00 per month.
The committee recommends awarding the Rehabilitation of Wells 8 and 9 to Watersmith, in the amount of $42,416, to include labor, pumps, motors and drop pipe to be completed this fall.
Travis Dillman with Interstate Engineering said, three quotes were received.  The work will be performed by this fall.
An update was presented on Lift Station 20 and Master Lift Station Improvements and set the public meeting date for September 26, 2019 at 4:00 pm. Travis Dillman said, lining options are being studied along with the possibility of replacements.
The meeting was shown live on CSi 67, Followed by replays.
Jamestown  (CSi)   The Jamestown City Council met in Special Session Thursday, following the committee meeting at City Hall. All members were present.
The Council considered  a Resolution adopting rates for the Stormwater Utility Fee for the City of Jamestown, as discussed and recommended at committee, in the amended Resolution.
The City Council approved a permit to install and operate a pop-up demonstration consisting of a temporary multi-use path and walk/bike event, from the area near Jamestown High School to Jamestown Reservoir, which will be conducted September 6 and 7, 2019.
Jamestown Parks and Recreation, is the agency, and Central Valley Health District is partners in the project.  This is the First Phase of the project to gauge community interest. The Finance and Legal  Committee recommends approval and authorize the signing.
The Council approved the Resolution, with Council Member Buchanan voting in opposition.
A public hearing was held, concerning the request from EPIC Companies to form a tax increment finance district for five years, for the upper four floors of student housing at the  proposed six floor mixed-use facility on the University of Jamestown campus.
From the audience, Susan Roemmick of Jamestown said, she is graduate of the University of Jamestown.  She was concerned about the abatement issue in light of city budget issues, and the Jamestown Public School District to put to a vote in a mill levy increase for facility improvements.
She pointed out the structure is being built on campus at the former outdoor swimming pool which the community needs.
It was stated that EPIC will make money on the project on the backs of Jamestown taxpayers.
University of Jamestown President, Polly Peterson said  75 percent of students reside on campus.  This academic year 40 students needed to be found off campus housing, as the University grows.  She said UJ is an investor in this project, and looks to eventually purchase the structure back, within five years, and asked that the TIF be implemented.
An EPIC spokesman said the commercial retailers on the main floor will pay taxes.
He said EPIC is taking a financial risk in the $12-million project.  He said the building is being constructed east of the former swimming pool.
Preliminary estimates from Epic have placed the cost of the project at $12 million.
Based on that figure a preliminary estimate of the valuation could be set at $2 million per floor, paying property taxes of about $33,000 per year based on current  mill rates.
The commercial area on the main floor would remain taxable because it is outside the educational operation of the university, the main floor commercial area would have a value of about $2 million.
Construction cannot begin on UJ Place until the tax exemption request is decided, although site preparation work has begun.
Following the Public Hearing…
Council Member Buchanan said he is opposed to the TIF, not being fair to property owners that pay taxes, while the city doesn't receive the property tax dollars for five years while the TIF is in force.  He pointed out the city sales tax being increased, and the school district's request for a 10 mill increase, plus special assessments concerning other projects, plus the city's budget crunch, and possible property tax increases, by the city.
Council Member Phillips is in favor of the issue, saying the project is a win for UJ, and the Jamestown Community.
Council Member Brubakken favors stipulation that the apartments be only rented to UJ students.
The City Council voted to approve the TIF  agreement as indicated, and amended to include the stipulation that the residential floors only be rented to UJ students.
Council Member Buchanan voted in opposition.
The City Council then approved authorizing the City of Jamestown to make preliminary application for Economic Development Funds for a national Guard facility, to be located at the Jamestown Regional Airport's Industrial Park.  Mayor Heinrich said this in the application process only at this time.
The meeting was shown live on CSi Cable 67, followed by replays.
Jamestown (CSi)  Jamestown Developer, Brian Lunde says a building he recently purchased at 113  First Street West, next to Gun N Reel Sports, will become a restaurant.
He says, Devoni's is planned for the new Italian-Seafood restaurant, in the space most recently occupied by Witthauer and Associates.
Brian says he purchased the building from Dr. Steve Looysen, on May first this year, who bought the building from Paul Witthauer, with his insurance business now located in the former Pizza Hut location on 10th Street, Southeast.
Brian felt a need in Jamestown to offer seafood and Italian cuisine.
Brian says the restaurant is being operated by Depot LLC, which owns and operates the Depot Café in the Jamestown Business Center, downtown.
The Depot's owner, Devon Mitchell, will operate and staff Devoni's, and Devon is developing the new menu.
Brian adds, the First Street West building is being expanded to south with property purchased from Gary Docktor.  The additional space will accommodate the restaurant's kitchen with 400 square feet, the dinning area will contain 1200 square feet.
ADA compliant restrooms will be added for disabled accessibility.
Plans include utilizing the basement of the building for private dining experiences.
Brian projects Devoni's will be open by Christmas this year.
Jamestown  (CSi)  The City of Jamestown informs motorists, that Beginning Monday, August 26th through August 30th the block from 4th St SE to 5th St SE on 2nd Ave SE will be closed, in conjunction with underground utility improvements.
Motorist's should use extreme caution in this area.  Please use alternate routes.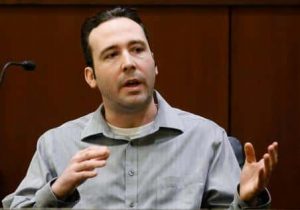 FARGO, N.D. (AP) — A judge overstepped by giving a life prison sentence to a man whose girlfriend cut the baby from the womb of an unsuspecting neighbor, the North Dakota Supreme Court ruled Thursday, ordering that the man be resentenced.
William Hoehn, of Fargo, pleaded guilty to conspiracy to commit kidnapping in the August 2017 attack on Savanna Greywind, who died of her injuries but whose baby survived. He entered the plea before a jury acquitted him of conspiracy to commit murder.
Hoehn's girlfriend, Brooke Crews, admitted that she sliced Greywind's baby from her womb. She pleaded guilty and was sentenced to life in prison without the possibility of parole.
Hoehn had faced a maximum of 21 years behind bars for the kidnapping charge, but Judge Tom Olson granted prosecutors' request to label Hoehn a dangerous offender, enhancing his maximum sentence to life with the possibility of parole.
The state Supreme Court, though, ruled that Hoehn shouldn't have received that designation and ordered that he be resentenced.
Kiara Kraus-Parr, who argued the appeal for Hoehn, called it a "pretty clear-cut case" and said she had been "cautiously optimistic" that her client would prevail.
"I think the state overreached in what they charged, as far the special dangerous offender," she told The Associated Press
Cass County State's Attorney Birch Burdick said he hadn't read the opinion yet but that his office would likely comment about it once it gone through it.
The justices said that for Hoehn to qualify as a dangerous offender, his 2012 conviction for abuse or neglect of a child would have to be similar to the conspiracy to commit kidnapping charge. A comparison of the elements of the crime did not support the finding that the two offenses were comparable, the court found.
A new sentencing date should be set in two weeks, depending on whether prosecutors file for a rehearing.
Greywind was a member of the Spirit Lake Sioux Tribe and her family has ties to the Turtle Mountain Band of Chippewa, two North Dakota groups that traveled to the Fargo area to search for Greywind after the attack. Her death prompted former North Dakota Sen. Heidi Heitkamp to introduce Savanna's Act, which aims to improve tribal access to federal crime information databases and create standardized protocols for responding to cases of missing and murdered Native American women. Protesters gathered around North Dakota on Monday, the second anniversary of Greywind's death, to urge Congress to pass the bill.
Hoehn denied knowing anything about Crews' plan to kill Greywind and take her baby, but he admitted to hiding the newborn and giving false information to law enforcement to cover up the crime.
Crews testified during Hoehn's trial that she concocted a phony pregnancy because she was afraid of losing him, and that when he figured out she was lying, he told her she needed to produce a baby. Crews said she took that as an ultimatum.
Crews said she never explicitly told Hoehn what she planned to do, but that when he arrived home to find a newborn and a bleeding Greywind, he twisted a rope around Greywind's neck to make sure she was dead. A coroner was unable to determine if the cause of death was strangulation or blood loss.
BISMARCK, N.D. (AP) — North Dakota's Health Department disregarded its own policy in updating the volume of pipeline spill at a natural gas processing plant.
In July 2015, Oneok Partners reported a 10-gallon (8-imperial gallon) spill of natural gas condensate from a pipeline at a plant near Watford City.
The estimated size of the spill was never updated, even as Oneok updated the state on cleanup. In October, Oneok told the state it had recovered 240,000 gallons (nearly 200,000 imperial gallons) of the liquid gas.
State Environmental Quality Chief Dave Glatt said Thursday that a spill report should have been made public to reflect the severity of the spill.
It's also unclear whether promised quarterly inspections of the site have been done in the past two years.
Glatt says he is investigating whether the inspections occurred.
In sports…
Valley City  (CSi)  The Barnes County Wildlife Federation announces that their Bullhead Derby at the Crossing on Lake Ashtabula is  Saturday, August 24.
There will be a 100 percent payback with unlimited teammates.
Registration from 7-a.m. to 1-p.m with the final weigh in at 3-p.m. For more details call Greg Enstad at 845-8710.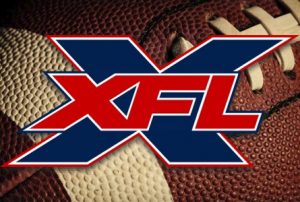 (AP) The new XFL professional football League will start play in 2020, and  will kick off its 10-week season on February 8, a week after Super Bowl LIV.
The XFL has multi-year deals in place with both ESPN, CSi Cable 14 and FOX Sports, CSi Cable 9, to televise next season's games, which will air on FOX and ABC, CSi 6, every weekend. ESPN, ESPN2, CSi Cable 18 and FS1, CSi Cable 41, will also air games throughout the season, and the league's championship is scheduled to broadcast on ESPN on April 26.
The eight teams, announced Wednesday afternoon by XFL Commissioner Oliver Luck, ESPN's Laura Rutledge, and FS1 host Colin Cowherd:
— Dallas Renegades
— Houston Roughnecks
— Los Angeles Wildcats
— New York Guardians
— St. Louis BattleHawks
— Seattle Dragons
— Tampa Bay Vipers
— Washington Defenders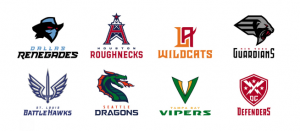 So far, just one player has signed a contract to play in the XFL: former Pittsburgh Steelers quarterback and former University of Oklahoma standout Landry Jones. Commissioner Oliver Luck says the league is expected to announce more signings as NFL teams begin to cut their offseason rosters to 53 players.   He says, "We've anxiously awaiting the Labor Day cuts that will take place where there will be another group of players available. Things have gone as well as expected."
Luck said the draft will be in October. Playing rules are still being tweaked after the league held a session in California with coaches, Fox and ESPN last month.
League President and COO Jeffrey Pollack says, "We're sincere in our belief that it is up to fans and players to write the story. We have written the headline and now the story will be what happens on the field." .
The XFL announced in 2017 that it was coming back after it went one season in 2001 before shutting down.
In world and national news…
COPENHAGEN, Denmark (AP) — A former Danish prime minister has lashed out at U.S. President Donald Trump for his tweet about military spending, saying defense willingness is not just about the amount of money spent.
Lars Loekke Rasmussen, who led the country until June, tweeted Thursday to Trump: "We have had (proportionally) exactly the same numbers of casualties in Afghanistan as US. We always stands firm and ready."
Trump, who has urged NATO members to do more to meet the alliance's goal of committing 2 percent of gross domestic product to defense, earlier tweeted that "Denmark is only at 1.35%."
Loekke Rasmussen's comment is the latest in an escalating spat between the U.S. and Denmark after Trump scrapped a visit saying current Prime Minister Mette Frederiksen made a "nasty" statement when she rejected his idea of buying Greenland as an absurdity.
Update…
FORT LAUDERDALE, Fla. (AP) — The will that Jeffrey Epstein signed just two days before his jailhouse suicide puts more than $577 million in assets in a trust fund that could make it more difficult for his dozens of accusers to collect a share of his riches.
Estate lawyers and other experts say prying open the trust and dividing up the financier's fortune is not going to be easy and could take years.
One attorney says Epstein managed to manipulate the system one last time from beyond the grave.
The 66-year-old Epstein killed himself Aug. 10 while awaiting trial on federal sex trafficking charges. He was accused of sexually abusing dozens of teenage girls.
NEW YORK (AP) — A new poll finds about 6 in 10 Americans disapprove of President Donald Trump's overall job performance.
The poll released Thursday by The Associated Press-NORC Center for Public Affairs Research also finds some support for the Republican president's handling of the U.S. economy, but it gives him weak marks on other major issues.
Just 36% of Americans approve of the way Trump is handling his job as president, and 62% disapprove.
The numbers may be ugly for a first-term president facing reelection in 14 months, but they are remarkably consistent. Trump's approval rating has never dipped below 32% or risen above 42% in AP-NORC polls since he took office.
The poor grades extend to Trump's handling of several key issues: immigration, health care, foreign policy and guns.
BATON ROUGE, La. (AP) — Hundreds of mourners packed a Louisiana cathedral to say farewell to the state's only female governor, Kathleen Babineaux Blanco, at the start of three days of memorials.
The public will be able to visit with Blanco's family Thursday afternoon at the state Capitol and pay their last respects to the Democrat who led Louisiana during the massive blows of hurricanes Katrina and Rita.
Current and former state officials filled an interfaith service for Blanco on Thursday morning in a Baton Rouge cathedral. Gov. John Bel Edwards told those assembled that Blanco was a special leader who was "authentic, consistent and sincere."
Blanco served one term as governor, from 2004-08. But she was a fixture in Louisiana politics for decades, winning elections to the state House, the state utility regulatory agency, and the lieutenant governor's seat before reaching the top job.
She died Sunday from cancer at the age of 76.