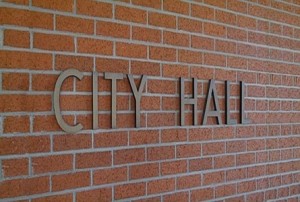 Jamestown  (CSi)  The Jamestown City Council's Police & Fire Committee and  Public Works Committee met Thursday evening at City Hall.
All members were present.
POLICE & FIRE COMMITTEE
Jamestown City Fire Chief Jim Reuther said with the ladder truck out of service, it was taken to West Fargo for repair work.  He said there was a leveling problem, and the truck is still out of service being again taken out of town for additional work, at Land O Lakes, in Minnesota.
The Fire Chief pointed out that, the City of Jamestown and the state have an agreement that has  the state providing funds to provide repair costs over $500.  The ladder truck also provides fire protection for the high rise buildings at the North Dakota State Hospital.
He said fire protection will still be available with other equipment.
PUBLIC WORKS COMMITTEE
A  Stormwater utility fees presentation was made.  Alternatives were made on the rate structure, from feedback received, from the city council and the public, along with the process as it relates to parcels, concerning runoff, including vacant property and ag land.  Three dollars per month fee to residential properties is one alternative in the report to support the utility.  Another alternative is four dollars per month for all properties. Another is a base fee at  $1.75 for each parcel, plus a number to be determined as a multiplier.
The calculations show a rate fee of from$2.65  to $23.65 per property, per month.
After considering the alternatives, committee unanimously  recommends, through a Resolution  the rate of a one year minimum residential fee of $3.00 per month, as residents have been told.  The monthly fee for all other properties is $4.00 per month.
The committee recommends awarding the Rehabilitation of Wells 8 and 9 to Watersmith, in the amount of $42,416, to include labor, pumps, motors and drop pipe to be completed this fall.
Travis Dillman with Interstate Engineering said, three quotes were received.  The work will be performed by this fall.
An update was presented on Lift Station 20 and Master Lift Station Improvements and set the public meeting date for September 26, 2019 at 4:00 pm. Travis Dillman said, lining options are being studied along with the possibility of replacements.
The meeting was shown live on CSi 67, Followed by replays.