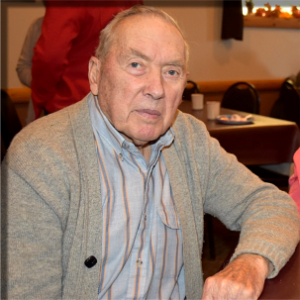 Harry Sheppard, 92, of Fullerton, ND, passed away August 23, 2019 at Prince of Peace Care Center, Ellendale, ND.
He was born December 16, 1926 at Fullerton, ND to Roy and Nellie (Parke) Sheppard. He attended Fullerton grade school, graduated from Fullerton High School and then attended college at Ellendale and Jamestown. In the fall of 1949, Harry began his life long career of farming when he began farming with his father. After his father's death, he took over the farm and bought it in 1964 from his mother. He was united in marriage to Ruth Buland on June 6, 1959. They made their home on the family farm that has been in the Sheppard family since 1883, and has since been designated as a Centennial Farm. Harry continued helping out on the farm until his health forced him to retire.
Harry was an active member of the Fullerton Union Church, serving on the church board and as treasurer. He served as business manager for the Fullerton Public School, assessor of Maple Township, was a Farm Bureau Board member, and a 4-H member & Leader. Harry enjoyed his years of bus driving both on the route and for sporting events. He also enjoyed being the scorekeeper for basketball games. In his spare time, Harry liked to read; but his first passion was farming.
He is survived by his wife Ruth of Evergreen Assisted Living in Ellendale; a daughter, Diane (Todd) Mannie, Freeland, WA; two sons, Mark (Wanda) Sheppard, Fullerton, ND and Dale (Robyn) Sheppard, Kalispell, MT; five grandchildren, Sarah (Jonathan) Wolf, Jason (Rebecca Gianarkis) Mannie, Aaron (Brittany) Mannie, Alex Sheppard and Amanda Sheppard; two great-grandchildren, Knox and Aria and baby Jackson due soon. Harry is also survived by two sisters-in-law, Jennifer Sheppard and Pat Sheppard. He was preceded in death by his parents and his nine siblings.
Visitation will be held on Monday, August 26, 2019 from 6:00 to 7:00 p.m. followed by a prayer service at 7:00 p.m. at Dahlstrom Funeral Home, Oakes. His funeral will be Tuesday, August 27, 2019 at 10:30 a.m. at the Fullerton Union Church in Fullerton, followed by burial at Mapleview Cemetery near Fullerton.