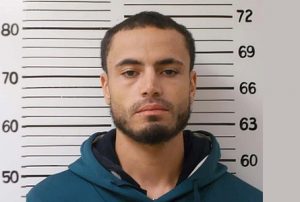 Jamestown  (JPD)  On Saturday September   7, 2019, at approximately 11:12-p.m., the Jamestown Police Department responded to a report of a suspicious male lurking in the residential area of the 1000 block of Thomas Ave NE in Jamestown. The complainant stated the male was walking in the street and staring into windows.
Officers responded to the area and located a male matching the suspect's description in the parking lot of Casey's General Store N, located at 1003 13 St NE. The officer approached the male and the male would not respond to the officer's commands to take his hands out his pockets.
The male fled on foot from the officer and ran into the IDK Bar & Grill, located at 1009 13 St NE. The pursuing officer confronted the male and attempted to take him into custody. A physical altercation ensued between the officer and suspect, during which time the officer was assaulted.
Additional officers arrived shortly thereafter, and the male was taken into custody and transported to Stutsman County Corrections.
The male suspect was identified as 28 year old Christopher Perman (homeless). Perman has recent ties to Jamestown and the Fargo-Moorhead area. Perman was arrested on suspicion of Failure to Halt, Disorderly Conduct, Preventing Arrest and Assault on a Peace Officer. He is being held in the Stutsman County Correctional Center awaiting formal charges.
The officer who was assaulted received medical attention for his injury at Jamestown Regional Medical Center and was released. The incident remains under investigation.