CSi Weather.
TONIGHT…Mostly cloudy. Chance of rain showers and slight
chance of thunderstorms in the evening. Patchy fog after
midnight. Lows in the lower 50s. North winds around 5 mph. Chance
of precipitation 30 percent.
.TUESDAY…Partly sunny. Highs in the upper 60s. Northwest winds
5 to 10 mph.
.TUESDAY NIGHT…Mostly cloudy. Chance of rain showers and slight
chance of thunderstorms after midnight. Lows around 50. Northeast
winds 5 to 10 mph. Chance of precipitation 40 percent in the Jamestown area 50 percent in the Valley City area.
.WEDNESDAY…Cloudy. Chance of rain showers and slight chance of
thunderstorms in the morning, then rain showers and thunderstorms
likely in the afternoon. Highs in the lower 60s. Northeast winds
10 to 15 mph. Chance of precipitation 60 percent in the Jamestown area 70 percent in the Valley City area.
.WEDNESDAY NIGHT…Rain showers and slight chance of
thunderstorms. Lows in the lower 50s.
.THURSDAY…Rain showers likely and chance of thunderstorms.
Highs in the upper 50s. Chance of precipitation 70 percent.
.THURSDAY NIGHT…Mostly cloudy. Chance of rain showers and
slight chance of thunderstorms in the evening, then chance of
rain showers after midnight. Lows in the upper 40s. Chance of
precipitation 50 percent.
.FRIDAY…Partly sunny. A 20 percent chance of rain showers in
the morning. Highs in the upper 50s.
.FRIDAY NIGHT…Mostly clear. Lows in the mid 40s.
.SATURDAY…Mostly sunny. Highs in the mid 60s.
.SATURDAY NIGHT…Partly cloudy. Lows around 50.
.SUNDAY…Partly sunny. Highs in the upper 60s.
Thunderstorms are possible Monday  until  midnight. Thunderstorms will pose a risk for frequent lightning and gusty winds.
A second round of widespread rain is expected Wednesday into Thursday,
along and south of the I-94 corridor.
Rainfall amounts of 1 to 2 inches are possible.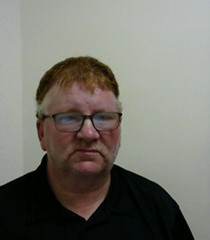 Jamestown  (CSi)  The Jamestown Police Department warns residents of a convicted sex offender who has relocated in Jamestown.
Leroy John Hanson now lives at 1530 6th Avenue, SW, No. 33 Buffalo Motel, Jamestown, ND
Hanson is a 55 year old White Male five feet seven inches tall weighing 210 pounds with blue eyes and red hair.
He has been assigned a high risk assessment by the North Dakota risk level committee of the North Dakota Attorney General's Office.
Offense:  Gross Sexual Imposition,  in 2004 involving  with a 14 year old girl.
Conviction: April 2004, Ward County District Court.
Disposition:  10 years with 5 years suspended.
He is currently on GPS Monitoring.
Hanson is not currently wanted by police and has served the sentence imposed by the court. This and other notifications are meant for public safety and not to increase fear in the community. Anyone who uses the information to threaten, assault, and intimidate the offender will be turned over for prosecution.
Hanson is currently on probation with North Dakota Parole and Probation.
More information on registered sex offenders is available at the North Dakota Attorney General's web site: www.sexoffender.nd.gov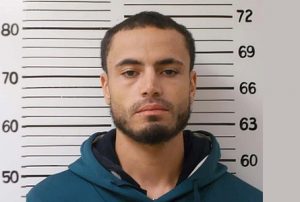 Jamestown (JPD) On Saturday September 7, 2019, at approximately 11:12-p.m., the Jamestown Police Department responded to a report of a suspicious male lurking in the residential area of the 1000 block of Thomas Ave NE in Jamestown. The complainant stated the male was walking in the street and staring into windows.
Officers responded to the area and located a male matching the suspect's description in the parking lot of Casey's General Store N, located at 1003 13 St NE. The officer approached the male and the male would not respond to the officer's commands to take his hands out his pockets.
The male fled on foot from the officer and ran into the IDK Bar & Grill, located at 1009 13 St NE. The pursuing officer confronted the male and attempted to take him into custody. A physical altercation ensued between the officer and suspect, during which time the officer was assaulted.
Additional officers arrived shortly thereafter, and the male was taken into custody and transported to Stutsman County Corrections.
The male suspect was identified as 28 year old Christopher Perman (homeless). Perman has recent ties to Jamestown and the Fargo-Moorhead area. Perman was arrested on suspicion of Failure to Halt, Disorderly Conduct, Preventing Arrest and Assault on a Peace Officer. He is being held in the Stutsman County Correctional Center awaiting formal charges.
The officer who was assaulted received medical attention for his injury at Jamestown Regional Medical Center and was released. The incident remains under investigation.
Valley City  (KLJ)  Traffic flow changes announced by KLJ on Central Avenue and 12th Street North in Valley City.
Traffic will be switched from the westbound lane to the eastbound lane on 12th Street North, with one lane of traffic being maintained and controlled by temporary traffic signals. Central Avenue will continue to be closed to traffic from the entrance to Hanna Field north to 12th Street North.
Access to the Sheyenne Care Center and Hanna Field Parking lot will continue to be provided from the south.  Access to the residential area north of 12th Street, including Central Avenue, 14th Street Northwest and Courts A, B & C will continue to be provided to the north and on 3rd Avenue Northwest.
There is a closure at the intersection of 6th Street North and Central Avenue North to facilitate the concrete repairs at that location. The intersection closure is anticipated to last approximately one week.
Anyone with questions about these projects should call the KLJ office in Valley City.
JRMC  (CSi)  Jamestown Regional Medical Center's Family BirthPlace is among the first in the nation to successfully complete the EMPower Training initiative.
EMPower is a skills-based competency training in evidence-based maternity practices supportive of optimal infant nutrition. JRMC Family BirthPlace received access to training modules, support services and other resources on breastfeeding practices.
JRMC is one of only two North Dakota birthing hospitals selected for this program. Sanford Health, Bismarck, was also selected. EMPower Training initiative chose only 90 hospitals nationwide.
Funded by the Centers for Disease Control and Prevention (CDC), the EMPower Training initiative is committed to safe implementation of maternity care practices to support optimal infant nutrition, including breastfeeding, toward the ultimate goal of improving the public's health.
JRMC Family BirthPlace Manager, Emily Woodley, says, "JRMC is excited for this opportunity to learn how best to support and assist moms, babies and families in getting off to a great start with breastfeeding."
About 350 babies are born at JRMC each year.
JRMC Chief Nursing Officer Trisha Jungels. "JRMC strives to be the best hospital in the country for patients to receive care, employees to work and providers to practice. EMPower Training initiative ensures that our Family BirthPlace team will have the tools and resources necessary to support a mother to be able to breastfeed.  Those first few hours and days that a mom and her baby spend learning to breastfeed are critical."
The initiative began in August 2018 with an in-person training course to learn a five-hour curriculum. The training initiative was completed in August 2019. With the help of the training, JRMC's Family BirthPlace is now equipped with the skills needed to support mothers in the safe implementation of optimal infant nutrition.
To learn more about EMPower Training, Family BirthPlace and breastfeeding, contact JRMC Family BirthPlace at (701) 952-4807 or visit www.jrmcnd.com/family-birthplace/.
About Jamestown Regional Medical Center
Jamestown Regional Medical Center is located at 2422 20th St. SW, Jamestown, N.D. and serves approximately 55,000 people in nine counties. In 2019, it was named a "Top 100 Critical Access Hospital" as well as a "Best Places to Work in Healthcare." For more information, visit www.jrmcnd.com or call 701-952-1050.
Jamestown  (UJ)   University of Jamestown has again received the highest regional college rankings of all North Dakota institutions in U.S. News and World Report's "Best Colleges 2020" edition, released Sept. 9.
UJ President, Dr. Polly Peterson  says, "We are pleased to once again be recognized by U.S. News and World Report as a best regional college in the Midwest.  As the top ranked University in the state in any category, we are proud to be recognized for the quality of the educational experience we provide and the successes that our alumni achieve after graduation."
U.S. News and World Report's "Best Colleges" is the most recognized and popular of all college rankings. The report evaluates colleges and universities annually by assessing criteria such as peer assessment, graduation rate, student/faculty ratios, class size, alumni giving, and student testing scores. Categories are Regional Colleges, Regional Universities, National Universities, and National Liberal Arts Colleges.
Dr. Peterson expanded on why she feels the University stands out in the region, saying, "Our mission is to provide a holistic educational experience where learning occurs both in the classroom and through extensive co-curricular learning opportunities – all rooted in our commitment to Christian faith. Through internships, co-ops, study abroad and campus involvement, our students are prepared for success as they enter the work force upon graduation."
Established in 1883, the University of Jamestown is a private, liberal arts university granting Bachelor of Arts, Bachelor of Science and Science in Nursing degrees, as well as Master's Degrees in Education, Clinical Counseling and Leadership, and a Fargo-based Doctor of Physical Therapy degree. The University of Jamestown offers more than 40 areas of study, integrating the liberal arts with sound professional programs. With the Jamestown Journey to Success, emphasis is placed not only on preparing students academically in their chosen areas of study, but also on preparing them through a student-centered experience.
Valley City  (VCSU)   – Valley City State University has been ranked the No. 2 public regional college in the Midwest in the 2020 U.S. News Best College Rankings. VCSU was ranked third in the 2019 rankings.
VCSU has now appeared in the U.S. News "Best College" rankings for 22 consecutive years, and the university has been ranked in the top three Midwest public regional colleges each year since 2010.
President Alan LaFave,  says, "Valley City State has maintained a record of academic excellence for decades,  and we're proud to see VCSU once again ranked among the top public schools in our region. The rankings speak to the good work done together by our students, faculty and staff, along with the strong support of our alumni, friends and the Valley City community."
The U.S. News rankings are based on data including retention and six-year graduation rates, graduation rates for low-income students (based on federal Pell Grant recipients), measures of student excellence (ACT/SAT scores and high school class standing), the alumni giving rate, and educational expenditure per student. A peer assessment by college and university officers also factors into the rankings.
BISMARCK, N.D. (AP) — North Dakota's annual pheasant brood survey released Monday shows that total pheasants are up 10% from last year and broods have increased by 17%, which state Game and Fish Department officials call continued improvement after nearly bottoming out two years ago.
Wildlife officials say the numbers are particularly encouraging in the northwest, up 49% percent from 2018, and southeast, which saw a 32% increase. Upland game biologist RJ Gross says this was the first year "in a while" with good residual cover to start the year and good weather for nesting and brood-rearing.
"Two good years of chick production should translate to more birds for hunters to pursue," Gross said.
Gross said populations in the state's primary pheasant district and most popular hunting area, in southwestern North Dakota, are "slowly improving" although total birds were down 7%. Broods were up 2% from 2018.
The summary is based on 275 survey runs made along 101 brood routes across the state.
Neighboring states South Dakota and Minnesota, also known for banner pheasant hunting, each saw 17% drops in total pheasants from last year. Bad weather contributed to the decline in those two states. Drought and declining habitat led to North Dakota's drop-off in pheasants two years ago.
In world and national news…
JEKYLL ISLAND, Ga. (AP) — The U.S. Coast Guard says it has rescued two of four trapped crew members from an overturned cargo ship off the coast of Georgia.
Lt. Lloyd Heflin tells The Associated Press in a text message that two men have been extracted and rescuers are working on extracting a third.
Heflin said the four South Koreans who were trapped aboard the Golden Ray are in the propeller shaft room near the stern of the ship and that rescuers cut into the hull there to pull them out.
Responders made contact with crew members Monday morning, more than 24 hours after the vehicle carrier overturned while leaving a port call in Brunswick, Georgia.
The Golden Ray flipped onto its side and caught fire Sunday as it left Brunswick with more than 4,000 vehicles inside.
HUNTSVILLE, Ala. (AP) — The head of the National Weather Service is defending forecasters who contradicted President Donald Trump's claim that Hurricane Dorian posed a threat to Alabama as it approached the United States.
Director Louis Uccellini told a meteorology convention Monday that forecasters in Birmingham did the right thing when they tried to combat public panic and rumors that Dorian posed a threat to Alabama. Uccellini says it was only later that they found out the source of the mistaken information.
Speaking at a meeting of the National Weather Association in Huntsville, Alabama, Uccellini said Birmingham forecasters "did what any office would do" to protect the public.
Trump has defended his tweet about Alabama and the National Oceanic and Atmospheric Administration issued an unsigned statement critical of the Birmingham forecasters on Friday.
LONDON (AP) — Britain's House of Commons has demanded the government hand over communications among officials about its decision to suspend Parliament and its plans for a no-deal Brexit.
Lawmakers passed a motion calling on the government to release, by Wednesday, "formal or informal" emails and text messages between aides and officials relating to the suspension, as well as to the impact of leaving the European Union without a deal.
Under parliamentary rules, the government is obliged to release the documents.
Lawmaker Dominic Grieve, who proposed the motion, said there were suspicions that Parliament was being suspended to stop the legislature from debating the risks of leaving the EU without a withdrawal agreement.
Johnson says he is cutting short the parliamentary term so he can outline his domestic agenda at a new session of Parliament in October.
KABUL, Afghanistan (AP) — Afghans are bracing for a possible new wave of Taliban violence after President Donald Trump abruptly called off talks with the insurgent group, which vows to continue its fight against what it calls "foreign occupation."
Trump's surprise weekend announcement came shortly before a string of highly sensitive days in Afghanistan, including Monday's anniversary of the death of anti-Taliban commander Ahmad Shah Massoud, the major Shiite Muslim holy day of Ashoura Tuesday and Wednesday's 9/11 anniversary.
The Taliban attacked at least two districts of northeastern Takhar province overnight, with no immediate reports of casualties. They attacked three provincial capitals earlier this month, even while finalizing a deal with the U.S. to end nearly 18 years of fighting.
It's not immediately clear whether the U.S.-Taliban talks will resume and when.
WASHINGTON (AP) — California and Alabama are the two states that haven't joined an investigation into Google's market dominance.
The coalition conducting the probe is led by Texas and consists of 48 states, the District of Columbia and Puerto Rico. Attorneys general say they will probe the potential for monopolistic behavior from Google.
A spokeswoman for California's attorney general would only say the state is committed to fighting anti-competitive behavior. She says she won't confirm or deny the existence of any investigation. Google has its headquarters in California.
Alabama officials had no comment.
Regulatory pressure is ratcheting up on tech companies. Monday's announcement comes just days after a separate group of states disclosed an investigation into Facebook's market dominance.
(AP)  After seven states passed sweeping abortion bans this year, speculation arose about the potential travel burdens the laws could someday impose on women.
Across a huge swath of West Texas and the Panhandle, there's no need for speculation. The nearest abortion clinics are more than 250 miles away, despite the region having several midsize cities and a population of more than 1 million people.
That means women seeking to end an unwanted pregnancy face drives of four hours or more to Fort Worth, Dallas, El Paso or out-of-state clinics — a trip that could require at least two days. The situation heightens the challenges of arranging child care, taking time off work and finding lodging. Advocates say some women end up sleeping in their cars.